Our traditional, semi-welded, and brazed plate heat exchangers are outstanding choices for standard evaporation duties.
However, certain applications prove unsuitable for regular heat exchanger types. In the interest of guaranteeing unsurpassed product quality, we have created exclusive evaporator plates tailored to meet the challenges presented by advanced evaporation applications.
What does that mean for you?
We are dedicated to making sure that your product quality is first-rate. Our distinctive evaporator plates are made for applications that involve temperature-sensitive or delicate media and excel at multi-stage evaporation of highly concentrated products.
SONDEX® rising film plate evaporators gently treat the media, even if they are highly viscous, and provide uniform evaporation, leading to improved concentrate quality.
Experience first-hand the benefit of our remarkable inlets that eliminate stagnant zones, and evenly distribute the media across the entire heat transmission area for flawless evaporation.
Our special evaporator plates use a Free Flow pattern to create the ideal turbulent flow and reduce the risk of fouling considerably. By doing so, we extend the intervals between cleaning and maximize the uptime of your installation.
Perfect evaporation conditions
The low hold-up volume of SONDEX® evaporators shortens the residence time and provides the best evaporation conditions for temperature-sensitive products.
Operating with low hold-up volumes enables fast start-up and shut down, with only minimal waste, which adds to the overall flexibility of your system and process.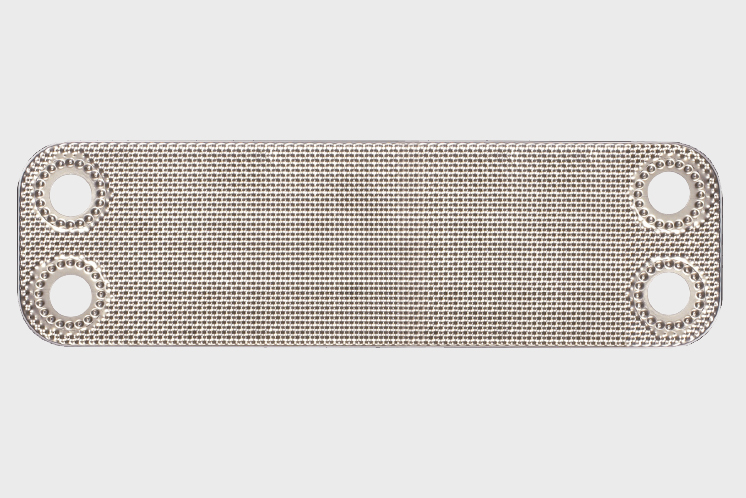 Micro plate technology
Our heat exchangers with the new state-of-the art Micro Plate™ technology feature next-generation efficiency and performance – giving you more from your district heating and cooling applications.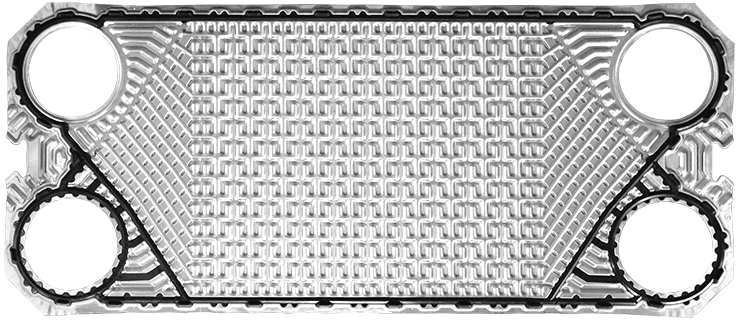 SONDEX® Free flow patterns
The SONDEX® Free Flow pattern is designed to treat media that is unsuitable for regular heat exchangers due to high viscosity, fiber and particle contents, or considerable risk of fouling.
Applications
Dairy/food/beverage industry
- e.g. food production, like juice and alcohol processing
Sugar industry
- e.g. sugar production, such as concentration of sugar content in sugarcane juice
Biogas industry
Pulp and paper industry
Mining industry
Chemical industry
Technical specifications
Connections up to DN600
(Frames designed according to FEA and PED 2014/68/EU (EN13445) and ASME sec VIII, Div. 1 construction standards)
Plate materials: AISI 304/316, titanium, SMO, Hastelloy. Other materials available upon request
Features and benefits
Special plate design featuring an extra-large inlet connection for steam. Steam consumption can be reduced when operating with multi-stage evaporators, as the product vapor will serve as the heating media.
Flexible design that makes it easy to increase capacity by adding additional cassettes or decrease it to save energy. Low residence time leads to perfect evaporation conditions and superior product quality.
High performance, even with low temperature differences between the media, which is especially great for mechanical vapor recompression (MVR) and thermal vapor recompression (TVR).
What kind of heat exchanger is right for me?
The choice of heat exchanger depends on many factors. Our skilled sales engineers design the heat exchanger with the appropriate dimensions and correct specifications based on your input and requirements, to ensure that you receive a quality solution that performs optimally.
Which certificates are available for the heat exchangers?
Our heat exchangers are approved and certified according to industry standards and requirements. For specific details, please reach out to your local SONDEX® brand sales representative.
Where can I get a price list?
Please contact your local SONDEX® brand sales responsible.
How can I get a quotation?
Please contact your local SONDEX® brand sales office. For the most accurate quotation, please prepare the following data:
Duty,
Type of media,
Pressure drop,
Flow rate,
Working pressure,
Thermodynamic properties, Temperature,
Working temperature.