Localized service and maintenance – always
available near you!
Our service team offers repairs, trouble shooting, upgrades, and on-site
cleaning and maintenance of your plate heat exchanger solution.
We always utilize genuine spare parts both for SONDEX® heat exchangers
and our selection of other heat exchanger brands.
Let our highly skilled experts support you avoiding problems before they
arise due to our customized program, ranging from full maintenance
support to ad hoc servicing.
At your convenience!
We will work out the most convenient schedule with you to carry out performance diagnostics, plate cleaning and inspections, fault checking with quick replacements, and repairs as required and needed. Our skilled technicians will clean your heat exchangers using environmentally friendly, economical
methods, and we will have your heat exchanger up and running at full capacity as soon as possible. Always keeping your process priority in mind.
We are fully equipped to also perform CIP (Cleaning in Place) where possible and at your request.


Replacement with genuine spare parts
If your plate heat exchanger is malfunctioning or underperforming, our repair service teams will immediately restore your installation to working order.
We replace worn gaskets and damaged or leaking plates with genuine spare parts that match the original specifications of your solution.
Genuine spare parts are essential to the performance and lifecycle of the heat exchanger together with the quality and warranty of your heat exchanger.
Depending on the operating dependencies of the heat exchanger, it is recommended to have a set of genuine spare parts on-site to reduce unexpected
downtime.

360-degree analysis of your solution
We also offer to analyze your current setup to determine if the solution can be optimized, for example, by increasing the number of plates in the heat
exchanger. This is an upgrade of your entire system, as more efficient heat exchangers improve the overall performance while reducing the energy
consumption, thus minimizing your carbon footprint, and not least decreasing your costs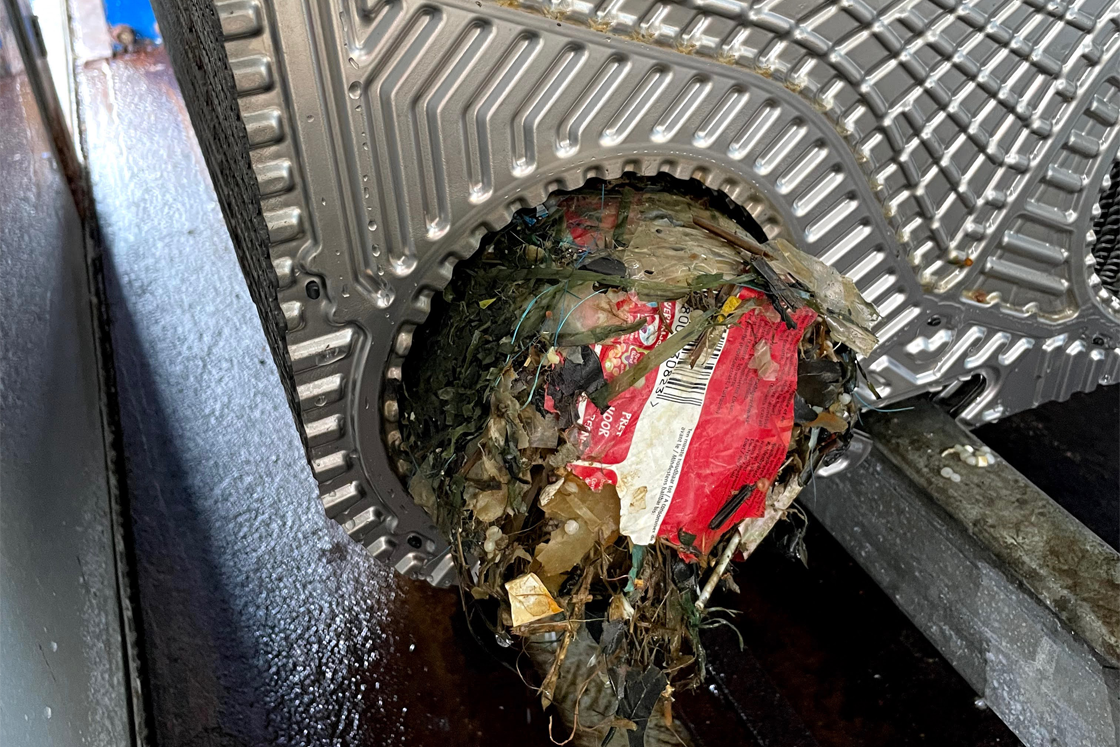 Avoid system failure and shutdowns!
Regular maintenance ensures high performance and low
operating costs - a clean heat exchanger reduces the energy
consumption significantly.
Get in touch today to get a non-binding offer on your next
heat exchanger service.
Documents

| Type | Name | Language | Valid for | Updated | Download | File type |
| --- | --- | --- | --- | --- | --- | --- |
| Brochure | Gasketed heat exchanger service - always available near you | English | Multiple | 24 Feb, 2023 | 1.8 MB | .pdf |
What kind of heat exchanger is right for me?
The choice of heat exchanger depends on many factors. Our skilled sales engineers design the heat exchanger with the appropriate dimensions and correct specifications based on your input and requirements, to ensure that you receive a quality solution that performs optimally.
Which certificates are available for the heat exchangers?
Our heat exchangers are approved and certified according to industry standards and requirements. For specific details, please reach out to your local SONDEX® brand sales representative.
Where can I get a price list?
Please contact your local SONDEX® brand sales responsible.
How can I get a quotation?
Please contact your local SONDEX® brand sales office. For the most accurate quotation, please prepare the following data:
Duty,
Type of media,
Pressure drop,
Flow rate,
Working pressure,
Thermodynamic properties, Temperature,
Working temperature.