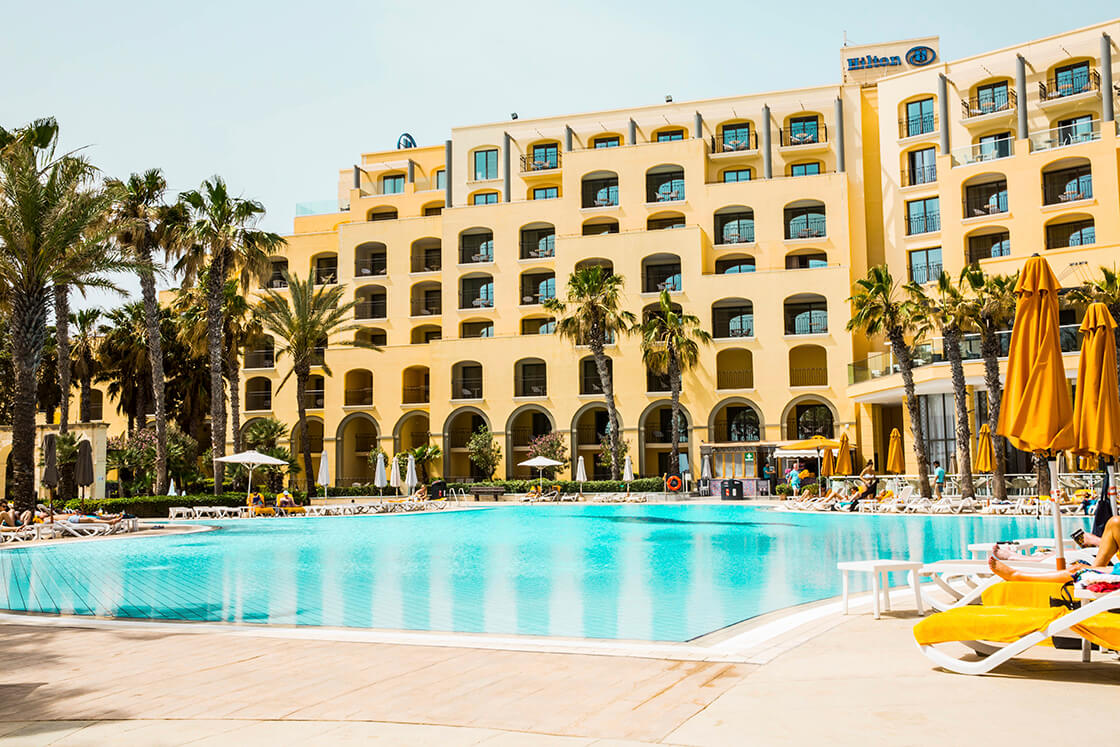 Comfortable stay for your guests
Providing hotel guests with a comfortable stay is first and foremost about the basics: ensuring comfortable indoor temperatures and sufficient hot water throughout day and night.  
But with an average of 50% share in the energy costs, HVAC systems are required to provide the highest level of comfort at the lowest possible operation costs. 
Danfoss HVAC solutions
We offer an extended range of products and solutions for the production, distribution, hydronic balancing and temperature control of heating, cooling and domestic hot water systems.
With years of experience in assisting hotel owners, hotel management and technical staff, we have proven that reliability, energy efficiency and cost savings can be achieved at the same time.
Danfoss' HVAC solutions for hotels can be used in renovation or new build projects, are easy to install and can achieve significant savings on the energy bill.
Hilton Garden Inn Rzeszow
Keeping your hotel and the hotel rooms utmost comfortable for your guests at any given day in any season: The Hilton Garden Inn at Rzeszow, Poland made this into its top priority and delivered an inspirational success story using Danfoss AB-QM valves.
How we can help you
Indoor comfort with accurate temperature control and reliable supply
Reliable water supply for heating, cooling and domestic hot water
Anti-legionella protection and electronic temperature registration
Easy installation, commissioning, management and maintenance
Reduced total cost of ownership 
One manufacturing partner for all HVAC systems
Energy efficient and sustainable solutions
Innovative products enabling smart IoT solutions and data collection

Danfoss NovoCon digital actuator
Danfoss NovoCon® digital actuator connects heating and cooling systems to the hotel Building Management System (BMS) enabling smart Internet of Things solutions.
Danfoss HVAC solutions are part of many technical hotel applications. Click on below applications to find out more about the specific applications and our possible solutions:
Heating facility reconstruction in Kopaonik mountain resort, Serbia

Building: Hotel
Application: Hydronic balance, control and monitoring of a heating system
Challenge: Improve the energy efficiency of old heating system
Solution: Danfoss installed motorized control valves, hydronic balancing valves and electronic controllers with monitoring software

High-end climate solutions in Waldorf Astoria by Hilton, Amsterdam, the Netherlands

Building: Hotel
Application: Hydronic balancing and control for radiator heating and fan coil cooling
Challenge: Establish top level comfort and minimum energy consumption for heating and cooling
Solution: Fan-coil units for cooling; 8 heating risers and radiators equipped with Danfoss products.

Radiator thermostats for the only 7-star hotel in the world, Morgan Plaza, China

The Beijing Olympics began on the 8th of August 2008, but the preparation went on for years. That included the building of the so far only fourth 7-star hotel in the world – 'The Beijing 7-stars Morgan Plaza'. 
Construction of Morgan Plaza began in 2002 and finished just in time for the Beijing Olympics.

Savings on energy costs in Sunway resort, Kuala Lumpur, Malaysia

Building: Hotel
Application: Hydronic balancing and control of water-based cooling system
Challenge: Proof effectiveness of PIBCV valves
Solution: Comparison test with Hydronic analyzer between traditional and PIBCV balancing and control options

The pioneer in electronic expansion valve control

When Danfoss introduced it's first microprocessor based ADAP-KOOL® controller back in 1987 it was also the first controller with adaptive (self learning) Superheat control.

Danfoss had been gaining experience since 1980 whilst developing analogue controllers for thermostatically activated expansion valves and suction pressure valves.