The NovoCon® digital IoT actuators are tailor made to fit Danfoss AB-QM Pressure Independent balancing and Control Valves. They establish the perfect connection between superior hydronic HVAC system performance and smart building automation solutions.
Traditional controlled actuators, at best, offer an analog feedback signal to the BMS controller. Instead, the NovoCon® actuators offer many digital system parameters directly to the Building Management System via BACnet or Modbus. It for example exchanges accurate information about the actuator/valve position, settings, temperatures, alarms etc.
All the information provides System Integrators and technical facility managers a unique insight in, and remote access to, the HVAC system. The actual HVAC data can be used to optimize the systems performance, improving the indoor comfort and achieve an energy efficient building.
NovoCon® is an essential device in the transition to HVAC 4.0 for smart, connected buildings. The actuators enable continuous monitoring, active energy management and preventive maintenance at the highest comfort level and lowest operating costs. The digital actuators can be used in many building types such as offices, hotels and hospitals. But also in cruise ships, universities, data centers, shopping malls, museums or supermarkets.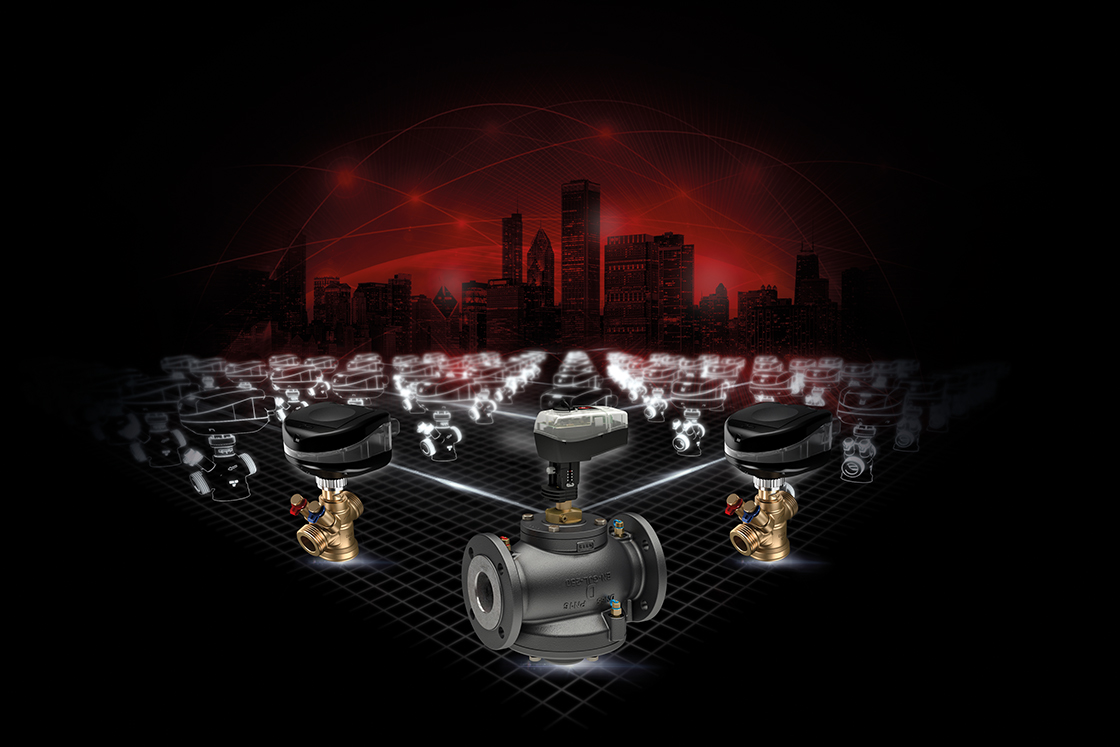 Engineering HVAC 4.0 for smart buildings
NovoCon® digital IoT actuators enable smart HVAC solutions. We call it HVAC 4.0. Find out more about it here:
NovoCon® series digital IoT actuators
Danfoss NovoCon® series of digital actuators for PICVs consists of four versions;
NovoCon® S fits AB-QM valves DN 10-32 and new AB-QM 4.0 valves DN 15-32. These combinations are applicable for various types of Terminal Units such as Fan Coil Units (FCU), chilled beams and radiant panels. The valves are used in two-pipe heating or cooling and four-pipe heating/cooling change-over systems for flows from 20-4,000 l/h.
For fast and reliable installation the NovoCon® S can only be connected to the BMS and wired in daisy-chain by using our series of plug & play connection cables
NovoCon® M fits dedicated AB-QM NovoCon® valves DN 40-100. These combinations are applicable for the control of higher volume flows from 3-59 m3/h in e.g. Air Handling Units (AHU).
NovoCon® L fits AB-QM valves DN 125-150. These combinations are applicable for the control of high volume flows from 36-190 m3/h in e.g. chiller applications.
NovoCon® XL fits AB-QM valves DN 200-250. These combinations are applicable for the control of the highest volume flows from 80-370 m3/h in e.g. District cooling applications.
Built-in I/O
The digital actuators also offers built-in I/O's for added functionality, flexibility and cost savings. In some applications this can replace I/O modules from the BMS. A few examples of using the actuators' I/O's are:
Flow & energy indication by connecting sensors for return and supply temperature measurement with NovoCon® Energy
Optimized solution for 4-pipe change-over applications with NovoCon® CO6 (only for NovoCon® S)
To connect different sensors (e.g. room temperature, humidity, or condensation) and control different devices such as fans with NovoCon® Remote I/O cable.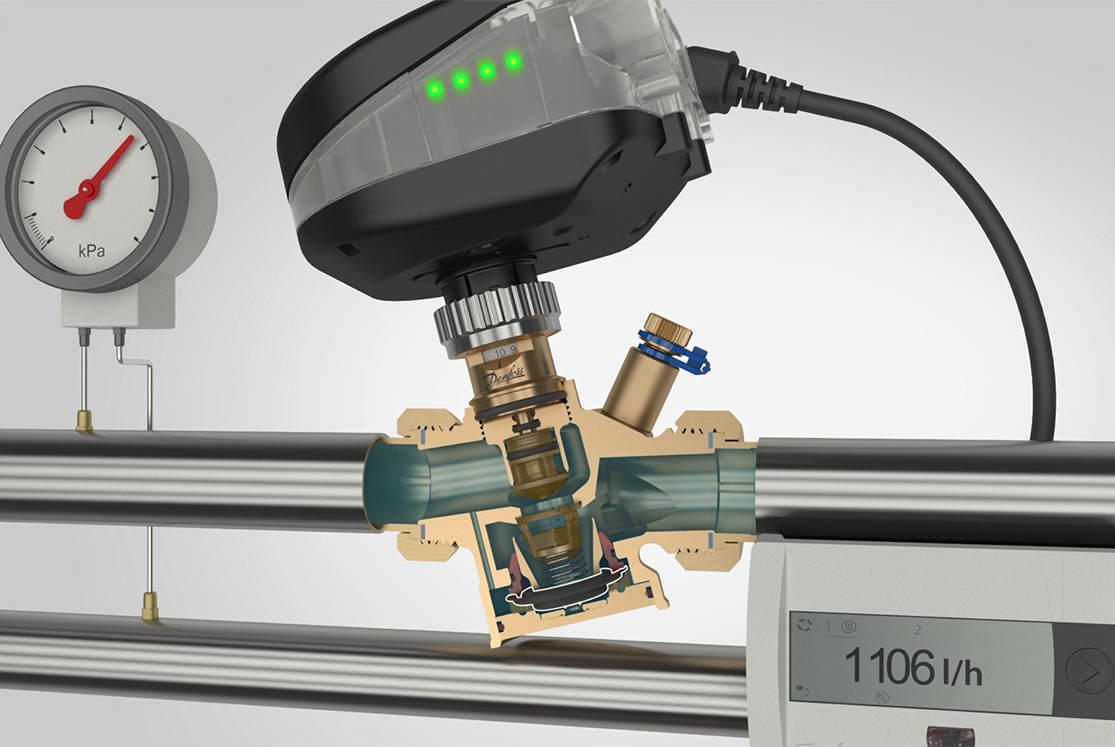 Remote commissioning of AB-QM 4.0 PICV with NovoCon S digital actuator
The animation shows an AB-QM 4.0 valve in a working HVAC system at maximum design flow of 1100 l/h. The valve absorbs pressure fluctuations and maintains the design flow.
With the NovoCon S digital actuator the design flow is remotely re-commissioned to a design flow of 40%, about 440 l/h as shown on the display of the energy/flow meter.
Danfoss NovoCon S allows simultaneous, remote, commissioning of 64 valves at the same time.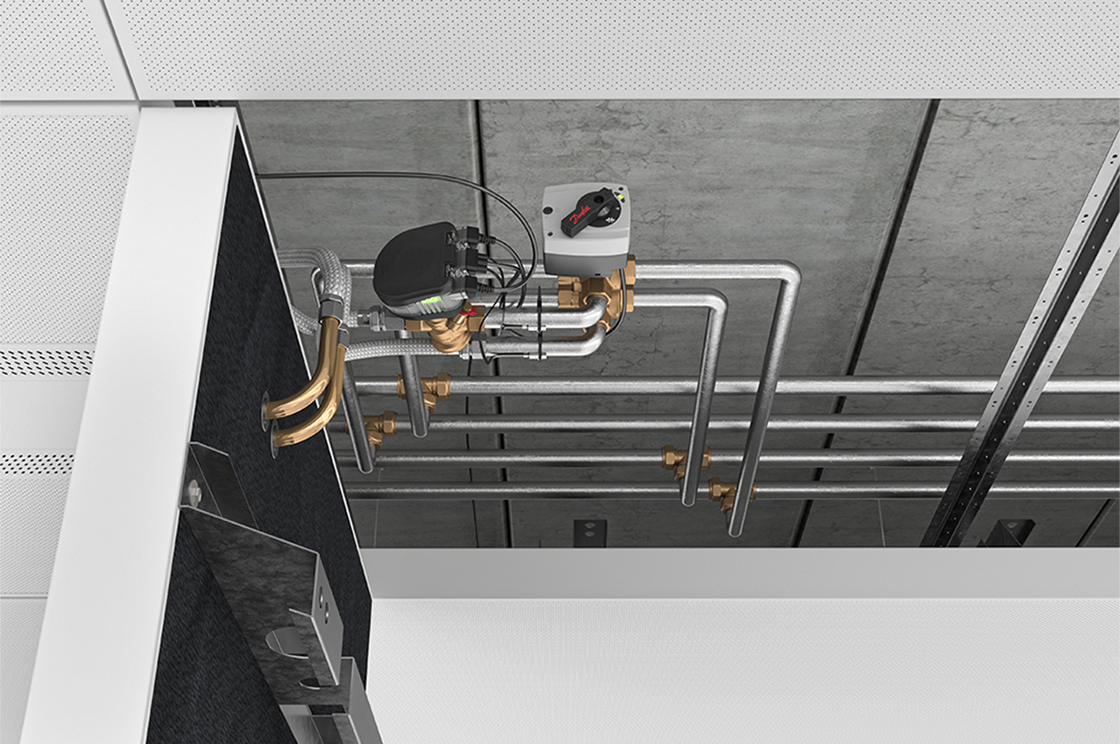 HVAC heating and cooling with AB-QM 4.0, NovoCon S and ChangeOver 6
The animation shows a climate panel in an office environment, providing cooled air into the room. Once the demand changes for heating, the NovoCon S digital actuator steers the  ChangeOver 6 actuator and corresponding valve. The 6-way valve closes off the supplied chilled water and opens the supply for heated water. The NovoCon S is used to adjust the design flow setting on the AB-QM 4.0 PICV remotely.
The optional set of temperature sensors can be applied to measure the actual supply- and return temperatures. The temperatures are provided to the BMS for monitoring or active energy management to optimize the energy efficiency.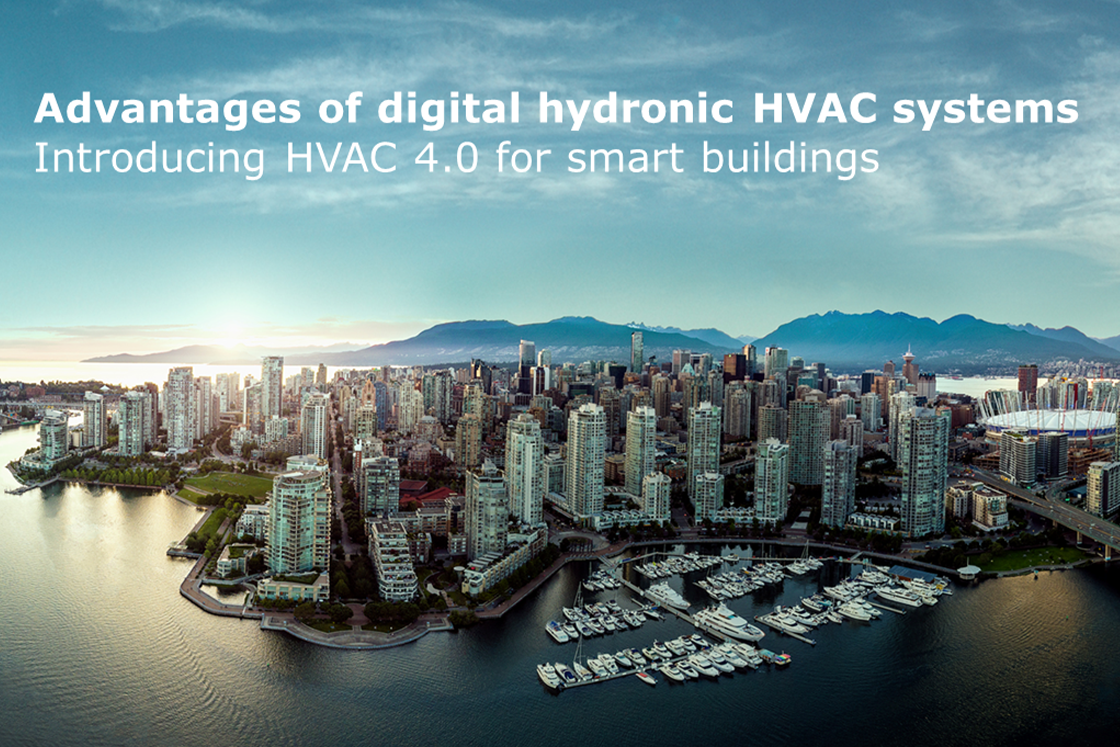 Advantages of digital hydronic HVAC systems
Introducing HVAC 4.0 for smart buildings with AB-QM and NovoCon® digital IoT actuators
Features and benefits
Remote access
Via the BMS system and bus communication all actuators can be remotely accessed. This saves a lot of time during the installation and commissioning of the system as well as during the many years the building is operational.
Continuous commissioning
System data can be retrieved and analyzed in order to optimize the HVAC system. In case adaptions to e.g. setting of design flows are required, it can easy be done. On one, a few or all actuators at the same time. Continuously monitoring and commissioning the system saves time and costs throughout the life cycle of the building.
Predictive maintenance
Don't wait for HVAC components to fail, cause complaints and need for urgent and disturbing service activities. Instead you can see where and when an issue might occur and you can take precautions and act pro-actively.
Flexibility all over
The designers or system integrators of BMS systems can realize customized HVAC solutions for every project. In case the building user wants to refurbish the building, the HVAC system can be adapted accordingly without physical adjustments to the BMS components.

Smart HVAC control solution for the I-tower at WTC Amsterdam, the Netherlands
In 2017 World Trade Center (WTC) located in Amsterdam at the 'Zuid-as', renovated one of the nine buildings, the 7 stories high I-tower. A high-end HVAC system, LED lighting and other technical improvements established a smart and modern office environment. Danfoss AB-QM PICV valves and NovoCon® S digital actuators play an essential role.