Everything happens faster with Icon2™ - it takes just 9 minutes!
Danfoss Icon2™ is designed with fewer components and in-app guidance for very fast and hassle-free installation. It delivers precise and efficient control of underfloor heating with smart-home compatibility and the flexibility to fit every application.


The all-in-one designed Icon2™ Main Controller
Can be configured as a wired or wireless system or as a combination, if required.
It connects up to 15 room thermostats and is the flexible solution for floor heating and floor cooling applications.
A quick look around the Danfoss Icon2™ system
Danfoss Icon2™ delivers precise and efficient control of underfloor heating with smart-home compatibility and the flexibility of a solution that works with 90% of applications.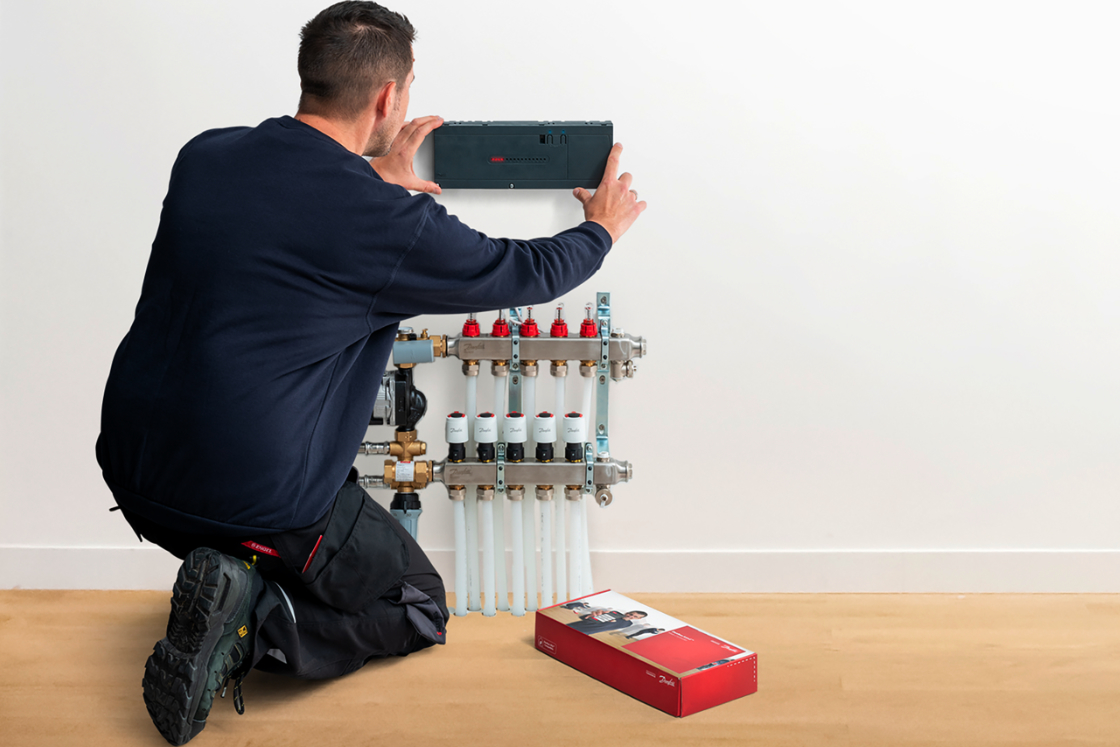 We have included everything you need
The Danfoss Icon2™ Main Controller is easily installed onto the wall, either by using the included screws or a DIN rail and the built-in spirit level guides to the perfect positioning.
There are no loose components – just unbox and installation can begin!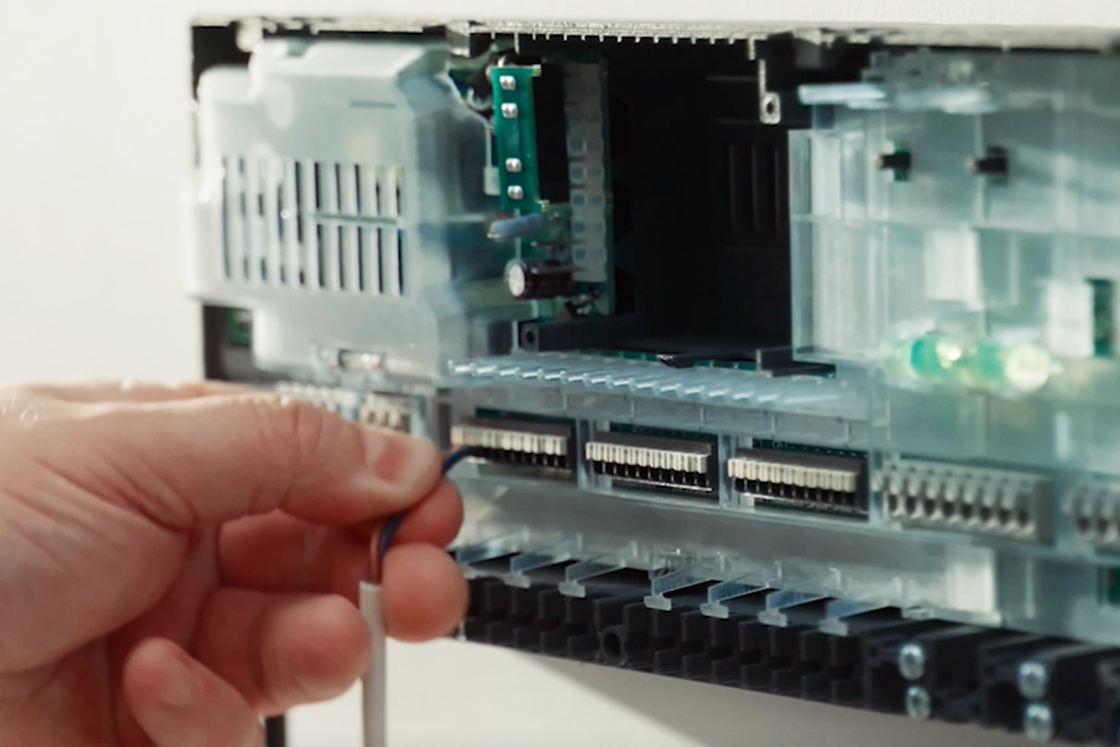 Fast and hassle-free
The innovative cabling saves you time, and the plug'n' push terminals make installation easy with minimal use of tools.
From here, the most important tool needed is a smartphone.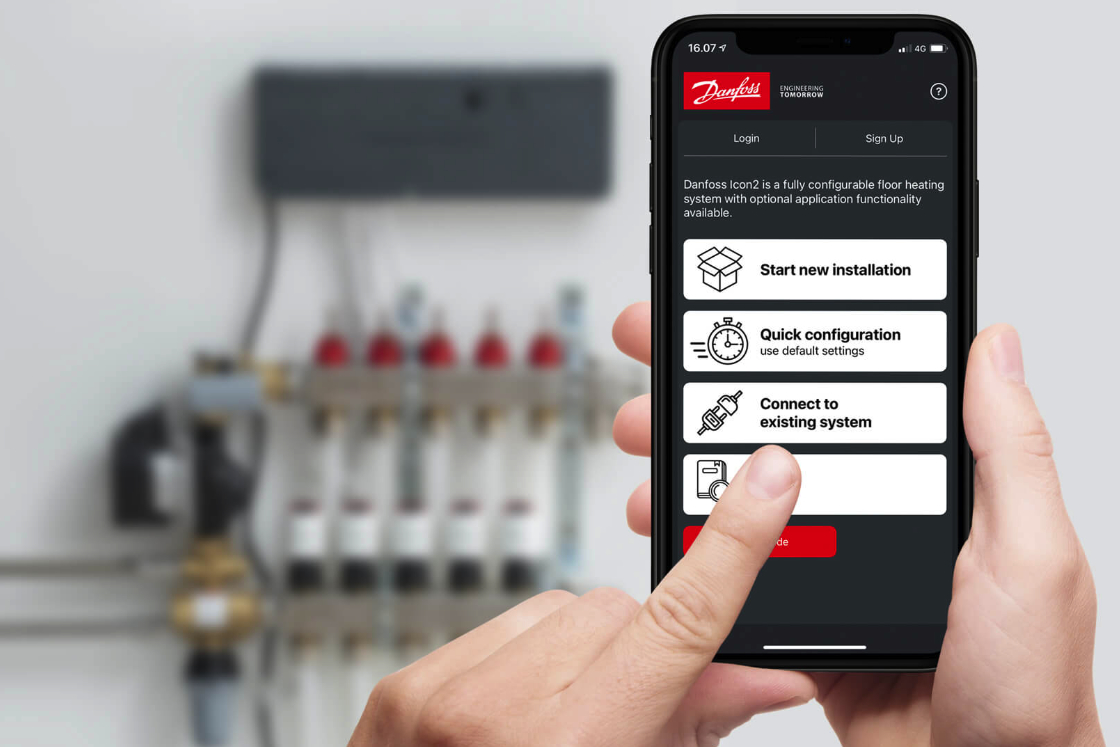 App-based installation
Set-up, commissioning and handover are all easier and faster because they are done digitally.
The Danfoss Icon2™ Commissioning App guides step-by-step and has everything needed to get the job done.


Automatic balancing
Maintaining the right balance in every room
With Danfoss Icon2™ automatic balancing, the system will reduce the "on" time for the shorter pipes found in small rooms and prioritize the longer pipes found in large rooms, in times where heat demand is high. This ensures all rooms will share the limited energy available in the way that delivers the greatest possible comfort and efficiency.
The benefits of automatic balancing
Energy savings
A balanced system can work with a lower supply temperature
Simple design
No calculations are needed as Danfoss Icon2™ takes care of it all
Easy installation
No need for pre-setting

Comfort
A more accurate room temperature in all areas of the house


Smart home compatibility
Danfoss Icon2™ integrates seamlessly with Danfoss Ally™ solutions and can be controlled from anywhere by the Danfoss Ally™ App, so end-users can enjoy all the benefits of a true smart-heating system. Set the temperature to 21°C degrees and that's exactly what it will deliver.


The Danfoss Ally™ Gateway is the only extra device needed to get cloud connected and gain all the smart heating features on top.
Because Danfoss Icon2™ is built on Zigbee 3.0 protocol, customers can also control their heating with other 3rd party Zigbee based smart home solutions.
Learn more about the Danfoss Ally™ solution and the many benefits of smart heating here


Installation has never been easier!
Magnetic mounting
It's not only the Danfoss Icon2™ controller that is quick and easy to install. The Danfoss Icon2™ solution gives you new opportunities for thermostat placement as well. The wireless thermostats can simply be placed wherever you want them. Just press the small magnet to the wall in the desired position and mount the thermostat on top.
Elegant thermostats
Looks matter. Whether you choose a wired or a wireless thermostat it will blend into the surrounding environment. All are compact and elegant and have a responsive touchscreen that powers off automatically so it's off 99% of the time.


Iconic design in wired versions
Mount in-wall or on-wall
Only two wires for easier installation
Automatic screen-off
The frame can be exchanged for a popular frame from switch frame manufacturers such as Busch-Jaeger, Gira, Berker and Merten (only compatible for the in-wall version)


Quality you can rely on
Best-in-class components deliver reliable performance. Danfoss Icon2™ floor heating control quickly meets the need with best-in-class technology and a 5-year warranty when installed by a professional.
Are you looking for specific product information?
Are you looking for specific product information for new or already installed products?
Click here to find documentation, software info, installation videos and guides.