Designed and custom made to handle sludges, slurries, waste water, wood pulps, hydrocarbons with high viscosity, and fouling liquids that contain fibers and solids, our SONDEX® spiral heat exchangers are the ultimate solution for even the most challenging, high-viscosity media. Since we use coiled metal sheets instead of tube bundles, we can achieve very high thermal performance without sacrificing the plate gap that lets the media flow unimpeded.
What does that mean for you?
The core of our spiral heat exchangers is the concentric spiral plate coils nested in the shell. The coils form two completely separated channels with a countercurrent flow arrangement that allows the heat exchanger to achieve very close temperature approaches, making our spiral units excellent for heat recovery applications.
To maintain the plate gap, we weld spacer studs onto the coils. Besides supporting the plate gap, the studs also greatly contribute to the turbulent flow. Our Free Flow option for spiral heat exchangers is stud-less, sacrificing some turbulence in exchange for a much larger plate gap for the most challenging media. These options enable us to efficient handle any duty and we offer you a choice of regular or Free Flow channels on both sides, or a combination of the two.
No application or duty is the same for a spiral heat exchanger, which is why we customize every single one of our units from the ground up according to your specifications. We are dedicated to providing you with an individually optimized solution designed for maximal uptime and reliable operation.
Easy maintenance and cleaning
The spiral coil itself also contributes to the turbulent flow, and the single-channel design helps alleviate fouling with a "self-cleaning" mechanism. Accumulated deposits create local increases in velocity, creating a scrubbing effect that is enough to loosen the build-up in fouling in most cases. This allows our SONDEX® spiral heat exchangers to operate in very long sessions without maintenance or cleaning.
Some media, however, are so challenging that the heat exchanger requires more frequent maintenance and cleaning. With this in mind, we have designed hinged covers that are sealed with C-clamps, creating a swing door that is very easy to open and close without any special tools required, letting you access the entire coil for inspection and cleaning.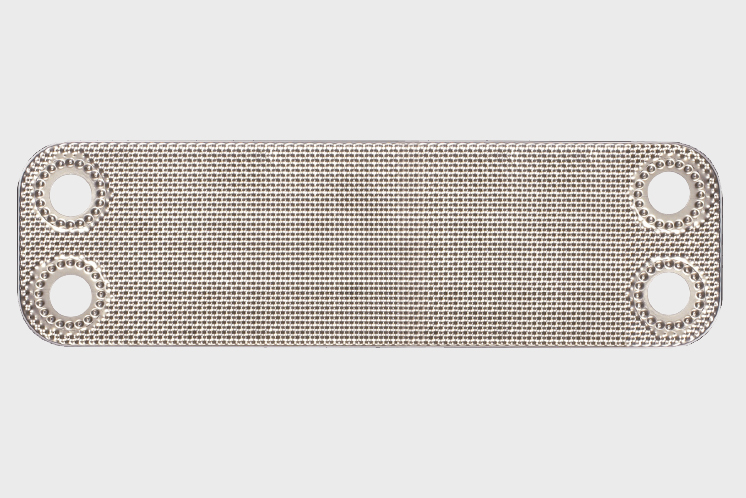 Micro plate technology
Our heat exchangers with the new state-of-the art Micro Plate™ technology feature next-generation efficiency and performance – giving you more from your district heating and cooling applications.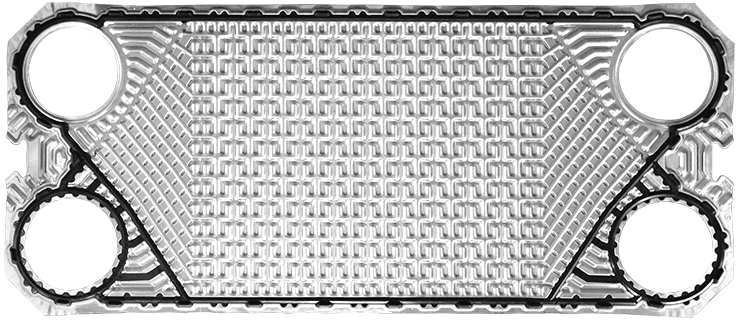 SONDEX® Free flow patterns
The SONDEX® Free Flow pattern is designed to treat media that is unsuitable for regular heat exchangers due to high viscosity, fiber and particle contents, or considerable risk of fouling.
Applications
Dairy/food/beverage industry
Biogas industry
Wastewater industry
Pulp and paper industry
Heavy industry
Petrochemical industry
Chemical industry
Technical specifications
Connections from DN32 to DN300
(Frames designed according to FEA and PED 2014/68/EU (EN13445) and ASME sec VIII, Div. 1 construction standards)
Shell materials: Carbon steel, stainless steel
Spiral materials: Carbon steel, stainless steel
Working pressure up to 10 bar (145 psi). Higher pressure available upon request
Working temperature up to 200 °C (392 °F)
Features and benefits
Single-channel design that generates high shear rates which contribute to a self-cleaning effect, preventing clogging of the unit. Spiral heat exchangers are the perfect solution for challenging, high-viscosity media.
The channel size is selected to fit the flow and qualities of the media. The many variations in diameters and widths of the spiral coil allow for many different combinations, which mean that we can create the optimal solution for every duty.
Designed to handle a very aggressive temperature program and with a wide range of materials and plate thicknesses available, we customize each spiral heat exchanger to match the requirements of any application.
Limited need for maintenance and cleaning ensures extended operational uptime. If the need for cleaning arises due to particularly difficult media, the hinged covers provide easy access to the entire heat transfer surface.
Very compact solutions, our spiral heat exchangers have minimal space requirements. Despite their small stature, the long, curved flow paths allow for very high heat transfer coefficients up to twice as high as their shell and tube counterparts.
What kind of heat exchanger is right for me?
The choice of heat exchanger depends on many factors. Our skilled sales engineers design the heat exchanger with the appropriate dimensions and correct specifications based on your input and requirements, to ensure that you receive a quality solution that performs optimally.
Which certificates are available for the heat exchangers?
Our heat exchangers are approved and certified according to industry standards and requirements. For specific details, please reach out to your local SONDEX® brand sales representative.
Where can I get a price list?
Please contact your local SONDEX® brand sales responsible.
How can I get a quotation?
Please contact your local SONDEX® brand sales office. For the most accurate quotation, please prepare the following data:
Duty,
Type of media,
Pressure drop,
Flow rate,
Working pressure,
Thermodynamic properties, Temperature,
Working temperature.