Easy installation. Easy service. Long lifespan.
At Danfoss, we understand the need for different options to fit various market demands. Our outdoor condensing units are an optimized combination of efficiency, reliability, easy installation and sound performance for applications such as cold rooms, fermentation rooms, restaurants, hospitals, etc.
Built to reduce installation and maintenance costs, these smart designs and components save valuable time and money while making production even more efficient with the minimum impact on the neighborhood.
Features and benefits
Available for R-134a, R-404a and R-448/9A refrigerants
Comes in sizes 1.5hp to 10hp in low or medium temperatures
Standard footprint and connection points for simplified replacements
Easy to service with multiple isolation valves and flare connections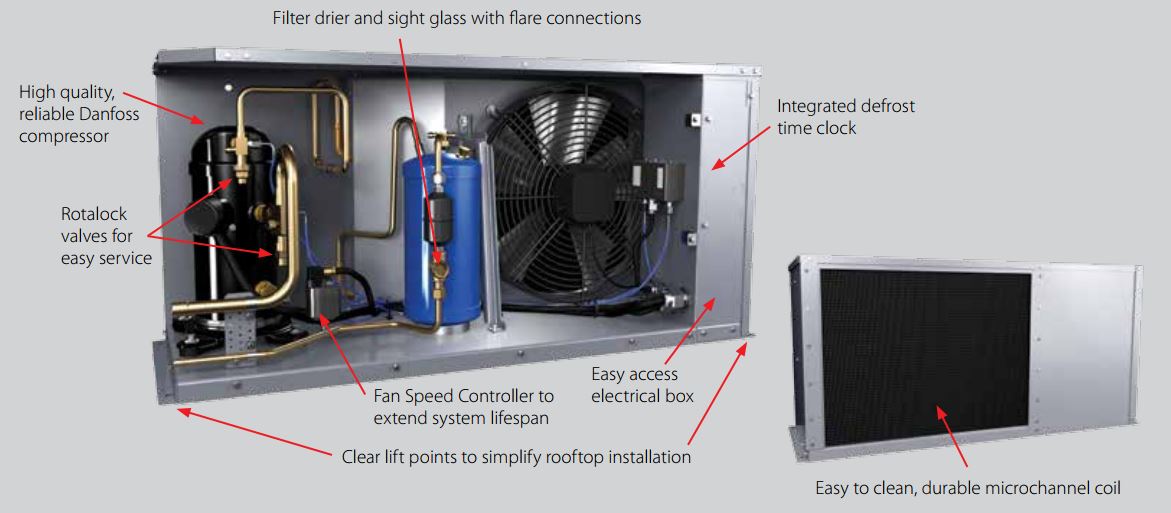 Coming soon...
Coming soon...
The truth is Cool(selector®2)
Coolselector®2 features unbiased calculations for the selection of refrigeration and air conditioning components based on the user's requirements or based on standard operating conditions.
Use Coolselector®2 for the technical data you need to get the job done right.
Documents

| Type | Name | Language | Valid for | Updated | Download | File type |
| --- | --- | --- | --- | --- | --- | --- |
| Brochure | Danfoss Solutions for Walk-in Coolers and Freezers | English | Multiple | 08 May, 2019 | 3.3 MB | .pdf |
| User guide | Installation and maintenance condensing unit manual | English | United States | 13 Nov, 2019 | 2.1 MB | .pdf |
| Brochure | Optyma integral indoor condensing units | English | Multiple | 20 Jun, 2019 | 51.9 MB | .pdf |
| Catalog | Optyma™ condensing units | English | Multiple | 28 Jul, 2023 | 4.2 MB | .pdf |