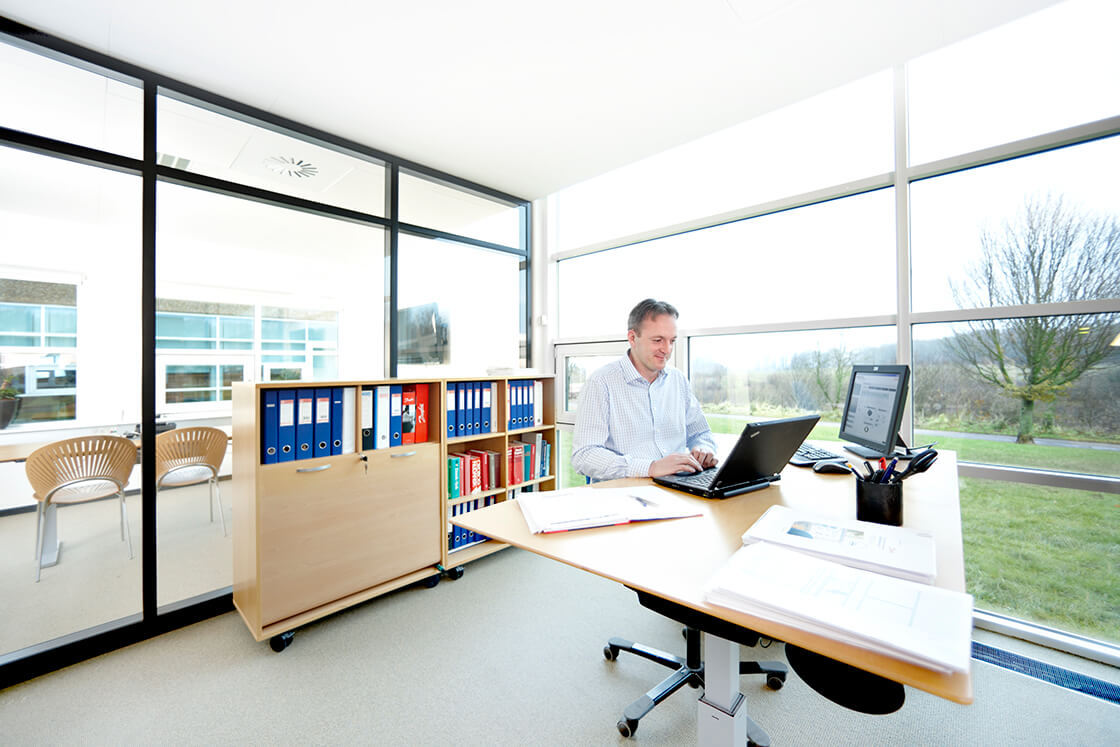 Comfort in office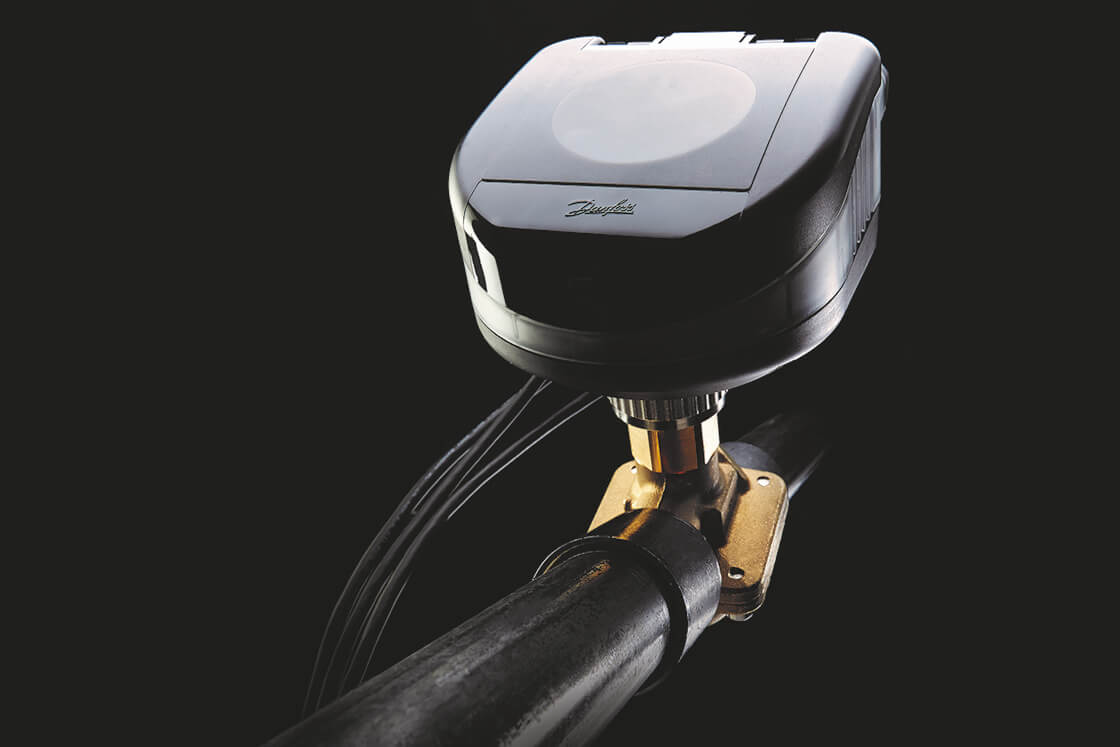 Danfoss AB-QM with NovoCon, BMS controlled space comfort via Terminal units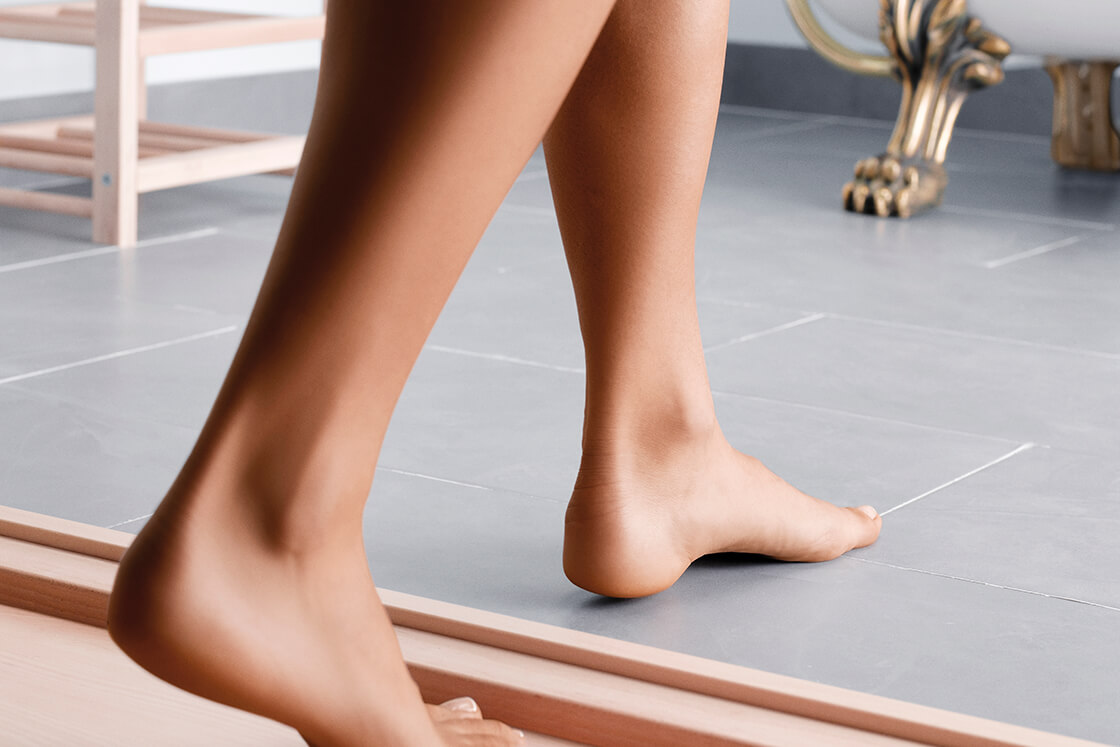 Danfoss floor heating in hotel bathroom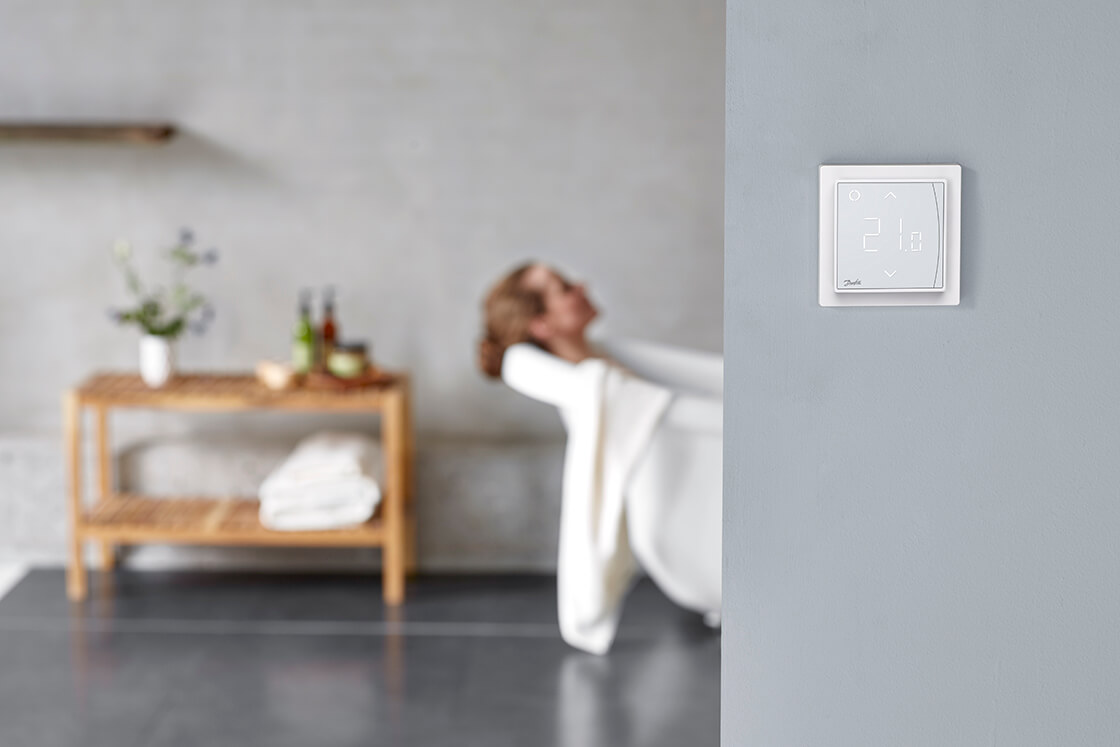 Danfoss room controls for floor heating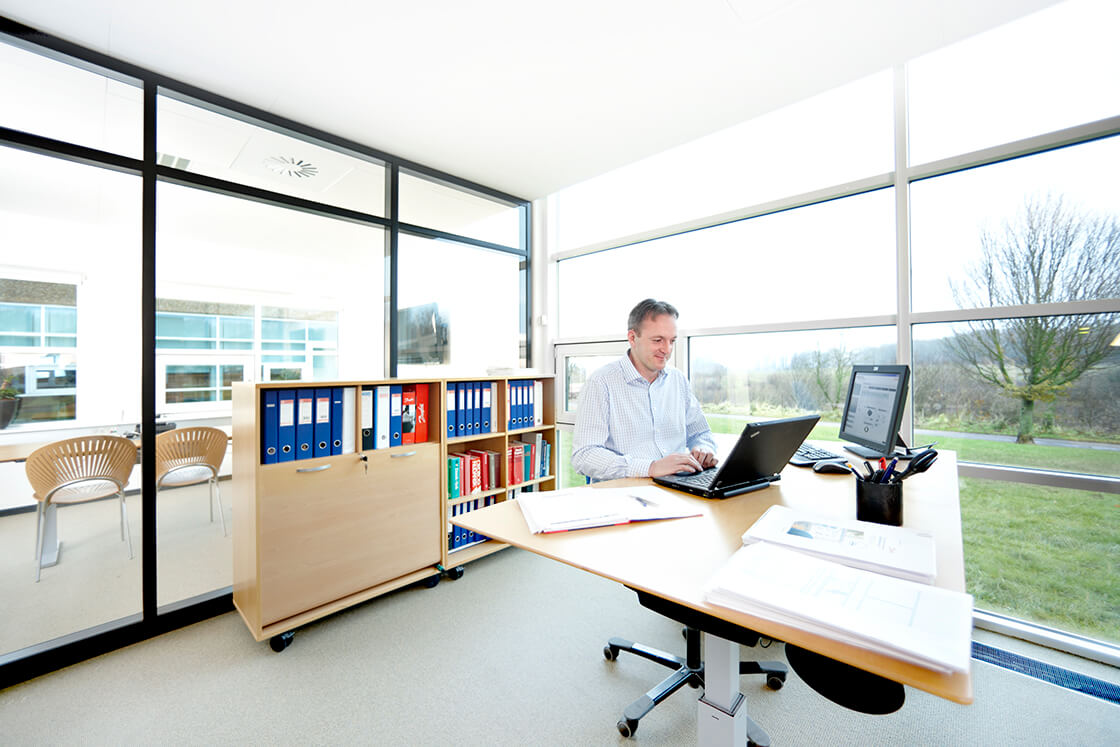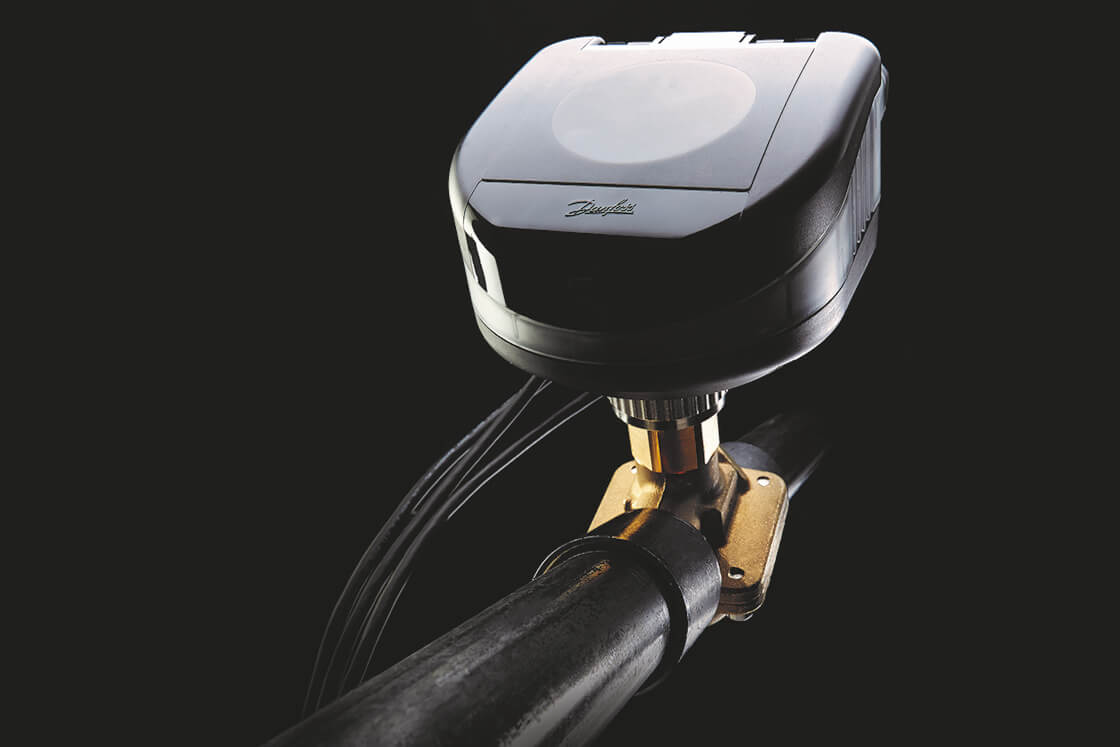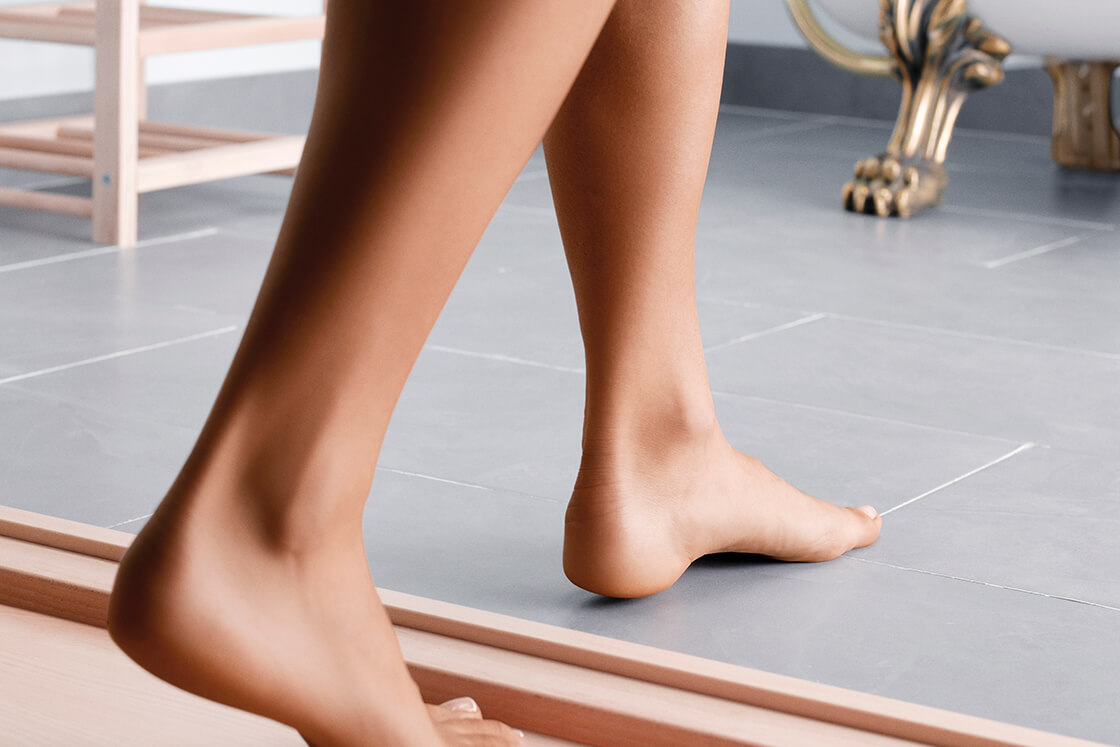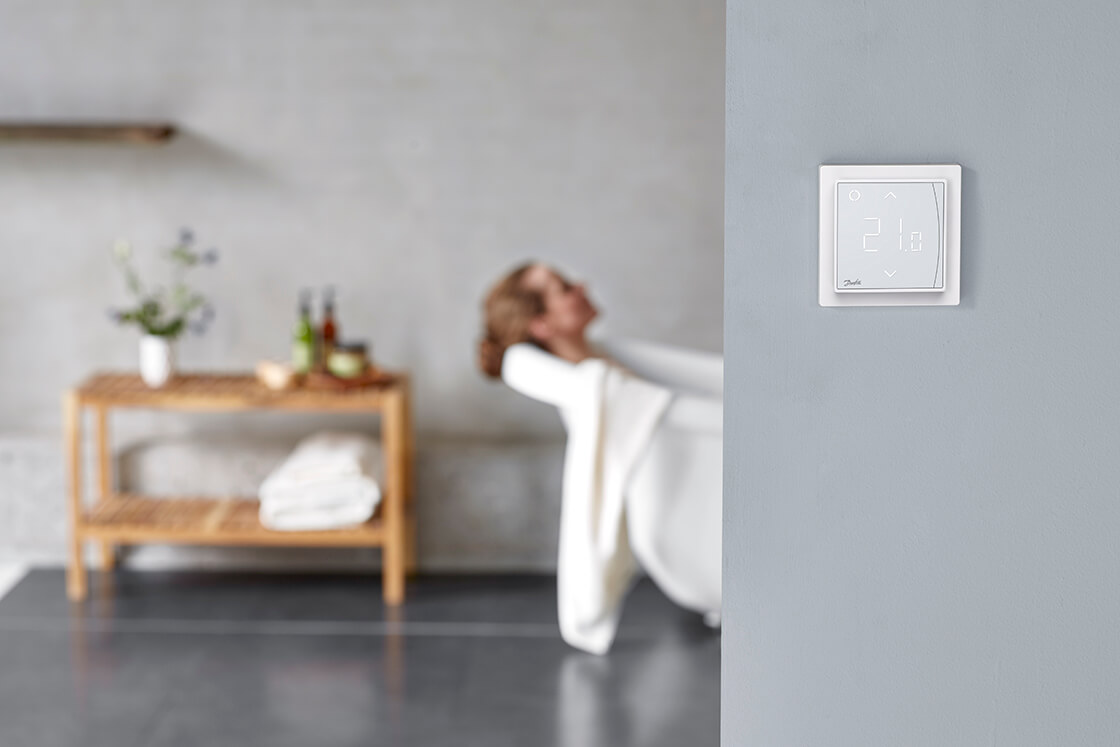 To achieve the best possible space comfort for users, every building is equipped with a suitable Heating and/or Cooling system. There are various options to increase or decrease the room temperatures and how this is controlled:
Terminal units
Radiator heating
Floor heating
Terminal units

Among others, cover fan coil units, cooling panels and climate ceilings. These are mostly installed in the ceiling and provide a room with heating and/or cooling via a 2-, 3- or 4-pipe system. To control the room temperature, the most accurate results, in both full- and partial load conditions, can be achieved by using Pressure-Independent balancing and Control Valves (PICV). They are simply set to the required flow under full load conditions and function as automatic flow limiters. In partial load conditions, the actuator accurately reduces the flow according to needs. No overflow situation will occur, increasing the energy efficiency of the heat or cooling source.
The actuators can be controlled via a Building Management System (BMS) or stand-alone electronic room controllers. In case the terminal units contain a fan, the room controller can also be used to change the fan speed.
Radiator heating
In most cases, designed as a 2-pipe system with one or more radiators in every room. To control the room temperature, Danfoss radiator thermostats are used. They consist of a thermostatic radiator valve, mostly with a pre-setting of the design flow, and a temperature sensor. A wide variety of sensors ensure accurate control of the room temperature. For example, if curtains prevent proper measurement of room temperature, a version with remote sensor or remote sensor and control provide a better solution.
For optimal space comfort, it is recommended to equip the radiator system with an automatic hydronic balancing solution. This eliminates pressure fluctuations, thereby ensuring that the radiator thermostats function optimally.
Underfloor heating
Offers a high level of comfort by heating rooms from the floor up. The heat is spread evenly and, because it is situated in the floor, it doesn't take up any precious room space. We offer both water-based (hydronic) floor heating as well as electrical floor heating solutions. It can be used to heat all spaces in the building or to heat dedicated spaces, such as hotel bathrooms, where the comfort requirements are highest.
With both hydronic underfloor heating and electrical underfloor heating systems, the room and/or floor temperature can be controlled via room thermostats. These ensure a superb level of space comfort while avoiding rooms being heated when this is not needed.

Danfoss Dynamic Valve™
2-in1 thermostatic radiator valves with built-in differential pressure controller
How we can help you
Accurate room temperature control
High user comfort experience
Complaint-free indoor comfort
Wide variety of systems and control solutions

Danfoss HVAC applications in commercial buildings
Danfoss helps you create better indoor environments with HVAC solutions based on application knowhow and a comprehensive portfolio of products for heating, ventilation and air conditioning in public and commercial buildings. 
Terminal Units Control
Products For Radiator Heating
Hydronic Floor Heating
DEVI Electric Floor Heating
Danfoss Electric Floor Heating
Smart HVAC control solution for the I-tower at WTC Amsterdam, the Netherlands

Building: Office
Application: Climate panels with a four-pipe change-over system for Heating and Cooling
Challenge: Establish a modern, innovative HVAC control system optimized for flexibility in (changing) usage of office space
Solution: Integration of Danfoss field devices with the Building Management System via BACnet bus-communication

High-end climate solutions in Waldorf Astoria by Hilton, Amsterdam, the Netherlands

Building: Hotel
Application: Hydronic balancing and control for radiator heating and fan coil cooling
Challenge: Establish top level comfort and minimum energy consumption for heating and cooling
Solution: Fan-coil units for cooling; 8 heating risers and radiators equipped with Danfoss products.

Energy comfort in Prime Tower, Zurich, Switzerland

The Prime Tower in Zurich is a building of many records. With its 126 meters it is the tallest building in Switzerland with 36 floors and 40,000 square meters accommodating mostly offices. And with its more than 6,000 AB-QM valves it is also one of the biggest heating and cooling installations ever designed and installed by Danfoss.

Hydronic balancing in SAMBA bank head office, Riyadh, Saudi Arabia

At the heart of the new King Abdullah Financial District in Riyadh, Saudi Arabia, stands the impressive SAMBA head office. The 40-storey building represents a landmark in sustainable architecture and engineering and forms an attractive work space for the 800 people working in the SAMBA Financial Group head office.

Dynamic valve for bigger comfort and energy efficiency in state school, Sonderborg, Denmark

When Sřnderborg State School moved into the city's old courthouse, the Danish high school inherited a chaotically constructed heating system and poor hydronic balance with their purchase. The solution? New Dynamic Valve™ radiator valves from Danfoss.