Low pressure transmitter for general industrial applications, type MBS 9200
The compact design of the low pressure transmitter, type MBS 9200 is designed for use in big industrial engine applications e.g. crankcase and turbocharger filter monitoring as well as applications within level measurement.
The robust design has excellent vibration stability and a high degree of EMC/EMI protection.
Features and benefits
Pressure span from 40 – 250 mbar
Bidirectional ranges available (flexible zero point) e.g. -70 – 70 mbar or -20 – 80 mbar
Digital temperature compensated
Reverse polarity protection
With build-in clipping function on request
Enclosure and wetted parts of stainless steel (AISI 316L)
Product ordering key
Non-standard build-up combinations may be selected. However, minimum order quantities may apply.
Please contact your local Danfoss Office for further information.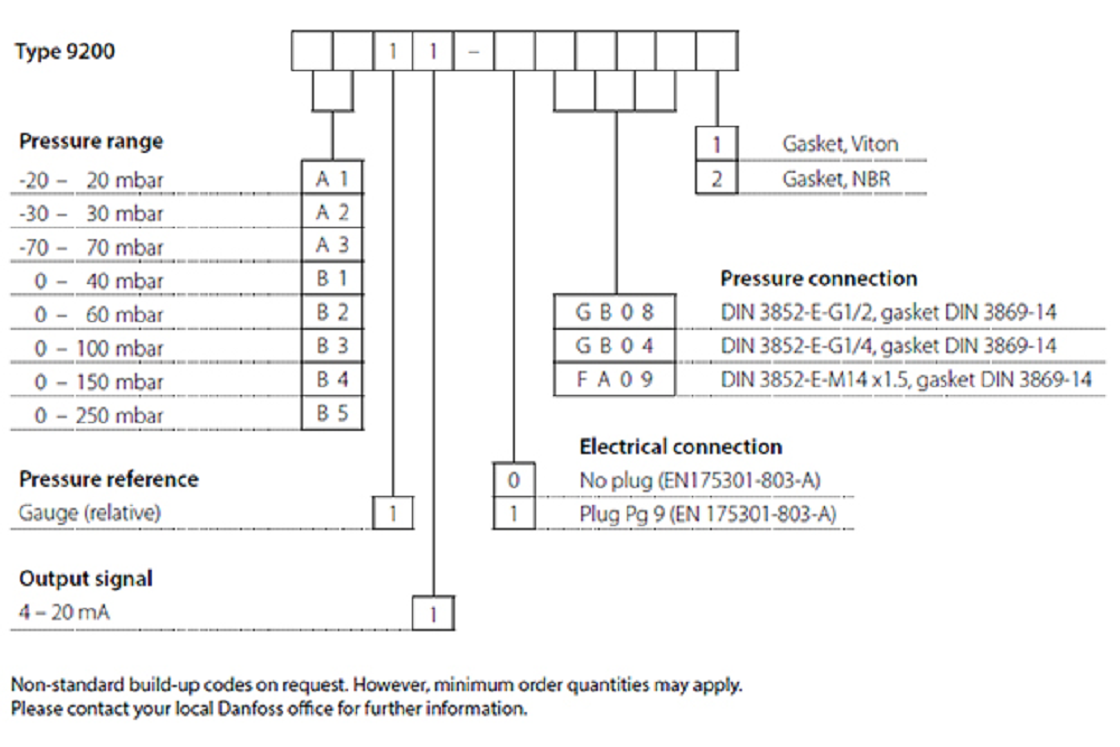 Documents

| Type | Name | Language | Valid for | Updated | Download | File type |
| --- | --- | --- | --- | --- | --- | --- |
| Data sheet | MBS 9200 Low Pressure Transmitter for Industrial Applications | French | Multiple | 29 May, 2019 | 531.7 KB | .pdf |
| Data sheet | MBS 9200 Low Pressure Transmitter for Industrial Applications | Polish | Multiple | 29 May, 2019 | 813.3 KB | .pdf |
| Data sheet | MBS 9200 Low Pressure Transmitter for Industrial Applications | Chinese (CN) | Multiple | 29 May, 2019 | 557.8 KB | .pdf |
| Data sheet | MBS 9200 Low Pressure Transmitter for Industrial Applications | Spanish, Castilian | Multiple | 29 May, 2019 | 520.0 KB | .pdf |
| Data sheet | MBS 9200 Low Pressure Transmitter for Industrial Applications | German | Multiple | 29 May, 2019 | 554.3 KB | .pdf |
| Data sheet | Pressure transmitter, type MBS 9200 | English | Multiple | 03 Mar, 2021 | 1.0 MB | .pdf |