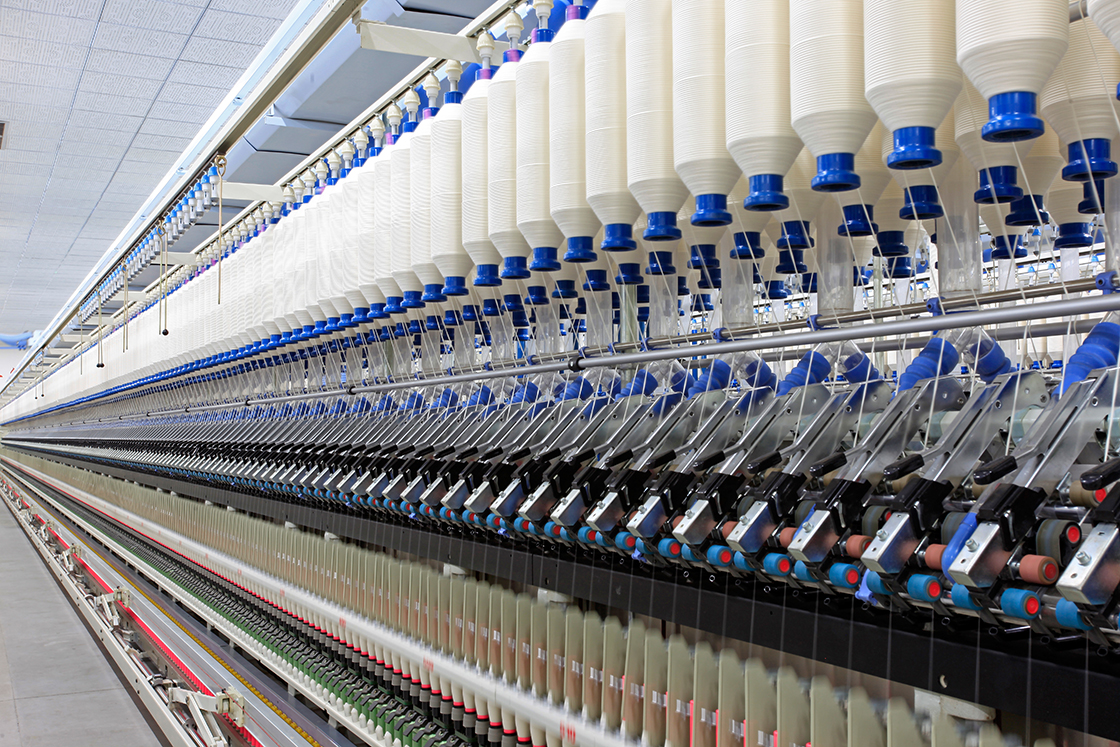 Ensure high uptime and optimal precision
The textile industry is primarily categorized by the spinning of raw materials (natural and man-made fibers) into filament, yarn, thread or rope that can then be weaved, knitted, sewed, matted or bound. The end products are used in clothing, carpets, household textiles and a wide range of technical products.
Danfoss high-quality AC drives and soft starters are designed for virtually every application in the textile industry. We draw on years of expertise in the strongest textile markets in China and India to optimize processes anywhere in the plant, and provide application engineering support throughout the entire lifecycle of this heavy industry.
Standard built-in features and dedicated functionality make Danfoss solutions the optimum choice for textile applications. Our tailored solutions include:
Heat-exchange concepts to meet tough environments
Excellent run-through and controlled ramp-down functions
Dedicated textile functionality (wobble, winder)
Basic and advanced motion control functionality
Outstanding electromagnetic compatibility (EMC) performance
Maximum availability in challenging environments
Operating conditions in the textile industry can be challenging with high temperatures and often dirty and dusty environments.
Danfoss AC drives are designed to operate reliably in temperatures up to 50 °C. They feature intelligent heat management systems and a choice of heat-exchange concepts (cold-plate, fan-cooled, panel through-mount, with removable fan for cooling by external air source) to meet a variety of requirements. Coated PCBs prevent corrosion due to humidity and the presence of lint and aggressive substances. Various degrees of enclosures (up to IP 66) prevent the entry of dust particles.
Optimization of ambient conditions – humidity and temperature – at critical stages in the process has a major impact on quality and performance. Using AC drives, for example, to control water pumps and air fans enhances the quality of the yarn, improves process uptime (with less yarn breaks) and throughput (with higher processing speed and reduced downtime) and reduces energy consumption.
Process optimization and operational reliability
Up-time is doubly important in the textile industry. Unplanned stops mean lost production time and costly delays while re-establishing the process. It can also lead to broken yarns and variations in product quality.
Danfoss AC drives are built to prevent unforeseen stops. They handle, for example temporary overheating, varying power quality and controlled ramp-down in case of power loss. Built-in intelligence and freely programmable options ensure precise control and optimized process availability.
Advanced motion control
Highly dynamic applications that need accurate motion control performance are a feature of the textile industry. Danfoss AC drives offer positioning and synchronizing precision combined with flexibility and robust reliability.
Danfoss solutions are designed for virtually every application in the textile industry – optimizing performance and putting an end to costly downtime.
Polylmerizing
Warping
Warp preparation
Weft preparation
Weaving
Twisting
Draw twisting
Dyeing
Drawing
Crimping
Drying
Cutting
Spinning
Ring spinning
Carding
Knitting
Circular knitting
Extruding
Piece dyeing
Draw texturizing
Finishing
Cone winding
Fabric dyeing
Mixing and blowing
Draw frame
Silver/ribbon lap
Open-end spinning
Combing
Winding
Fly frame/speed frame
Finishing
Sewing
Humidification
Discover how you can optimize productivity and reliability in textile operations using Danfoss solutions: