Danfoss helps you optimize the design of the refrigerant circuit
Commercial glass door merchandisers keep foods, cans and bottles cool in shops, supermarkets, convenience stores and gas stations.
The most important requirements for glass door refrigerators, commercial glass door fridges and coolers are low noise level, compactness, and high energy efficiency. 
The trend of climate-friendly solutions is growing, and consequently many drink manufacturers have made it their hallmark to reduce their carbon footprint, among others by using low GWP refrigerants in their glass door merchandisers.
Danfoss can offer you a full range of components certified for the majority of refrigerants and full, technical support to help you optimize the design of the refrigerant circuit.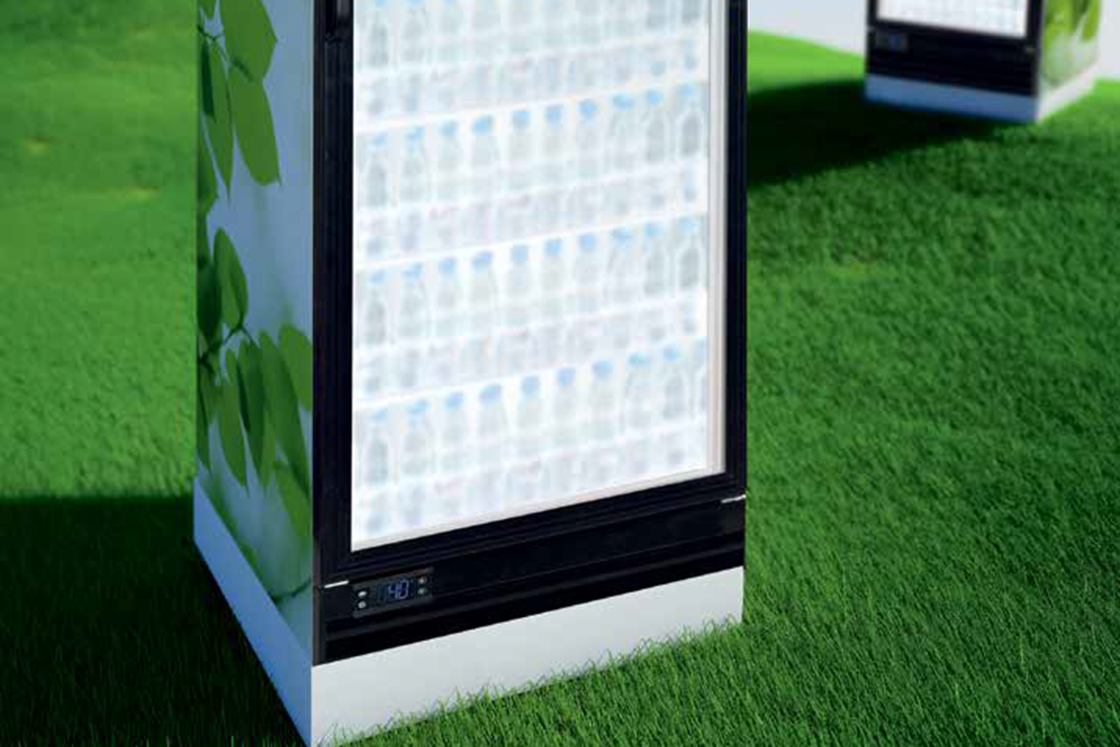 Get ready to expand your portfolio with natural refrigerants
Danfoss encourages the industry to continue to speed up its contribution to a cleaner environment and a cleaner image.
Features and benefits
Expansion valves for high energy efficiency
Mechanical and electronic thermostats for precise temperature control
Electric controllers for energy management and equipment control
Micro channel heat exchangers for reducing refrigerant charge, improved efficiency and compactness
Compressors: SC, NL, NLE, DLE, BD (Solar) for self-contained units
Documents

| Type | Name | Language | Valid for | Updated | Download | File type |
| --- | --- | --- | --- | --- | --- | --- |
| Brochure | ERC-ETC | English | Multiple | 20 Oct, 2014 | 277.0 KB | .pdf |
| Article | Food safety Focus on system performance, reliability and connectivity | English | Multiple | 20 Dec, 2018 | 483.0 KB | .pdf |
| Brochure | MCHE -time and cost saving | Korean | Multiple | 07 Apr, 2015 | 6.8 MB | .pdf |
| Data sheet | Thermostatic expansion valve Type TD 1 / TDE 1 | English | Multiple | 03 Jan, 2019 | 1.3 MB | .pdf |
Optyma™ (bare/indoor units)

The design concept of the Optyma™ condensing units is optimization, with newly designed single or two fan units, with standard or enlarged condenser (for high ambient conditions). To fulfill customer demand we have developed different versions of the Optyma condensing unit worldwide.

DML/DCL hermetic filter driers, HFC optimized

DML hermetic filter driers are optimized for HFC refrigerants and mineral or benzene oils. Compatible with refrigerants R22, R32, R134a, R404A, R410A, R407C, R23, R600, R600a, R744, R1234yf, R1234ze, R407f, R290, R452A, R444B, R449A, R448A and R450A. This product is approved for R290, R600 and R600a by ignition source assessment in accordance to standard EN13463-1.

Micro channel heat exchangers

Save time and money with MCHE standard products. The introduction of micro channel heat exchanger condensers, which combine resource and energy efficiency with minimal use of refrigerants, is enabling the development of leaner, greener solutions. Select one of our standard products and you can buy any quantity of condensers, any time, large or small, directly from stock.
Coming soon...
Coming soon...
Danfoss ADC lab testing helps Haglund improve energy efficiency by 34%

Refrigeration manufacturer Haglund Industri AB wanted to achieve energy efficiency class A. Experts at the Danfoss Application Development Center (ADC) rigorously tested new component packages and reported energy savings up to 34%.

Electromechanical thermostat or electronic controller – what is the right solution for GDMs?

So how do you achieve the desired energy efficiency, operational accuracy and safety of Glass Door Merchandisers? In this article we will explore some of the advantages provided by electronic thermostats & controllers, when compared to traditional electromechanical thermostats in order to support you in your choice of temperature control device

Solid core with steel housing vs loose desiccant with spun copper tube: Choose the right filter drier technology

Filter driers are key components in any commercial or residential refrigeration application. The market for filter drier technology, however, is complex with a lot of different solutions available and great variation when it comes to quality and pricing. Choosing the right filter drier is essential to providing reliable, long lasting protection of any refrigeration system.

Choosing the right component: thermostatic expansion valve vs capillary tube in glass door merchandisers

With a growing focus on reducing their environmental footprint and reducing costs, manufacturers of Glass Door Merchandisers (GDMs) are looking for alternatives to optimize their equipment in order to save energy and improve the efficiency of the system Depending on the condition of the equipment and the environment, choosing the right component can bring significant advantages