All you need in one place
New energy and performance standards require air conditioning systems with precise close control to achieve high reliability, better humidity and temperature control as well as part-load efficiency. These features are crucial for areas where close control units typically operate; i.e. in data centers, mobile phone network exchanges and server rooms, where cooling is business-critical.
Such cooling units need to operate reliably either continuously or intermittently, and provide cooling in both compressor and free cooling modes. The maintenance of a stable temperatures and humidity control are key design challenges in these applications, since they are used in environments where ambient temperatures often vary significantly during the day.
Danfoss micro channel heat exchangers (MCHE) let you take advantage of low temperature fluctuation to create cooling systems that safeguard these sensitive technologies. Our compressors provide you world-class efficiency ensuring lower running cost and reliable operation. All of these backed up by Danfoss' excellent technical support from our expert teams.
Features and benefits
All you need in one place, delivered by highly experienced air conditioning experts
Precise temperature control to safeguard sensitive equipment
Compact, space-saving units
Optimised for environmentally friendly, low GWP refrigerants
Reduced applied costs, short payback times and easy service
Dedicated customer service around the world
Application diagram: Close control air conditioning components in a typical system
Key for application diagram:
Compressors
Pressure switch
Ball valve
Check valve
Condenser
Fan
Solenoid valve
Filter drier
Sight glass
Expansion device
Evaporator
Controller
Pressure sensor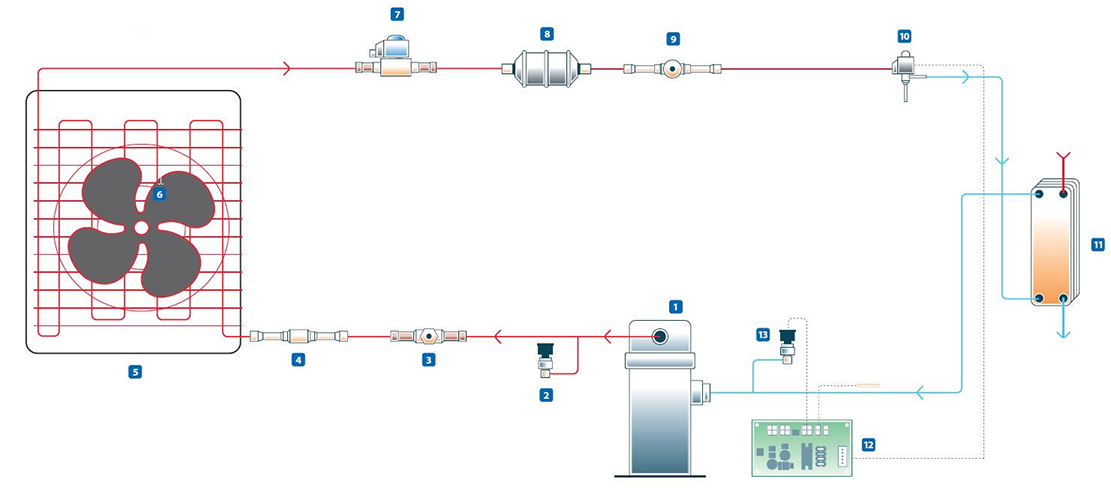 Danfoss variable speed technology
By using the Danfoss inverter compressor solutions, significant energy savings can be achieved compared to traditional on-off compressors or mechanically-modulated technologies.
| Type | Name | Language | Updated | Download | File type |
| --- | --- | --- | --- | --- | --- |
Pressure switches and thermostats for refrigeration

The range of pressure switches and thermostats cover a lot of applications within refrigeration and air conditioning. The pressure switches and thermostats are in two categories: KP as standard and RT for heavy duty purposes. The switches can be delivered for fluorinated refrigerants as well as ammonia.

Sight glasses

SGP is a series of sight glasses for high pressure applications (Max Working Pressure 52 bar/754 psig). SGP is available in versions optimized for refrigerants with mineral oil e.g. HCFC, and in versions optimized for non-flammable HFC refrigerants. SGP is available with flare, solder and socket connections, and with and without moisture indicators.
Low PUE in data center cooling saves energy and costs

A British manufacturer have recently installed a scalable data center together with one of their customers which has achieved the impressive Power Usage Effectiveness rating (PUE) of 1.21.

For security reasons we cannot reveal the name and the location of the data center since the information managed by the servers is in many cases very sensitive.