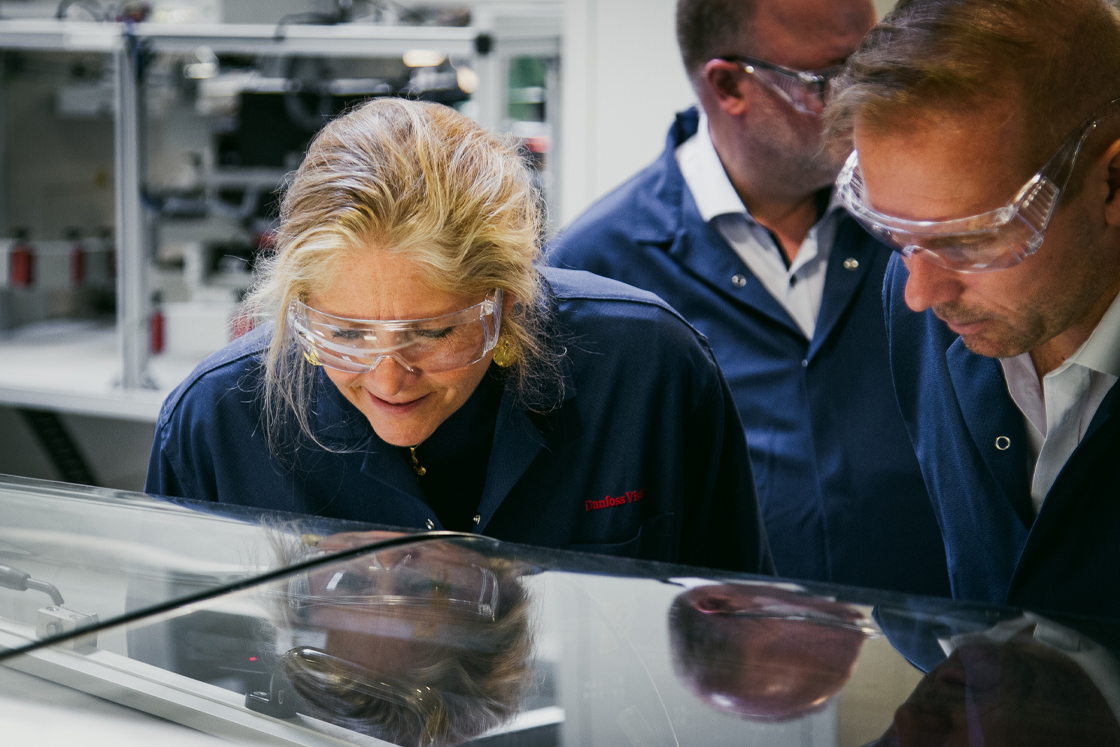 Danfoss Drives was delighted to host a visit by Danish Maritime CEO Jenny Braat to the Graasten factory, on 6 May. The Danish Maritime business association represents Danish manufacturers of maritime equipment and vessels, and in this capacity a dialogue is more relevant than ever for Danfoss Drives, as we expand our support to marine decarbonization at an accelerating rate.
Ferry electrification gives potential for 30,000 tpa less CO2
Jenny Braat highlights that "Today, emissions from Danish ferries amount to a total of 200,000 tonnes CO2 annually: the distribution is 80,000 tpa CO2 emission from smaller ferries and 140,000 tpa for Kattegat ferries. By converting to electric propulsion, a potential 30,000 tpa reduction in CO2 emissions is possible, and other technologies can help to reduce CO2 emission even further."
"Globally, the ferry industry comprises 7,200 vessels with an average age of 30 years. With this ageing fleet, we can predict a massive ferry replacement process ahead, in fact it's already begun. We can expect an increase in new contracts every year from 2025 onwards."
During her factory visit to Danfoss Drives Graasten, Jenny Braat met our engineers and viewed the new smart highly automated factory facilities which equip Danfoss Drives to deliver the pinnacle of quality in power electronics, and to stay competitive in the coming decades.
In our role as decarbonization partner for a multitude of marine customers, Danfoss Drives provides intelligent and efficient power conversion solutions for zero-emission propulsion. These solutions empower electric vessels to achieve world-class performance and reliability, both onboard in the machine room propulsion system and onshore in rapid vessel charging. Ports can furthermore benefit from power converters from Danfoss Drives, as they power shore supply systems servicing berthed vessels.
Three questions to Jenny Braat, CEO at Danish Maritime:
Claus Larsen, Country Manager - Denmark at Danfoss Drives: According to the Danish Marine Authority, in 2017 Danish vessels carried 20% of the world's trade. With such dominance, why is it important that Danish companies still collaborate with each other on deliveries in the marine industry?
Jenny Braat: The Danish maritime industry, like the rest of Danish industry, consists of a few large and very many small and medium-sized Danish companies. There is therefore a need for us to work together, and fortunately we are also really good at it. When we enter the world market, we often meet large groups, and it is easier to get in if we have system solutions that are also difficult to copy.
Claus Larsen: How can Danish companies best support one another?
Jenny Braat: It is important that our companies - when they are operating in export markets or dealing with the customer - remember what we are capable of in Denmark and, when possible, can give other Danish companies a boost, recommending them to their customers. This is especially true when the big fish can take the little fish out into the world. In fact, we in the industry need to play up each others' talents.
Claus Larsen: How can Danish Maritime contribute?
Jenny Braat: Danish Maritime has an important role in bringing our members together and creating collaborations, but also in making our competencies visible both in Denmark and globally. It is important that the world knows that when they seek maritime solutions, they must look to Denmark and the Danish maritime industry. At the same time, we have a very important role in being our members' voice in the domestic political system, so that it is attractive to run a maritime company in Denmark, and to work as an employee in our member companies.
To learn more about how Danfoss Drives supports decarbonization of the marine industry, visit our webpages for fast vessel charging and marine electrification.