Green renovation hack:
Get better boiler efficiency with the right component match
Did you know that installing a high-quality condensing boiler is not enough to ensure maximum energy efficiency? In fact, there are many condensing boilers installed that do not live up to their full potential, because the component match with the condensing boiler is not optimal. You can cash in on customer satisfaction and savings, if you look at the complete system, and how components for room control affect the overall boiler performance.
Green renovations are not just about installing new expensive heat sources in your customers' homes. There are also great ways of optimizing the existing heating systems that are already installed in homes. Condensing boilers have big potential to run more efficiently with the right adjustments and component match. Optimizing the component match with your condensing boiler is a great budget-friendly "hack" to recommend customers interested in getting more energy efficient heating systems. Learn more about how to fine-tune condensing boiler efficiency by working with elements like:
Fast-reacting thermostatic radiator valves
Automatic balancing of radiators
Smart, electronic room temperature control systems – also for floor heating
High-performing condensing boilers deserve high-performing components
Today's condensing boilers are highly efficient and make for a good fuel economy in your customers' homes. However, all too often, the efficiency of the boiler is impaired by components that do not allow the boiler to reach its full potential. The result is condensing boilers not running in condensing mode and energy bills that are much higher than they should be.
So why not do it right from the start by matching the condensing boiler with high-quality components such as best-in-class thermostatic radiator valves, dynamic valves or smart, electronic solutions?
It is all about low return temperature
Modern condensing boilers achieve maximum efficiency when they operate in condensing mode most of the time. This can only be achieved with low return water temperature.
When installing a new condensing boiler, it is often connected to the existing room controls, e.g. manual radiator valves or old thermostatic radiator valves without presetting that are not designed to provide low return water temperature. Does the boiler work this way – yes! Does it work efficiently – no!
Learn more about how lowering the return temperature affects the boiler efficiency in the video below!
BOILER EFFICIENCY
Learn how to boost condensing boiler efficiency with thermostatic radiator valves
To obtain high condensing boiler efficiency, you have to match the boiler with up-to-date room temperature controls. And there are several options. At Danfoss, we put it this way: Do you want go GOOD, BETTER or EASIEST?
Let's take a closer look at your options.
GOOD: Best-in-class thermostatic radiator valves
To obtain an optimum heat control solution that match modern boilers and their efficiency, you can go for a thermostatic radiator valve (TRV) with presetting, e.g. Danfoss RA-N radiator valve in combination with for example a Danfoss RA2000™ radiator thermostat When installing this TRV, you make sure that each radiator receives the exact amount of hot water to keep the room at the desired temperature – no more, no less. The TRV limits the flow through each radiator by regulating the room temperature to the desired level, which lowers the return water temperature and allows the boiler to operate most efficiently.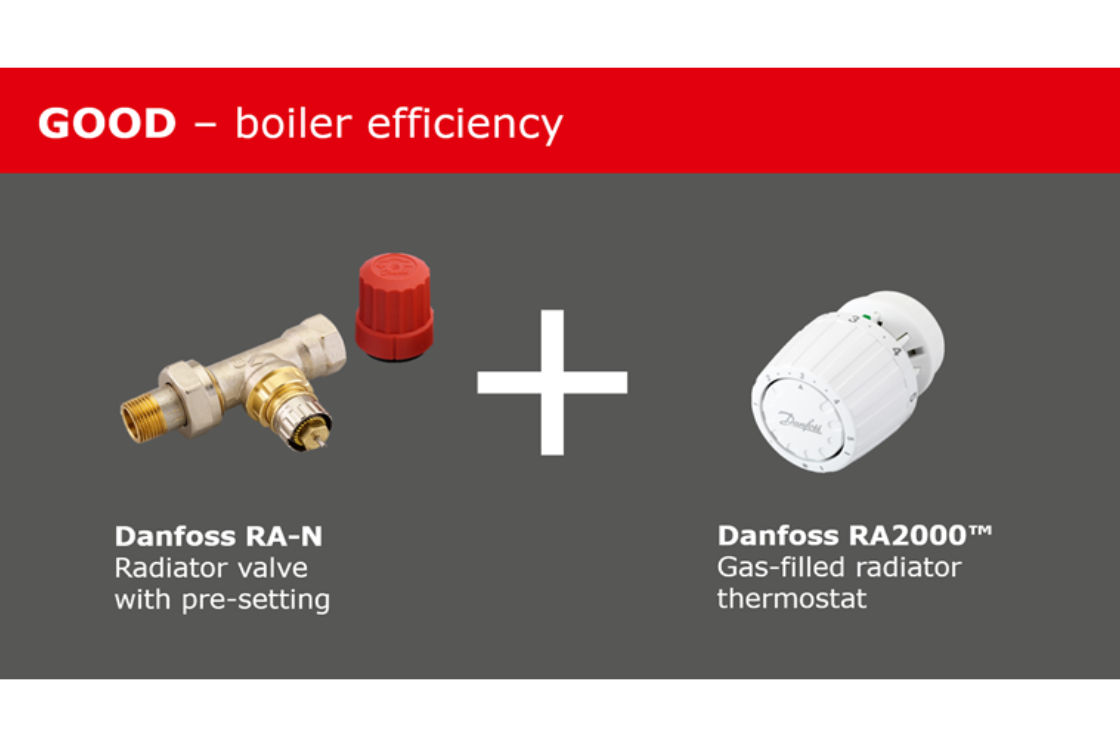 When replacing a manual radiator valve with the thermostatic radiator valve, type RA-N + RA2000, you can typically lower the temperature of the return water, which produces better boiler efficiency and fuel savings. Add to this, the significant savings achieved by an improved balancing of the heating system combined with precise temperature room control, and you can offer your customer savings up to 36% on the energy bill, when you compare with a previous solution with constantly open manual radiator valves.
Convince your customer with arguments like:
The installation of TRVs is typically paid back in less than 18 months.
Better comfort with right temperature in all rooms
Less noise from radiators

Remember to balance the radiator valve with pre-setting!
Studies show that about eight out of ten buildings have inefficient heating systems that waste energy.
To avoid this situation, it is important that you preset the radiator valve when you install it. Otherwise, your customer will miss out on boiler efficiency and energy savings.
Download the Danfoss Installer App to get heat emission, flow and presetting right every time with the radiator pre-setting tool.
BETTER: Automatic balancing of the heating system with dynamic valves
The standard TRVs are a good solution to improve condensing boiler efficiency, but you can do even better by installing the Danfoss Dynamic Valve™ (RA-DV) together with the radiator thermostat, especially when it comes to bigger or more complex heating installations.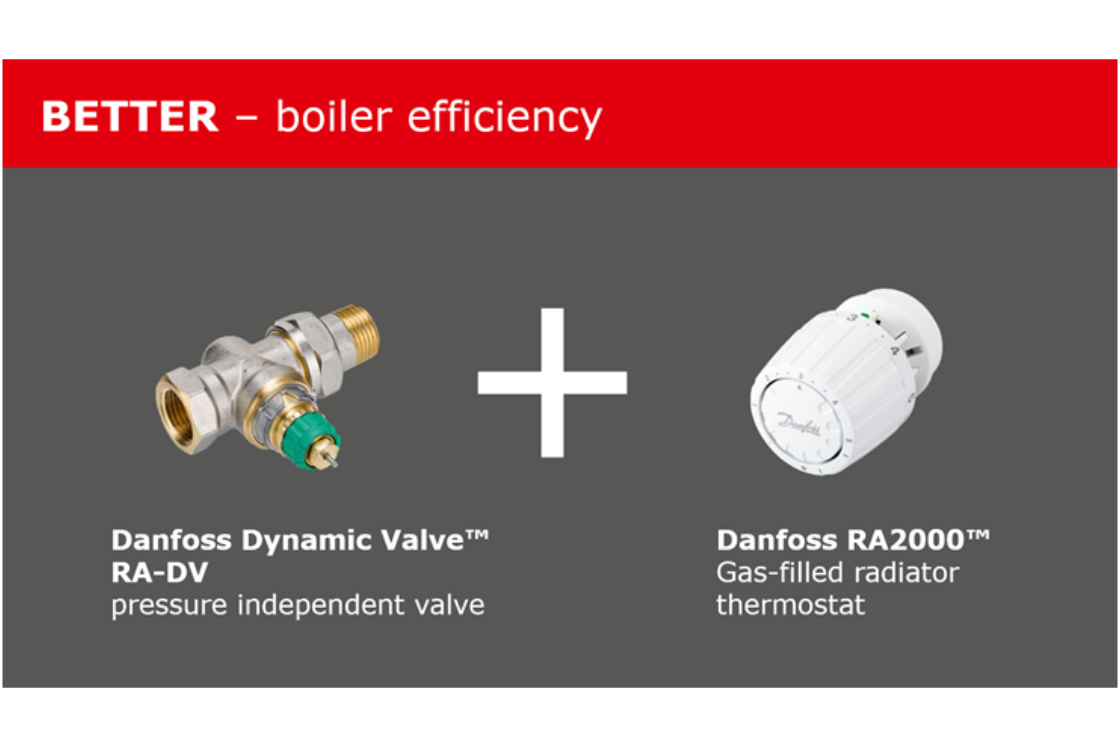 By installing Danfoss Dynamic Valve™, you can make sure that the heating system is always perfectly balanced. Besides improving the condensing boiler efficiency considerably by lowering the return temperature, the dynamic valves ensure that complaints about under-heated or over-heated rooms are a thing of the past.
The distribution of heat is even and according to the preset levels thanks to a pressure independent regulator inside the dynamic valve that ensures automatic hydronic balancing at all times regardless of partial loads and weather conditions.
Learn more about the Danfoss Dynamic Valve™ in the video below!
PRODUCT INNOVATION
Discover the dynamic ValveTM  from Danfoss
For you, the dynamic valve means easy installation and hassle-free operation. You simply mount and preset the valves to the desired flow, and they perform the balancing of the entire system automatically and right away.
Convince your customers with arguments like:
No risk of unwanted overflows or underflows
Even the biggest or the most remote rooms get adequate heat
No noise from the radiators

EASIEST: Electronic control solutions for radiators and floor heating
If you want to present your customer with an easy and smart solution for high comfort and high condensing boiler efficiency, you can introduce electronic control systems, e.g. Bluetooth controlled Danfoss Eco™ radiator thermostats, the Danfoss Ally™ smart heating solution, or go bold with your floor heating and chose the Danfoss Icon™ system.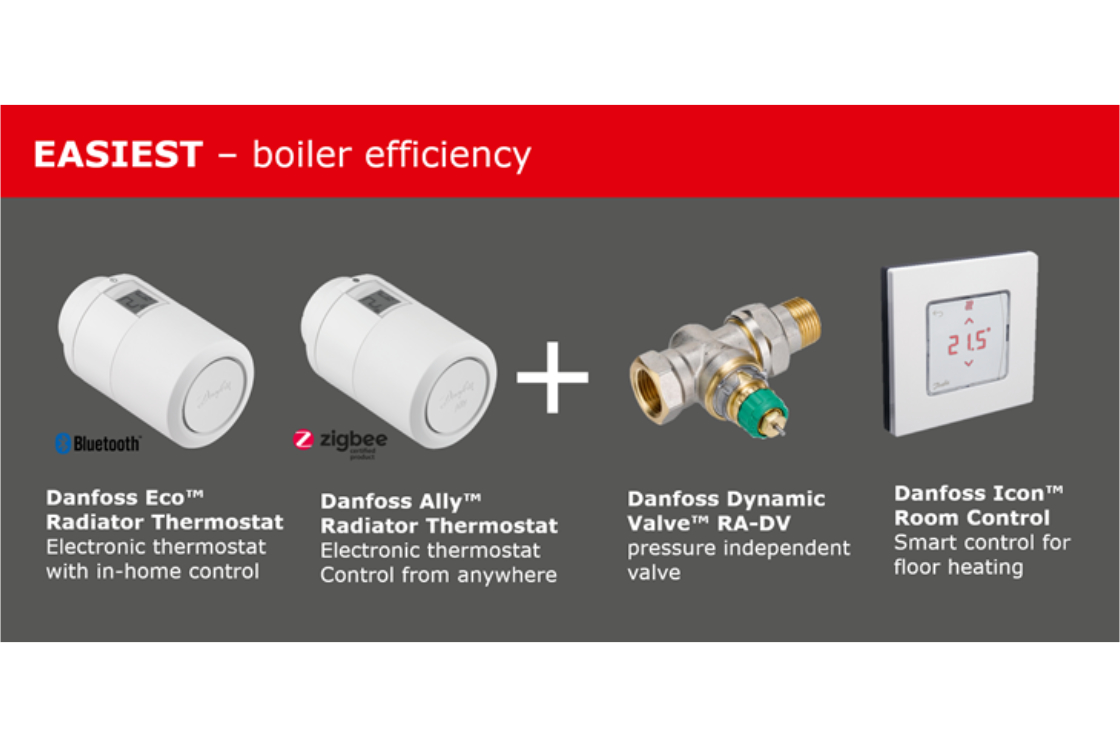 Due to the scheduled and precise temperature regulation performed by Danfoss Eco™ or Danfoss Ally™ Radiator Thermostat, they always allow the boiler to operate at its best. When combined with Danfoss Dynamic Valve™, they can offer the biggest possible energy savings out there.
Smart room controls like Danfoss Icon™ are dedicated to hydronic floor heating. Danfoss Icon™ ensures automatic balancing of each circuit, ensuring that all rooms regardless of size and location receive the right amount of heat at the right time. There is no need for installing a weather compensation unit to adjust for fluctuations in outdoor temperatures. The electronic control system measures the actual and required temperatures in each individual room 24/7. The information is then sent to an actuator, which continuously adjusts the inlet temperature of the water. The demand-based temperature regulation improves comfort and lowers the return water temperature, which again increases the boiler efficiency.
Convince your customer with arguments like:
Let the heating follow the daily schedule and save up to 30% on the energy bill
Get the most out of the new condensing boiler
Control the heating via smart phone

Self-regulating heating devices are a must from 2020
The new Energy Performance of Buildings Directive is fully implemented in all EU member states by March 2020. This means that when you install a new heat generator like a new condensing boiler, you shall install self-regulating devices that regulate the temperature in each room, if technically and economically feasible.
Just remember: A classic thermostatic radiator valve is good. Adding a dynamic valve is even better. And going for electronic temperature control combined with automatic hydronic balancing is the easiest.
Now it is up to you to choose what green renovation hack to offer your customers with condensing boilers installed in their homes!
Read More

How to increase the energy efficiency of heating systems
With switching from natural gas to district heating or heat pump there are some aspects that you should always take into consideration.