Go beyond cool
Get contractor-friendly products & solutions built with market leading expertise that are available everywhere and enable you to comply easily with regulations and save on installation and maintenance. Make the right choice for optimum protection of perishables, efficient operation and long lifespan.
With an extensive range of refrigeration solutions, experience and know-how, Danfoss is a competent and trustworthy partner for the cold room storage industry. Explore our solutions for reliable cold rooms and walk-in refrigerators below.
Features and benefits
Widest portfolio for all types of cold room and walk-in refrigeration applications
Reliable and highly energy efficient solutions
Long service life, low operation and maintenance costs
Compliance with refrigerant and energy regulations
Solutions for better food preservation
Products suitable for use with lower GWP and natural refrigerants
Global and local application expertise
Simple product selection with Coolselector®2 software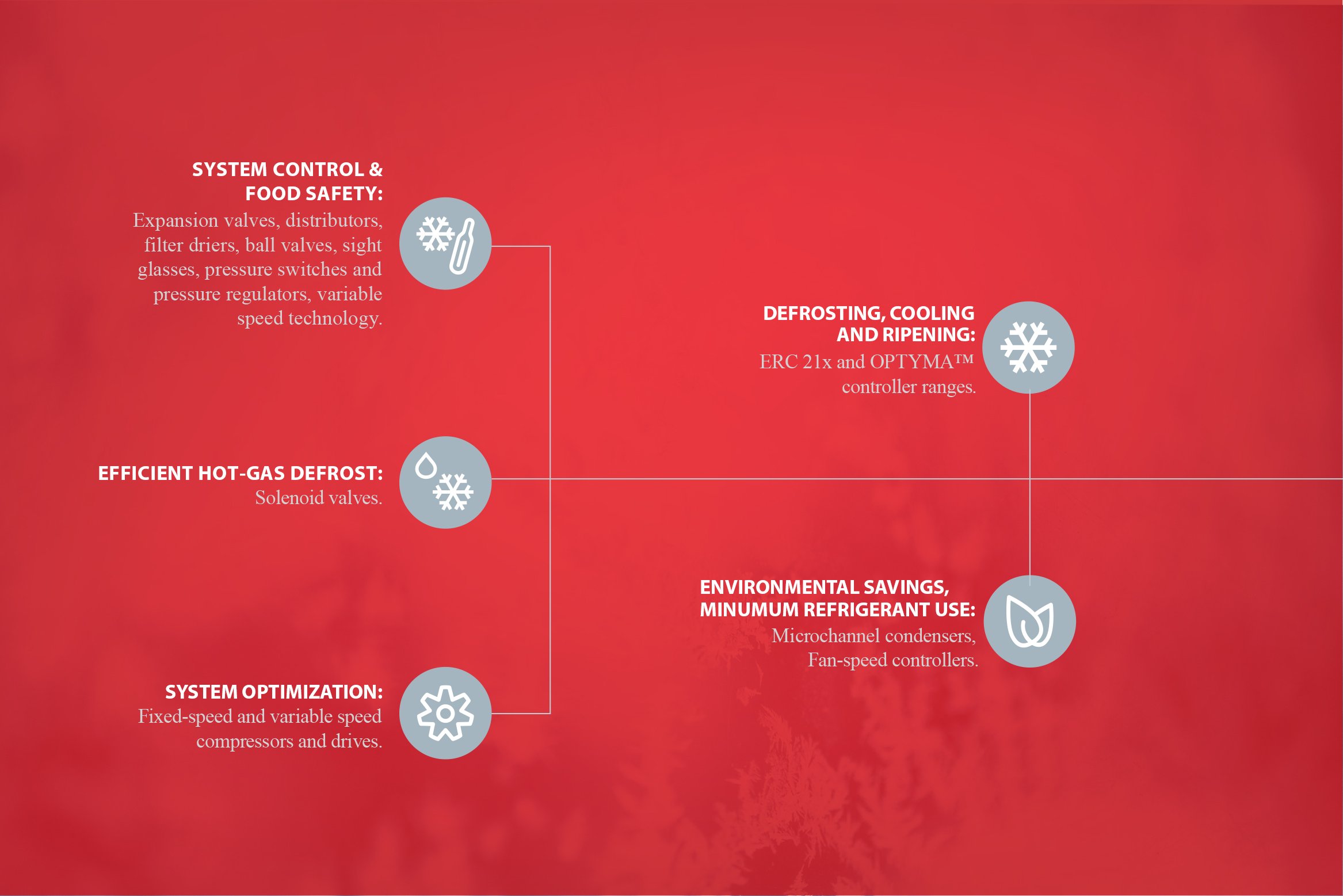 Go Beyond Cool by creating better solutions
With the widest product portfolio for cold rooms, we offer a powerful combination of expertise and options that will enhance your cold room design and installation.
Find your local portfolio and relevant materials

Cold room selection and Ecodesign
With our free Coolselector®2 software, you can find the best match for Danfoss components in your cold room. It is important to note that the condensing units have to comply with the Ecodesign EU directive. Watch this video to see how you can easily generate an Ecodesign report matching your suggested components.
Compressors for refrigeration

Danfoss focuses on providing energy efficient, sustainable and smart refrigeration compressors for a varied range of commercial applications such as cold rooms, display windows, ice making machines, glass door merchandizers, process cooling etc. Their qualification with lower GWP refrigerants make them compliant with refrigerant regulations such as F-Gas in Europe.

NRV refrigeration check valves

NRV and NRVH can be used in liquid, suction and hot gas lines in refrigeration and air conditioning plants with fluorinated refrigerants. NRV and NRVH can be supplied with flare and solder connections. They are also available with oversize solder connections providing flexibility in the use of check valves.

ETS electric expansion valves

ETS is a series of electric expansion valves for precise liquid injection in evaporators for air conditioning and refrigeration applications. The valve piston and linear positioning design is fully balanced, providing bi-flow feature as well as solenoid tight shut-off function in both flow directions. ETS valves are compatible with electronic control solutions from Danfoss and other manufacturers.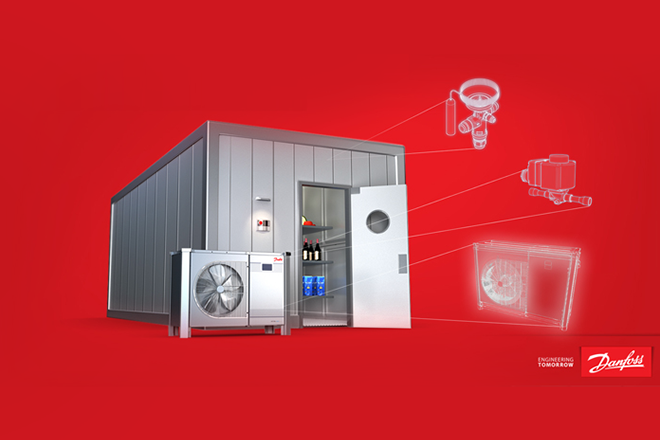 Cold room training program
Learn how to achieve better food preservation through Cold Room solutions with our online training program.
Danish supermarkets turned into heat suppliers

A Danish supermarket fulfills 95 percent of its heating demand from its own cooling display cases. The chain has installed Danfoss heat recovery units and managed to halve its CO2 footprint in five years. Imagine if this was done in all supermarkets in the world.

Hot gas defrost - the next step in commercial kitchen refrigeration

As authorities and customers focus on energy efficiency standards and ratings to understand not just what a commercial refrigeration unit costs to buy, but what it costs to operate, the refrigeration design engineer needs to look again at the fundamentals and consider new approaches.

Lower-GWP enhanced range of condensing units provides cooling for hospital cold rooms

When a busy hospital needed to relocate its cold room condensing units, consultant Neil Garnett knew it was time to upgrade to F-Gas compliant refrigerants. He chose Optyma™ Plus units, running with R134a and – crucially – R452A.

Diaper Poultry invests in new dispatch area cold room powered by Optyma™ Plus

Diaper Poultry are really pleased with the result. Compared to the old refrigeration solution, the new Optyma™ solution is only about a quarter of the size, it works much more quietly and at the same time it is just as efficient as the old system.

Better Food Preservation
1/3 of all food produced in the world is lost or wasted. Cold chain preservation to secure food safety is not an option but an obligation and is another crucial aspect of the global food demand. Danfoss solutions for cold rooms help keep the food fresh and safe for consumption and therefore contribute to reducing food loss and waste.
New Optyma™ Control upgrade helps installers deliver more efficient, connected cold rooms

Thursday, 3 December 2020

Danfoss has unveiled an upgraded version of its popular Optyma™ cold room controller that adds new efficiency features and connectivity for self-contained rooms, remote condensing units and rack systems alike.

Aligning the stars: Three ways to revolutionise Asia's cold chain operations

We are featured on FoodNavigator-Asia on our thought leadership on providing sustainable and energy efficient cold chain in Asia. This is from the in-depth conversation at our 'Tomorrow's Cities: Engineering the energy transition' event held end of March which engaged the audience on 'A cleaner cold chain for climate change'.