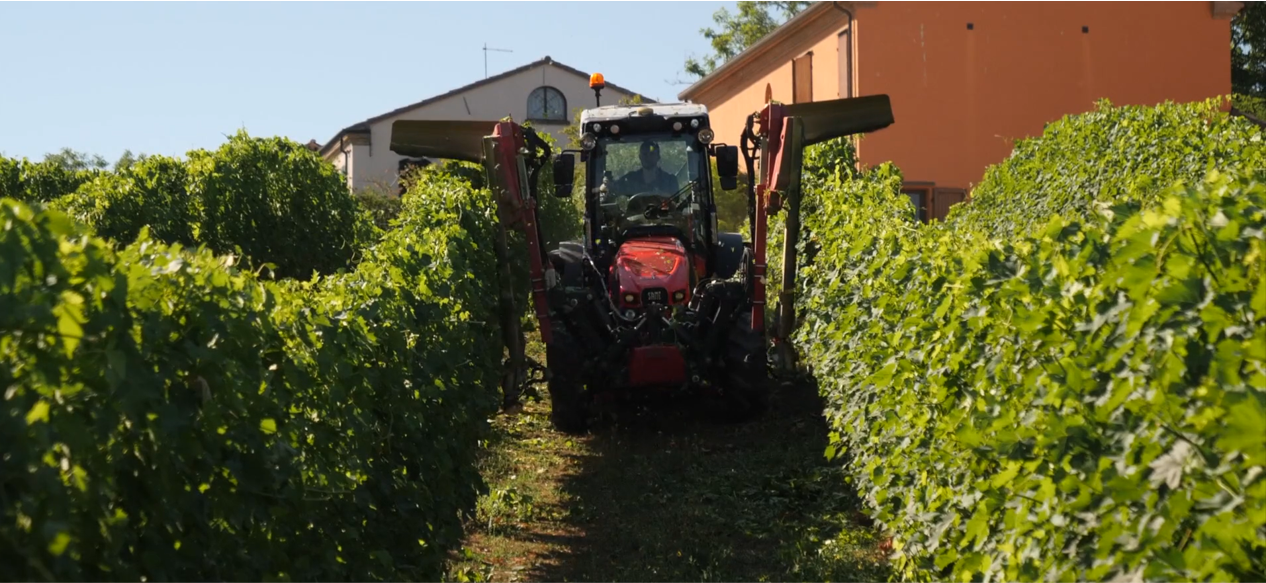 Check out how Danfoss Power Solutions' MultiAxis-Steer™ helps increase machine maneuverability in a vineyard.
Farmers in vineyards or orchards often operate in very confined workspaces. Therefore, their machines must be very maneuverable to deliver efficient work in a constrained environment. Farmer-Entrepreneur Lorenzo Menghi uses the SAME Frutteto CVT with ActiveSteer, a specialty tractor that operates with Danfoss Power Solutions' MultiAxis-Steer™ four-wheel electrohydraulic steering solution. The machine has become an integral part of his day-to-day operation.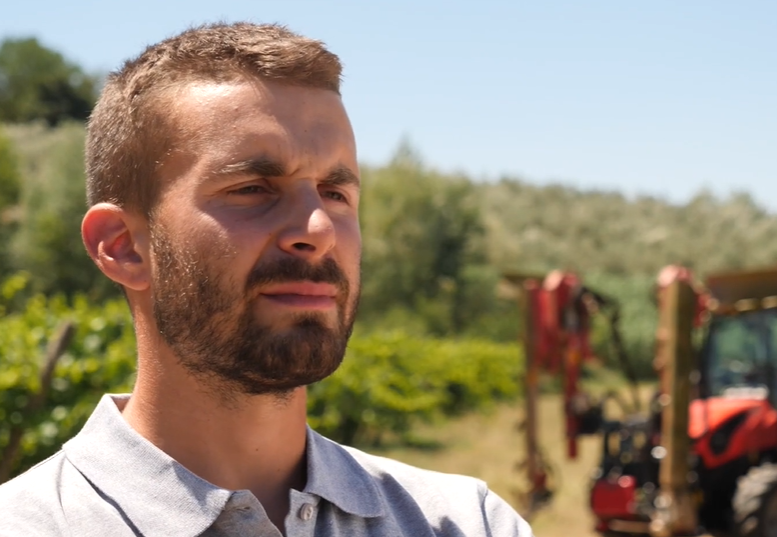 Why four-wheel steering is better than two
Lorenzo's farm is located in Rimini, Italy and covers 250 hectares, more of a third of which is cultivated with vines. As the vines grow closely together, tractor operators do not have much space to turn the machine at the headlands to move into a new row. This gets even more tricky when working with a front-mounted attachment, making a small steering radius vitally important.
A tractor featuring standard two-wheel steering can perform all the typical operations required in a vineyard or orchard, such as Lorenzo's. However, a four-wheel steering system improves the machine's performance in terms of maneuverability and increases access by allowing the tractor to operate in places it previously could not, maximizing crop yield.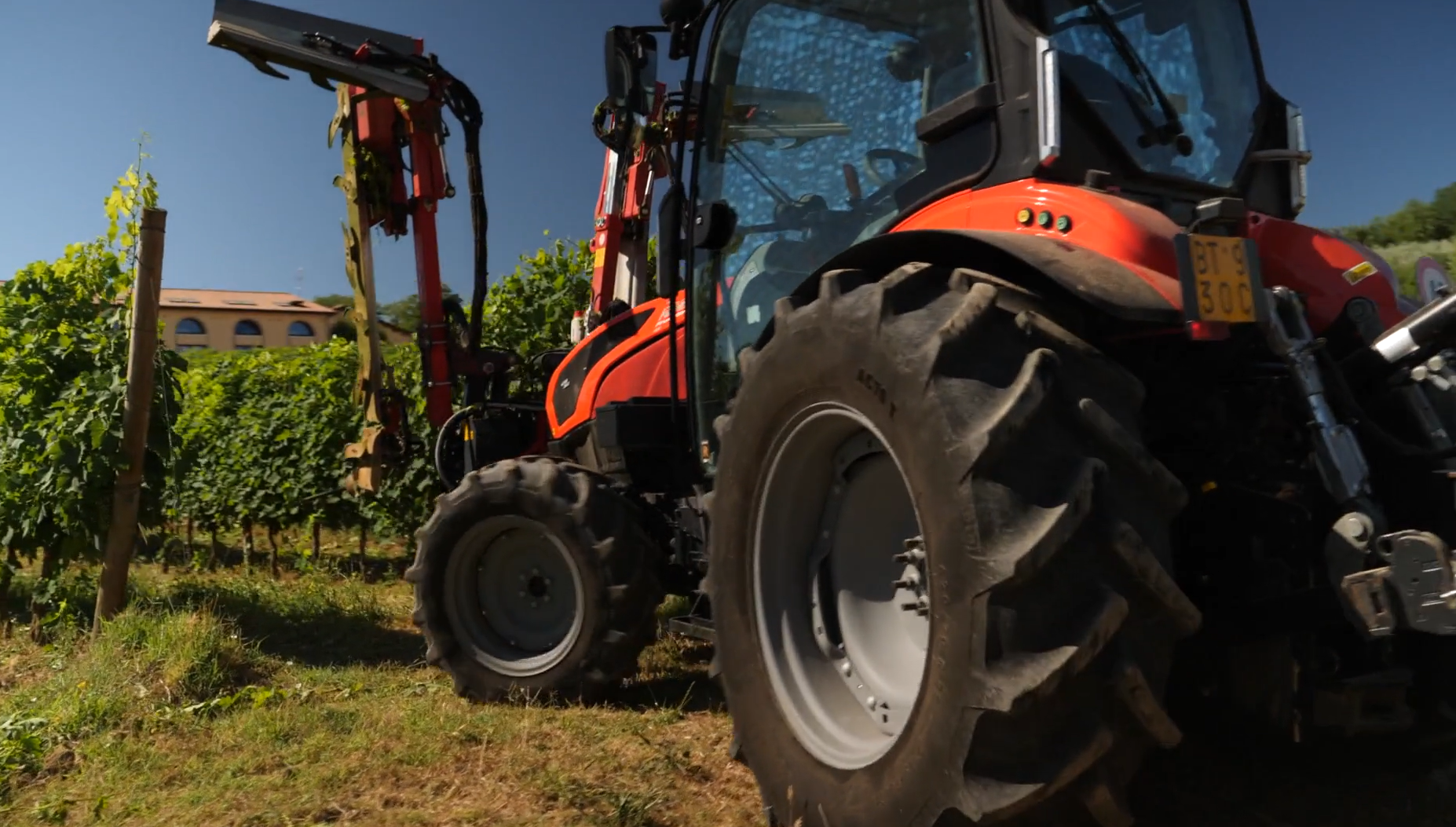 Unlocking machine flexibility
SDF is one of the world's leading manufacturers of tractors and distributes products under various brand names, including SAME and DEUTZ-FAHR. After winning the Best of Specialized category in Tractor of the Year 2019 with the redesign of its Orchard CVT tractor, the company presented the ActiveSteer version, featuring Danfoss Power Solutions' MultiAxis-Steer™, one year later.
"Danfoss Power Solutions offered us an impressive, commercially-ready system right from the beginning of the project", explains Emanuele Burroni, Research and Development Testing Engineer at SDF. "As the MultiAxis-Steer™ solution comes as part of a subsystem, manufacturers have the flexibility to decide which part they want to use."
In the case of SDF, they chose to adopt one of Danfoss Power Solutions' electrohydraulic steering valves (EHi) at the rear axle. "This freedom of choice is a big advantage," says Emanuele. "The EHi valve is fully integrable with other Danfoss products that we already use for the front axle steering management, as well as our own architecture. This flexibility has enabled us to develop our own driving modes and cab commands. On top of machine design flexibility, safety with third-party certified components, reduced complexity and lower installation costs are the main benefits we've received."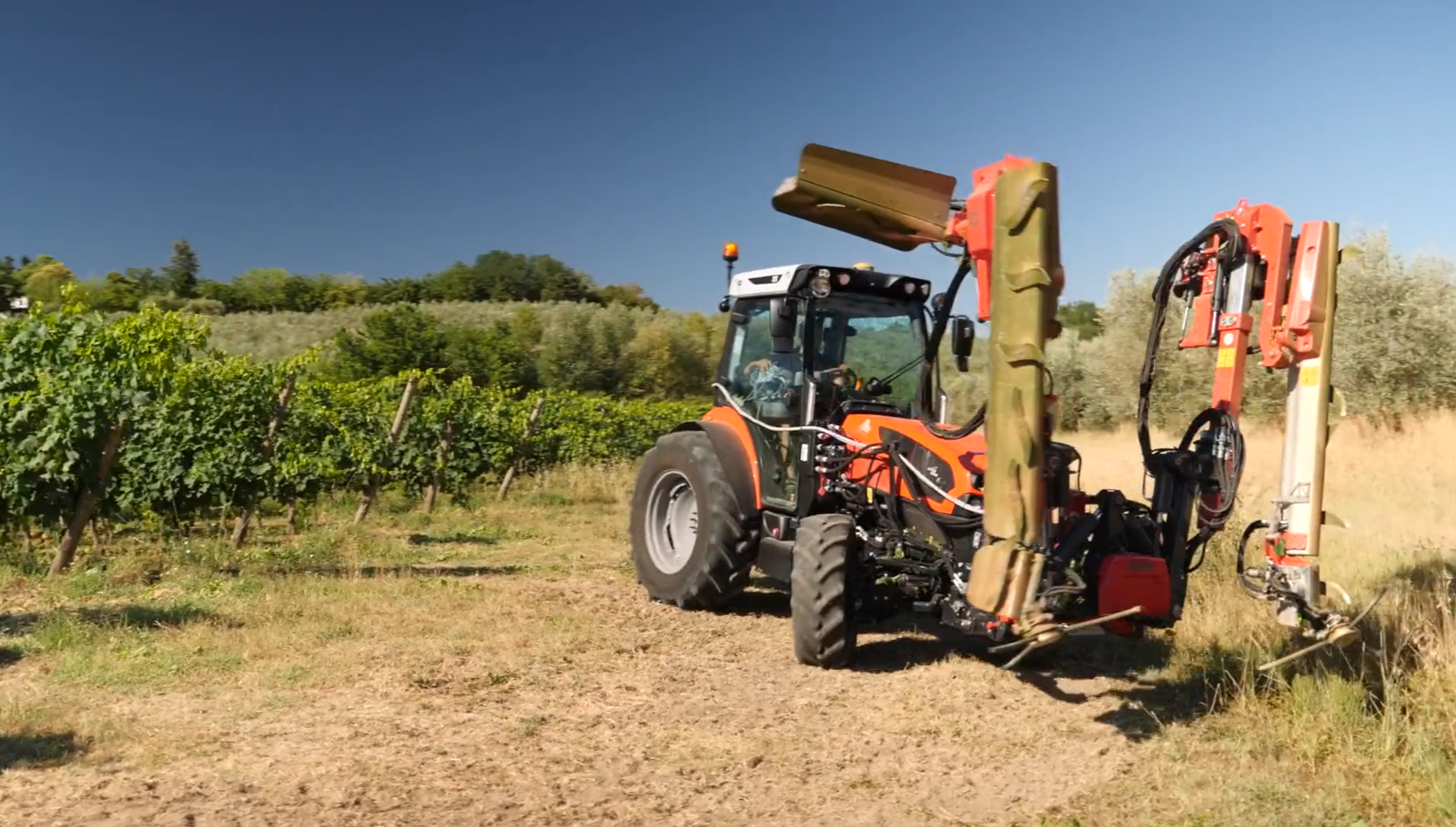 Better outcomes and less effort for tractor operators
The SAME Frutteto CVT with ActiveSteer is designed to boost operational range and performance. "Thanks to the machine's four-wheel steering system, the tractor's steering radius is 28% lower than similar-sized alternative models, which makes turning at the headlands much easier," says Farmer-Entrepreneur Lorenzo.
He adds that the four-wheel steering system offers a productivity increase of approximately 30% with the same operator effort. Danfoss Power Solutions' MultiAxis-Steer™ is also very easy to operate and can be configured effortlessly. Driving the tractor reduces operator movements, making it much less tiring and stressful to handle. Additionally, the machine's running time is reduced due to the less time it is idle, which helps lower emissions.
Another advantage that the tractor offers operators is improved stability, even during operations on lateral slopes. This durability is guaranteed by turning the wheels in crab mode and allowing the tractor to move sideways, another innovative feature that the system offers.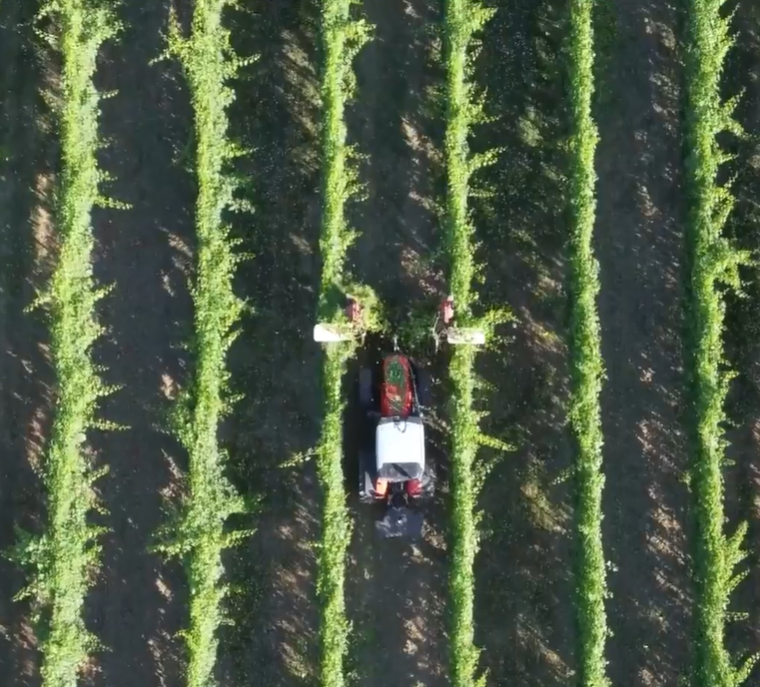 Further applications for MultiAxis-Steer™
SDF is planning to install the ActiveSteer system on its next generation of small open field tractors. Unlike in the confined rows of vineyards and orchards, an open field tractor can maneuver more freely, allowing the system to provide an even more increased rear steering angle. This would increase the benefit of the smart tracking feature during operations, such as seeding and spraying.
Danfoss Power Solutions' MultiAxis-Steer™ is also available for many other machines, such as sprayers, telehandlers, road rollers and autonomous vehicles, offering different benefits for each application. For example, sprayer operators can eliminate the tracks from the rear wheels, reducing the vehicle's footprint to maximize crop yields. Operators of wheel loaders and telehandlers can crab steer down a fence line to more efficiently feed livestock. Meanwhile, in road building, all-wheel steering minimizes the number of passes required by compactor operators. This reduces fuel use and emissions while increasing productivity and eliminating the need to purchase additional machines.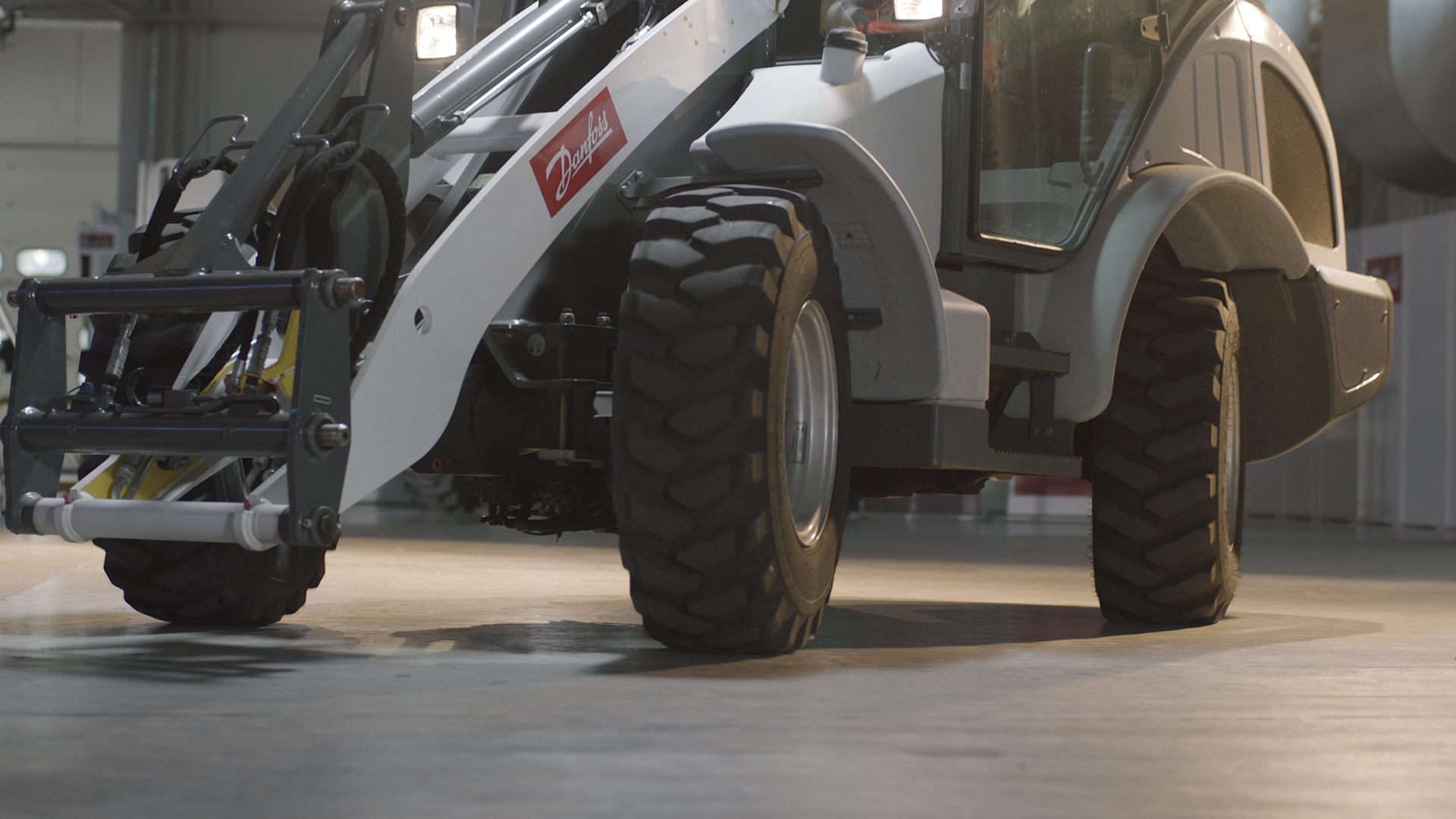 The MultiAxis-Steer™ all-wheel steering sub-system is SIL2 compliant and allows independent control of the front and rear axles in a vehicle steering system.