ASA-LIFT A/S worked with Danfoss Power Solutions to create a positive Operator Experience
"Eat your vegetables." It's a sentence we grew up with and ended up repeating as adults. Whether convincing your toddler to try a new food or reminding yourself to get in your daily dose of veggie vitamins, vegetables can be tricky. Yet thanks to ASA-LIFT A/S, harvesting them is a different story.
Rather than a complicated cab with outdated technology, ASA-LIFT A/S wanted to provide a more streamlined, ergonomic solution in its new generation of carrot harvesters. A leader in vegetable harvest technology, modernizing their cab was the perfect next step for ASA-LIFT A/S. Creating a positive operator experience would not only increases operator comfort and productivity, but also set them apart in the field.
"We wanted a new and more intuitive system," said Bjørn Hansen, Automation Developer at ASA-LIFT A/S. "We wanted a newer and more pleasing design. And, of course, we wanted to implement some new functions in the system that could provide more capability to the operator."
ASA-LIFT A/S also knew the perfect partner for this endeavor. They teamed up with Danfoss Power Solutions to incorporate a new DM1000 display, an HMR CAN rotary and a JS1-H joystick into their new cab design — creating a modern look, an ergonomic feel and giving it added functionality.
Modern look
The biggest difference between ASA-LIFT's old cab and its new one was a completely new armrest, which is the control unit for the entire machine.
"We've implemented the DM1000 display right into the armrest design," said Hansen at ASA-LIFT A/S. "Not only does it feel great for the operator, but it looks new and modern as well." Before, the displays in the cabin seemed like an afterthought. They were added into the design without considering the cabin as a whole. With this new setup, it feels more intentional and integrated — further lending to the modern feel.
Ergonomic feel
Because all the Danfoss components were incorporated into the overall armrest design, the engineers were able to consider how ergonomics would play a role. "With this armrest design, we were able to maintain a neutral hand/wrist position for the operator — keeping it naturally in line with the arm," said Hansen.
While this may seem like a small adjustment at first, the operator benefits quickly add up. Harvest season means long days and continuous work. When operators don't have to strain their wrist to operate the machine, strain is reduced and work can actually be accomplished more quickly.
Added functionality
The cab in the previous harvester wasn't only outdated in its appearance but also in its functionality. Implementing these new components allowed for a more streamlined way to operate the machine.
"There's a customer demand for more intuitive switches in the cab," said Hansen. "This limits which joysticks we can use, because we need to make sure they have both the functionality and ergonomic benefits at the same time."
A twisted road to a streamlined result
"We worked with pre-production displays from Danfoss. Therefore, we programmed everything ourselves from the ground-up," said Hansen. ASA-LIFT A/S was able to take on this challenge in-house, as they've had a programming department for more than 10 years — at least eight of those using PLUS+1® GUIDE. PLUS+1® GUIDE is a graphical software development environment from Danfoss that allows users to create machine applications through pre-assembled function blocks and much more.
The team at ASA-LIFT A/S integrated the new components with an I/O system that met their design needs. They also designed all the aspects of the displays themselves, including a keypad within the system.
"We had some issues figuring out the keypad part," said Hansen. "But we use the Danfoss Help Desk when we run into any issues like that — Stefan from Sweden at the help desk gave me a few ideas to help me solve the problem when I was stuck. He gave me the inspiration I needed to find the right solution."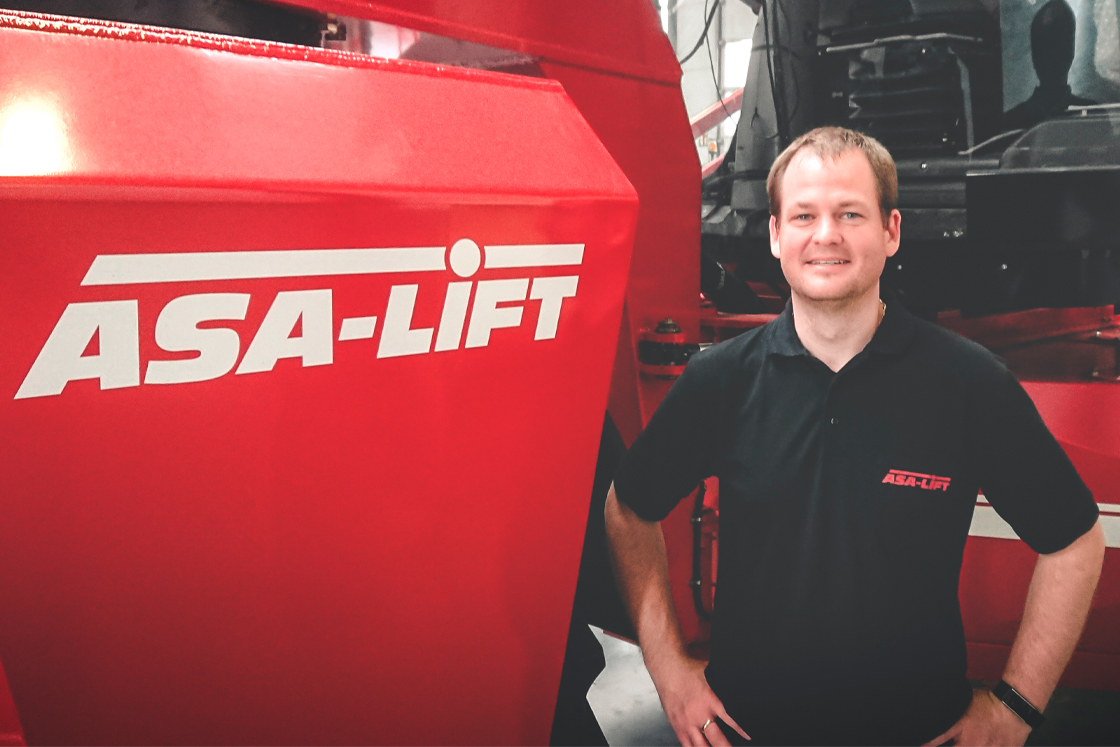 Why Danfoss?
Despite ASA-LIFT's long relationship with Danfoss, they didn't automatically choose Danfoss components. "We considered a lot of other options," said Jimmie Sørensen, Application Development Manager at ASA-LIFT A/S. There were a lot of factors that led to their final decision.
"The big pros for using Danfoss was that we knew the programming language, it was the right price point, and — most importantly — it had the aesthetic we were looking for," said Sørensen. "The Danfoss screen was much more modern in design than other options on the market, and it fits perfectly into the overall design of our new cab." Not to mention, the DM1000 offers high brightness and wide viewing angles.
Of course, a long-term relationship only makes the selection process that much easier. "When we need answers for something, we've built up a good network of Danfoss representatives who can help us," said Sørensen.
Whether through the PLUS+1® GUIDE help desk or their account representative, Danfoss has been there to act as an extension of their own engineering team.
A new, modern and ergonomic solution
This new cab is set to be in the fields by next harvest season in fall 2020. Yet even in its initial stages, ASA-LIFT A/S has already received positive customer feedback. "They're impressed with the complete unit of the armrest and how it includes the screen and the joystick", said Sørensen. "They say it's a major improvement — both in appearance and functionality — from previous designs."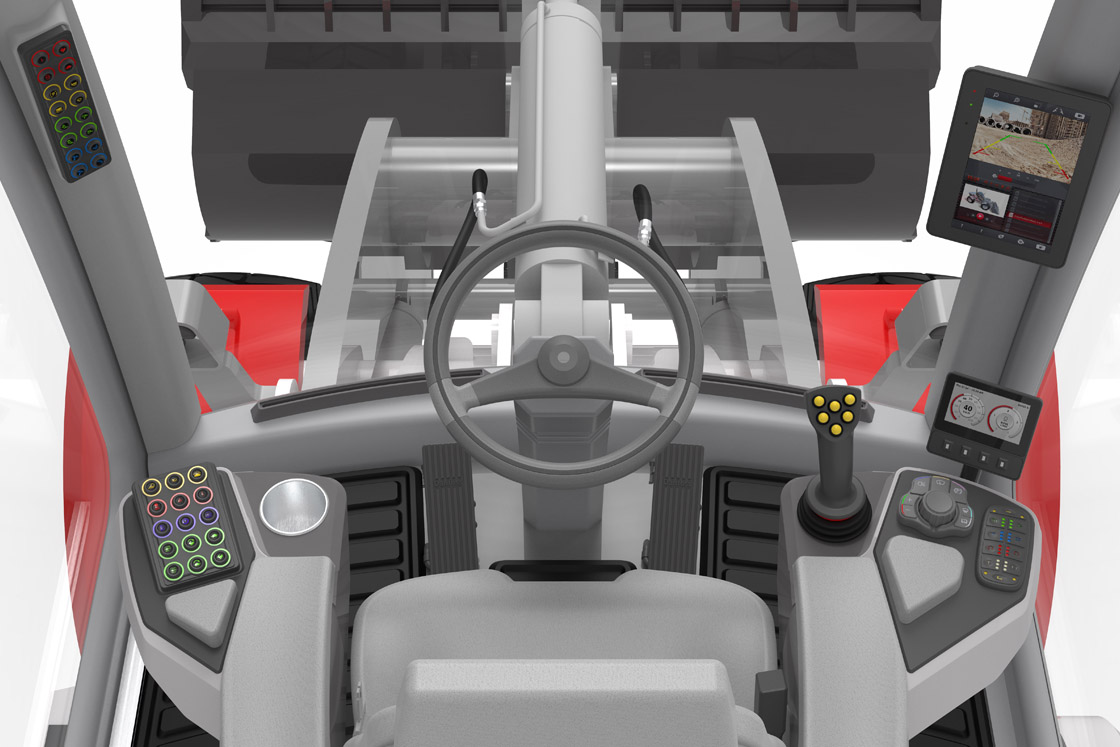 Modern machine cab design
At Danfoss, we have a comprehensive network of distribution partners who are ready to help you design your next modern cabin.