The domain Louis Moreau in Chablis is a 50-hectare family estate. Today it is owned by Louis Moreau, representing the sixth generation of his family's vine growers. With 80% of production being exported, the vines of Chablis are well known in France and worldwide.
 
Since 2015, late spring frost at night started happening in Chablis causing big challenges for the Chardonnay vines. On average they lasted yearly for 5 nights.  

Since that time Louis Moreau enterprise has used candles to protect vines against frost. But this solution was expensive from the perspective of time, energy, and human efforts.
The challenge: Costly and time-consuming candles protect vineyards from late spring frost 
Yearly expenses on candles used for frost protection were high and this solution has not proven to be cost-effective and ecologically friendly. Moreover Mr. Louis Moreau wanted to have a sustainable and reliable solution for years ahead without hampering the work of the employees. For this reason, to protect vines and to have a possibility to collect a good crop for yearly wine production – a solution by Danfoss has been chosen.  


The solution: Electric heating cables saving time and money while protecting grape buds
Installer Damien Bellat speaks of several advantages provided using Electric Heating by Danfoss. First, it is support provided by Danfoss starting from a full package of services at the initial phase of the project and ending with after-sales support.

Also, the prefabricated cold connections in Danfoss factories offer considerable time savings in the deployment of frost protection systems. Connection to the electrical cabinet is facilitated.

With its reinforced structure, the cable easily resists weathering, UV rays and corrosion, thus reducing requests to the after-sales service.
The result: Quick return on investment with fixed price per hectare
Vineyards Frost Protection by Danfoss is an ideal solution for vine growers. It protects vines against frost damage effectively and considerably increases the crop.
Autonomous solution reducing current costs 
Quick return on investment with fixed price per hectare 
A low-carbon solution that respects the environment 
A product that does not harm the landscape 
Silent solution that doesn't disturb the neighbors 
A solution adapted to wine-growing practices (leaving space for people and machinery) 
20-year warranty offered by Danfoss for heating cables
The choice of a fixed electrical cabinet to power the heating cables was preferred to a mobile solution. It allows to save time every time it's necessary to turn on the electric heating system. The system is ready to start functioning at any moment.
Find out more about vineyards application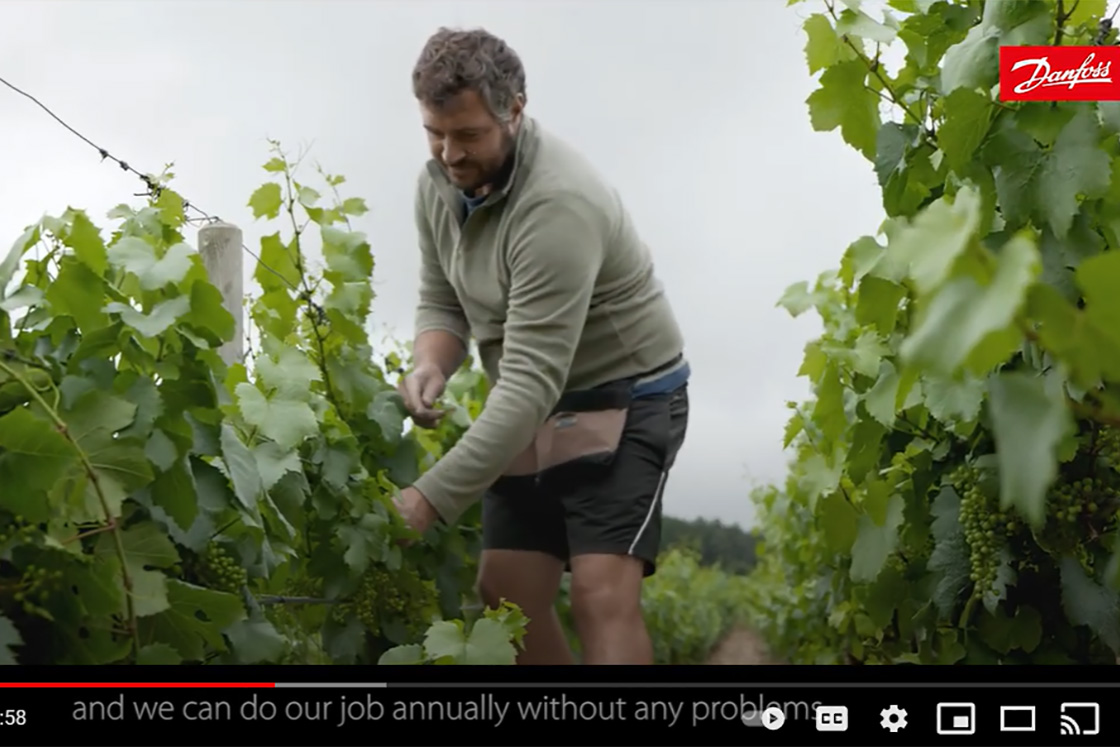 Danfoss Vineyard Protect – Protect the vines against frost with electric heating cables