Electric expansion valve for food retail applications
The Danfoss AKVP electric expansion valve is ideal for use in food retail refrigeration solutions for safe and reliable operation. The AKVP embodies a number of advantages to ensure food safety and reduce operating expenses, both in terms of service and energy expense. 
Features and benefits
Robustness with long life-time
System reliability with low leakage risk and solenoid tight closure when power is cut
System energy optimization (MSS, ALC), remote monitoring, fault detection, and adaptive defrosting when paired with the ADAP-KOOL® suite of electronic controllers
Reduced complexity, compatible with CO2 and HFC refrigerants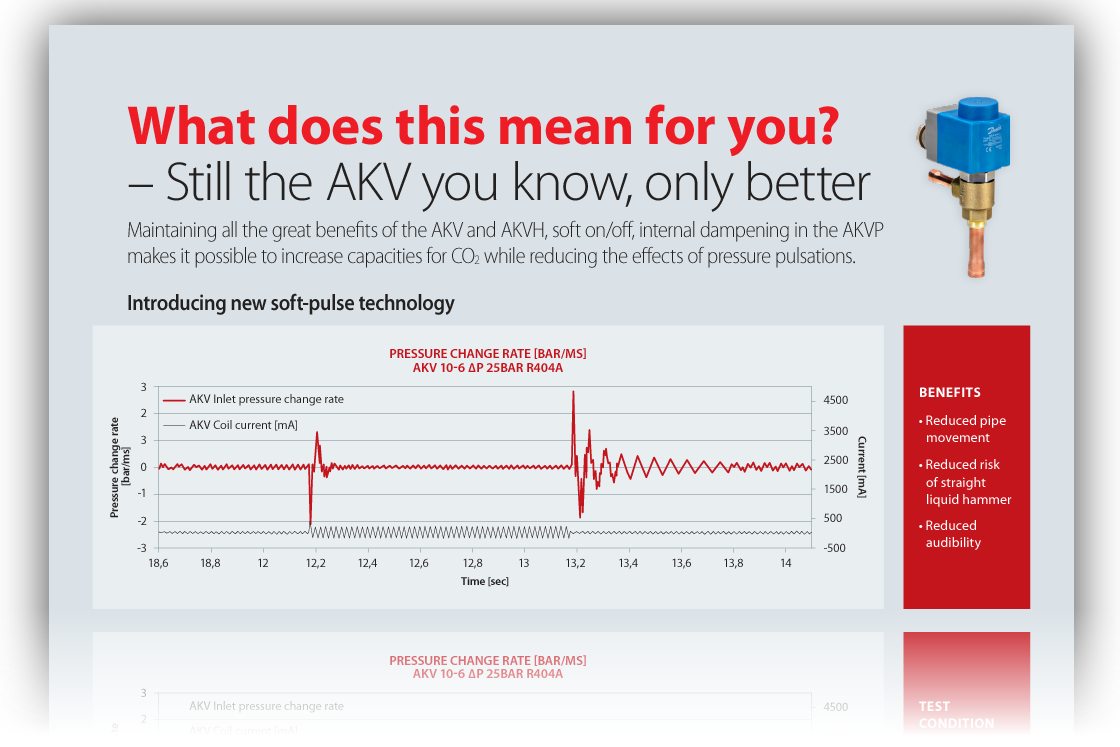 Introducing the AKVP Electric Expansion Valve
The new and improved AKVP with future-proof technology takes simplicity and safety to the next level. Together with the intelligent ADAP-KOOL® controllers, you get the market's most energy saving solution.
AKVP animation video
Learn more about the working principle of the new AKVP electric expansion valve and get an overview of key functionalities such as: soft-pulse technology, minimum stable superheat (MSS) algorithm, fault detection and adaptive defrost.
| Type | Name | Language | Valid for | Updated | Download | File type |
| --- | --- | --- | --- | --- | --- | --- |
Refrigeration temperature sensors

Refrigeration temperature sensors are used for applications within air-conditioning as well as commercial and industrial refrigeration applications. The Pt 1000 sensor element meets the DIN/IES 751 class B requirements and ensures an accurate and reliable temperture signal applicable for regulation, safety and data logging.
The power of adaptive solutions - field tests in Ukraine

To prove the energy saving potential of adaptive technology, Danfoss performed test studies at two leading players in the Ukrainian convenience sector. The tests returned energy savings of up to 34% when replacing conventional control solutions with adaptive technology.