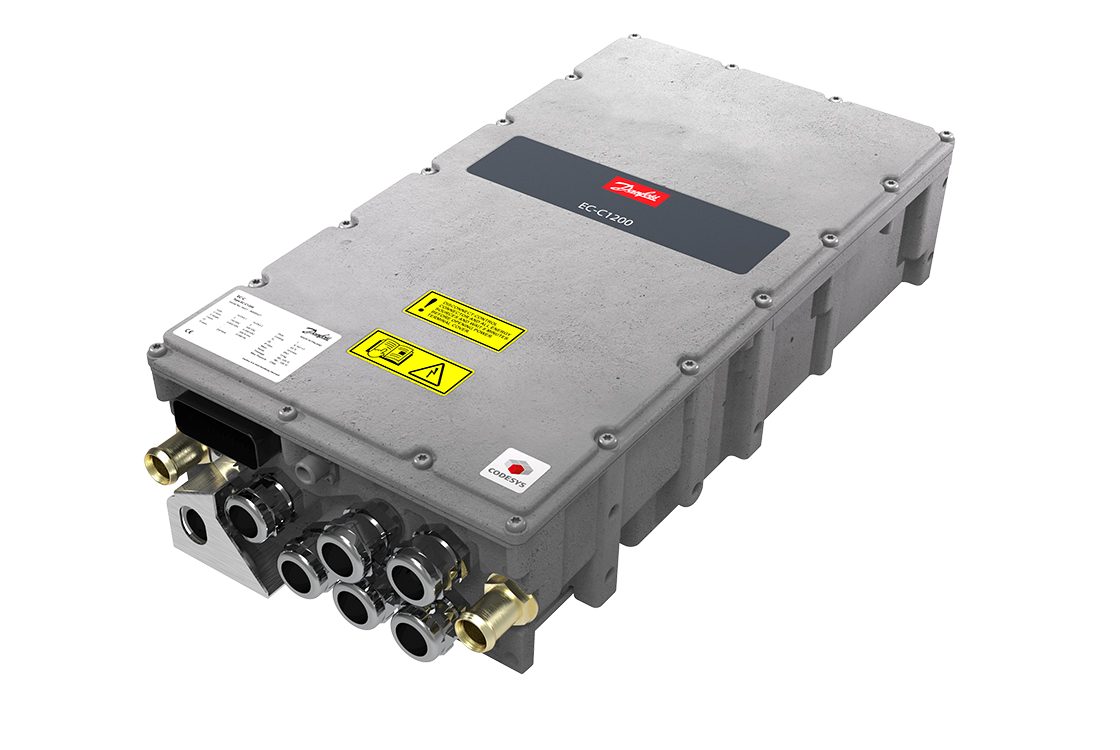 Electric converters
Power control for vehicles, machines and marine applications
Danfoss Editron electric drivetrains are specially designed for controlling the flow of hybrid and electric power in vehicle, machine and marine applications.
Main product groups
Electric converters including inverters and frequency converters
Electric DC-to-DC converters
The software for all products supports a variety of the communication protocols most widely used in vehicles, e.g. SAE–J1939 and CANopen. As a Danfoss customer, you can further customize the operation of the inverters and create your own applications with the license-free CODESYS IEC61131-3 programming tool.
Power range 100-2,000 kW
EC-C1200 is built with components that can handle double the number of load cycles compared to components used in standard industrial inverters. The standard lifespan of EC-C1200 products is up to 20 years. The high-performance vector control of Danfoss EC-C1200 drives the motors accurately and smoothly. It can control induction motors (IM), permanent magnet (PM) motors and Danfoss reluctance-assisted permanent magnet (SRPM) motors with or without sensors. The EC-C1200 can be selected with different software options allowing it to work as active front end, microgrid, motor control (inverter) and as a DC-to-DC converter.
Product range
Current up to 350 Arms continuous as AC-converter and up to 400 ADC continuous as a DC/DC-converter.
The EC-C1200-450 is a heavy-duty converter specifically developed for electric or hybrid drive trains in mobile work machines, buses or marine vessels. Our electric converter can act as motor inverter, active front end, DC/DC-converter, or to create a microgrid.


Features and benefits


Extremely compact design weighing 15 kg
High enclosure class IP67, sealed from moisture and dust
Ambient temperature up to +105C and down to -40C
Coolant temperature up to +65C
Robust design withstanding high levels of mechanical vibrations and shocks
Designed specifically for the highly cyclical loads typical in heavy mobile work machines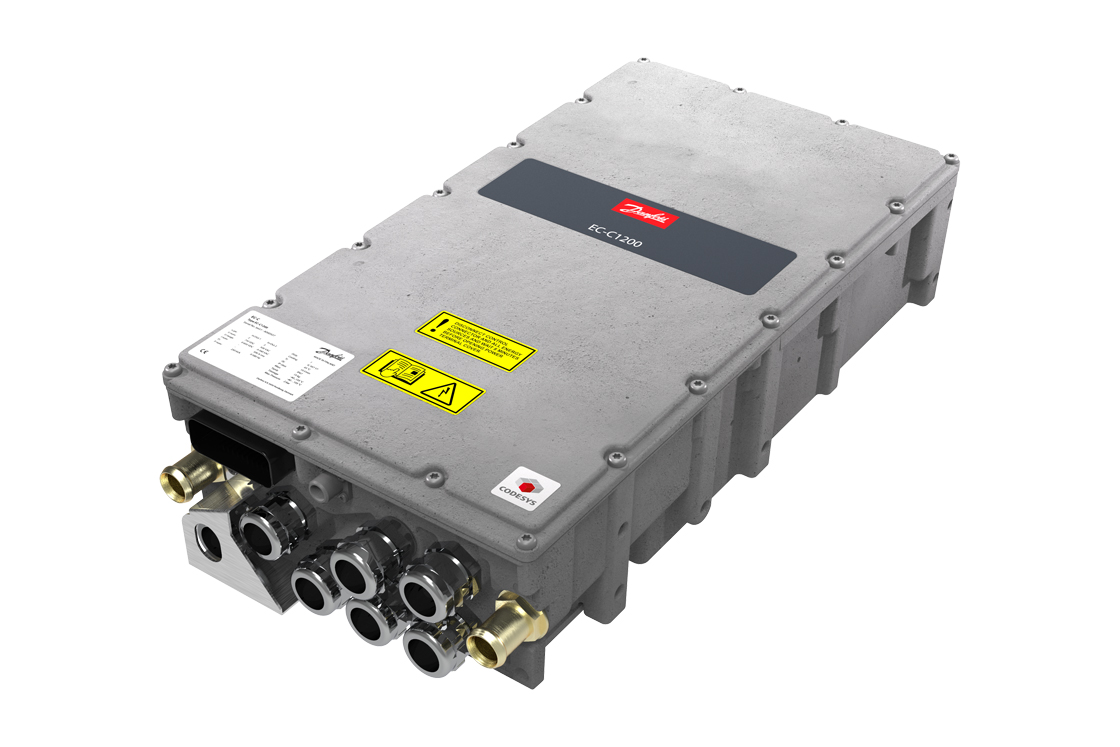 EDITRON
Danfoss Editron specializes in hybrid and electric powertrain systems for off-highway and marine markets. A business division of Danfoss, it develops and manufactures high-performance, EDITRON power systems for heavy duty vehicles, machines and marine vessels, based on its unique synchronous reluctance assisted permanent magnet (SRPM) technology.
| Type | Name | Language | Updated | Download | File type |
| --- | --- | --- | --- | --- | --- |
| User guide - BC | EC-C1200 Electric Converter User Guide | English | 05 Nov, 2018 | 10.3 MB | .pdf |
| Type | Name | Language | Updated | Download | File type |
| --- | --- | --- | --- | --- | --- |
Estonia's pollution-fighting electric hybrid patrol vessel

Faced with the need for a power solution that reduced emissions and allowed quiet cruising for stealth security operations – as well as reliability and power for rapid response – Baltic Workboats turned to Danfoss and the Editron marine system
Addressing new marine emissions regulations with alternative power solutions

The implications of marine emissions compliance are more relevant than ever before. Ship owners and operators are searching for alternative ways to improve efficiency and reduce emissions in their fleet. These can include a mix of hydraulic, electric and traditional power sources.