Resilient buildings fit for the future
Today's residents' demands and expectations for cost-savings, energy-efficient, and reliably comfortable heating in their homes is only rising. That's why investing in energy efficiency for your tenants is a sound investment in your business.
Why invest in energy efficiency
Because the cheapest – and greenest – energy is the energy we don't use. As a planet, we need to drastically reduce our energy consumption, and make better use of the energy we produce. Our buildings play a considerable role in this equation.  
Consider the following: 
28% of global CO2 emissions is caused by HVAC and lighting in buildings 
30% of global energy consumption is caused by HVAC and lighting in buildings
20% of water usage is consumed by building construction and operation  
The price of energy is rising. As global energy sources destabilize and energy prices rise, we need to resources more wisely, including in our buildings. Energy efficiency is the safest, most affordable path out of the current energy crisis.  
Consider the following:  
In 2022, the monthly inflation rate for gas was 51.4%; liquid fuels – 45.2%; energy – 41.1%; and electricity – 29.7%. 
By optimizing technical building systems, you can achieve 30% average potential energy savings. 
Investing in energy efficiency is good for business 
It's an investment in your tenants. Tenants are looking for affordable, reliable and energy-efficient heating in their homes. They want: 

Affordable rent and utilities 
Hygienic hot water
Individual temperature zones
Quiet, fully-functioning radiators
Modern, energy-efficient heating technology

 

It's an investment in your business that gives you: 

 

Stable costs during renovation and new-builds 
Lowest possible investment with a short payback time 
Fewer complaints
Reliable heating technology that's easier to bill
Improved energy security and resiliency  
You can increase energy efficiency with existing technology 
It's possible to increase your building's energy efficiency with a minimal investment, short payback time and using existing technology.  
Consider just one example: By upgrading Europe's 500 million inefficient radiators with thermostats, we would save 130 TWh — two times Germany's net electricity generation from nuclear power in 20211.​ 
Investing in energy efficiency yields tangible energy savings 
Reducing energy usage by 20% in a multi-tenant in Sweden 

Reducing energy by 25% in a multi-tenant building in Estonia 

Reducing energy usage by 14% in a multi-tenant building in Italy 

The Challenge:  

Residents on the 10th floor of an apartment building in Sweden complained about insufficient heating. The problem: the heating system wasn't balanced properly. 

The Challenge: 

Residents in a 9-story apartment building in Tallinn, Estonia, dealt with inconsistent temperatures in individual apartments. The housing association wanted to provide better comfort for residents, increase the heating system's efficiency, and save on annual energy costs.​ 

The Challenge: 

Five 9-story apartment buildings in Milan, Italy had radiators equipped with thermostatic radiator valves for years 

The Solution:  

Using the simple Danfoss Optimal 2 tool, they balanced the existing 2-pipe radiator system and replaced existing radiator valves with lockable thermostatic valves. 

The Solution: 

By replacing the old one-pipe system with a two-pipe system equipped with Danfoss automatic balancing valves and thermostatic radiator valves, residents enjoyed equal heat distribution with individual heat control all year round—with fair allocation of heating costs.​ 

The Solution: 

Fitting the system with Danfoss automatic balancing valves 

The Results: 

20% energy savings annually 
ROI in 3 years 
Improved indoor comfort 
Eliminated complaints 

The Results: 

25% annual energy savings 
Individual room control 
Easy commissioning
Year-round comfort 

The Results: 

Reduced energy usage by 14% 
Reduced radiator noise
Lower maintenance costs
Improved indoor comfort  
Let's work together to make your buildings more energy efficient 
Danfoss has over 80 years of expertise in creating energy-efficient heating and cooling solutions for buildings. We offer a wide range of affordable, innovative solutions and products for renovating multi-family buildings, including: 
Automatic balancing solutions for one-pipe heating systems​ 
Domestic hot water system optimization with Danfoss MTCV circulation valves​ 
Decentralized heating system and instant domestic hot water production with EvoFlat™ stations​ 
Substations and control components for buildings connected to district heating networks​ 
Get in touch to find the right solution for your building.  
Related products
Case stories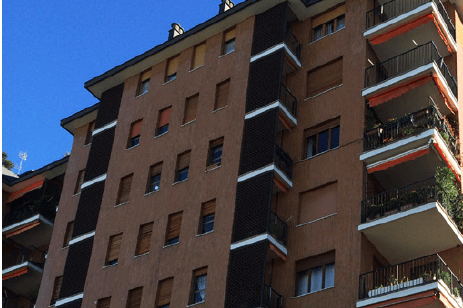 ASV automatic balancing valves
A simple, reliable and cost-effective way to create hydronic balance.