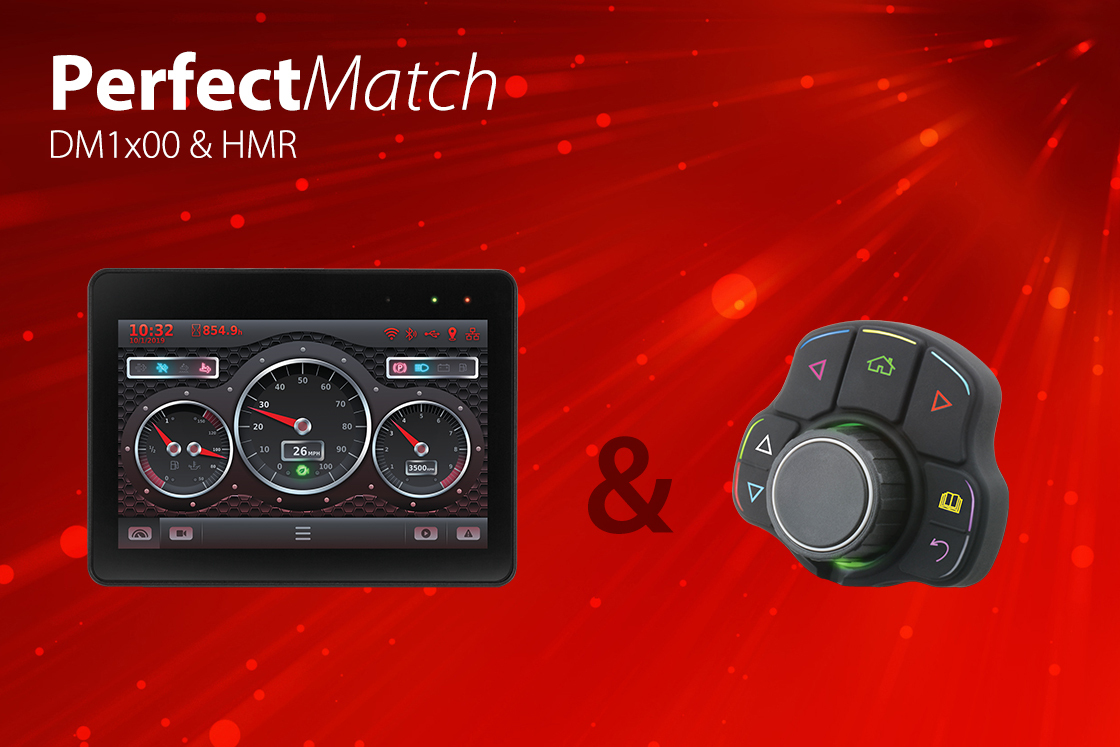 A perfect match for optimized display use and control
Today's machines require displays for a variety of monitoring functions. Operators often need to use multiple display buttons for navigating through menus and switching between screens. Using an HMR with the display streamlines this process and simplifies the navigation and creates a friendly, ergonomic user experience.
Features and benefits
On screen icons/buttons can be removed and transferred to the HMR for:
better screen utilization for a larger viewing area for camera images & viewing machine information
cost savings by combining display and camera monitor
simpler programming reducing complexity and cost
Physical buttons can be removed resulting in:
lowering the cost of the display
decreased display dimensions for better cab space management and improved sightlines
Improved ergonomics & safer "heads-up" navigation during machine operation
Larger display can be mounted outside of operator physical reach for better machine line of sight
More flexible cab design, HMR has easy to customize icons & backlights
HMR CAN rotary input device
The HMR CAN Rotary Input Device brings screen navigation closer to the operator, allowing "blind operation" and minimizing the need to reach for buttons/dials/touch-screen on the display during operation. The back-lit buttons can be used as hot keys to quickly navigate to a screen or used for machine functions, while the indicator bars on each button provide optical feedback to the operator.
The HMR has been optimized for ergonomic, five finger control. The seven large buttons are available with standard icons, or customizable to meet application needs. Each button features RGB LEDs for backlight and light bars that are controllable via CAN messaging, with adjustable light intensity. The rotary knob encompasses an eighth push button and includes RGB LED lighting at the base. The HMR features robust mechanical, electrical, and Ingress Protection specifications that meet the demands of mobile machine operation. It is suitable for installation in open and enclosed cabs.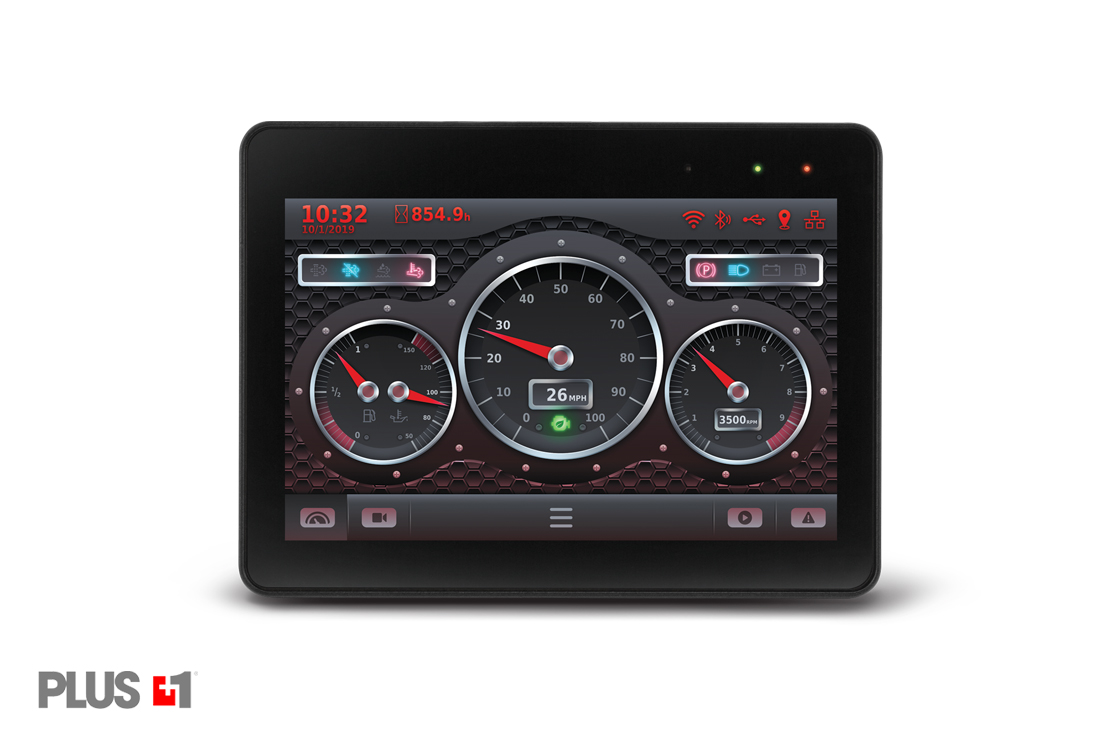 DM1x00 series displays
The Danfoss DM1x00 display series bring modern appearance and performance to mobile machine markets with two display platforms, expanding the PLUS+1® family.
The DM1x00 series was developed for best operator viewability with its high brightness, optical bonding, anti-glare, anti-reflection, oleophobic coating and wide viewing angles. It is quipped with an outstanding dual core 800 MHz i.MX6 and 4Gb flash memory delivering high performance. Ruggedized for mobile machine markets, it is built to withstand harsh operating environments with its IP66 and IP67 rating and the water-resistant screen allowing for multi-touch while wearing gloves.
The integrated file viewer and media player provides view of documents and media files on the run using the audio line out to connect to the vehicle speaker system.
To meet specific needs, the DM1x00 includes two different screen sizes (10.1" and 12.1") with optional multi-touch and two button pad configurations with programmable back-lights and tactile feedback. WiFi and Bluetooth® provide wireless channels for servicing the machine remotely.

ASA-LIFT A/S worked with Danfoss Power Solutions to create a positive Operator Experience