Need cutting-edge motor control?
With the iC7 series, you can control highly dynamic applications simply by using a drive, thanks to innovative control and added sensors for more precision.
Reduced complexity, superior performance
What if sensorless open loop performance could match closed loop? With the iC7 series you get superior shaft performance even at low speed, in open or closed loop. Commission fast with Automatic Motor Adaptation at standstill.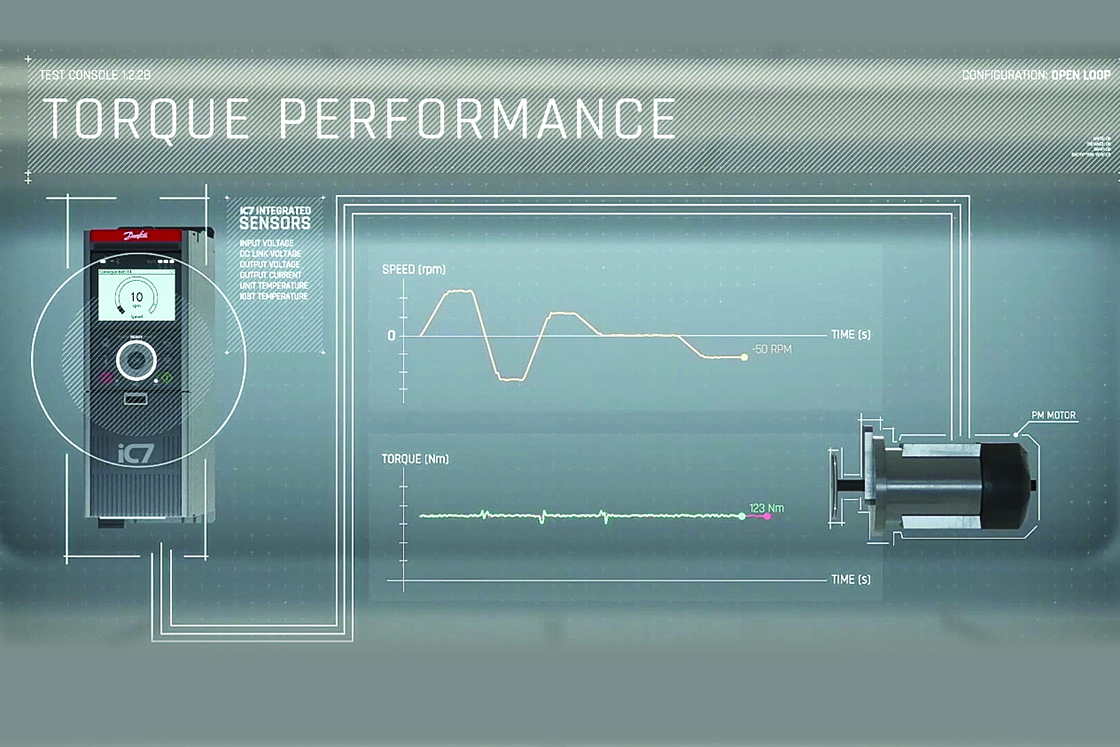 Rapid-response shaft performance
High-torque accuracy in open or closed loop, with lightning-fast response — no matter what the speed. Higher performance, lower harmonics, and full compliance — always.
Superior low-speed performance without encoder
In sensorless control, the iC7 series ensures superior motor control performance at low speed without the use of encoders, thanks to original new control algorithms.
Highly dynamic response
The iC7 series delivers very fast response due to market-leading shaft performance. Many applications which used an encoder in the past can now run on sensorless control. It is also important to state that encoders will still be required in some applications, mostly because of safety concerns.
Next-level machine performance
Enjoy improved performance with more built-in sensors and boosted processing power. The motor reacts consistently to commands maximizing machine performance and product quality.

Get started faster
Automatic Motor Adaption (AMA) at standstill reduces drive commissioning complexity and time in demanding applications, for both encoder-based and encoder-free sensorless control. No advanced tuning procedures or manual tuning for consistent performance are required, and you can identify key motor parameters with no need to decouple the motor load.
Automated commissioning sequence
For easy commissioning, the automated commissioning sequence measures electric parameters of the motor and optimizes it:
The drive measures the electrical parameters of the motor at standstill (AMA function)

When the motor type is known, the drive selects the proper control algorithms. Standstill AMA is an electrical process which identifies the motor-specific parameters needed for robust performance, while the motor shaft is standing still. Standstill AMA supports all typical motor technologies including Induction motors (IM), Surface PM motors (SPM), and Interior PM motors (IPM).


If required, the drive can then also measure the inertia of the motor load and perform speed controller auto-tuning

The final stage of the start-up sequence is to identify rotational inertia and tune speed control, if required. The inertia is measured and used in the auto-tuning speed controller.

Control — the way you need it
You can tailor the control performance to your specific application by choosing the most relevant integrated application software. Each application offers dedicated control features related to specific demands of specific industries.
Grid monitoring functionality
Voltage measurement on the grid side enable the drive to monitor the supply voltage, the harmonic distortion and frequency to aid in diagnosis of power quality issues.
Motor control impact on dynamic performance
Intelligence can be used to maximize performance. With numerous integrated sensors, iC7 series drives provide motor control offerings to meet a wide range of application requirements:
FVC+ Flux vector control

FVC+ with encoder ensures best performance and requires measurement of motor shaft position
FVC+ with no encoder (sensorless control) delivers highly dynamic performance and advanced auxiliary functions

VVC+: Voltage vector control is a robust concept suitable for fans, pumps and high speed applications
Simple U/f control: basic concept used mostly in special applications with the need to manually set the motor U/f characteristic
Motor control impact on efficiency
Motor control ensures the motor always runs at maximum possible torque for the given current - ensuring highest possible motor efficiency. Maximum Torque Per Ampere (MTPA).
Using iC7 drives, you will always achieve the best possible efficiency, no matter which motor you use.
Drives in iC7 series use the AMA function to determine the motor parameters and tune the motor control to maximize efficiency.
For induction motors, the Automatic Energy Optimization (AEO) function reduces magnetization flux in the motor, according to the working point. AEO is often used in pumps and fans where the motor runs continuously under the part load conditions, as well as in fixed-speed applications such as escalators.
For synchronous motors, iC7 drives use a maximum torque per ampere (MTPA) control approach to ensure maximum motor efficiency. Iron losses in synchronous motors are significantly lower than in induction motors. For synchronous motors such as permanent magnet motors (PM motor) the strategy to optimize efficiency therefore involves reducing copper losses.
Features and benefits
Highly dynamic performance: Highest possible machine accuracy due to superior shaft performance, also for sensorless operation
Superior low-speed performance also in sensorless operation
Fast commissioning using Automatic Motor Adaption (AMA) at standstill maximizes energy efficiency with any motor
More integrated sensors for better performance
Flexible choice of control features optimized to your application, thanks to integrated application software 
Let Danfoss Drives power your development