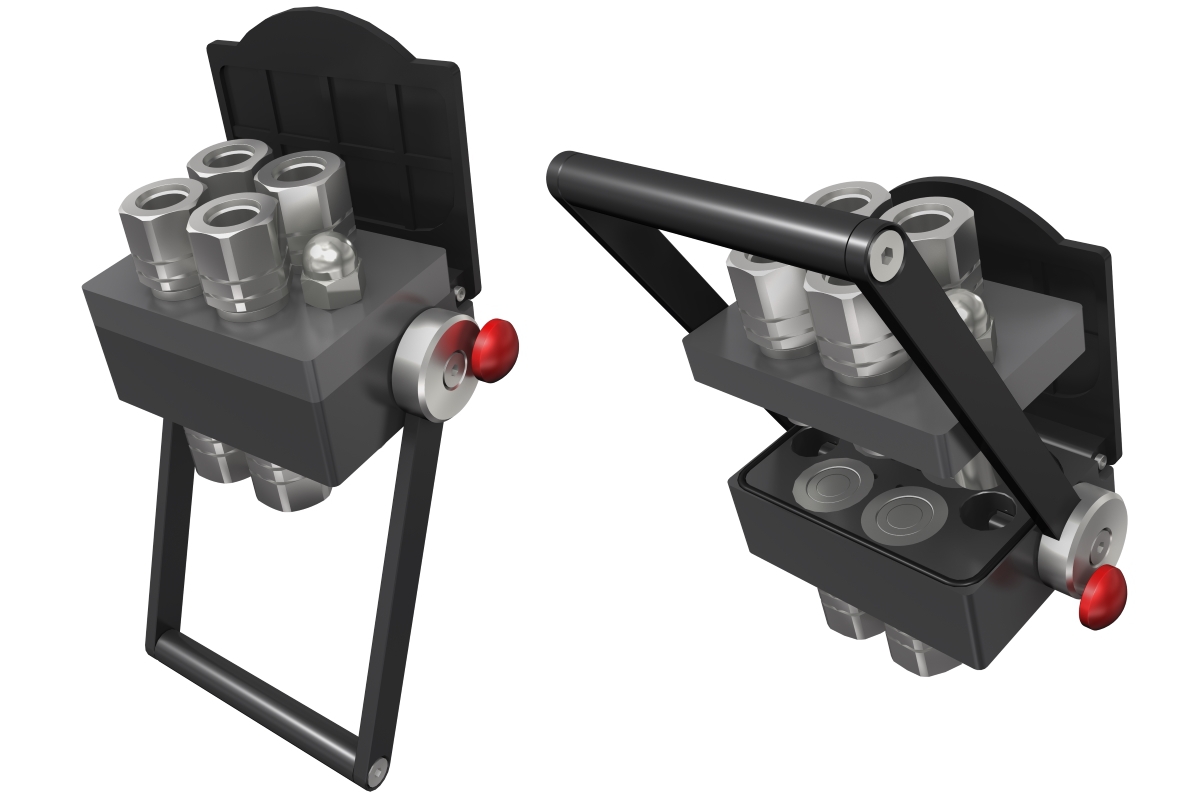 NORDBORG, Denmark – Danfoss Power Solutions, a leading global supplier of mobile and industrial hydraulics as well as electric powertrain systems, has launched its multiplate system in North America. The configurable coupling system enables users to simultaneously connect and disconnect up to six hydraulic lines fitted with Danfoss flat face quick-disconnect couplings with a single movement, enabling faster assembly, maintenance, and attachment changeout.
The multiplate system improves operator ease of use and ergonomics. Its patented internal mechanism withstands heavy duty cycles while lowering the force required to connect by 40%, compared to similar systems. When configured to connect under pressure, the multiplate system supports easy manual connection up to 350 bar. The system features an ergonomic handle for operator comfort and clear start and end positions. A push button also easily opens the plates. If necessary, operators can replace a coupling in the field with standard tools, minimizing machine downtime.
The multiplate system increases machine reliability and safety by eliminating the risk of crossed lines and reducing the chance of contamination in dirty environments. An integrated sealing band between the fixed and movable plates prevents dirt and dust ingress during operation, while the fixed plate features a dust cap that automatically closes to protect female couplings during disconnection.
"Our multiplate system meets the needs of just about any application. Ideal for construction, agriculture, and commercial transport, the system offers manufacturers a compact, lightweight, high-performing solution with incredible design flexibility," said Zach Dominique, Americas product manager, Connectors, Danfoss Power Solutions.
Compact and lightweight, the multiplate system reduces space requirements on machines. In addition, the system's modular, flexible design enables customization to meet each machine's specific requirements. Customers can specify coupling quantity (2 to 6), size (ISO size 6 to 19), style, and material. Electrical connectors and specialized couplings — such as water transfer, air transfer, and Danfoss snap-to-connect — can also be included. With its high level of configurability, each system is made to order.
To learn more, visit the Danfoss quick-disconnect couplings webpage