Modernizing off-highway machines
As is the tendency with off-highway trends, user experience in on-highway vehicles tends to influence what operators may expect as part of their in-cab experience. Technology advancements — from contemporary car design to smartphones and tablets — shape the way users expect to interact with machines, including those on the work site.
Danfoss Power Solutions has a goal to help OEMs modernize their machines to provide a similar experience to an on-highway vehicle in regards to machine and operator interfaces. And new solutions, including the HMR CAN Rotary and the DM430E (4.3 inch) display, meet these needs while also streamlining machine operation.
The DM430E display is an entry-level product for OEMs looking to take the next step in modernizing their cab design, while the HMR CAN Rotary further elevates machine interaction. Some of the biggest pain points we heard from our customers included sunlight viewability and a streamlined design, so we sought to address those concerns with these new products.
Finding the balance
We set out to create a contemporary design that's influenced by tablets and smartphones while still meeting the necessary demands of a rugged, off-highway industry. These sleek designs already exist — everyone already has one in their pocket — but these products also need to withstand being outside in the rain, sun, snow and dirt, and remain viewable under the bright sun. It needs to work as well in an open cab as it would in an enclosed environment.
We set out to be among the first to find the balance between these two elements: a modern, professional interface with a durable design. With unparalleled screen viewability in a compact design, the DM430E addresses both OEM and end-user needs at a cost-effective price point.
The modern appearance of the DM430E is due to its flat-front design, minimal bezel, stylish graphics and a wide screen ratio. However, it's just as durable as it is sleek. It has a fast boost time of about two seconds, offers wide viewing angles and high color clarity (even in direct sunlight) and can operate in a wide range of temperatures.
Improved performance
New displays like the DM430E are also optimized to meet a wide variety of OEM needs. Its flexible design ensures easy integration into a wide variety of machine designs. The display offers three different input/output configurations, two configurations for buttons, a USB for fast download and an option to mount with a bracket or direct RAM mount, among other features.  
In addition, the display's supreme viewability allows operators to work more efficiently, as they can easily read the information in any lighting condition. This is possible by using optical-bonding technology, high brightness and anti-glare coating, which few displays in this size provide today. This eliminates screen fogging and the need for additional blinders or light blockers, further streamlining machine design and appearance.
Beyond the improved hardware, the DM430E offers software advantages as well. The Engine Information Center (EIC) application allows for plug-and-play performance to read more than 4,000 J1939 engine signals, with modern-style graphics for the four different gauge types. This saves precious programming time, and allows OEMs access to sophisticated software technologies without the need for in-house expertise.
Modernizing machines further
Another benefit of new displays from Danfoss is the automatic synergies with the new HMR CAN Rotary. We've seen a growing trend in the on-highway industry for bringing display screen navigation closer to the operator, and we're pleased to offer our customers with a modern solution designed specifically for off-highway machines.
OEMs can easily tailor the HMR CAN Rotary to coordinate with their existing machine's branding and design. The indicator lights, button backlights and rotary backlight are all equipped with RGB LED lights, allowing for countless color options with adjustable light intensity and frequency. Each button graphic can be customized to best fit application needs.
First in a family
The DM430E and HMR CAN Rotary are firsts in an entire family of modern machine solutions from Danfoss. The size of the DM430E is ideal for a wide variety of off-highway applications, from smaller machines with space constraints to those with basic display needs.
Together with the HMR CAN Rotary, the display can be applied in most off-highway industries. Including material handling, turf care, road building, construction, agriculture, specialty and any engine application where a display is needed.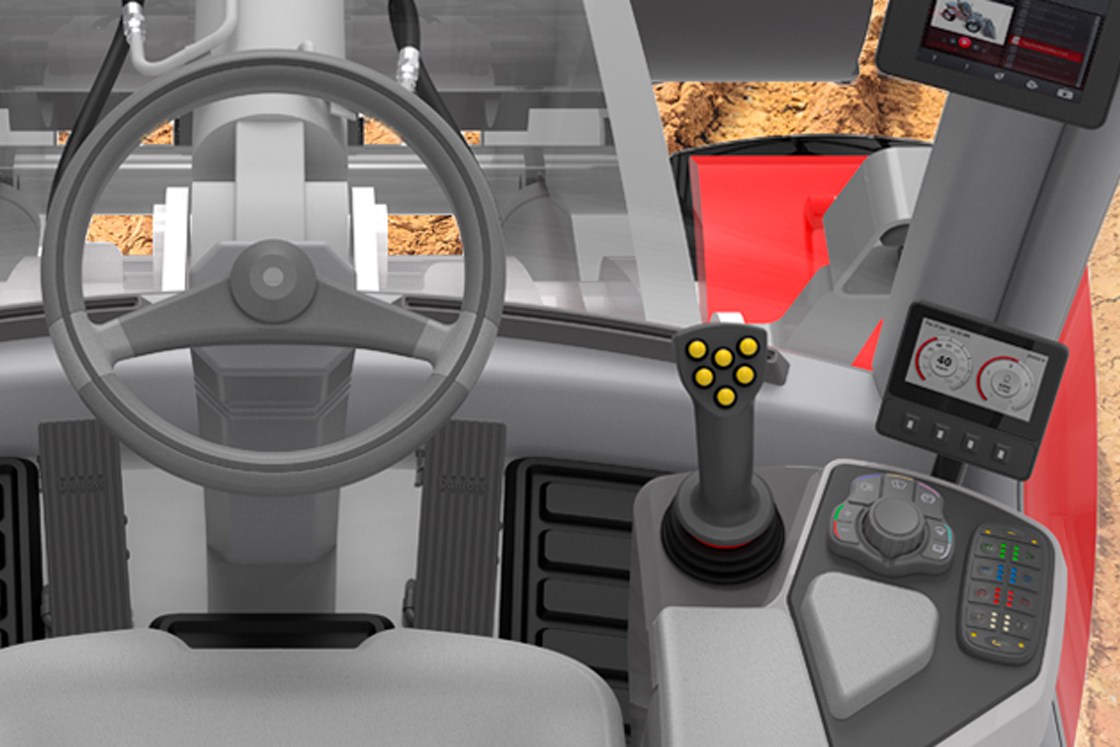 Operator experience
At Danfoss, we view Operator Experience as the series of moments that together enable the efficiency, productivity and well-being of those operating mobile machines. As your design partner, we're focused on providing comprehensive solutions that deliver new levels of productivity, efficiency, precision, comfort, reliability and safety.