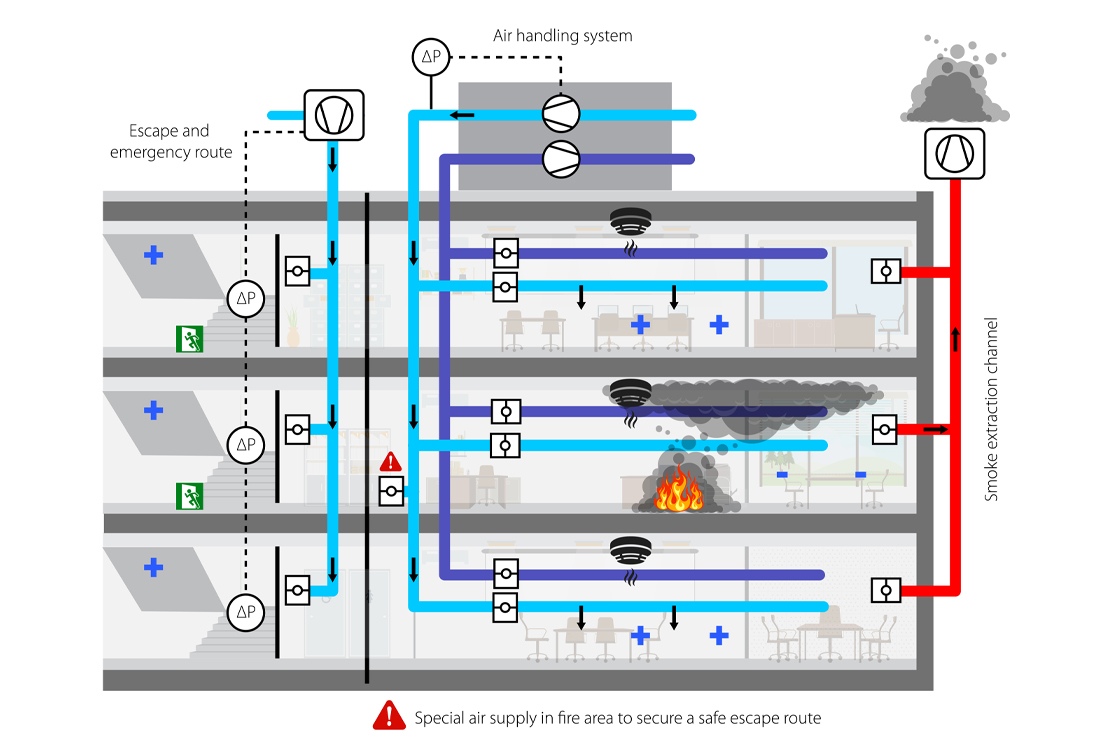 Healthy HVAC systems are essential for health, wellbeing, and safety of building occupants. So, it's good to know that intelligent drives from Danfoss continuously monitor the complete installation for readiness and optimal functionality.
This process includes automatic test of the complete installation, performed by the drive. The test covers the whole cable installation including connection boxes. It checks that the service switch is set to "On" for operation. The drive measures that the motor is completely ready to operate, to ensure the application is ready to run as the very moment it is needed.
Automatic surveillance reduces manual maintenance 
This automatic surveillance reduces the number of manual maintenance and operational checks required. Instead, the system informs when something is wrong. These automatic alerts are especially important to ensure the Fire Emergency Mode application built into the VLT® HVAC Drive FC 102 is fully operable when needed. 
The Fire Emergency Mode functionality protects personnel and secures inventory in the event of a fire in the building. It ensures that the drive "runs to dead" to ventilate rooms and stairwell escape routes for as long as possible, allowing for a safe exit to protect building occupants from the fire. It also means that the normal ventilation system switches to a smoke extraction system to remove dangerous smoke and minimize damage to inventory.
Protect your drive and keep normal operation of your application
Fire Emergency Mode suppresses alarms created to protect the drive and the normal operation of the application. It offers multiple alternatives for controlling the ventilation system, delivering maximum flexibility to ensure the smoke is either cleared out of the building in the best possible way, or stays out of the escape route entirely.
The motor test function makes the Fire Emergency Mode even more reliable and safe, whilst reducing the maintenance effort required.
Your benefits:
Reduced test effort, due to automated testing of the complete motor control chain – even without running the motor
Increased availability of seldom-used motors, such as smoke extraction fans
Predictive fault detection to secure smoke extraction
Potential to reduce the numbers of visits and tests by public authorities, because the system is self-monitoring and in the event of a fault, will provide immediate notification. 
Read more about Fire Emergency Mode
Discover VLT® HVAC Drive FC 102