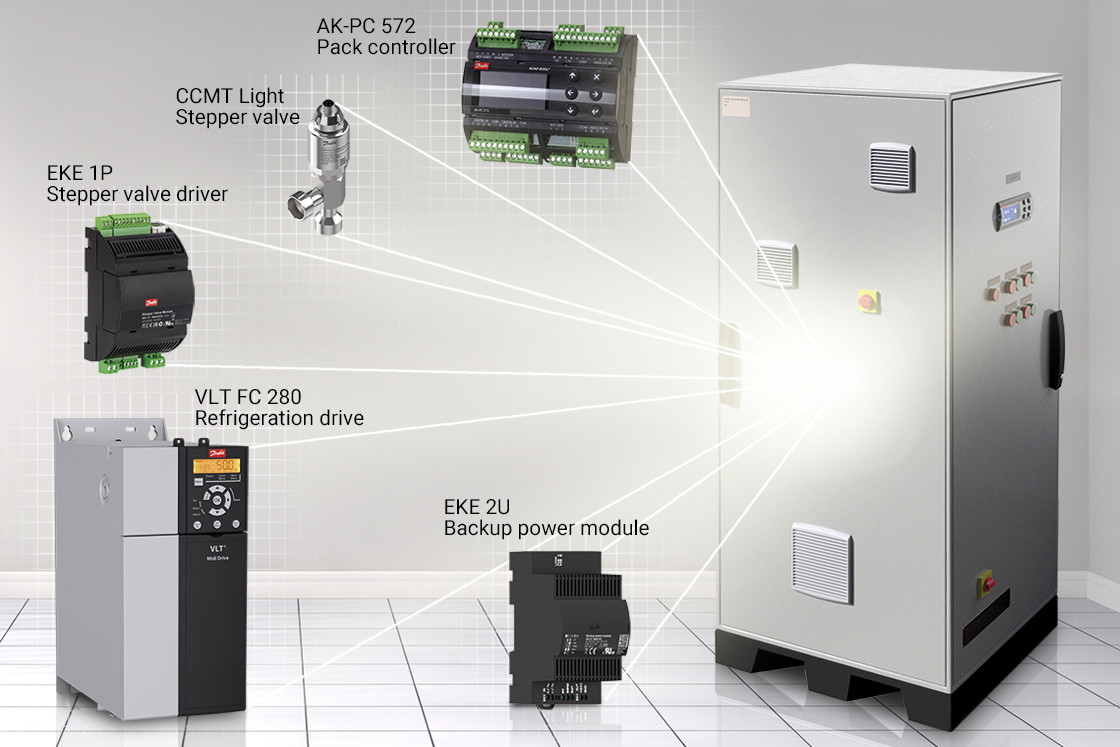 Tap into transcritical CO₂ with our all-in-one solution
CO2 is fast becoming food retailers' refrigerant of choice. Supermarkets are currently switching to transcritical CO2 refrigeration systems at a rate of 10,000 per year—and that number continues to grow. 
 
And for good reason. CO2 offers substantial benefits, particularly to those looking to limit their impact on the environment. By switching over to CO2 from HFCs, food retailers can reduce their stores' Global Warming Potential (GWP) to as low as 1. When implemented properly, transcritical CO2 systems can also reduce costs and increase reliability—an attractive proposition for any store owner. 
 
But while transcritical CO2 has, up until now, been the domain of supermarkets with large-scale refrigeration equipment, more and more small format stores are looking at it with a keen interest. And while transcritical CO2 has the reputation for being complex and difficult to work with, new technology is making it more accessible and easier to implement; technology like the new CO2 MiniPack Solution available from Danfoss.
Introducing the new CO2 MiniPack Solution
The new CO2 MiniPack Solution makes it easy for the owners of small format stores to harness the benefits of CO2. By combining five 100% compatible products into a single solution, the CO2 MiniPack Solution delivers several key benefits:
CO2 made easy: fast setup and installation, even without extensive CO2 know-how
Compact and reliable: a small system footprint, designed to be fully serviceable  
Complete and convenient: five compatible products in a single solution for complete application control
Reduced operational costs: optimal energy efficiency and pack security while keeping food safety in focus 
The CO2 MiniPack solution is composed of five new products:
CCMT Light - A highly reliable electric pressure–regulating valve optimized for transcritical CO2 refrigeration.  
AK-PC 572 Pack Controller - A complete pack solution for small store retailers that makes using CO₂ approachable, even for those with little-to-no experience using it. 
EKE 2U - A backup power module designed to enhance system reliability and protect the compressor in case of power loss. 
EKE 1P – Used as an extension module for other Danfoss controllers or as a stepper valve driver.
VLT FC280 - A VLT refrigeration drive designed to reduce refrigeration system costs.
The CO2 MiniPack Solution also includes a graphic display, a filter drier, and pressure and temperature sensors. Order the components individually and build your solution for small stores according to your specifications.
 
Harness the benefits of CO2
You can learn more about how the CO2 MiniPack Solution can enable the use of CO2 at your small-format stores by visiting our website or by getting in touch with your local Danfoss representative.
Products
Coming soon...
Coming soon...
Visit our CO2 webpage
Related articles

Why are so many supermarkets now choosing CO₂ refrigeration?
Around the world, there is little doubt that CO₂ is fast becoming food retailers' refrigerant of choice. At Danfoss alone, we're currently seeing supermarkets switching to CO₂ refrigeration systems at a rate of around 10,000 a year—and that number is growing fast.