Strong performance in a toughening market
Danfoss continues to push high investments in innovation and has acquired technology within electrification. In the first half of 2019, Group sales grew by 4%, but the second quarter was characterized by a market growth slowdown in several industries.
In the first half of 2019, Group sales reached 3.2 billion euro, up 125 million euro on the same period last year. Growth was driven by demand for energy-efficient and low-emission solutions in Europe and North America, while China was impacted by economic slowdown – which also spread to Europe and North America towards the end of the second quarter. Danfoss' earnings (EBIT) amounted to 351 million euro, which is close to the very strong results from the first half of last year, when adjusted for the gains from last year's divestment of the heat pump business Thermia. The EBIT margin was 11.1%.
"We've delivered a strong performance in a toughening market. We provide a wide range of technologies and solutions, which play a crucial role in solving climate change. At the same time, energy efficiency and low-emission solutions have moved high up on the agenda in the green transition. However, the uncertainty created by the trade conflict between the US and China and other geopolitical conflicts have spread to the rest of the world, and we are prepared for the global economy entering a phase of little or no growth where market growth could turn negative in the most cyclical industries," says Kim Fausing, President & CEO of Danfoss.
The Danfoss Group's first six months of 2019 were characterized by continued strong focus on developing and strengthening the four core businesses; most evident through the 140 million euro investment in the research and development of new products - an 11% increase on last year.
"We will continue to invest to strengthen Danfoss in the long term and secure future growth. That is the core of our strategy and the way we can remain at the forefront and be the most attractive technology partner for our customers," Kim Fausing explains.
In July, Danfoss completed the acquisition of the American company UQM Technologies, Inc., which is a leading supplier of propulsion systems for electric commercial and off-highway vehicles. With the rising demand for electric solutions, Danfoss has invested heavily in this area and is today a world leader in electric solutions for vehicles and maritime vessels.

"The world has entered into a digital and electric transformation with a strong focus on sustainability that will fundamentally change our energy systems and the way we use energy. Things are moving rapidly in these areas, and to stay at the forefront, we're currently investing in innovation and acquiring new technology," Kim Fausing concludes.
Key figures from the first half of 2019:
Sales grew by 4% to EUR 3,166 million (First half 2018: 3,041m), corresponding to 2% growth in local currency.
Operating profit (EBIT) totaled EUR 351 million (first half 2018: 370m). The EBIT margin was 11.1% (first half 2018: 12.2%).
Net profit for the first half was EUR 242 million (first half 2018: 253m).
Innovation spend increased by 11% to EUR 140 million (first half 2018: 126m), corresponding to 4.4% of sales (first half 2018: 4.1%).
Outlook for 2019 confirmed
The outlook for 2019, as published in the Annual Report 2018, is maintained: Danfoss expects to expand or maintain its market share, while increasing the profitability measured as margin compared with the 2018 level, following continued investments in digitalization and electrification.
However, the risk associated with the outlook has increased due to the current geopolitical environment – in particular the ongoing trade conflict between the US and China and other conflicts, which have created a high level of uncertainty and are negatively impacting market growth in cyclical industries.
Further information:
Danfoss Media Relations
Tel.: +45 7020 4488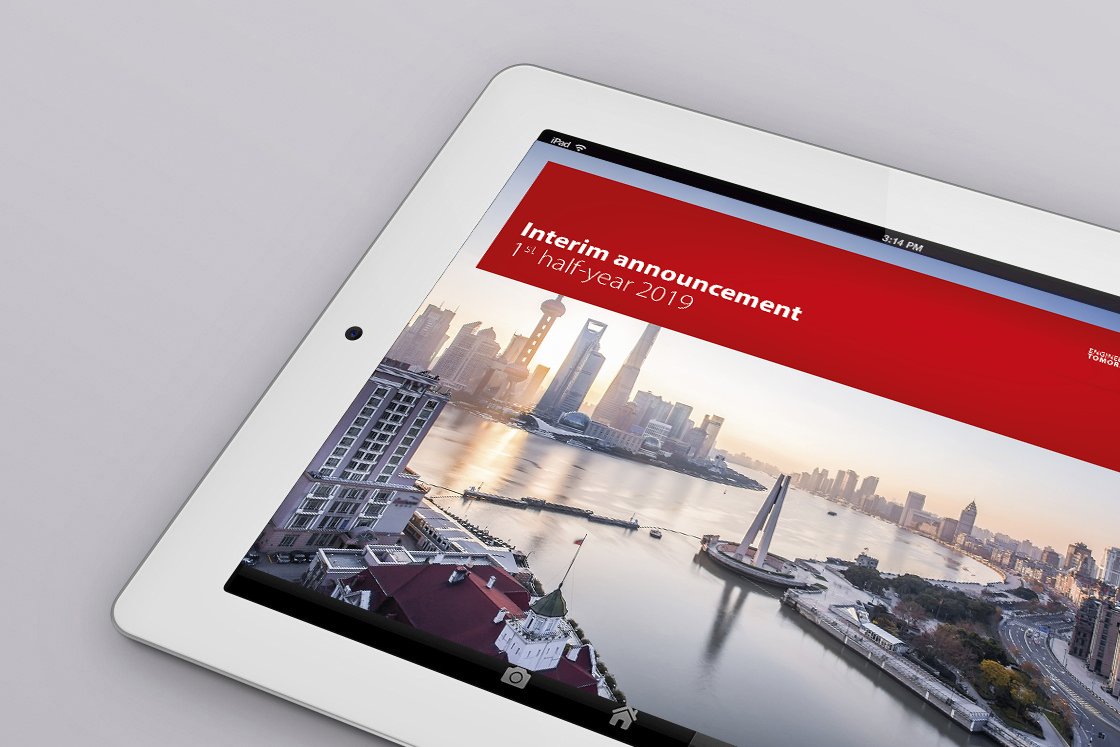 First half 2019: Strong performance in first half
Read the full financial announcement here.