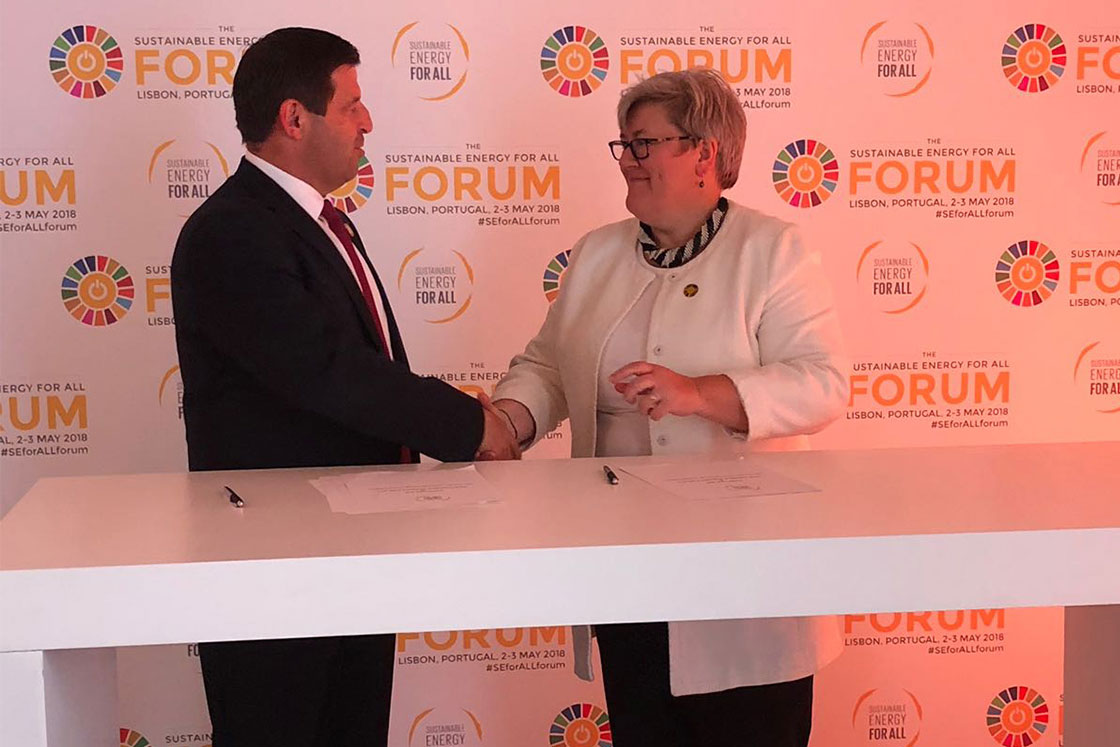 Danfoss becomes new Delivery Partner of Sustainable Energy for All (SEforALL) to accelerate progress on the United Nations Sustainable Development Goal (SDG) 7. SDG7 aims to ensure universal access to modern energy services, improve efficiency, and increase the use of renewable sources. Danfoss is actively raising awareness about the benefits of energy-efficient solutions and the energy saving potential of existing best-in-class cooling technology.
After working closely with SEforALL for the past three years, Danfoss is excited to formally become a Delivery Partner. SEforALL is a global non-profit organization that brings together leaders from governments, the private sector, and civil society to discuss how to achieve universal access to sustainable energy under SDG7 and make it a reality by 2030. As a partner, Danfoss will support activities concerning energy efficiency, district energy systems, cooling technology, and building efficiency. 
Danfoss is fully committed to accelerating energy efficiency. District energy is one of the areas where Danfoss shows strong thought leadership and engagement with SEforALL to help cities develop their energy systems. To guarantee capacity-building, the Bitten and Mads Clausen Foundation behind Danfoss has, in 2016, funded three district energy experts to work in the city department of UNEP-DTU at the UN City for the implementation of the District Energy in Cities Initiative (9M DKK for three years).  
Thus, Danfoss will continue to work closely with UN Environment and SEforALL on the District Energy Services (DES) Accelerator. The key focus is to enhance global adoption of efficient district heating and cooling services and scale up energy efficiency policy, action, and investment, as a way to meet SDG7´s call for doubling the global energy efficiency improvement rate.
"Companies like Danfoss can help the world see what success in meeting the SDGs would look like. At a time when there is much to excite us as we race to achieve SDG7 on sustainable energy, but as progress overall is still not at the necessary speed nor scale, partnerships between the private sector and governments and civil society are more needed than ever before", said Rachel Kyte, CEO of SEforALL and Special Representative of the UN Secretary-General for Sustainable Energy for All, commenting on the announcement. "As a SEforALL delivery partner, Danfoss is extending its leadership role within the movement dedicated to sustainable energy for all, and brings global reach and deep expertise to the effort to revolutionize energy efficiency."
Jürgen Fischer, President Danfoss Cooling and Member of the Danfoss Group Executive Team, stated: "We are very pleased to officially become a SEforALL partner. It's a natural step for Danfoss as we focus on developing energy-efficient solutions. We are conscious that to succeed in doubling energy productivity and deliver on SDG7, we must work with cities and district energy. We have demonstrated that we can help our customers save on their energy bills and, at the same time, help the planet."
This partnership follows last year's appointment of Jürgen Fischer, on behalf of Danfoss, as a member of the Cooling for All Global Panel.  The panel is developing a report which outlines recommendations and evidence on how to increase access to affordable and sustainable cooling solutions throughout the world. The report is expected to be published in July 2018.
Related links:
About Danfoss
Danfoss engineers advanced technologies that enable us to build a better, smarter and more efficient tomorrow. In the world's growing cities, we ensure the supply of fresh food and optimal comfort in our homes and offices, while meeting the need for energy efficient infrastructure, connected systems and integrated renewable energy. Our solutions are used in areas such as refrigeration, air conditioning, heating, motor control and mobile machinery. Our innovative engineering dates back to 1933 and today Danfoss holds market-leading positions, employing more than 26,000 and serving customers in more than 100 countries. We are privately held by the founding family. Read more about Danfoss.
About Sustainable Energy for All 
Sustainable Energy for All (SEforALL) empowers leaders to broker partnerships and unlock finance to achieve universal access to sustainable energy, as a contribution to a cleaner, just and prosperous world for all. SEforALL exists to reduce the carbon intensity of energy while making it available to everyone on the planet. 
For more information:
Beth Woodthorpe-Evans, Media, SEforALL, Beth@SEforALL.org, +1 (202) 390 1042