An important milestone has been reached this year, now that the solution from Danfoss partner, Leanheat, has been installed in 100,000 apartments worldwide. The smart heating solution helps to reduce 10–20 percent of a building's total energy cost. But the potential is much bigger.
Digitalization is transforming the way we consume and optimize energy usage in buildings. Already today, artificial Intelligence (AI), self-learning systems and data-in-the-cloud play a key part in the smart building services that Danfoss partner, Leanheat, delivers to district heating utility companies and building owners.
And this year marks an important milestone for Leanheat, which now provides comfortable heating to residents in 100,000 apartments owned by housing associations.
The Leanheat solution uses artificial intelligence to optimally control and monitor centrally heated buildings. Data from the central building control room is combined with data collected from Internet of Things (IoT) sensors (wireless) located in individual apartments in the building. By using AI to process the collated data, the central heating can be controlled in an optimal manner depending on weather, ventilation and the inhabitants' living patterns.
The rental housing provider, Espoon Asunnot, in the city of Espoo, Finland, has had the solution installed in all of their 15,000 apartments. The benefits of signing up for Leanheat services have been extensive.
"Our aim was to rationalize heat consumption and improve indoor air quality in the apartments. And on this we have, for sure, succeeded. During the three years we have worked with Leanheat, we have managed to cut our energy consumption and peak power demand significantly, more than 6 percent and 17 percent respectively," says Jaakko Kammonen, CEO of Espoon Asunnot. The housing company is Leanheat's second biggest customer with apartments at 300 different sites. With the solution from Leanheat, the entire Espoon Asunnot property portfolio saves the energy of approximately 1,000 one-family-homes annually, equivalent to saving about 2,500 tonnes of CO2.
Potential for more smart buildings
And the potential for making more buildings smarter and saving more energy is even greater. Today, 30 percent of the energy consumption in Europe is used to heat and cool buildings. This must be addressed if the world's sustainable development goals (SDGs) and the Paris Agreement are to be met. Here, digitalization plays a vital role, says CEO of Leanheat, Jukka Aho:
"In Europe today, most technologies to reduce energy consumption is related to new buildings. However, the base of new buildings is only two percent which means it will take us 50 years to renew all buildings. Our solution is scalable and can be fitted into existing buildings. And this is where we find the big potential. We need to make more buildings smart if we want to cut energy consumption in the European building stock."
Leanheat's solution has already been installed in buildings in Finland, Denmark, Sweden, Germany, Poland and Norway. New pilots with district heating companies in China are showing great potential. Currently they operate with six district heating companies and have nine commercial pilot projects in the pipeline.
The start-up development of the intelligent monitoring solution began in 2011, and the first pilots were set up. In 2016, the company Leanheat Oy was established and recognized as a first-mover within digital HVAC efficiency. In the same year, Danfoss entered into a partnership with Leanheat and added this new digital element to its core portfolio. Today, Danfoss holds 46 percent of company shares in Leanheat.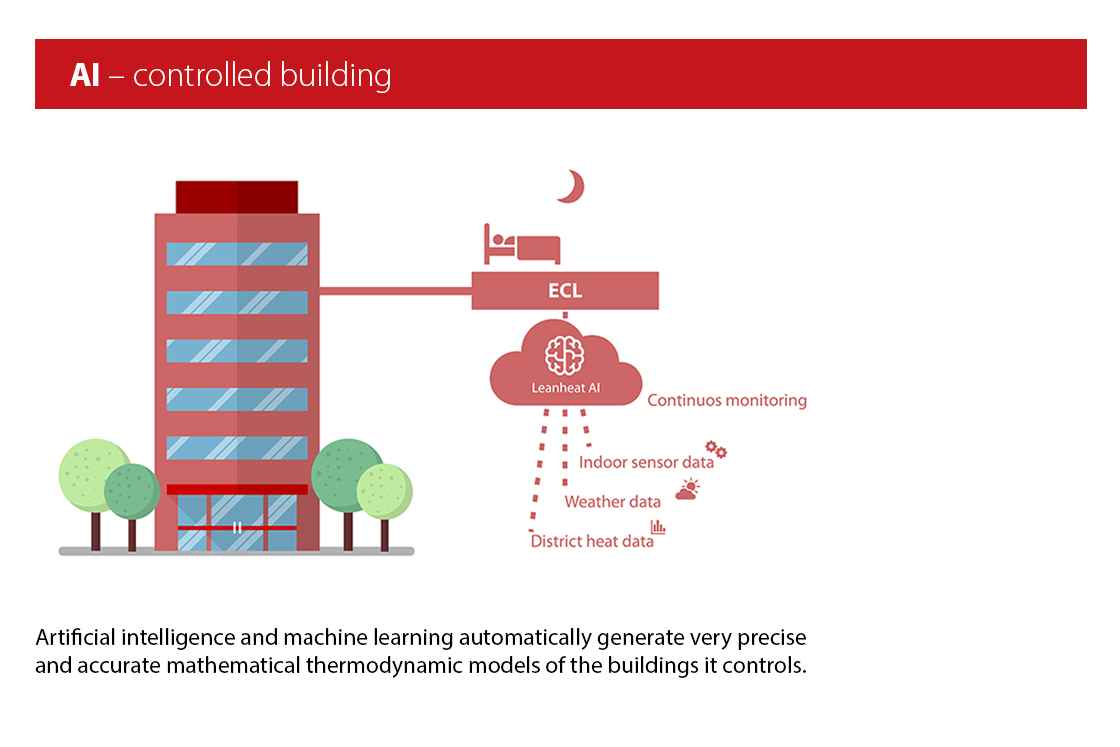 This is how it works:
The artificial intelligence (AI) based control method uses temperature and humidity data from the apartments when adjusting the temperature of the water flowing into the central heating. The idea is to set a target value for the indoor temperature and to control the heating valve in the building control room so that the desired indoor temperature is reached and maintained throughout changing weather conditions and building usage patterns. During a two-week teaching period directly after installation, Leanheat's machine-learning software creates a unique mathematical model for each building. The model takes into account the building's capacity to charge and discharge heating energy in different conditions. The model is dynamic, constantly measuring all relevant values and reacting automatically to changes in the building's thermodynamics. Using the model, the building's heating system can be optimized so that the indoor climate is always good and at the same time energy is saved.
Rethinking energy efficiency – optimizing technical building systems
We spend most of our time in buildings – working, learning and sleeping. It is not surprising, therefore, that these buildings consume a lot of energy. Most of it is used to maintain the right temperature and air quality inside the building. This is controlled by heating, cooling and ventilation systems. When these systems are not set up properly or do not run efficiently, even more energy is required – leading to higher energy bills and increased CO2 emissions.
However, it does not need to be this way. Simple improvements could help reduce energy wastage, cut costs, and make our buildings healthier, more comfortable and more productive places to be.
Read more about building efficiency
Download PDF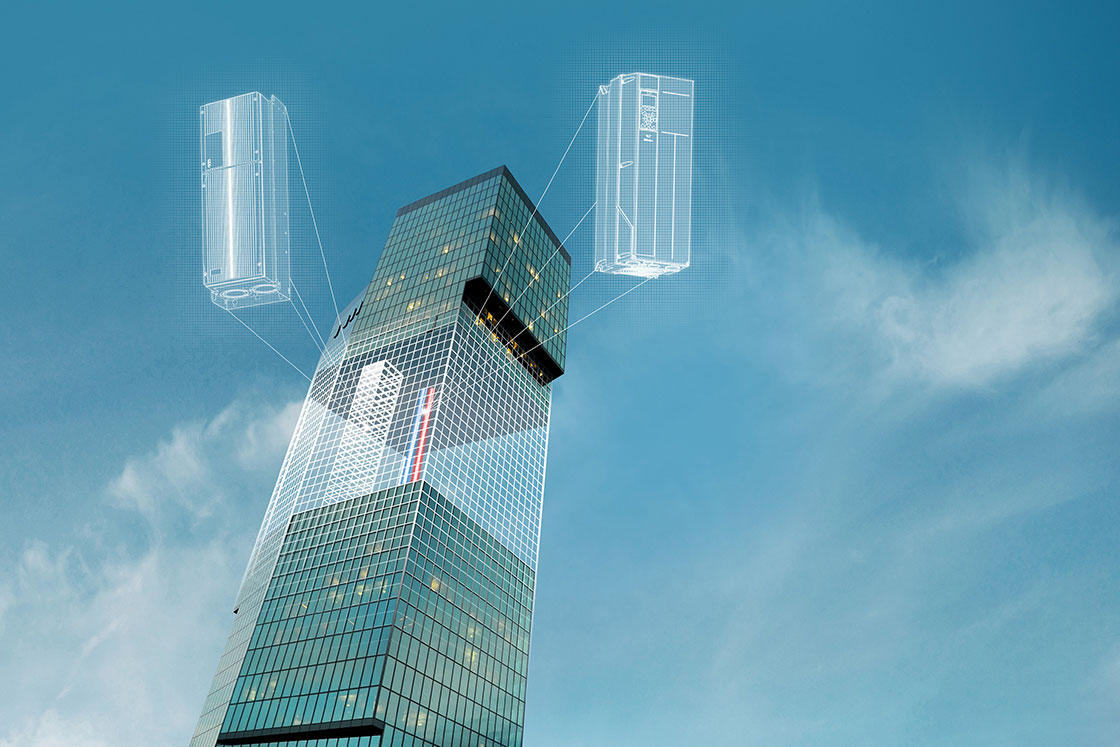 Engineering the world of Tomorrow
Danfoss engineers advanced technologies that enable us to build a better, smarter and more efficient tomorrow. In the world's growing cities, we ensure the supply of fresh food and optimal comfort in our homes and offices, while meeting the need for energy efficient infrastructure, connected systems and integrated renewable energy.
Our solutions are used in areas such as refrigeration, air conditioning, heating, motor control and mobile machinery.
Our innovative engineering dates back to 1933 and today Danfoss holds market-leading positions, employing more than 26,000 and serving customers in more than 100 countries. We are privately held by the founding family.