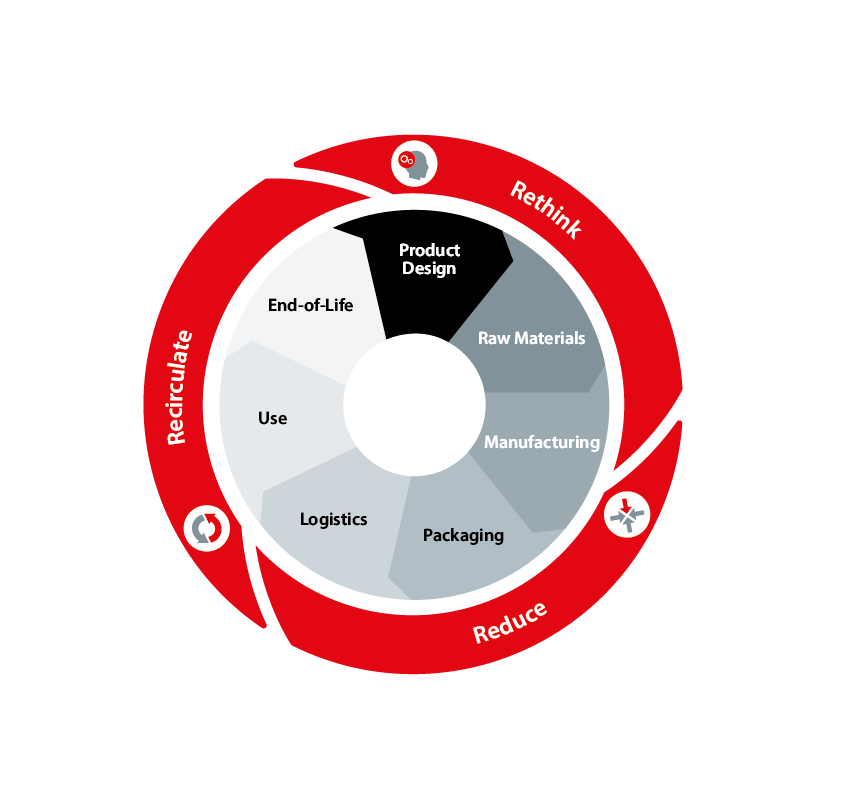 Towards a circular economy
As the economy continues to grow with rapid urbanization as one driver, there is a growing demand for more products, which, in turn, means more raw materials need to be extracted, and more waste is produced.
We strive to deliver the best circular solutions on the market by developing innovative circular business models with our customers and suppliers.
Our ambition is to drive this change by refining how we design our products. Danfoss' Rethink-Reduce-Recirculate approach drives the innovation and development of our new products.
'Rethink' entails changing the business model and the way a product is offered to the market. This can include changes to the design of the product or the business model so that, for example, a service is offered instead of a product. 
'Reduce'  involves decreasing material and energy consumption or switching to greener alternatives during the manufacturing stage, the sourcing of raw materials, logistics and packaging operations.
'Recirculate' involves ensuring products and materials are used as much as possible before their end of life. This approach involves two aspects; one focuses on products and parts recirculation through reuse, refurbishment, remanufacturing, or upgrading, and the other on materials through recycling. 
In 2022, we created the Danfoss Circularity Framework based on these principles and incorporated nine circularity strategies, associated with the three principles, that can be applied in new product development across Danfoss. We adopted this framework to measure circularity when designing new products, identifying opportunities for improvement, and determining whether a product contributes to circularity compared to the next-best alternatives. We will use this approach and tool to assess the circularity potential of all new products we develop, ensuring that more than 80% of our newly developed products demonstrate an improvement by 2030.  
Our circularity targets for 2030:
Develop and implement circularity framework in all segments
More than 80% of newly developed products are covered by the circularity approach
Circularity collaborations with more than 80% of top-25 customers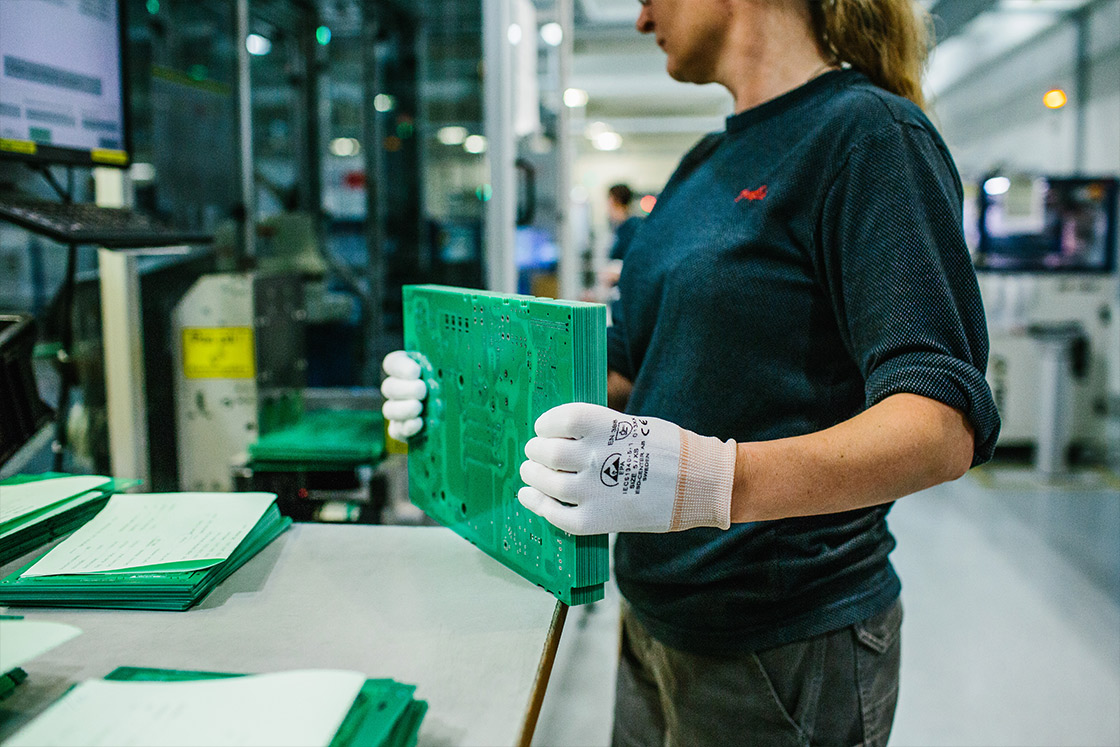 Rethinking the way we design products
During product development, we rethink the way we deliver products to our customers towards easy disassembly. One good example is the newly launched ICAD actuator from Danfoss Climate Solutions, which contains valuable and rare earth magnets. This was developed with end of life and product disassembly in mind, ensuring that the magnets can be removed easily and reused in other products.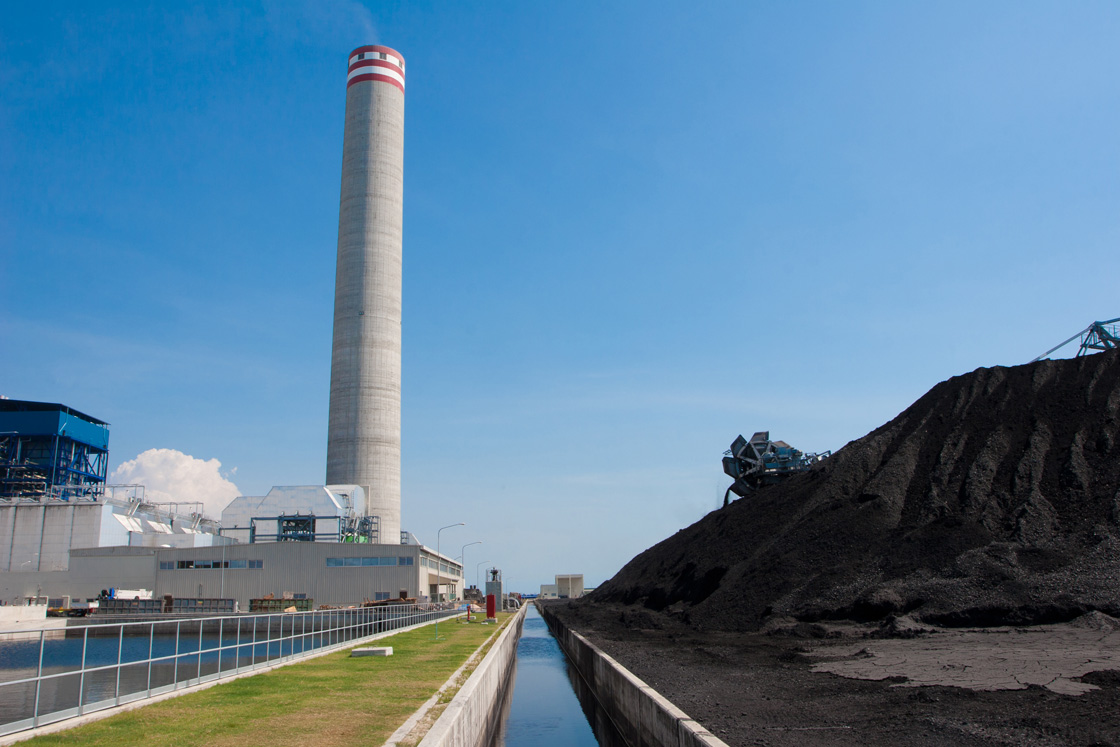 Reducing waste and resources
We are continuously improving the efficiency in our manufacturing, reducing the waste produced and ensuring proper recycling. We also find alternative raw materials that have reduced environmental impacts or come from waste.  
In 2022, we focused mainly on plastics used in our products to ensure the required quality and strength. We have joined a Danish cross industry collaboration, called Circular Industrial Plastic project, in which several recycling technologies are being explored over a period of three years. Through this project, we aim to reduce the plastic waste produced in our facilities.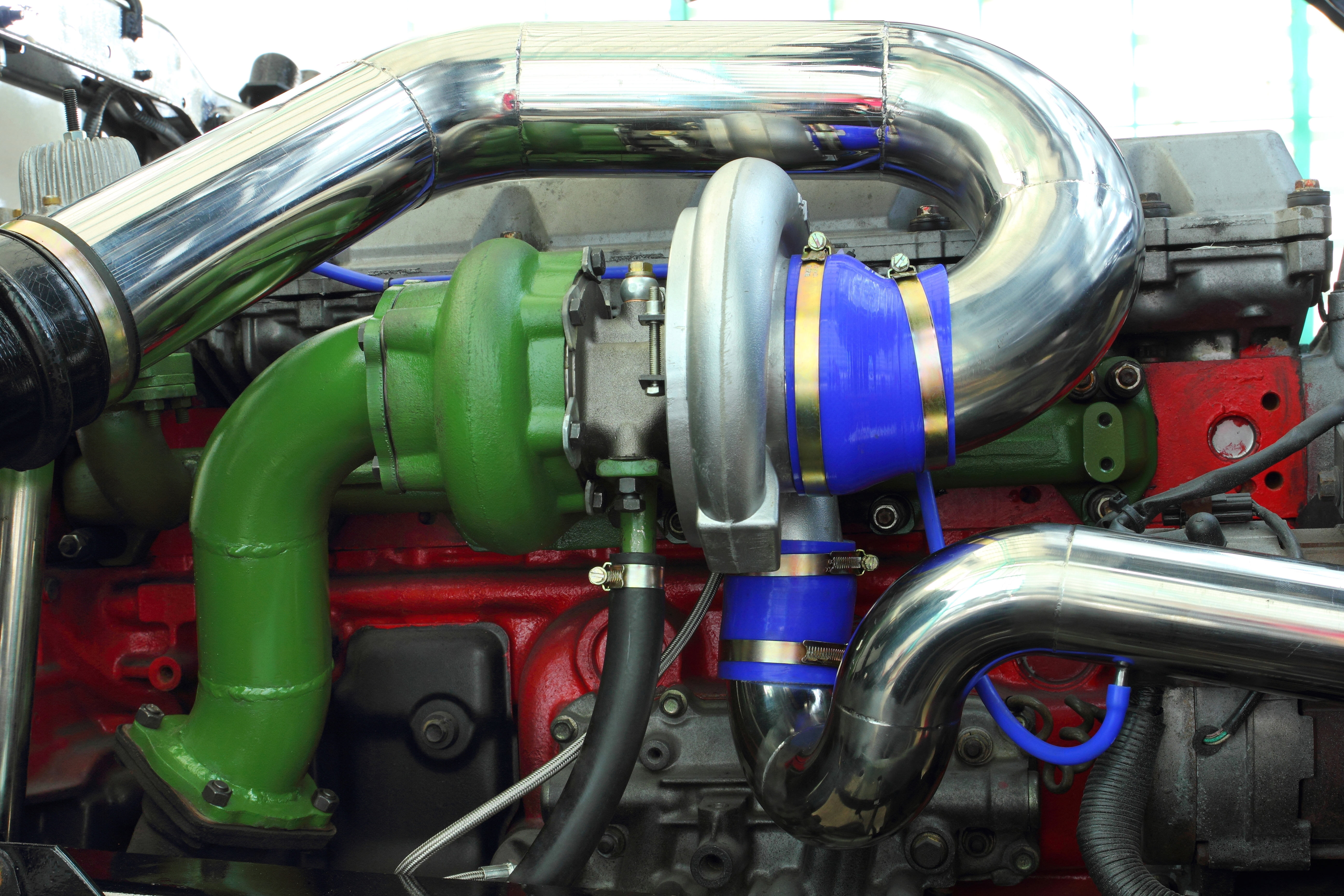 Recirculating products and parts
Keeping products and materials in use for as long as possible by ensuring their durability, maintenance, repair and remanufacturing, can help reduce environmental impacts and consumption of virgin resources.
Through the digital service DrivePro®, Danfoss Power Electronics and Drives offers an array of services with a focus on circularity – such as exchange, retrofit, preventive maintenance, and repair – which have the potential to extend the lifetime of products, save virgin resources, and reduce CO₂ emissions. The DrivePro® service package is currently offered in 56 countries and markets and covers 95% of the segment's product portfolio. DrivePro® is built to prolong and eventually close the loops of material circles. Refurbishing returned drives can make a significant impact, especially for industries grappling with the scarcity of virgin resources. 
In 2022 we started a drives refurbishment pilot project in India and constructed a dedicated refurbishment area for returned drives that would have been scraped and sent to external recycling. We plan to scale the project and offer refurbished drives to our customers in India. Refurbishment and reuse of drives is established practice in other Danfoss sites such as the Haiyan factory in China.
Danfoss Power Solutions offers a repair and remanufacturing service for many products. Used and defective products with longer service life can be sent in for repair and remanufacturing long after the expiration of their warranty. The service extends the life of a product by refurbishing parts, replacing those that are worn out, testing for full functionality, and granting a new warranty period to the customer. This service is available in selected locations in the US and Europe. In the US, there is a focus on piston products (pumps and motors) and valves. 
Collaboration with customers
Collaboration across the entire product's life cycle is key in order to drive change on circularity. This is why one of our targets for 2030 focuses on customers collaborations, as we see them as an enabling factor towards this journey.
In Danfoss Power Electronics and Drives, this is achieved to a great extent by the DrivePro offering. In Danfoss Climate Solutions we have initiated several projects and partnerships with the intention of creating value as well as reducing environmental impact through the recirculation of our products and materials from customers. We have signed an agreement with Beijer Ref, where Danfoss as a manufacturer, and Beijer Ref as a wholesaler will drive the circular economy transition.  
We aim to increase customers collaborations even further in the future, towards making a quantified contribution in one of our nine circular strategies, identified in the Danfoss Circular Wheel . This will help us reach our target for 2030 on customer collaborations with more than 80% of our top 25 customers. 
"We are very pleased with the renewal of our partnership, and together with Danfoss, we look forward to implementing this new and ambitious sustainability plan. In the last decade, The European Commission has established several policies to encourage circularity, and it is of great importance that we continue to support this sustainable transformation."
- Christopher Norbue, CEO, Beijer Ref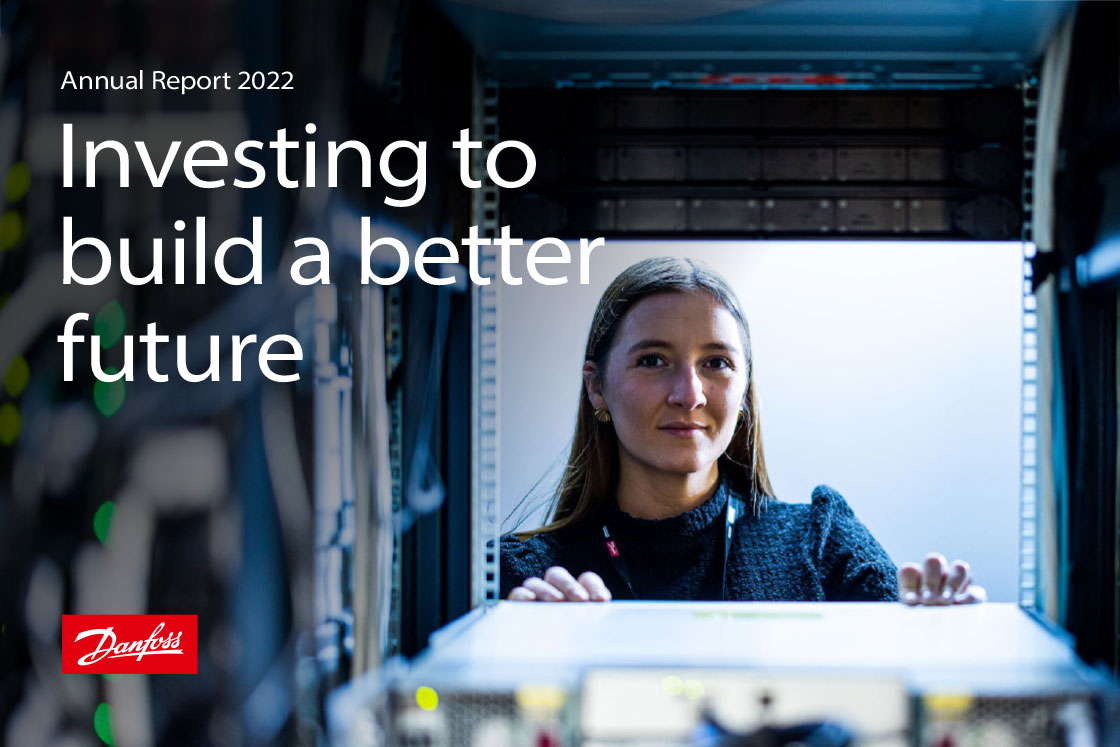 Annual report 2022
Our integrated annual report gives our stakeholders a holistic view of Danfoss' business, value drivers, strategy, governance, and performance. It combines key information on our financial, sustainability and ESG-related performance.