Danfoss has strong momentum with record results for both top- and bottom-line growth, robust cash flow, and a healthy balance sheet.
New ambitious ESG targets and ambitions
Sustainability is not an add-on to our business. Sustainability is our business. For the financial year 2021, we are taking the first step in our reporting by combining financial, sustainability, and corporate governance in a single publication.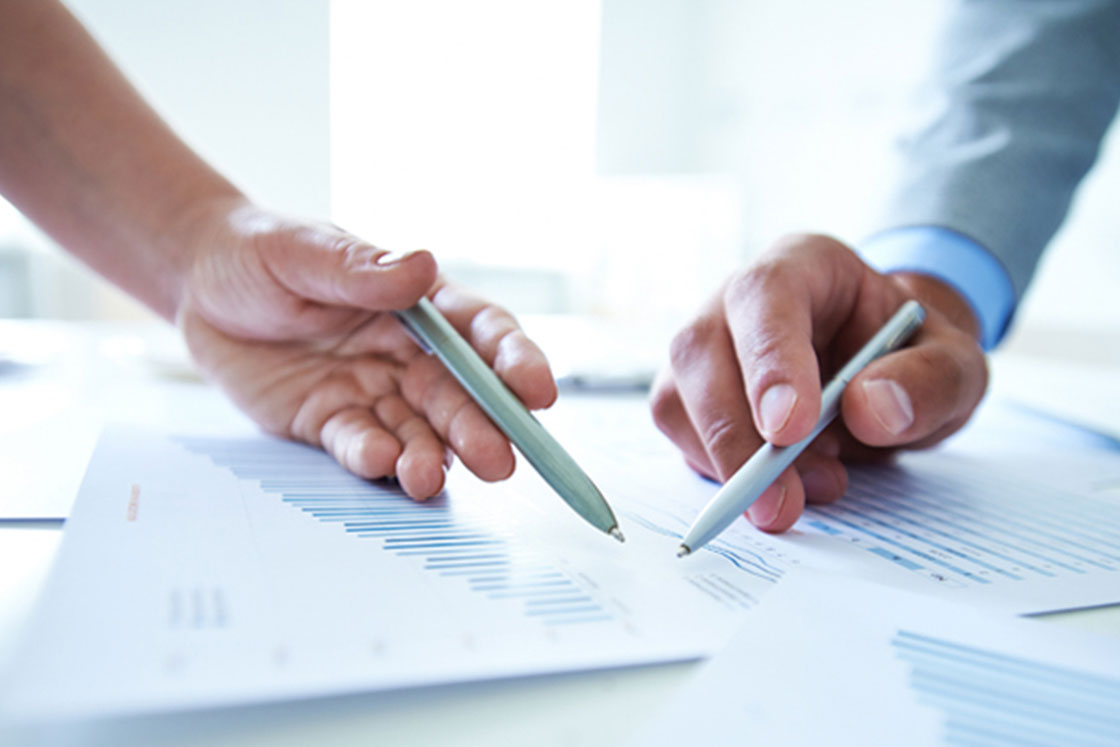 Financials
2021 was a record year above expectations. We generated 7.5 billion EUR in sales, up 29% against 2020. Growth was driven by a very strong demand for our energy-efficient products and solutions, leading to organic growth of 18%, as well as added sales from the Eaton Hydraulics acquisition.
Sustainability
In 2021, we have reached our 2030 goal of doubling our energy productivity, nine years ahead of time, while sprinting towards carbon neutrality across our global operations by 2030. Since January 2021, we source CO2-neutral electricity for all our sites in Denmark and Germany which covers 25% of our total global electricity consumption.
Financial performance highlights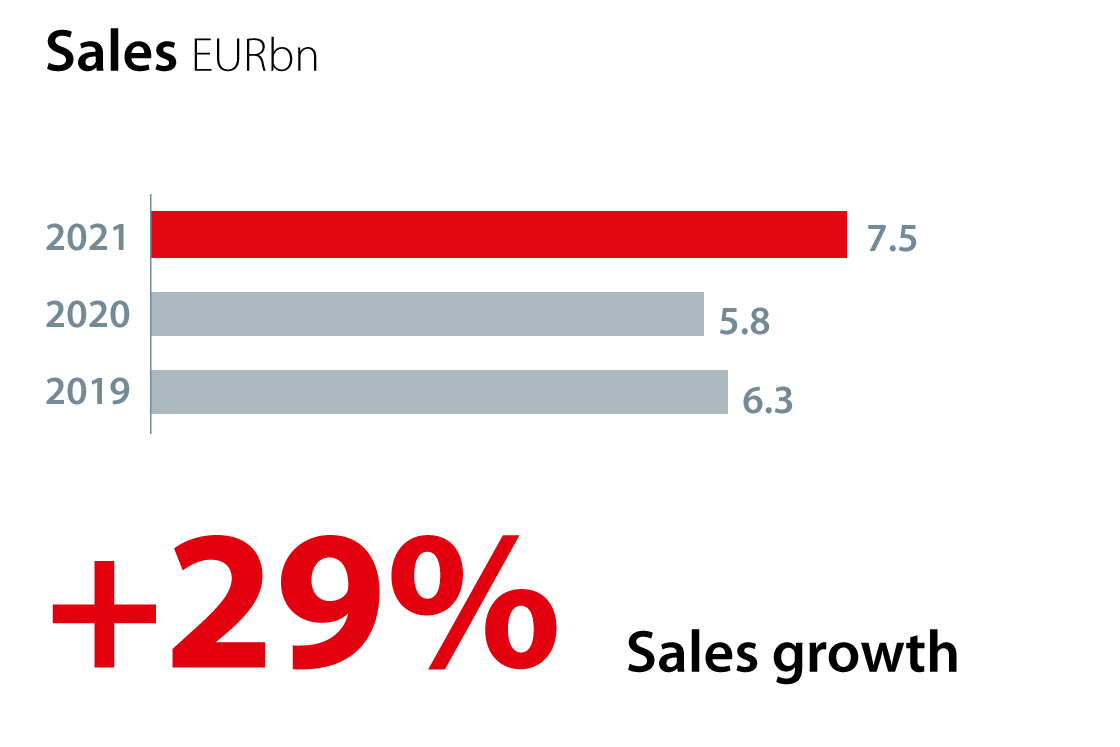 Record year above expectations.
Danfoss acquired Eaton's hydraulics business on August 2, adding 5 months sales of EUR 786m to the topline. The customer demand for our energy-efficient products and solutions was very strong, and all Danfoss segments and regions saw growth. Despite the pandemic, organic growth was 18% against 2020.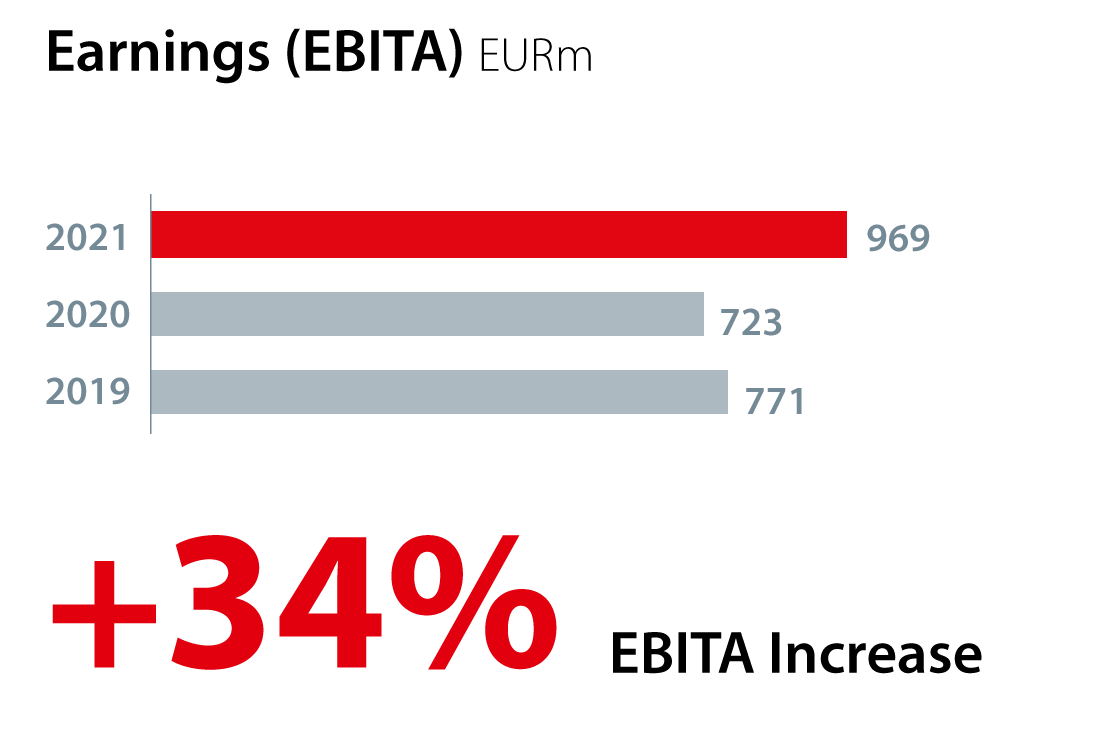 Profitability stronger than outlook.
The EBITA margin reached 12.8% against 12.4% in 2020. The high demand for our products and solutions combined with managing the disruptions in the global supply chains in an inflationary environment are the main drivers of the high EBITA margin. Net profit was up 45% to EUR 631m.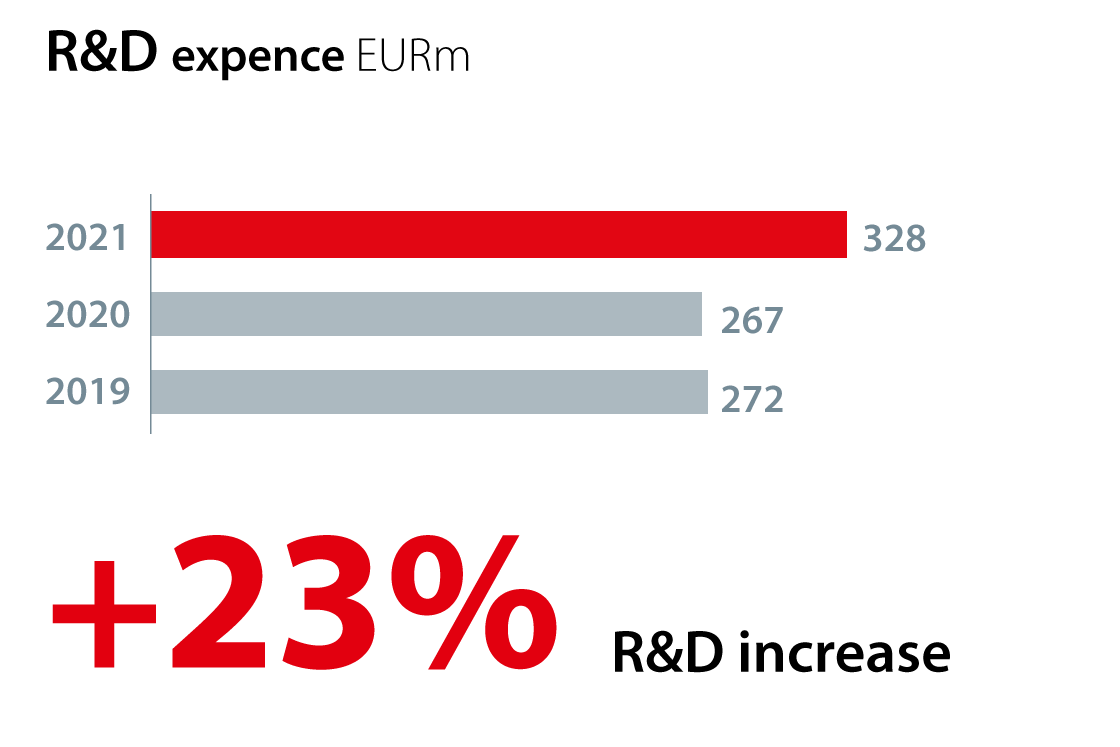 Continued high investments to fuel future growth.
To be the preferred partner in delivering energy-efficient solutions and helping our customers decarbonize, the high level of investments in innovation and R&D continued. In particular, we increased the digitalization and electrification of our solutions.
More financial information
Sustainability performance highlights
improvement in our energy productivity since 2007.
We reached our target to double our energy productivity by 2030.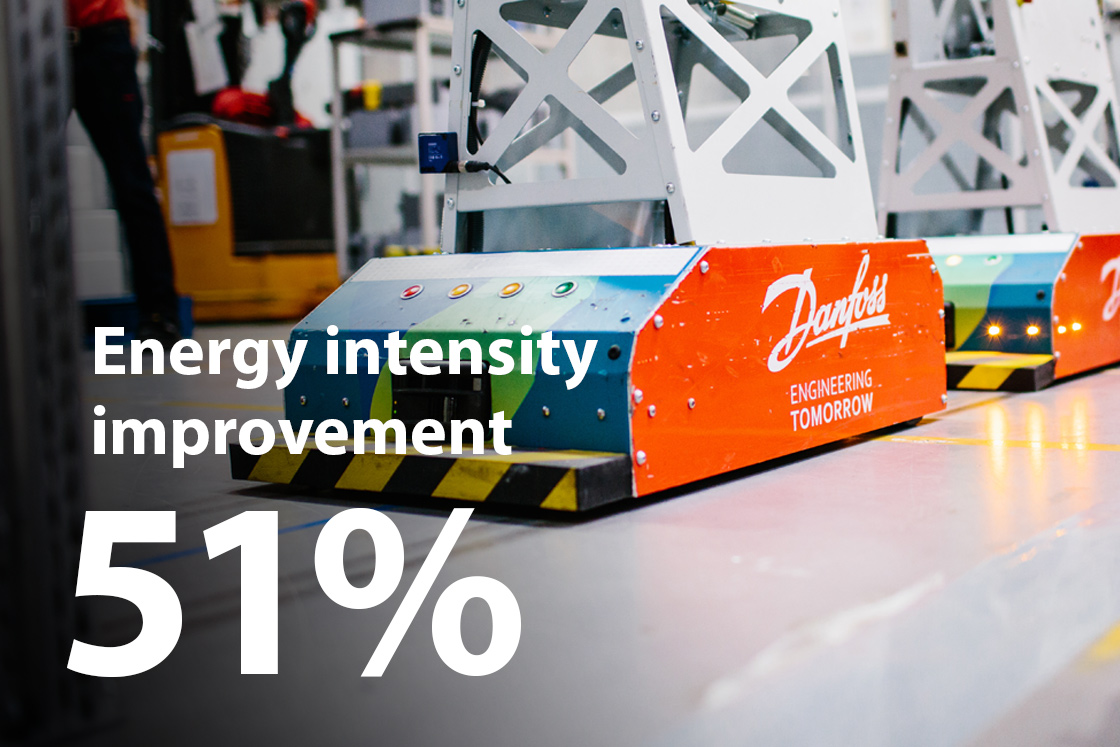 of energy intensity improvement since 2007.
We are using half the energy as in 2007 per production output.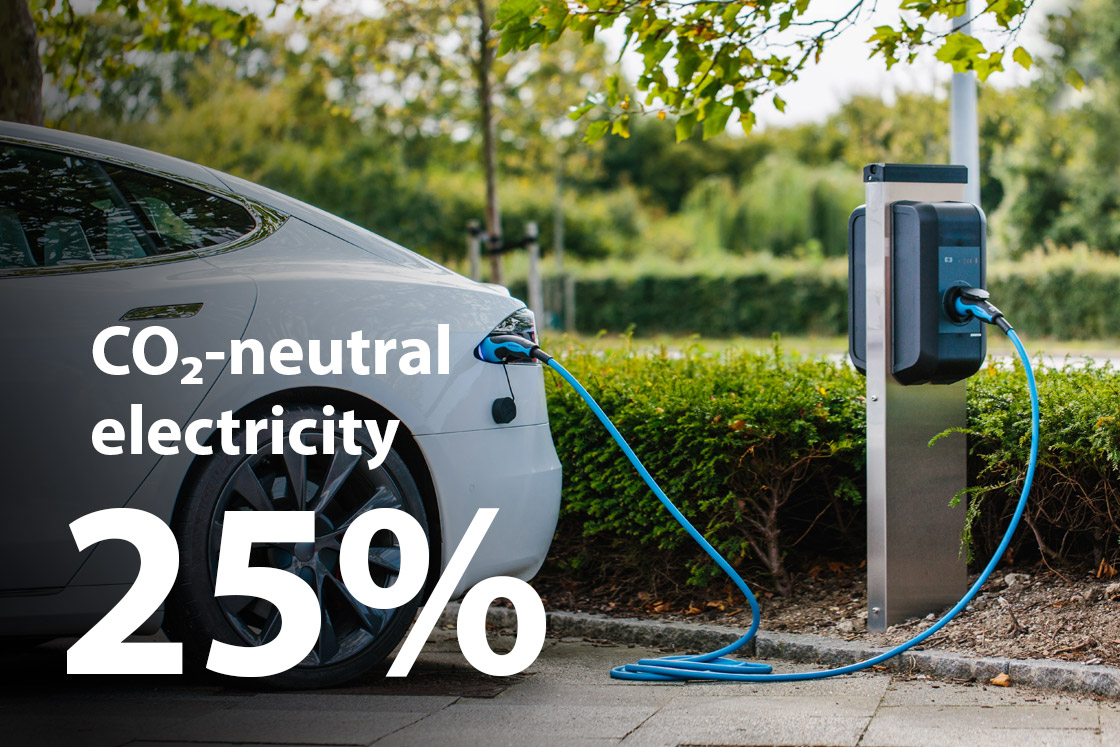 of our global electricity consumption is CO2-neutral.
All locations in Denmark and Germany use CO2-neutral electricity.
Read about sustainability in Danfoss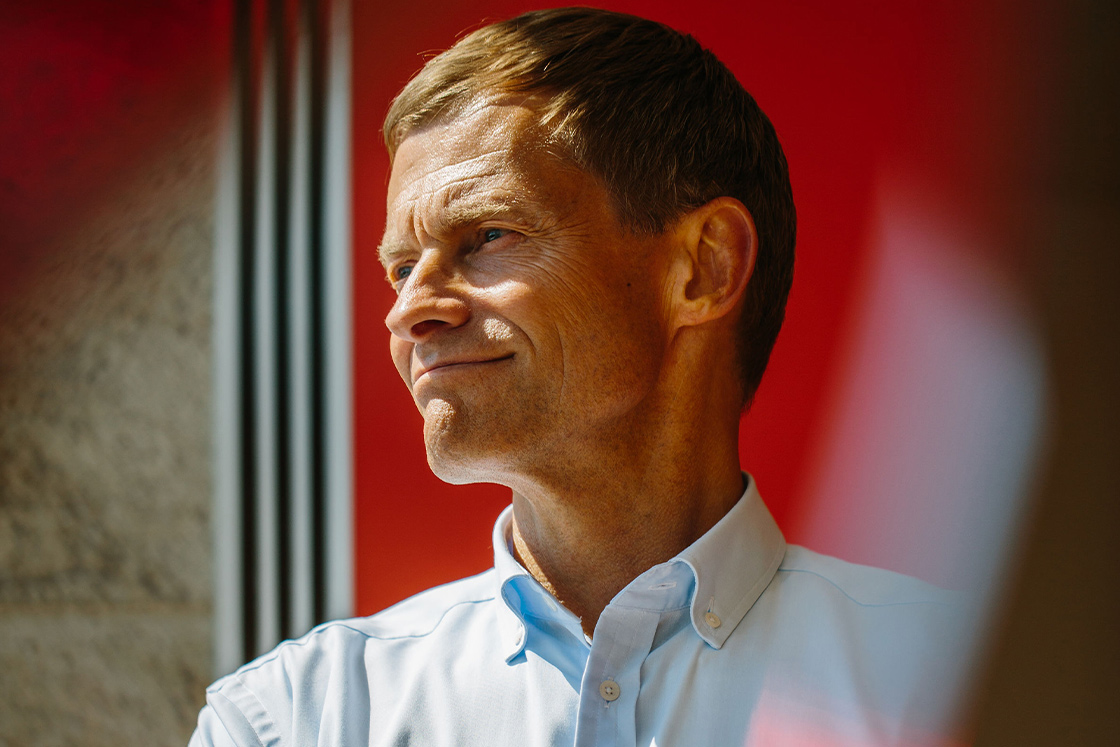 Read the press release
"We have never seen better opportunities for Danfoss. It is our ambition to be the leading technology partner for our customers in the green transition – decarbonizing through energy efficiency, low emissions, and electrification. After all, the greenest energy is the energy we don't use. Our momentum is clearly reflected in our 2021 annual results. Danfoss has delivered the best results in our history, and we are in a strong financial position," says Kim Fausing, President & CEO of Danfoss.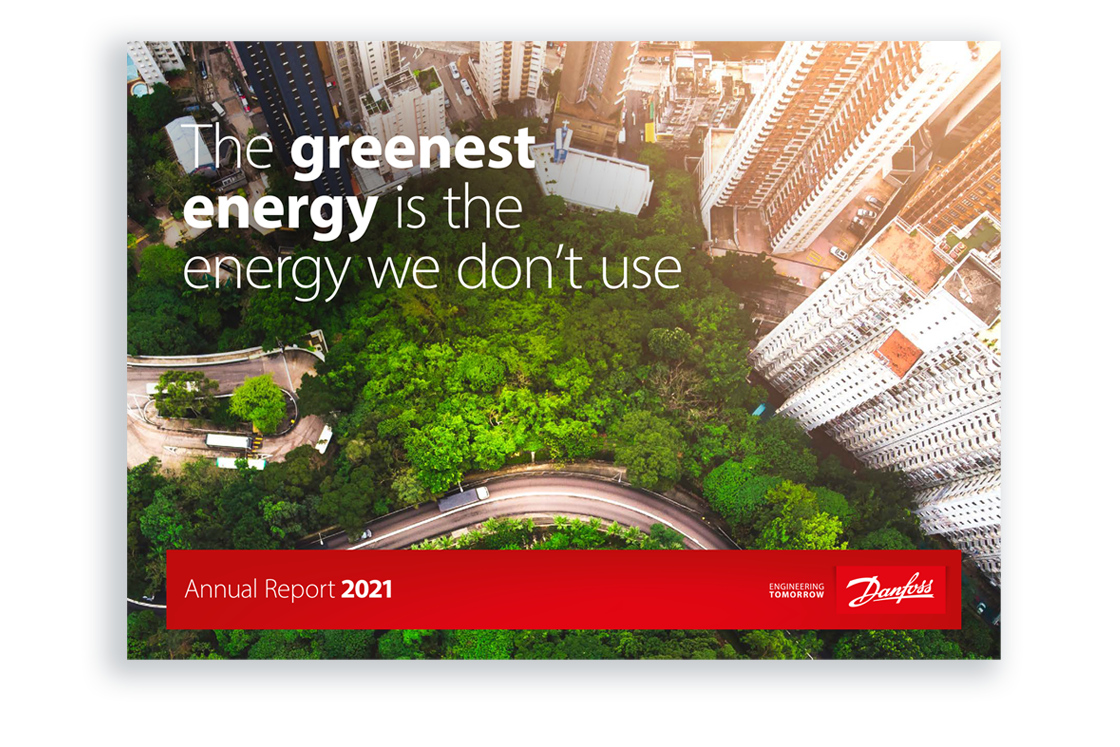 Read and download a full version of Danfoss Annual Report 2021
Danfoss is ready to take a big and bold step to battle climate change and help our customers decarbonize. We will integrate new and ambitious ESG targets in our Core & Clear strategy and aspire for leading positions within Decarbonization, Circularity, and Diversity and Inclusion. This step change is reflected in the annual report 2021.