Danfoss Postgraduate Program

What are the thoughts and aspirations of a young global talent having her very first day at Danfoss? We followed in the footsteps of our new Postgraduate Caterina Lualdi, to find out. 
Challenge today and become tomorrow's changemaker
At Danfoss, we turn words into action. We create connected, intelligent, electrified, and energy efficient solutions for a more sustainable tomorrow. Now, it is time to leave your mark by contributing to the green transformation of our world.
The Danfoss Postgraduate program opens the door to career opportunities around the world – during and after the program. Here, you get to work on business-critical projects, providing you with great professional experience and powerful personal growth.
We are looking for ambitious, young talents who want to take part in creating a better tomorrow with Danfoss. Graduates with new ideas and the initiative to bring about change.
​​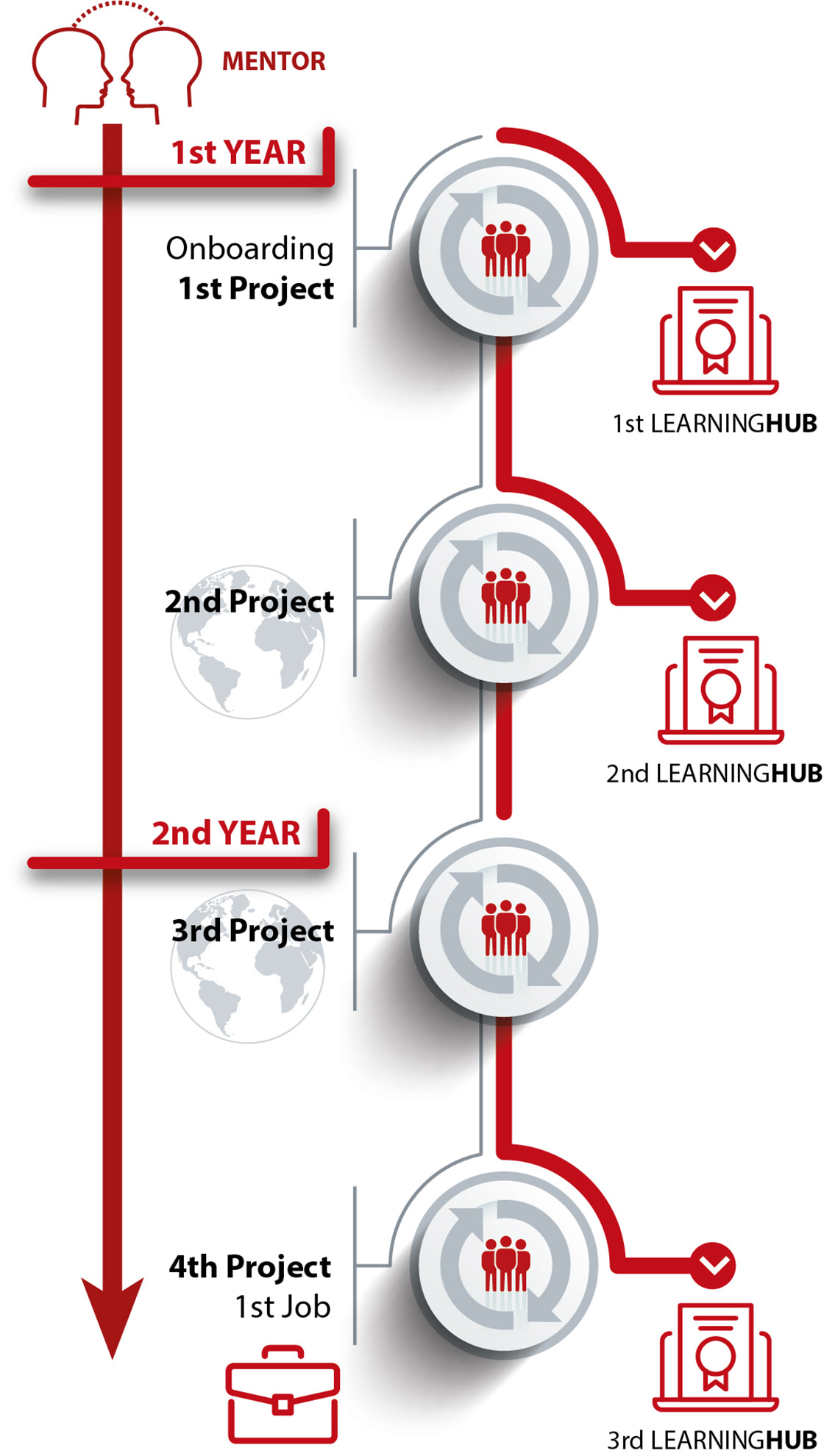 Your journey
This two-year program gives you the opportunity to play a vital part in four different projects, each of six months' duration. The first project will be ready and waiting for you from day one. You then select the subsequent projects together with your mentor, based on your profile and learning needs. In each project, the project owner provides coaching and guidance on a daily basis. As an international Postgraduate you have the opportunity to work at any of our many locations all over the world. At least one and preferably more of your projects will be completed outside your home country.
A Personal Mentor
You will be matched with a personal mentor from Danfoss senior management to help drive your professional and personal development. The mentor will work with you all the way through the program.
Three LearningHubs
Your journey in Danfoss starts off with a one-week graduate boot camp. We will have an intro to Danfoss, workshops and teambuilding while making new friends. There are two more learningHubs in international locations during the program.
Postgraduate Buddy
You will be part of the postgraduate community and paired up with one of the postgraduates who are one year ahead of you. Your buddy will be able to assist you with Danfoss knowledge, network and practical know-how, as well as experience of being in the program
Choose your path
The Danfoss Postgraduate Program is tailored to suit your background, interests and personal development needs. The four program tracks below are currently available in Danfoss and are built to develop the leaders and specialists of tomorrow.
Expand the dropdowns below to read more about the individual tracks.
The Innovation track is for engineers and IT profiles alike. If you are excited by topics such as IoT, AI, Big Data, Robotics, modeling & simulation, electrification and VR & AR - this track is for you. Both our products and processes are becoming increasingly digital. Come be a part of rapidly transforming our business with new technology.
The Sales & Marketing track is for backgrounds related to business administration, marketing, business development. Bringing great customer focus, an analytical mindset and determination to take our customer journeys, product marketing and sales processes to the next level with a new digital-first mindset.
The Finance track is for graduates from a financial background. Bringing the perspective from finance, where your analytical skills and ability to not only find, but also convey complex insights is vital. Through business partnering, controlling and management accounting – you will find new ways of working in order to directly benefit our business.
The Supply Chain track is for graduates with supply chain, logistics or manufacturing backgrounds. Graduates with a holistic approach, who can think and work in cross-functional environments. Someone who can see the potential in new technology, analytics, robotics and power Danfoss to become an Industry 4.0 leader.
The Human Resource track is for graduates within various academic backgrounds.
We are looking for an analytical candidate, with an interest in people and people development. We offer you an opportunity to help the organization and people within perform better and thrive more.
Your passion for HR and driving business through development of people, are more important than your academic background.

HEY TALENT
Curious about what it takes? Meet Maryam and Anis, current postgraduates.
Get to know our postgraduates
Watch the videos below to hear about the program from our current postgraduates. For example, you will meet Lars Tveen. Lars started as a PGP and now is the president of the Heating segment with 4900 employees.

Pernille Bjørnskov
"There are almost endless opportunities to how you can do it, so that's the fascinating part."
Andrej Lawaetz Bendtsen
"Danfoss invests in you, but it is your own ambitions and will to achieve that define how far you go"

Jonas Banse
"We can't change everything in the world but we can make a difference in energy savings that impact the climate change"

Lars Tveen
"What motivates me a lot, is being a part of a strong team."