Danfoss Postgraduate Program
Process for application
Step 1: Job application is open between 15 November 2022 to 15 January 2023
Your application should be submitted in English. We will review candidates on an on-going basis with first come, first served principle, so please apply today! Late applications will unfortunately not be accepted. You must upload your CV and relevant educational transcripts into our online recruitment system as well as complete some screening questions. Once you have applied, you will receive a confirmation email through the email address you have provided.
We encourage all qualified applicants to apply regardless of age, gender, religion, country of origin, or ethnicity.
Shortlisted candidates will on an on-going basis be invited to do a cognitive assessment via link as well as a short video interview through Modern Hire. The interview will be a recording of you answering 6 predefined questions and will thus not be a typical interview with a recruiter or a manager present.
After you have submitted the video interview, representatives from the Postgraduate Program and current Postgraduates will review it. Based on their experienced and professional evaluation, you will be informed about the outcome of your application and whether you have proceeded to the first personal interview.
We expect to finalize this step shortly after the job application closing date.
At the first interview, you will meet a representative from the Postgraduate Program. The interview will take place either on Microsoft Teams or in a Danfoss location in Denmark. Prior to the interview, you will be asked to complete a personality assessment via link. You will receive feedback on the assessment during the interview.
Your experience of the interview is important to us, and we aim for it to be a transparent and comfortable conversation between the involved parties. As soon as we have decided which candidates to continue with, the remaining ones will be notified and receive feedback. We expect to finalize this step in January or February.
Step 4: Business Interview
If you progressed from the first interview, you would be invited to the final interview, i.e. the "Business Interview". At this interview, you will meet a representative from the Postgraduate Program and a business manager. The latter of which could potentially be your first project owner, should you join the Postgraduate Program. We expect to finalize all Business Interviews in March. All shortlisted candidates from step 4 will be provided with feedback on whether you have been accepted to the Postgraduate Program.
Congratulations on becoming our next Postgraduate! We are very happy to have you on board.  Once you have been offered a contract, we will initiate the onboarding process. We intend to give you the best possible beginning to your new journey and make you feel welcome from day one.
Challenge today and become tomorrow's changemaker
At Danfoss, we turn words into action. We create connected, intelligent, electrified, and energy efficient solutions for a more sustainable tomorrow. Now, it is time to leave your mark by contributing to the green transformation of our world.
The Danfoss Postgraduate program opens the door to career opportunities around the world – during and after the program. Here, you get to work on business-critical projects, providing you with great professional experience and powerful personal growth.
We are looking for ambitious, young talents who want to take part in creating a better tomorrow with Danfoss. Graduates with new ideas and the initiative to bring about change.
​​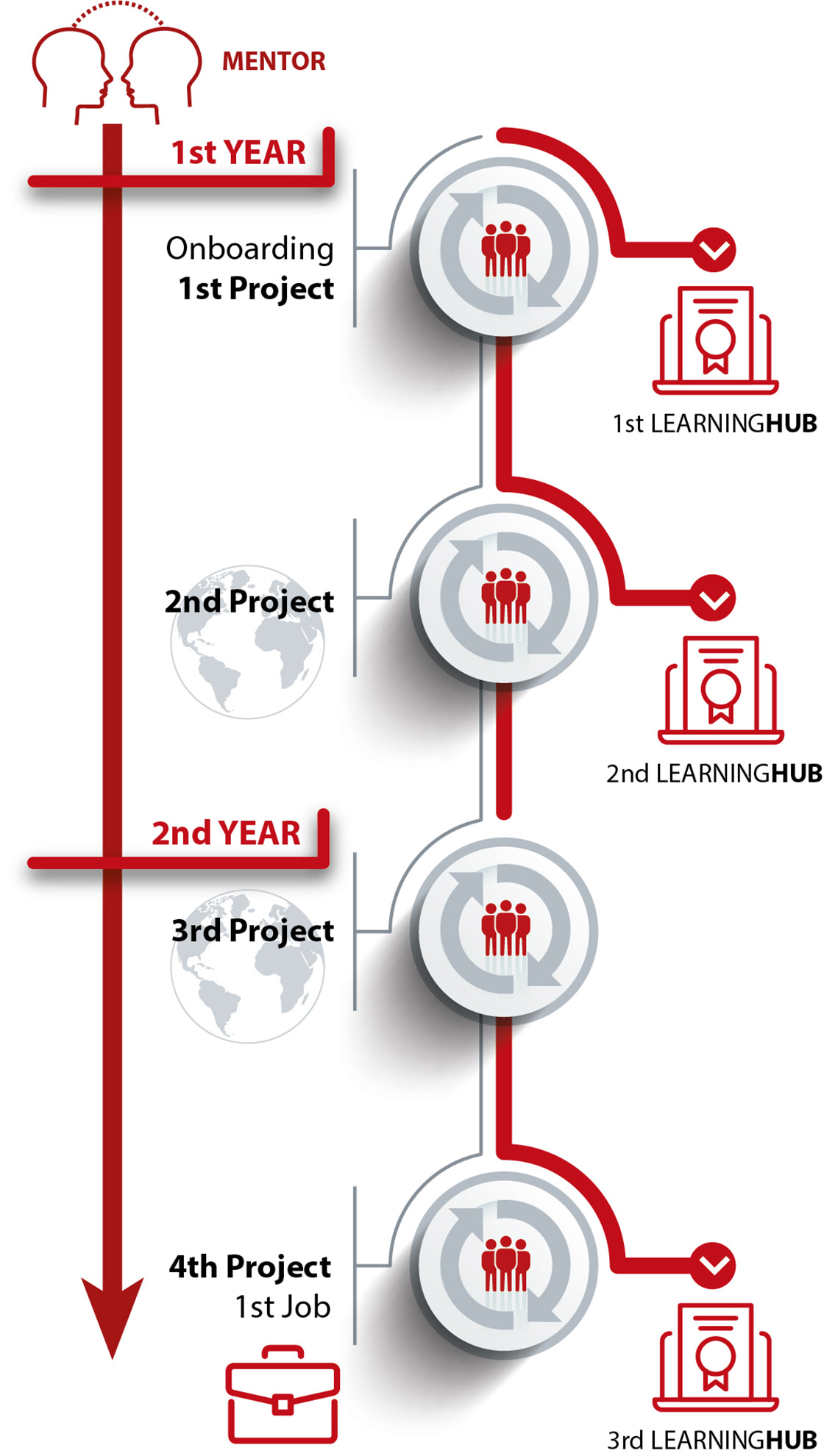 Your journey
This two-year program gives you the opportunity to play a vital part in four different projects, each of six months' duration. The first project will be ready and waiting for you from day one. You then select the subsequent projects together with your mentor, based on your profile and learning needs. In each project, the project owner provides coaching and guidance on a daily basis. As a global Postgraduate, you have the opportunity to work from selected offices worldwide based on your preferences and development needs. At least one and preferably more of your projects will be completed outside your home country. 
A Personal Mentor
You will be matched with a personal mentor from Danfoss senior management to help drive your professional and personal development. The mentor will work with you all the way through the program.
Three LearningHubs
Your journey in Danfoss starts off with a one-week onboarding boot camp. We will have an intro to Danfoss, workshops and teambuilding while making new friends. There are two more learningHubs in international locations during the program.
Postgraduate Buddy
You will be part of the postgraduate community and paired up with one of the postgraduates who are one year ahead of you. Your buddy will be able to assist you with Danfoss knowledge, network and practical know-how, as well as experience of being in the program
Get to know some of our postgraduates

Pernille Bjørnskov
"There are almost endless opportunities to how you can do it, so that's the fascinating part."
Andrej Lawaetz Bendtsen
"Danfoss invests in you, but it is your own ambitions and will to achieve that define how far you go"

Jonas Banse
"We can't change everything in the world but we can make a difference in energy savings that impact the climate change"