Direct mount, 24V motorized actuator
The ESBE 90 Series of 24V electronic motorized actuators are direct mount to rotate ESBE 3 & 4-way rotary valves in hydronic heating and cooling applications.
The 90 Series motorized actuator provides additional torque compared to the ARA series, and can be installed on all ESBE 3 & 4-way rotary valves, in sizes from ½" to 6".
90 Series linkage kits are also available capable of adapting the motorized actuator to Viessmann, Honeywell, Centra DR/ZR, Landis & Staefa and TA VTR styles of valves.
Features and benefits
Compact design to fit in any space.
Direct mount actuators are easily installed.
Easy manual override of motor actuator.
Adjustable rotation between 30° and 180°
Floating 3-point and proportional signal operation.
Several motors with an auxiliary contact switch activated through an adjustable cam.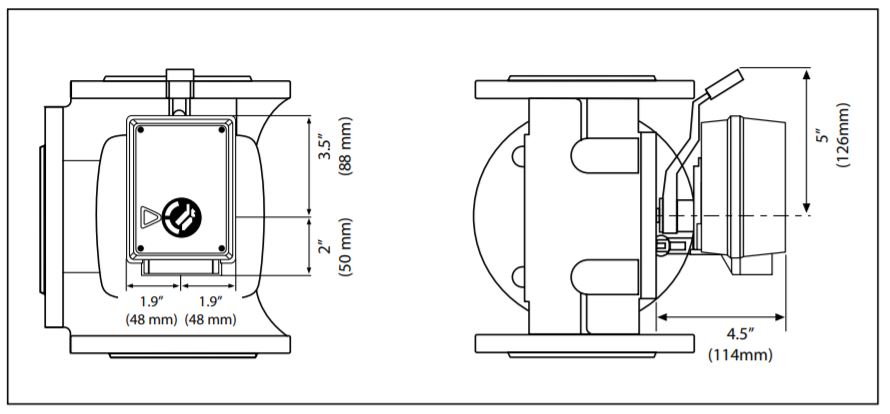 Documents

| Type | Name | Language | Valid for | Updated | Download | File type |
| --- | --- | --- | --- | --- | --- | --- |
| Data sheet | ESBE 90 Series Actuator Datasheet | English | Multiple | 08 Jul, 2016 | 697.1 KB | .pdf |
| Installation guide | ESBE 90 Series Actuator Instructions_VIKID122 | English | United States | 12 Feb, 2009 | 1.3 MB | .pdf |
| Installation guide | ESBE 90 Series Actuator to VRG Valve Mounting Kit Instructions (193B1616)_VIKIU122 | English | United States | 06 Mar, 2014 | 9.7 MB | .pdf |
| Catalog | Hydronic Specialties Catalog | English | Multiple | 21 Mar, 2017 | 2.0 MB | .pdf |
ESBE VRG Mixing Valves

The ESBE VRG series is a range of compact, low leakage brass valves. Available in either a 3-way or 4-way versions suitable in either mixing or diverting applications.

When assembled with the ARA600 or 90 Series motorized actuator, and wired to a controller, the VRG assembly provides regulating accuracy.

ESBE ARC/ARD Series High Torque Actuators

The ESBE ARC/ ARD series of high torque rotary, low voltage, motorized actuators provide a 90°operating range of rotation. Suitable for assembly to ESBE Type F series, 3 and 4-way valves that range from 2" to 6" in size and alternatively applied as damper actuators.

ESBE CRA Series Setpoint Controls

The ESBE CRA Series of setpoint controls includes a combined motorized actuator and constant flow temperature control with an adjustable temperature setting.

The easy to use CRA series includes an LCD backlit digital display and is available in two varieties; the CRA112 - for use with ESBE valves up to 2", and the CRA122 - for use with all sizes of ESBE valves.
Technical Support
Find information on hydronic heating troubleshooting, including our top frequently asked questions, our video library, links to hydronic heating literature, a link to our newsletter, and more.