Keep your data center safe and running
Data center fires can be extremely costly. With the SEM-SAFE® high-pressure water mist system from Danfoss, data centers can fight fire efficiently while keeping operations running. This complete system protects lives, limits equipment damage, and minimizes downtime.
SEM-SAFE®: Innovative and reliable data center fire protection
High-pressure water mist fire protection for data centers
Over the last 20 years, gas and chemical-based fire suppression systems have become obsolete. Amongst their disadvantages are the facts that they usually involve releasing chemicals over a wide area and require ventilation systems to be shut down to remove oxygen. Electrical supply often has to be cut, clean-up operations take time, and staff safety, damage limitation, and uptime are often critically compromised.
Instead, most data centers turn to high-pressure water mist solutions. Unlike a traditional wet pipe sprinkler system, high-pressure water mist systems comprise a dedicated data center network of nozzles, which release micro-fine particles of water exactly at the point of the incident. While the localized fire is quickly extinguished, the remainder of the data center's operations and equipment remain unaffected and can be kept up and running.
Key benefits of SEM-SAFE® for data center fire protection
Keep your data center running while suppressing a fire
Provides instant cooling in the fire zone
Suppress fires without harming people
Keep ventilation running while the fire occurs
Keep doors to the protected data center space open
Extinguish fires with minimal damage to electrical equipment

SEM-SAFE®: One single system for all data center fire protection needs
Reduced downtime in case of fire
Due to its excellent extinguishing properties, the SEM-SAFE® high-pressure water mist system can control and suppress fires, while meeting the operational requirements of a data center.  
The high-pressure water mist system is ready immediately after discharge: no need for expensive and time-consuming refilling
Keep your data center running while extinguishing the fire
No need to shut off ventilation before releasing the water mist system
Reduced equipment damage often means less downtime 
Read more on evaluating airflow conditions with high-pressure water mist activation in data centers
Scalable and easy installation in any data center
Thanks to its modular design, the SEM-SAFE® system is easy to extend to cover more sections as your data center expands.
30% fewer components compared to most competing systems
All fire risk areas in a data center can be protected with one fire protection technology for simplicity and reduced cost
Small footprint of the pump unit with no or smaller water reservoir required
Small pipe sizes and low system weight ensures easy and fast installation, simplified maintenance, and valuable space-saving
Ideal for both new building projects and existing facilities 
Safe and more environmentally friendly fire protection
The SEM-SAFE® high-pressure water mist system uses a clean technology: water.
The system can be discharged immediately upon fire detection without any threat to human safety
100% harmless to people and the environment
Low water consumption compared to traditional fire sprinklers
No gases with a high global warming potential
The pumps are lubricated by water and not oil, thus no risk of oil contamination
The Danfoss pumps are some of the most efficient pumps on the market
A double interlock pre-action system provides added safety for your data center in the unlikely event of accidental release 
Fast and efficient data center fire protection
The high-pressure water mist nozzles can be activated without the need to seal off or evacuate the area.
As water mist both cools the fire and removes the oxygen, it results in efficient fire control
Due to the cooling effect of water mist, re-ignition is avoided
The SEM-SAFE® water mist system is ready for re-use immediately after a fire
No over-pressurization of the fire-affected area when the SEM-SAFE® system is activated 
Cost-effective fire suppression system that causes less damage
With fewer nozzles required thanks to optimized spacing and the need for only one pump unit for all applications, installation and service costs and time are considerably reduced.
Water damage is kept at a minimum due to the low water consumption and because small water droplets evaporate immediately during discharge
Can be deployed instantly, resulting in less fire damage
Using only pure water, the system provides the best possible protection of equipment and human lives with no messy residue
Pumps are water-lubricated and hence virtually maintenance-free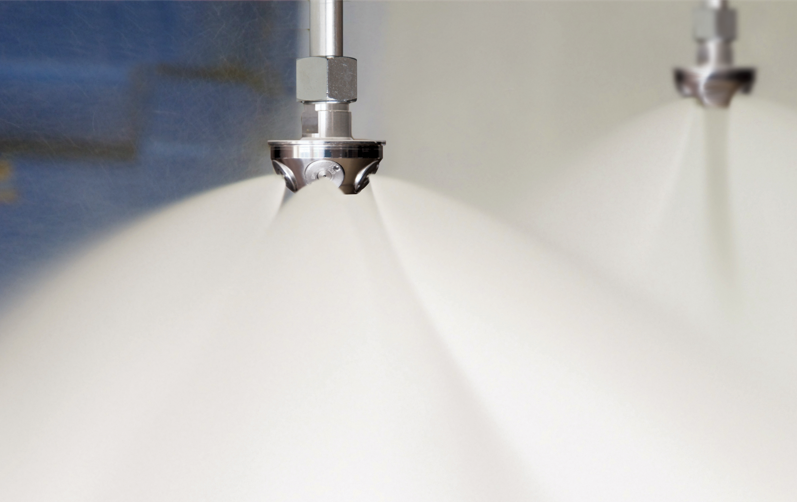 The intelligent use of water for fire safety
Unlike traditional fire suppression systems for data centers, SEM-SAFE® forces water through nozzles at high pressure forming a super-fine mist that has a two-fold extinguishing effect.
As well as cooling the fire like traditional sprinkler systems, it simultaneously starves the fire of oxygen — the way gas-based fire suppression systems do. When the mist comes into contact with fire flames, it evaporates and expands minimum 1,700 times, displacing fire flames and quickly extinguishing the fire.
Features and benefits of the high-pressure water mist system
The key benefit of high-pressure water mist fire suppression systems is the extremely low levels of water used. Using a high-pressure pump, clean water is forced through a specially designed, tested network of stainless steel pipework and nozzles at 60 or 100bar. The microfine water droplets emitted have sizes ranging from 50 to 200 µm. 
With this localized fire response, only the nozzle at the affected point is triggered and hardly any trace of water remains after activation. The area does not need to be sealed in the same way that gas-based fire protection systems require, and ventilation does not need to be turned off. Energy supply and data center operations can continue as usual. 
See how SEM-SAFE® compares to low-pressure and sprinkler systems
Fire suppression nozzle
Danfoss high-pressure water mist nozzle
Highest market spacing (5.5m)
100% capacity and spray pattern tested
High-pressure pumps for fire suppression systems
Lubricated by water, making the pump maintenance free
World's lightest and most compact
95% energy efficient and very low pulsation to reduce noise
Stainless steel valves for fire suppression systems
Compact
Easy installation and operation
Dirt resistant and high-corrosion proof
High-pressure water mist pipes and fittings
Smaller outer pipe diameter
Short lead time
High quality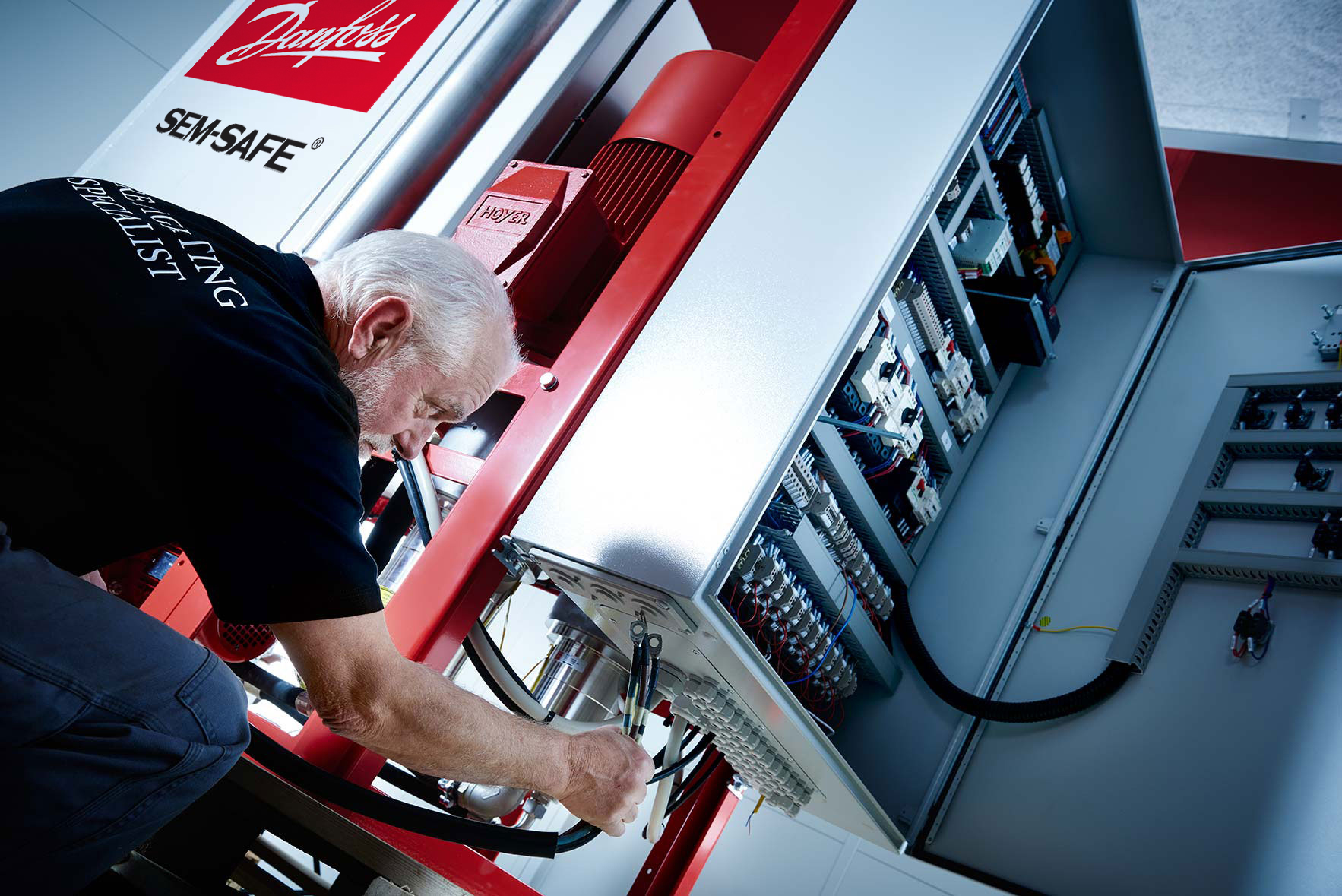 FM approved system for data center fire suppression
Our solutions are used in many data centers around the world, supporting fire safety on building level and room level. The SEM-SAFE® high-pressure water mist system is FM approved and comprises a high-pressure modular pump unit, section valves, piping and water mist nozzles.
The system is safe, efficient, and environmentally friendly. With small pipe dimensions, large coverage, minimal water consumption, a compact pump unit and simple design, SEM-SAFE® high-pressure water mist is the optimum solution to protect against a fire. These components also allow for systems to be easily coordinated during the installation process.
Installed fire protection systems
Discover our cases
With Danfoss, you can tap into an extensive experience with developing fire protection solutions that protect expensive HVAC equipment, mission critical applications, sensitive equipment and other critical assets. We have been at the forefront of developing data center fire protection systems from the early stages of the industry. 
'Digital gateway to Europe' protected with SEM-SAFE®
SEM-SAFE® has been chosen for the fire protection of the Equinix AM3 Data Center in the Netherlands, that support worldwide business. Learn more about this advanced data center fire suppression system here.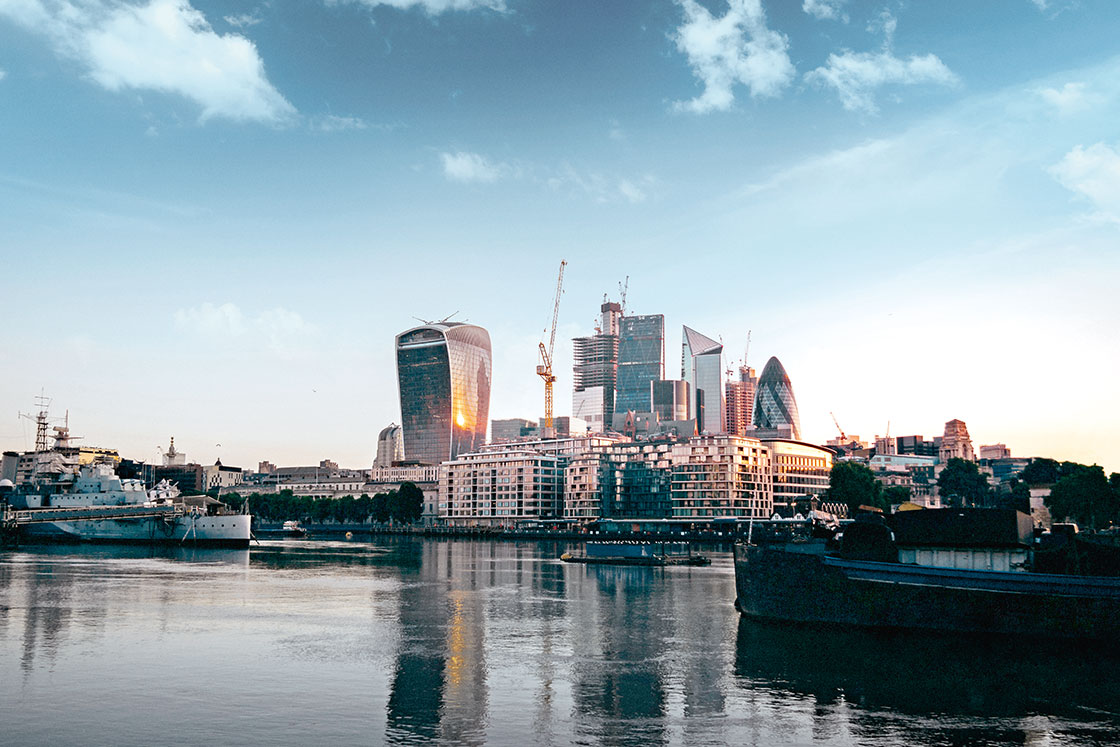 Modern fire safety for advanced and scalable data center in London
Virtus LONDON9 Data Centre chooses SEM-SAFE® high-pressure water mist system to protect the 10,000m2 net technical data center facility. Hear more about the Danfoss reliable fire safety for this innovative and fast-growing UK data center provider.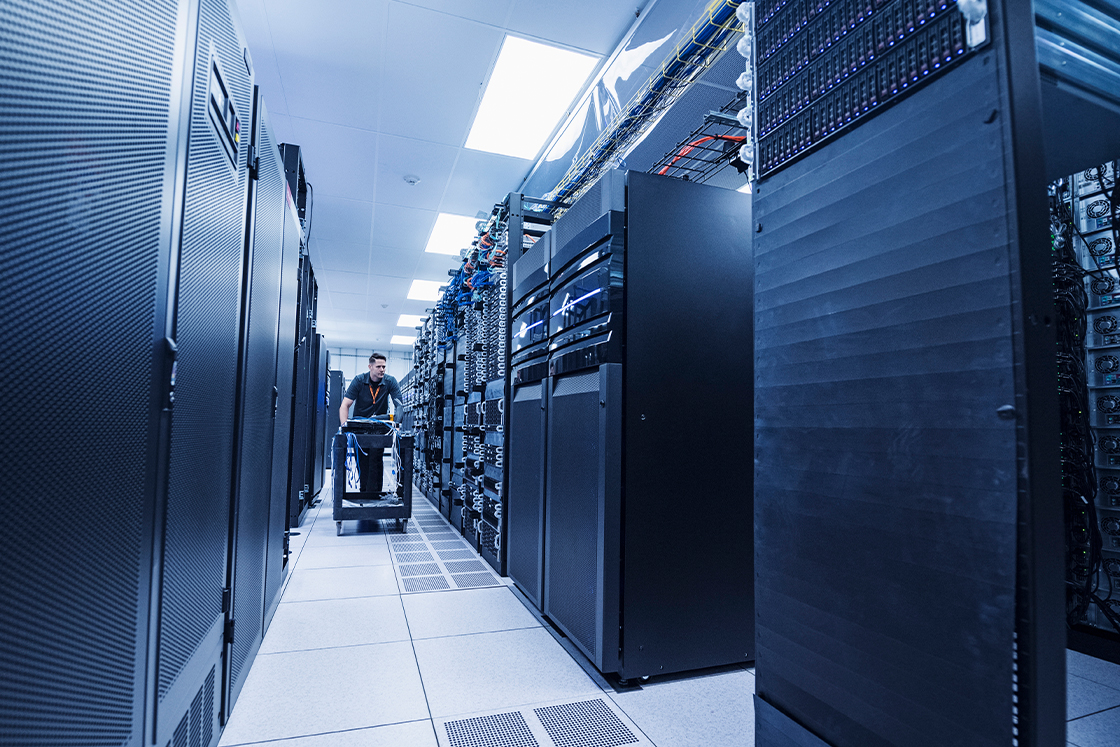 Sustainable fire safety technology for 100% renewable-powered data center in Iceland
Designed to take advantage of Iceland's unique climate, Verne Global is fully powered by renewable energy. In line with the sustainable goals of the data center, Danfoss provide sustainable fire safety technology based in high-pressure water mist. Get insights into how the SEM-SAFE® system is designed with environment in mind.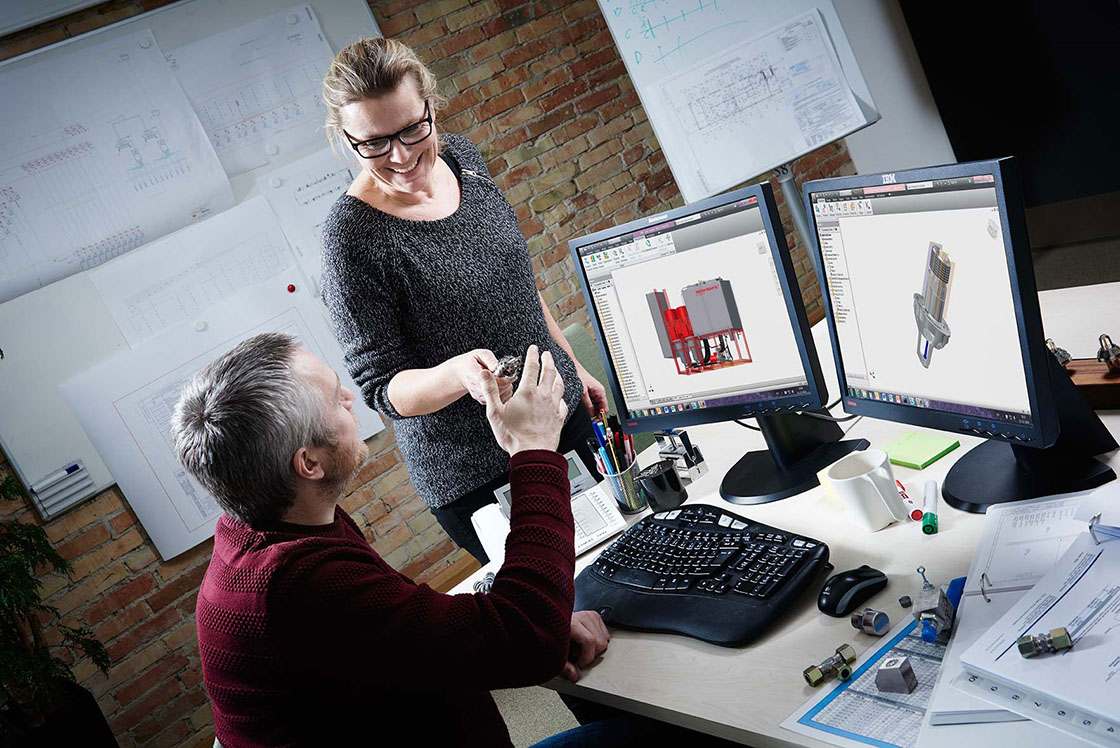 Danfoss: Leading developers of high-pressure water mist fire suppression systems
Danfoss Fire Safety operates in-house research, development, and manufacturing facilities of all critical components for our high-pressure water mist fire protection system.
Our fire safety engineering team understands the local regulatory regime just as much as we understand the realities and uncertainties inherent in fire safety in data centers. We work with clients to provide comprehensive support from the design stage, spatial coordination, technical design, installation, rigorous testing and commissioning, handover, maintenance and repair services through our offices, associates, and agents worldwide.
More solutions for data centers
Leverage our unmatched data center portfolio
Data center owners and managers are under increasing pressure to reduce power consumption, all the while uptime and scalability are ever more critical factors. With Danfoss' sustainable data center solutions, you can have it all.
Meet our data center experts


Sustainable data center solutions
Improve your data centers' energy efficiency, climate footprint, and uptime. With Danfoss you get unmatched expertise, experience, and end-to-end product portfolio.