Monitor and manage perishable products
Danfoss refrigeration applications for trucks, trailers, and vans are designed to help monitor and manage perishable products such as foods, pharmaceuticals and chemicals. This application is one of the most challenging due to wide ranging box and ambient temperatures and the need to withstand extremely harsh conditions with high humidity and corrosive environments within truck, trailer and van refrigeration units.
Our solutions allow for superior control of temperature and humidity, preserving all types of perishable cargo. 
Danfoss components for truck, trailer and van refrigeration systems include compact expansion valves, ball valves, filter driers, pressure switches and regulators, and solenoid valves. Quiet, efficient, DC compressors minimize energy use and Danfoss components are designed for use with natural refrigerants. Additional components such as sight glasses and check valves also enable reliable performance and diagnostics. 
Features and benefits
Products suitable for use with all common refrigerants, including natural refrigerants
Superior temperature control
Reliable solutions, low operation and maintenance costs
Stainless steel components for higher performance, durability, and reliability
Compact, lightweight components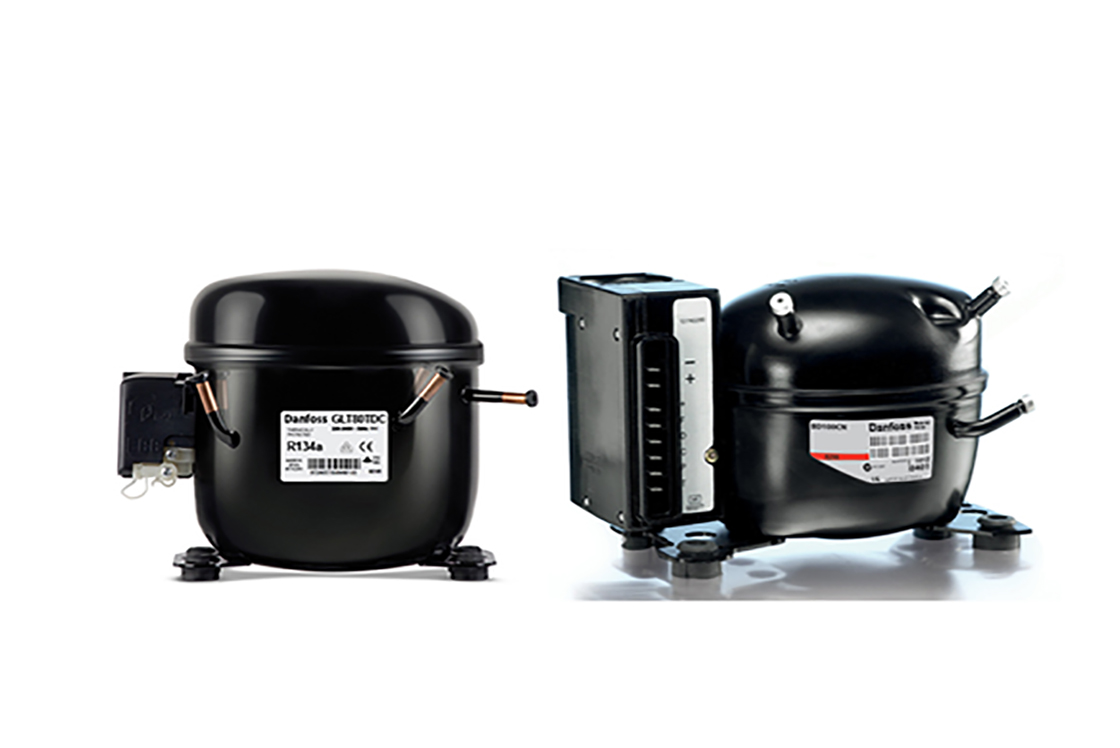 Compressors for mobile refrigeration
With our outstanding DC compressors for portable boxes, cars, vans, boats, trucks, etc., Danfoss has transcended the barriers for mobile refrigeration.
Direct current compressors

12V and 24V BD compressors are direct current dual voltage compressors for refrigerant R134a. They can be used for both refrigerators and freezers. The compressor is controlled by an electronic unit including protection against overload and destructive battery discharge. It is also available for R600a for stationary use with solar panels.

AKS 3000 absolute transmitters

AKS 3000 absolute transmitters with high-level signal conditioned current output meet air conditioning and refrigeration system demands for accurate low-pressure regulation. Using the proven piezoresistive measuring principle and a sealed gauge as the pressure reference, atmospheric pressure variations have zero influence on the AKS 3000's regulating accuracy.

Sight glasses

SGP is a series of sight glasses for high pressure applications (Max Working Pressure 52 bar/754 psig). SGP is available in versions optimized for refrigerants with mineral oil e.g. HCFC, and in versions optimized for non-flammable HFC refrigerants. SGP is available with flare, solder and socket connections, and with and without moisture indicators.