SONDEX® traditional plate heat exchangers are the go-to choice for standard duties. The versatile design and high thermal efficiency make them the perfect solution for a wide range of applications.
What does that mean for you?
We have specialized in developing plate heat exchangers in close cooperation with our customers. Because we understand the process behind your applications, each solution is customized and configured to suit you and your business.
Our extensive plate portfolio and pattern options ensure that we always have a solution that is exactly right for you. Our patterns create the ideal turbulent flow and make the best use of the available pressure drop for any duty.
Always the efficient choice
We design single-pass solutions when possible, as they are the preferred choice for almost all duties. With all connections on the head, you do not need to disconnect the heat exchanger from the piping to perform inspection, cleaning, or service. Go with a SONDEX® heat exchanger for simple, fast, and easy installation and maintenance.
With minimal space requirements, considerably lower energy consumption, and reduced number of plates needed for optimal performance, SONDEX® heat exchangers are designed with tomorrow in mind.
Features and benefits
Experience the benefit of an individually customized solution that perfectly matches your requirements and lowers your energy consumption.
High performance for a low pressure drop eliminates unnecessary burdens on your system and optimizes overall system performance.
The design results in a compact solution with a small footprint, simple installation, and easy access for maintenance.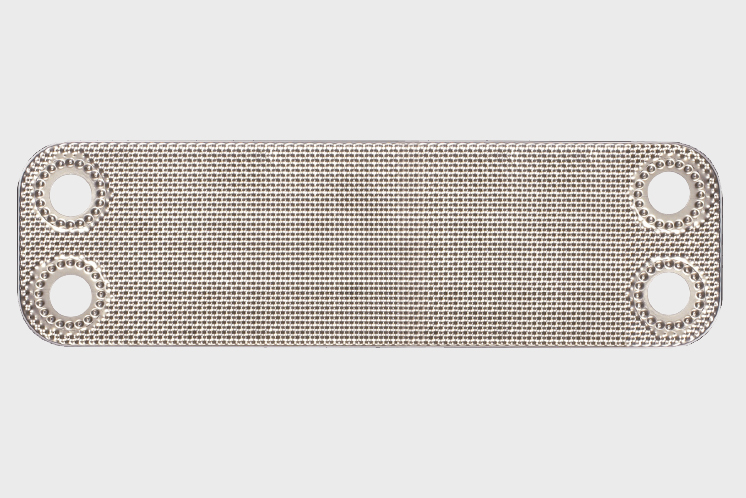 Micro plate technology
Our heat exchangers with the new state-of-the art Micro Plate™ technology feature next-generation efficiency and performance – giving you more from your district heating and cooling applications.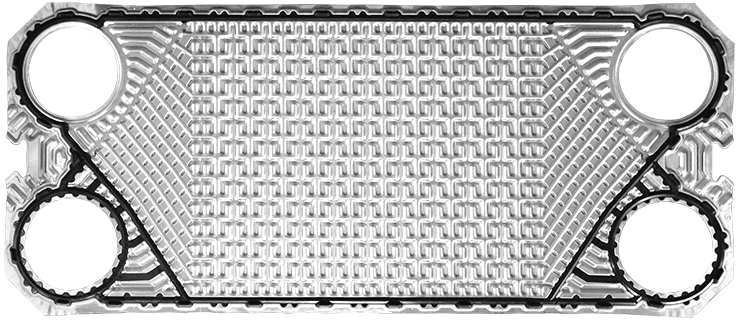 SONDEX® Free flow patterns
The SONDEX® Free Flow pattern is designed to treat media that is unsuitable for regular heat exchangers due to high viscosity, fiber and particle contents, or considerable risk of fouling.
Applications
HVAC industry - e.g. district cooling solutions using seawater and groundwater as cooling source - e.g. district heating solutions using, for example, solar and geothermal energy as heating source
Marine/offshore industry - e.g. central and lubrication oil cooling
Dairy/food/beverage industry - e.g. pasteurization, heat recoveries, and duties that require gentle treatment
Sugar industry
Biogas industry
Pulp and paper industry
Heavy industry
Mining industry
Petrochemical industry
Chemical industry - e.g. waste heat recovery from condenser water
Technical specifications
Connections from DN25 to DN600
(Frames designed according to FEA and PED 2014/68/EU (EN13445) and ASME sec VIII, Div. 1 construction standards)
Plate materials: AISI 304/316, titanium, SMO, Hastelloy. Other materials available upon request
Gasket materials: EPDM-HT, NBR-HT, Viton. Other materials available upon request
Plate heights up to 5.5 m (18 ft)
Flow rates up to 7,200 m3/h (31,700 gpm)
Working pressure up to 25 bar (363 psi)
SONDEX® Fishbone plates

SONDEX® Fishbone plate pattern technology is used for the vast majority of our plate heat exchangers. The pattern is designed for high thermal performance while using the allowed pressure drop in the most efficient manner. Available with different pressing depths, pattern pitch and angles – each plate has a pattern that is optimized for a certain duty.

SONDEX® Semi-welded plate heat exchangers

SONDEX® semi-welded plate heat exchangers are the prime choice for challenging applications that involve aggressive media or high levels of pressure. We customize each heat exchanger to your specifications, and offer durable solutions designed to withstand extreme conditions and minimize the risks of operating with chemicals or refrigerants.

SONDEX® Evaporators

SONDEX® evaporators are designed to handle advanced evaporation duties. Using semi-welded plate cassettes, the media are guaranteed to never mix. The plate cassettes are designed to ensure the optimal level of turbulence on both sides, while providing an even distribution of the media for superior performance and product quality.

SONDEX® Condensers

Our SONDEX® condensers are the perfect choice for special applications that regular plate heat exchangers cannot handle. Designed to accommodate high-volume vapor flows, this product features a large inlet for the vapor stream. Combined with a short residence time, the optimal condensation conditions are created – even for low-pressure vapor duties.
What kind of heat exchanger is right for me?
The choice of heat exchanger depends on many factors. Our skilled sales engineers design the heat exchanger with the appropriate dimensions and correct specifications based on your input and requirements, to ensure that you receive a quality solution that performs optimally.
Which certificates are available for the heat exchangers?
Our heat exchangers are approved and certified according to industry standards and requirements. For specific details, please reach out to your local SONDEX® brand sales representative.
Where can I get a price list?
Please contact your local SONDEX® brand sales responsible.
How can I get a quotation?
Please contact your local SONDEX® brand sales office. For the most accurate quotation, please prepare the following data:
Duty,
Type of media,
Pressure drop,
Flow rate,
Working pressure,
Thermodynamic properties, Temperature,
Working temperature.