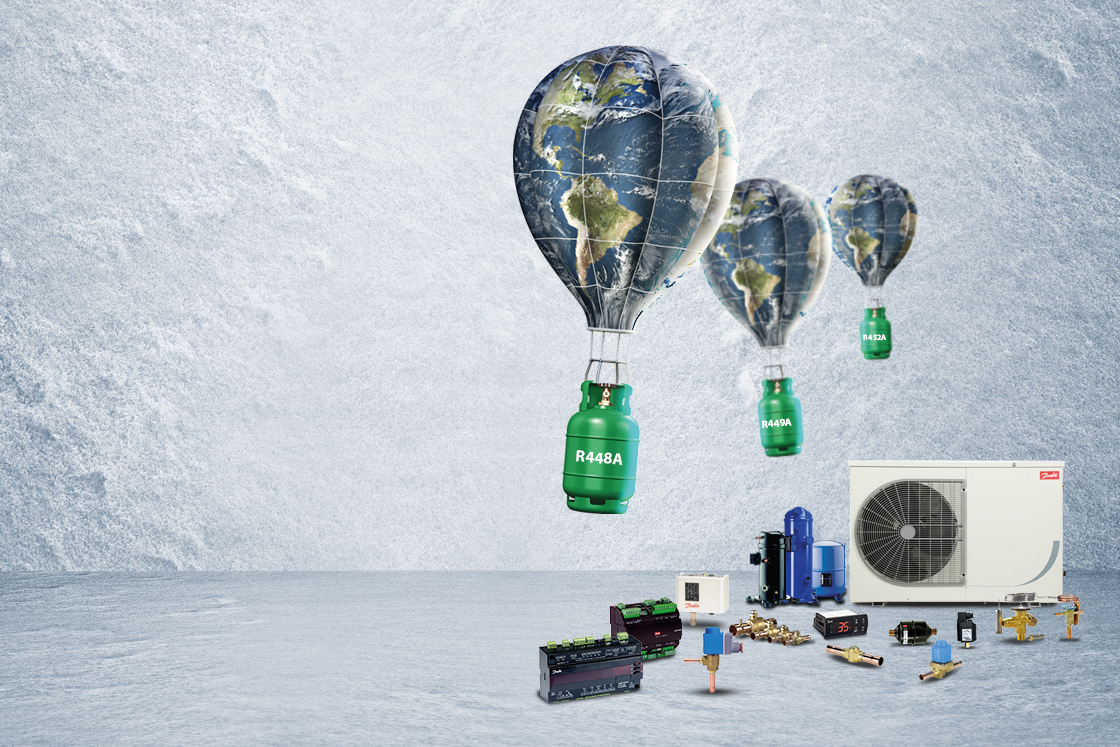 Replacement of R404A: your main questions answered
R404A will soon be banned in new refrigeration applications in Europe, and from 2020 onwards, only recycled refrigerants can be used for servicing. Here is a list of replies to the many questions we have received related to the best refrigerants to replace R404A in refrigeration applications, the impact on the components and their availability and the best practices.
What are the best refrigerants to replace R404A in any application?
What are the best replacements for R404A that I can use in medium temperature applications, now and in the future?
There are several viable options which depend on the application, operating conditions, and whether it will be used in a new or existing system.
For existing systems, we recommend R448A, R449A or R452B. The same applies for new installations at medium temperatures, including R134a.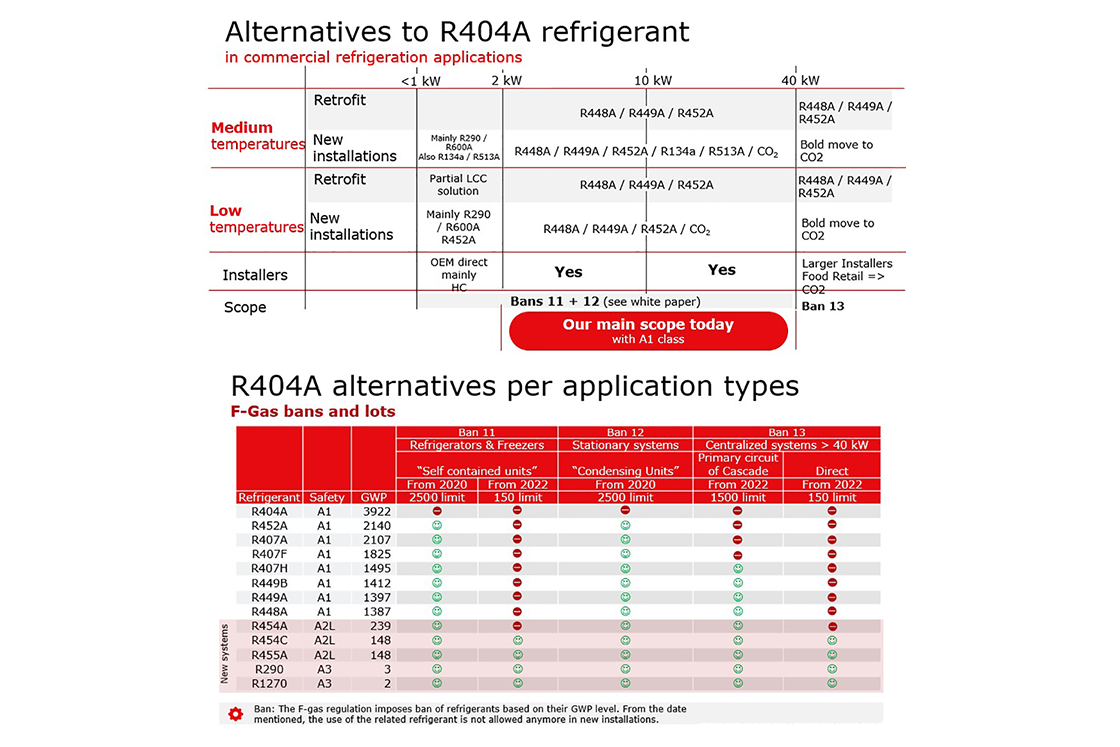 What are the best refrigerants to replace R404A in existing low-temperature applications?
In new low-temperature systems, we recommend hydrocarbons such as propane (R290) or isobutane (R600A), depending on the refrigerant charge needed.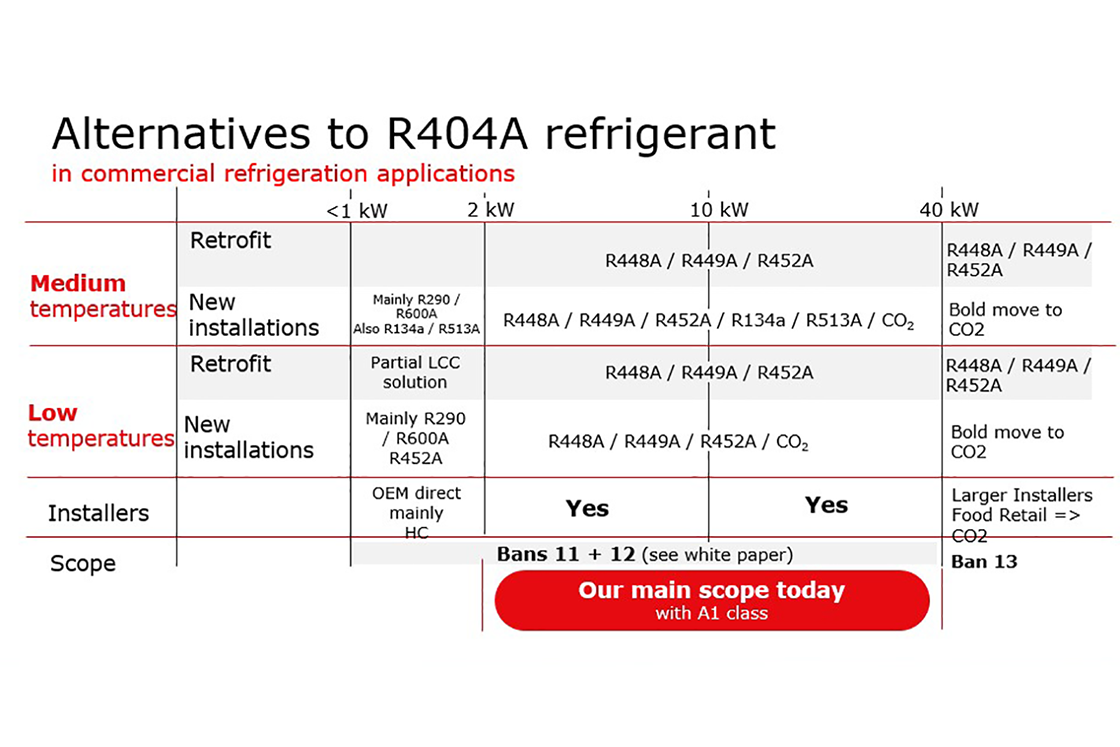 In new systems, what are the best refrigerant options for commercial medium and low temperature equipment/installations?
The best options depend on the unit's size and type.
In centralized systems common in supermarkets and hypermarkets, CO2 should be used. A lot of progress has been made to enhance its efficiency – even in high ambient temperatures. It also complies with Article 13 usage and service ban of the EU F-gas regulations.
In small installations such as glass door merchandisers (GDMs), depending on the application temperature, new systems should preferably use hydrocarbons for high performance, which relate to Article 11 of the EU F-gas regulations.   
In mid-size installations such as cold rooms, milk tanks, display cabinets, and blast freezers, there are several options which relate to Article 12 of the EU F-gas regulations. The best choice will depend on the type of application.
For further information, please refer to question 1.
Is R449A or R452A better for low temperatures (LBP)?
-> Refer to the retrofit comparison
It depends entirely on the application. In low temperature applications, R452A provides a wider operating map without additional system components – such as vapor injection for a simpler design.
R448 and R449A deliver good energy performance and have a lower GWP than R452A.
Each refrigerant complies with Articles 11 (self-contained units), 12 (condensing units), and 13 (centralized systems) usage and service ban of the EU F-gas regulations.
However, it's important to remember that under Article 11, none of these refrigerants can be used in self-contained units after 2022.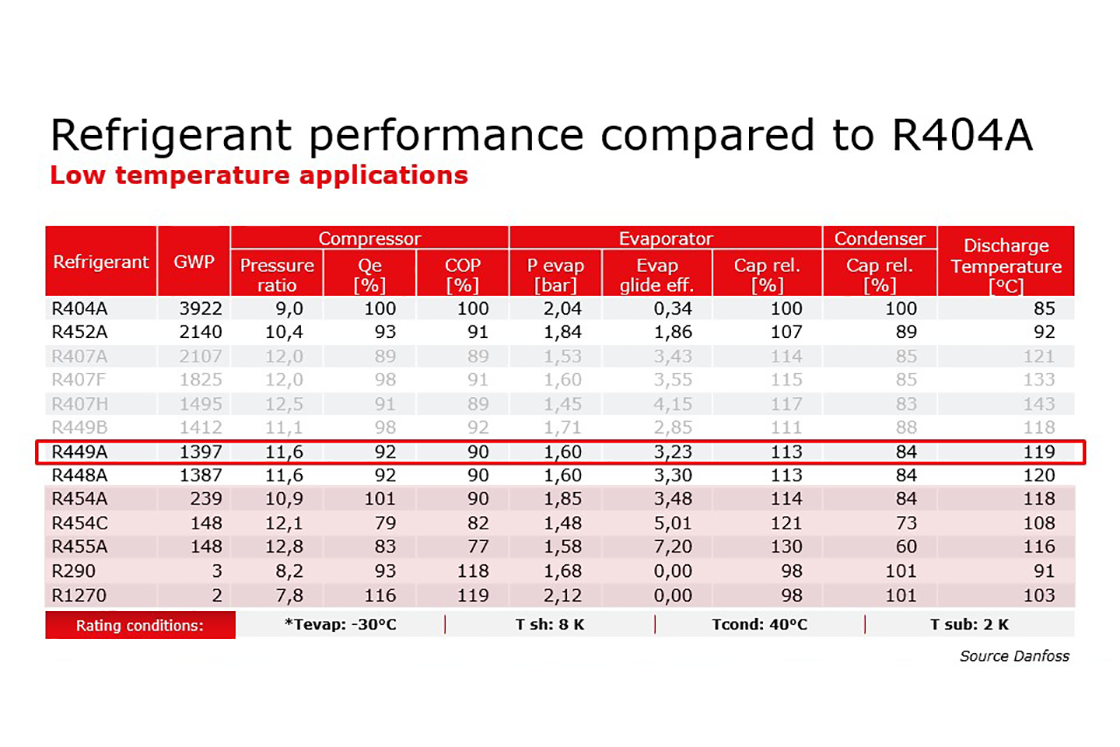 What impacts does a new refrigerant have on system performance?
-> Refer to performance matrix
You will notice similar efficiency and cooling capacity when switching from R404A to R448/449A or R452A.
However, if you select the correct piping, settings, valve dimensions, and condensing and evaporating sizes, it's possible to improve seasonal and part-load efficiency in new installations.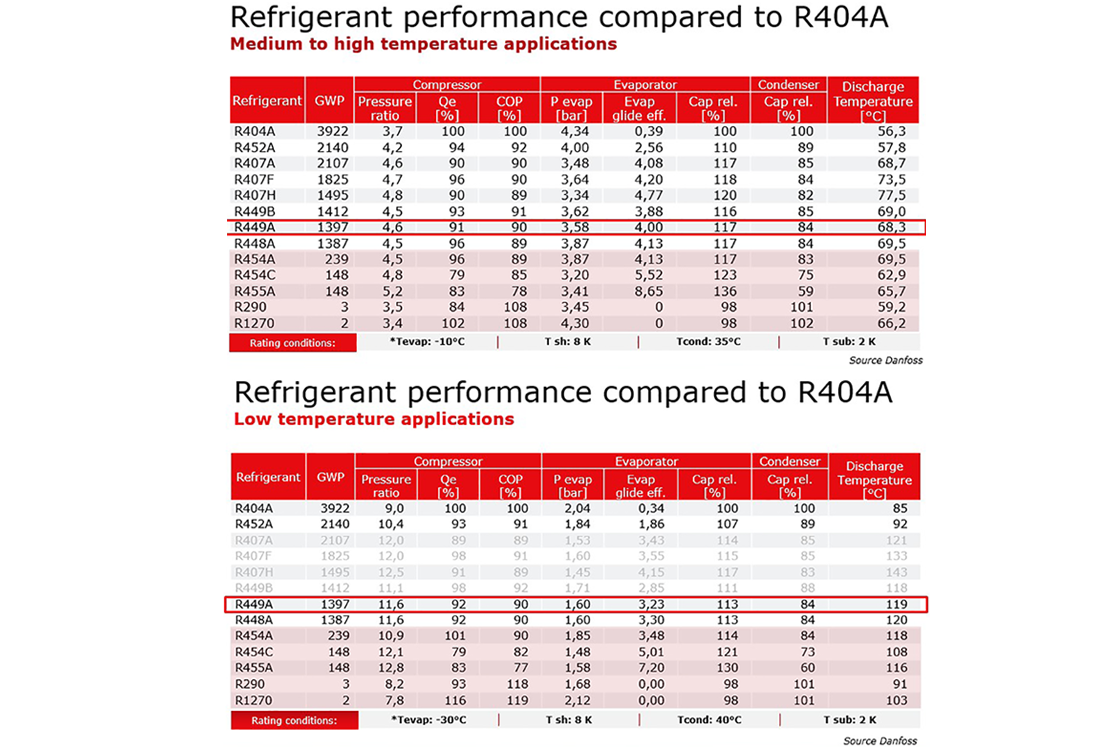 About component selection and best practices
What's best practice when I need to replace R404A with another refrigerant in an existing installation or piece of equipment?
Standard best practices in Europe are detailed in the EN 378-1:2016 standard, Pressure Equipment Directive (PED) 97/23/EC, and Electromagnetic Compatibility (EMC) Directive 2014/30/EU.
Appropriate leak control and detection are also required in retrofits for traceability.
Which refrigerants are recommended for compressors with refrigerants having a high discharge temperature?
For recommended low and medium temperature refrigerants, refer to question 1.
Due to the thermodynamic properties of R448A and R449A, both have high discharge temperatures, which will limit the operating map of any compressor.
To increase the operating map, vapor or liquid injection are required. However, both are more expensive options and liquid injection is only currently available for scroll compressors, while vapor injection will be available later in 2019.
Should compressor oil be changed at the same time as refrigerant?
It's important to ensure that system oil is compatible for each component and every alternative option.
Danfoss POE oil must be used with any Danfoss commercial compressor, including subsequent future models. When changing oil, it's also a good opportunity to change the filter dryer. to help ensure system longevity.
-> Reciprocating compressors use Danfoss POE oil from 160 to 175 PZ
Scroll compressors no longer use PVE oil and now use POE oil. Refer to the technical note for more information
When replacing R404A in low temperature applications, is there a maximum operating pressure (MOP) valve for R452A?
-> We do have such valves.
There are 2 TU valves and 8 T2 valves for R452A with MOP available. And also one TE5 valve.
You can find all relevant information at Coolselector.danfoss.com
Components qualified for new refrigerants