A new generation of electric skid steer loaders is bringing smarter functionality to this important market segment, enhancing operator ease of use and productivity. Helping to facilitate this transition are intelligent electronic controls and software from Danfoss Power Solutions.
Driving a skid steer across rough terrain used to be an exercise in endurance. Operators felt every bump and rut in their hands as they propelled the machine forward and backward using manual levers. Fatigue from physical exertion, despite sitting at the controls of a compact machine, was common.
The shift from manual to electronic controls has vastly improved operator experience. Original equipment manufacturers have replaced levers with ergonomically designed joysticks, for example, reducing operator fatigue. The addition of displays and other human-machine interfaces, along with advanced control systems, is taking this a step further. Manufacturers like FIRSTGREEN Industries are at the forefront. 
Meet Elise
Previously known as Kovaco Electric, FIRSTGREEN Industries was established in 2020 to bring groundbreaking electric equipment to the global market. The company's Elise 900 skid steer loader was the first fully electric machine of its kind. From its launch, the Elise 900 was equipped with electronic controls, and a mobile phone acted as the central control panel as well as the machine's key. The phone could also be used to remotely control the loader.
FIRSTGREEN Industries is constantly innovating and upgrading the functionality of its machines in line with market trends and customer feedback. When the OEM set out to design its third-generation skid steer, its customers requested a hard-mounted display in place of the mobile phone. While widely available, mobile phones are not designed for the harsh operating environments of mobile machinery, and viewability in direct sunlight can be a challenge. In addition, phone displays are typically on the small side, limiting the amount of information that can be shown on screen.
Through this feedback, FIRSTGREEN Industries saw an opportunity to solve its customers' challenges. A robust embedded display could certainly improve ease-of-use; it could also promote higher productivity and support operator safety.
Taking control
With support from Technotrade, FIRSTGREEN Industries's trusted technology partner and a Danfoss Power Solutions Premier Partner, FIRSTGREEN Industries chose the Danfoss DM700 display for the third-generation Elise 900. Its 7-inch screen, excellent sunlight viewability, and rugged IP66 and IP67 ingress protection ratings provided the ideal combination of features for the application.
Located in the top right corner of the Elise 900 cab, the display is connected to the machine's CAN bus system, which provides stable, quick communication and higher data throughput – a significant improvement over the phone's Bluetooth connection. In addition, the display eliminates the distractions of using a personal device to operate the machine, as well as issues that arise if the phone is lost or not charged. The display's large screen area also ensures operators can easily see the information they need. Ease-of-use is further enhanced by a sleek graphical user interface designed by Technotrade.
"Switching to the embedded display is way more comfortable for the operator. They want to see a few numbers that correspond to what's happening on the machine, and they should be big enough to see easily. The display provides this, along with an easy UI to enhance the operator's comfort,"
reports Technotrade's Daniel Batla.
An advanced productivity-boosting feature FIRSTGREEN Industries and Technotrade have incorporated in the machine is the ability to set up and save custom profiles. Through the display, users can set three profiles tailored to the needs of different operators or environments, including travel speeds and hydraulic settings. Productivity is also enhanced through the display's ability to show error messages and diagnostics, which can help minimize machine downtime.
The same can be done with the control joysticks. Compared to the previous generation machines' analog joysticks, the Danfoss JS1-H CAN joysticks are more precise and allow users to adjust their parameters to create a more intuitive control system customized to operator preference. And, with only four wires instead of 25, the joysticks are more reliable and easier to install, service, and replace.
Like most modern skid steers, the Elise 900 is designed with advanced safety features and interlocks to prevent unintended movement. The display can help ensure safe operation. For example, it will guide the operator to close the door and fasten the seat belt to operate the machine, but it also offers a real-time overview of the machine's roll and pitch angles to help avoid rollovers.
In particularly dangerous areas, the Elise 900 can still be operated remotely with either the user's mobile phone or with the optional Danfoss IK2 remote controller.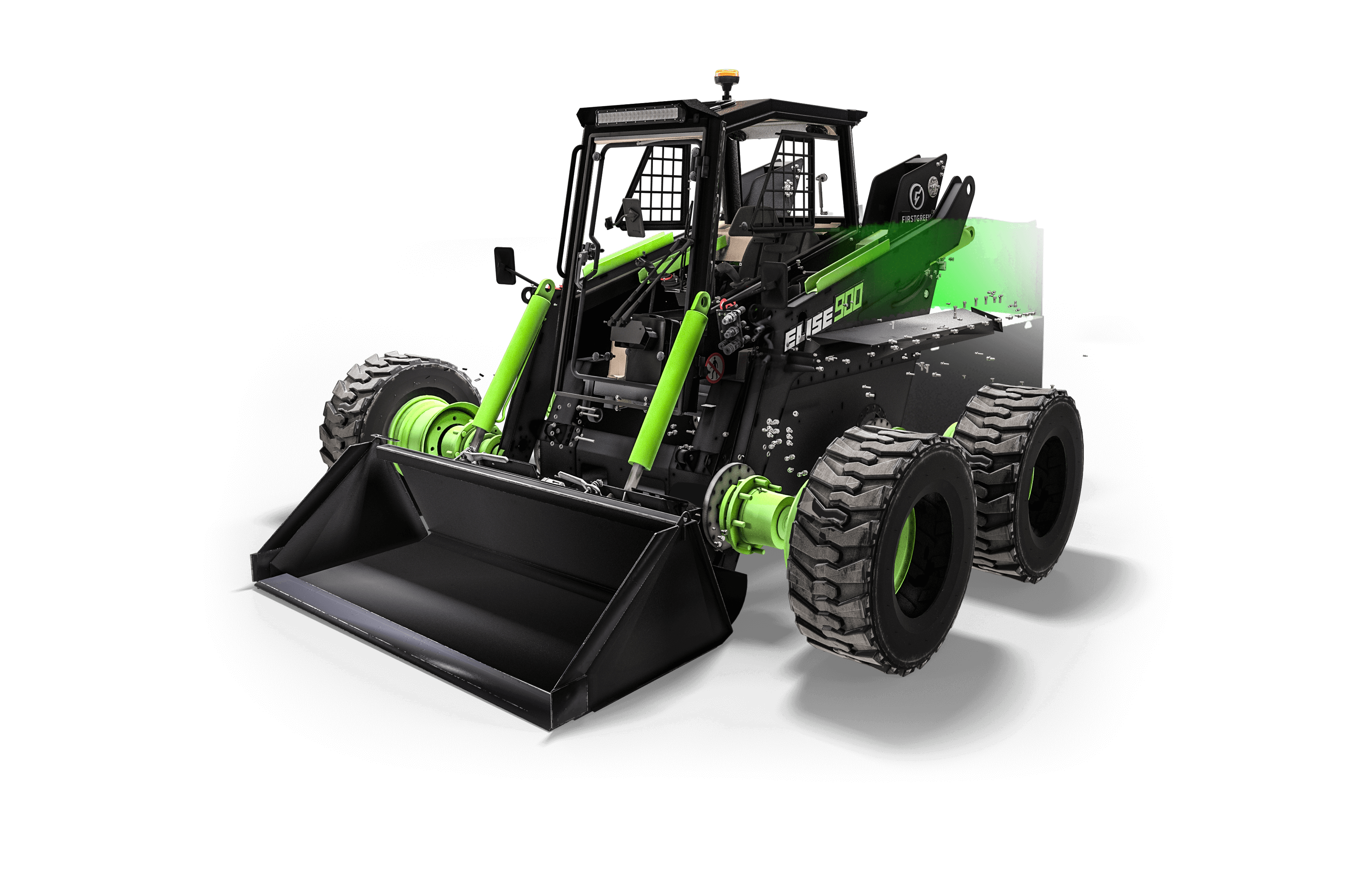 Meeting market needs
FIRSTGREEN Industries launched its third-generation Elise 900 in July 2022. Mobile phone display and remote control is still standard on the base-level machine, as it allows cost-conscious customers to use their own devices. The DM700 display is an option. However, FIRSTGREEN Industries reports that every buyer so far has opted for the hard-mounted display and anticipates that 95% of long-term sales will include it.
All new machines come with the wiring harness for the display, enabling buyers to retrofit the DM700. In fact, FIRSTGREEN Industries is setting its sights on bringing the device to older generation machines.
"When we introduced the display, every customer was happy with it. Now we are working on retrofitting older machines so they can use the display," says Lukáš Rameš, chief operating officer, FIRSTGREEN Industries. "We already have some orders for the retrofit kits, which can rebuild the generation 2 machines into gen 3."
FIRSTGREEN Industries also plans to continue adding functionality to the display to further enhance operator experience. How the machine is working and actual energy consumption — important datapoints for electric machines — are currently in the development pipeline.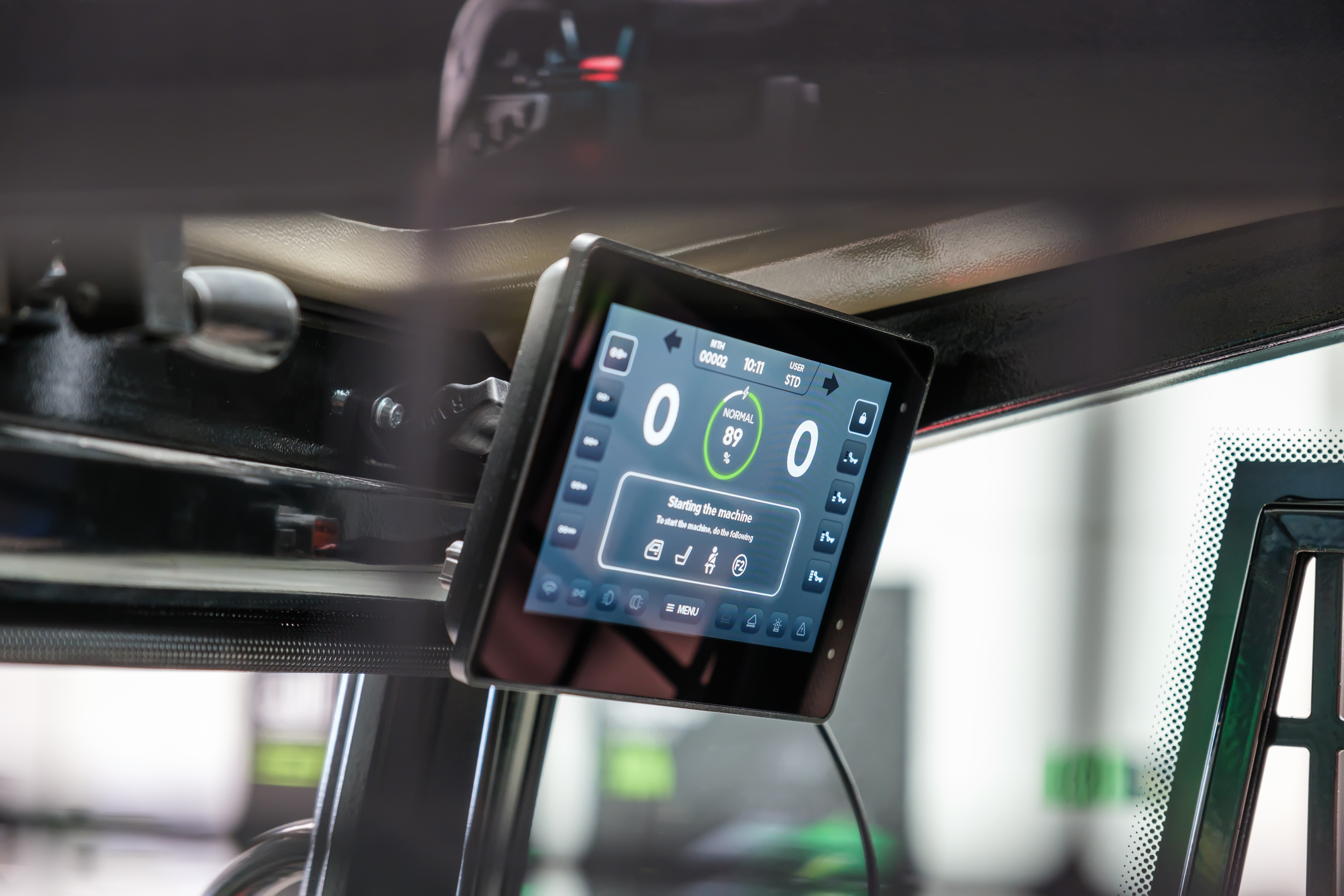 Electronic controls have made skid steers more comfortable to use. They've also made them smarter, enhancing ease of use and productivity. While the addition of robust, large-format displays with more functionality are a newer trend, they look set to join the ranks of other themes in skid steer design, including greater efficiency, more power, and higher speed.
As early sales suggest, FIRSTGREEN Industries is confident the Danfoss DM700 will be a successful addition to its controls offering for the Elise 900.
"The display is an advantage," concludes Rameš. "It helps us sell the machine."