A new electric drivetrain system
The Föri – named after the Swedish word for ferry, färja – initially entered service in 1904 as a steam-powered boat. This was, after the City of Turku commissioned local shipyard Aktiebolaget Vulcan to build a city commuter ferry to transport workers across the Aura River.
For more than a century, the distinctive orange boat traversed the river non-stop during the day. Transporting up to 75 passengers at a time. In 1953, the iconic boat was fitted with diesel engines. However, Turku recognized the need for a cleaner, more efficient vessel at least as reliable as the diesel boat.  
A focus on reliability
Turku commissioned local boatyard Mobimar. To design and develop a quieter, more efficient and cost-effective solution for transporting people across the Aura River. It was important that the new electric ferry retained the same feel of the chains whirring when in operation. So, that passengers would have the same experience as the diesel ferry.
Reliability was critical because the Föri ferry is a key part of the local transport system. There needed to be as little disruption and downtime as possible. Both during the project and once the new electric ferry entered service. A replacement vessel was brought in while the Föri was being retrofitted.
Finland's first electric passenger vessel launches
Mobimar approached Danfoss Editron to join the project because of its experience of electrifying marine vessels. As well as, the positive working relationship both companies had established on a previous project.
In April 2017, Föri ferry was relaunched in the City of Turku. Mobimar completely re-configured the engine room, removing the boat's diesel-powered hydraulic motor and the old control system. Danfoss Editron supplied two DC/AC inverters for motor control, one DC/DC converter for 24VDC supply and battery control. In addition, one AC/DC rectified for AC-grid connection, and supplied EDITRON, a zero-emission electric drivetrain system. With this tried and tested technology, Finland's first all-electric passenger vessel was born.
The electric vessel draws power from batteries that are charged overnight. This new power system simultaneously improves redundancy. It also makes it possible to run on one or two motors, as more power is required in icy conditions. Motor maintenance can be performed in shifts, with no interruption to the vessel operation. The DC/DC converters increase the battery voltage to align with the motor drives. This is minimizing energy loss while maximizing performance and reliability.
Saving money and carbon
When the ferry was relaunched in April 2017, the City of Turku anticipated significant cost savings due to the elimination of diesel. They reduced energy consumption thanks to the lighter weight. The electric ferry would be far less carbon intensive and require less maintenance thanks to fewer moving parts. The motor shaft bearings are the only two wearable parts. Their lifespan has been specifically designed to match the life time of the motor.
Two years since it was launched, the electric Föri ferry has far surpassed expectations. It uses less than 3kWh of energy per hour. Whereas the previous diesel ferry consumed approximately two liters 1 of fuel in the same time frame. This translates to a significant cost saving as the energy costs of the ferry for a whole year are now the same amount as the cost of running the diesel ferry for just two months. 
Passengers and workers on the ferry enjoy cleaner air. The vessel is no longer emitting fumes from the diesel engine. The electric ferry is also quieter and retains the same feel of the chain drive, is four tonnes lighter which has helped improve the overall efficiency and maintenance is easier.
Mobimar estimates than during the last year the ferry was in operation for 350 days without the need for any maintenance. The ferry has conducted 400 journeys a day over a period of 17 hours, a total of approximately 140,000 journeys a year. The 15 days during which the ferry was not operating corresponded to periods when the river ice's thickness exceeded 20cm.
Previous coverage:
Antti Aalto, Project Manager and Corresponding Constructor from City of Turku, said:
"The delivery of the new ferry was smooth and on schedule. We are pleased with the much-improved reliability of the electric Föri ferry, with downtime decreasing significantly. The battery-driven EDITRON drivetrain has turned out to be a practical and functional solution."
Antti Immonen, Project Manager at Mobimar, added:
"For a project as sensitive as this, we needed a project partner who could deliver a new permanent magnet motor. And charging technology built for purpose, since there was no off-the-shelf solution. We selected Danfoss Editron as from previous experience. We knew the team would be flexible, and responsive to our needs. As well as, able to support our commitment to pioneering innovation for demanding marine applications."
Heikki Sallinen, Project Engineer at Danfoss Editron commented:
"The diesel engine in the previous Föri ferry consumed a lot of fuel, and emitted considerable carbon. Overall it was not very efficient. We successfully electrified the old diesel vessel with our EDITRON system to create Finland's first fully electric vessel."
Specifications
Project

Föri ferry

Customer

Mobimar

Location

Finland

Scope

Electrical and mechanical components required between the charging cable and the chain drive wheel shaft:

EDITRON components:

Electric motors x 2
DC/AC Motor inverters x 2
DC/DC-converters for battery control x 2
AC/DC-rectifier for battery charging x 1
DC/DC-converter for 24V supply

Other components:

Battery units x 2
DC-distribution cabinet x 1
Reduction gear x 2
Shaft coupling between motor and gear x 2
Electrically operated disc brake x 1

Solutions

Two permanent magnet motor drives and two DC/DC converters.

Shore connection to recharge the battery.

Power

Fully electric battery powered vehicle.

Benefits

Fewer carbon emissions; cleaner air.
Lower running costs.
Reduced maintenance.
Improved reliability.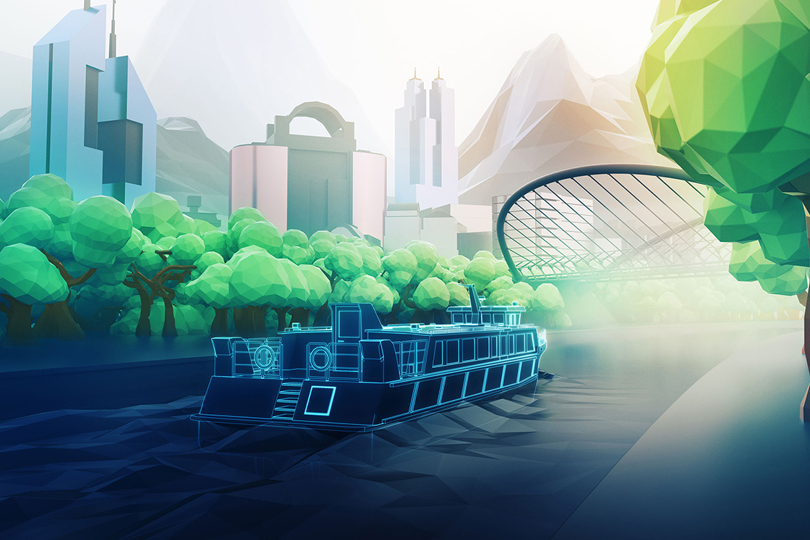 Danfoss Editron
Danfoss Editron is taking fuel savings and energy efficiency to the next level. We specialize in hybrid and electric powertrain systems for marine, off-highway and commercial transport markets. Our mission is to end pollution through electrification.