SPAIN: Through innovation and planning, Volkswagen aims to continuously reduce energy consumption and the associated CO2 emissions at its factory sites. One good example is in air conditioning. The demands placed on the air conditioning of buildings increase steadily. Axial fans can make a significant contribution to combining technical requirements with sustainable building design.
Therefore in 2018, two production sites in two separate countries installed air handling units with new technology and highly efficient axial fans controlled by VLT® HVAC Drive FC 102: Porsche in Stuttgart/Zuffenhausen, Germany and Volkswagen Navarra in Pamplona, Spain. The upgrade at Volkswagen Navarra resulted in impressive 20% energy savings in AHU operation.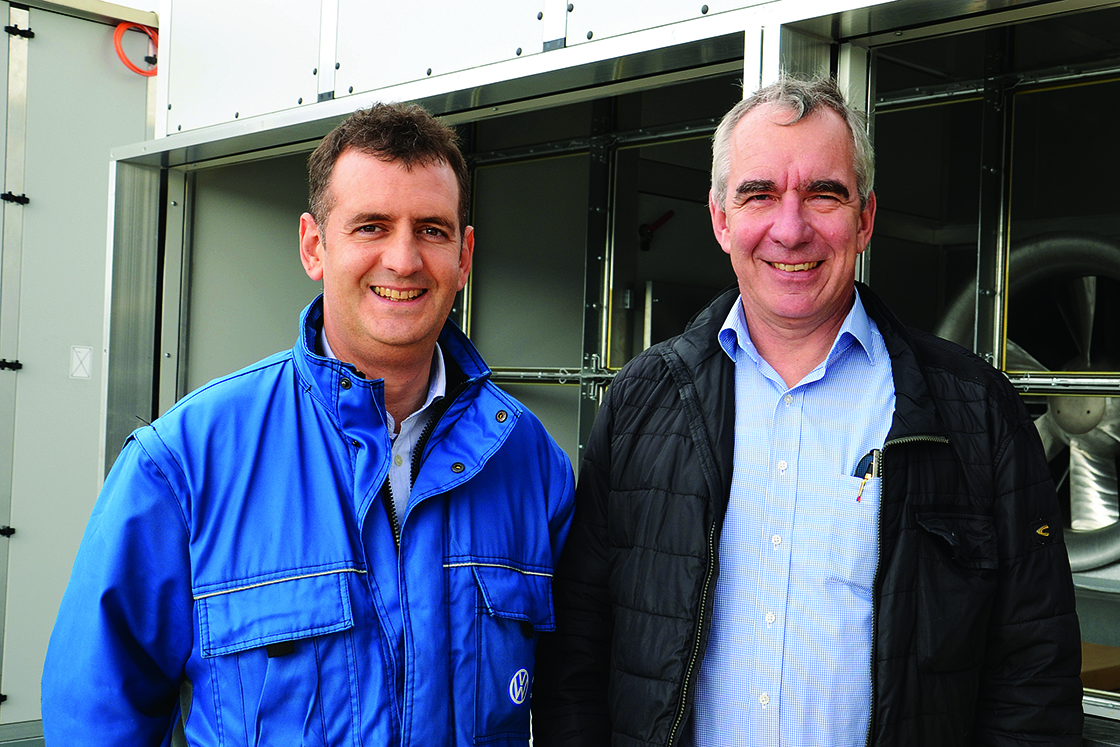 Discover how Volkswagen achieved 20% energy savings in AHU operation
The new trend-setting AHU technology installed at Volkswagen fully met all expectations of Asier Matorell, Factory Planning Manager, Volkswagen Navarra (left) and Axel Rossmannek, Head of Supply Planning, Volkswagen Wolfsburg.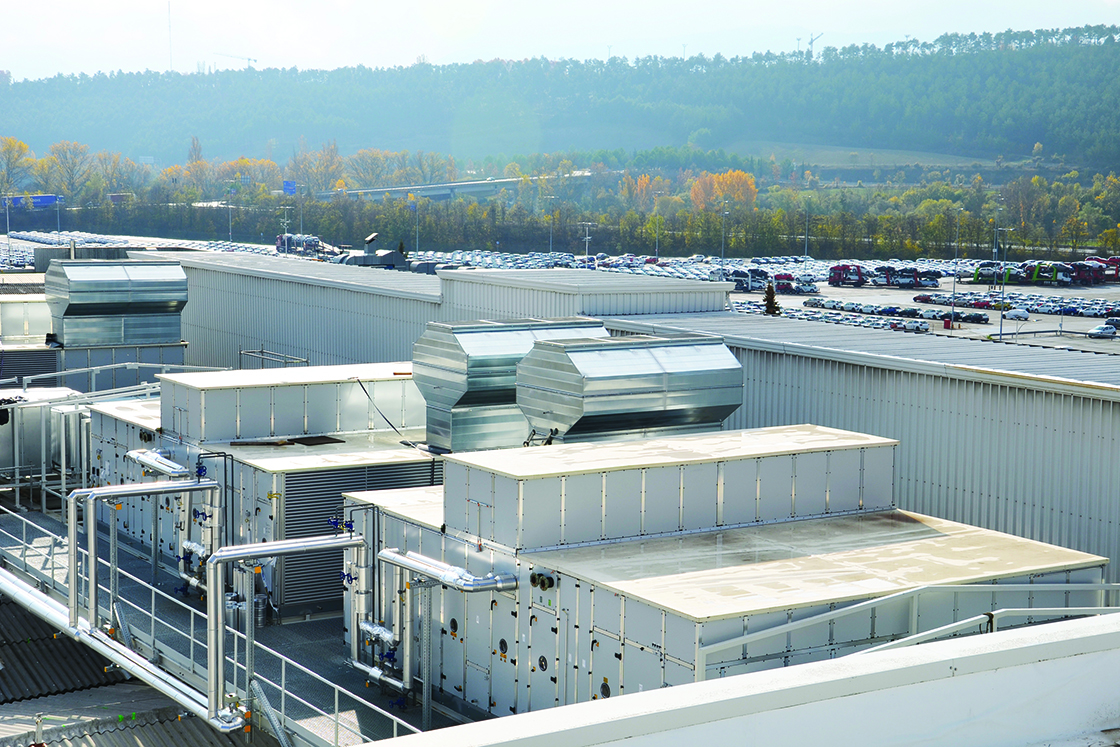 Pioneering sustainable ventilation technology
The ventilation had to be completely renewed for one of the largest production buildings at the factory. Higher air volumes were needed and the space available for the installation of the equipment was insufficient. Therefore, a new installation location for the AHUs had to be found on the roof. The large 80,000 m³/h units were placed on a steel platform on the connection between two buildings. In addition to saving energy, the criteria unit size, weight saving and noise reduction were therefore also key requirements.
Intelligent interaction
The high demands could only be met with the new generation of air handling units, optimally utilizing the highly efficient axial fans from NOVENCO, with VLT® HVAC Drive FC 102. Performance exceeded all expectations. The ZerAx® axial fans currently represent the world's leading fan technology with fan efficiencies of up to 92%. NOVENCO, however, went one step further by optimizing the ZerAx® even more for use in the air handling units. Here the Danfoss EC+ Concept was an essential contributor to the energy savings.
The key phrase here is intelligent interaction of the system components. This interaction is embodied in the term EC+ and is developed in cooperation between Danfoss and NOVENCO. Only the optimal interaction of the system components fan - motor - electronics – diffuser, makes the full potential of a highly efficient fan realizable.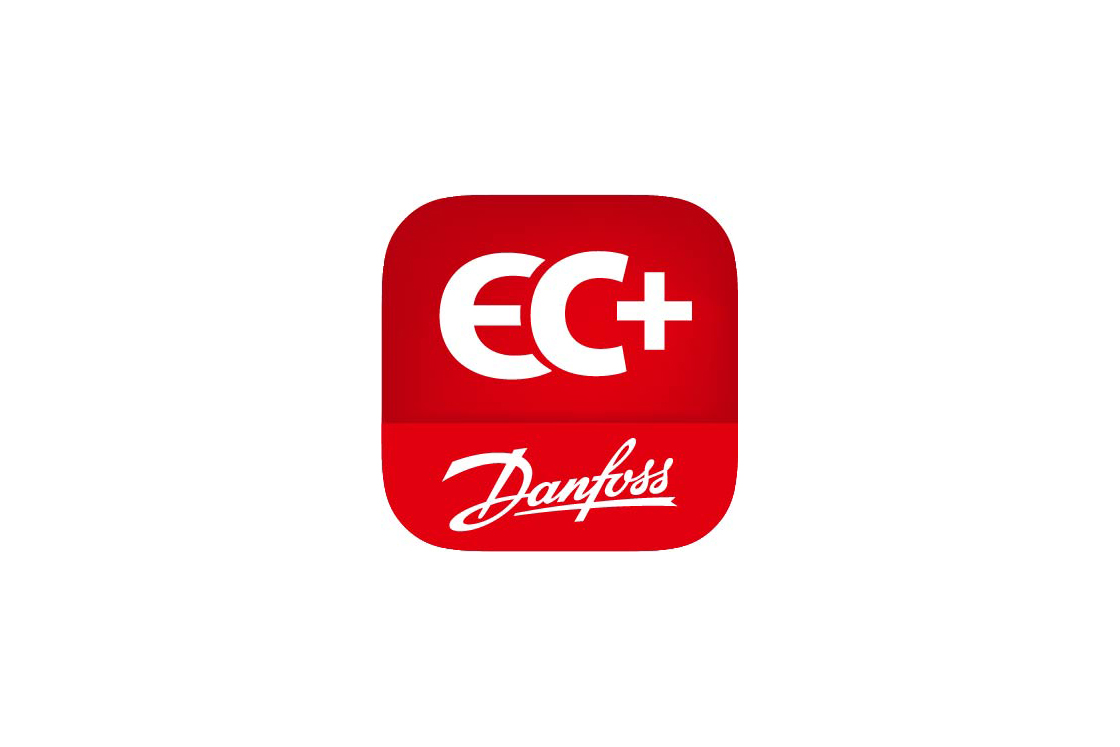 What is the Danfoss EC+ Concept?
When building an HVAC system, to get the highest performance and system efficiency, the individual components – motor, drive and fan – need to be flexible and broadly compatible with each other. For instance, if you specify a high-efficiency motor that is only compatible with lower efficiency fans, the overall system efficiency would suffer and would not reflect the high performance – and investment – in the individual components.
Danfoss Drives' EC+ concept allows ventilation system designers to combine a VLT® HVAC Drive with the most efficient fan and permanent magnet motor.
Advantages of the EC+ concept:
Free choice of motor technology: PM, asynchronous or synchronous reluctance with the same AC drive
Device installation and operation remain unchanged
Manufacturer independence in the choice of all components
Superior system efficiency thanks to a combination of individual components with optimum efficiency
Retrofitting of existing systems is possible
Wide range of rated powers for standard, PM and synchronous reluctance motors
Products
Read more about Danfoss HVAC solutions
More AHU case studies