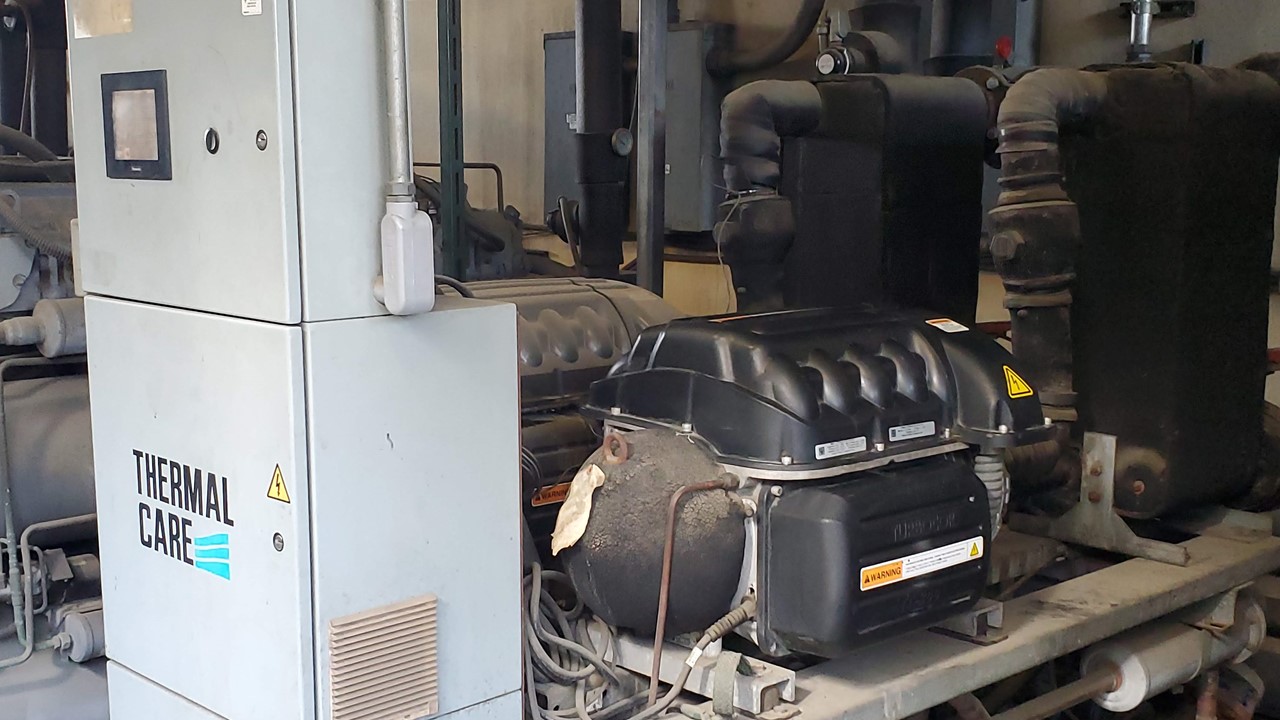 In 2003, Universal Plastic Mold (UPM) needed to replace their aging reciprocating chillers with more reliable and efficient chillers. The company, which manufactures plastic products for use in a variety of products in supermarkets and automotive applications, found that their existing reciprocating chillers required a lot of maintenance, which resulted in expensive downtime. In addition, UPM wanted to expand their capabilities to produce more plastic totes as the market was transitioning from the use of cardboard to plastic.
Constant and Reliable Cooling
UPM utilizes approximately 30 plastic molding machines in their facility. The facility operates continuously, 24/7, 365 days per year, even on holidays, so it requires a constant flow of chilled water at 55 degrees Fahrenheit for cooling the molds in the plastic injection molding machines. They turned to Thermal Care, which had started to use Turbocor compressors in its chillers.
While Turbocor was a relatively new company at that time and not many customers had heard of oil-free compressor technology, UPM was aware of the innovation and was interested in the benefits of oil-free compressors. Those benefits include increased reliability and reduced maintenance requirements because of the elimination of the oil management system in the chiller. Turbocor compressors are up to 40% more efficient than equivalent compressors in their size range.
"Our facility runs nonstop daily to deliver high-quality plastic injection molded products. We needed a reliable chiller to keep our facility running because any loss of cooling shuts down manufacturing," said Rich Smits, UPM's maintenance and environmental manager.
Two Thermal Care chillers, each with two Turbocor TT300 compressors, were installed and commissioned in November 2003.  Post-installation, the chillers ran more reliably than before. No major repairs or overhaul on the Turbocor compressors was required despite the demanding operating conditions. 
In contrast, the original reciprocating compressors required frequent maintenance and overhaul to keep them running.  Replacing these compressors with Turbocor oil free compressors reduced expensive downtime and maintenance costs.
The Longevity Continues
In early 2022, one of the compressors needed to be retired after 18 years of operation and was immediately replaced with a refurbished TT300 compressor.  An analysis of the TT300 showed that the key mechanical components, such as the magnetic bearings and impellers, are in very good condition, even after running in such demanding conditions. This validates one of the key Turbocor value propositions of no mechanical wear during the compressor's entire operational life.
Traditional oiled compressor designs such as reciprocating or screw compressors, on the other hand, incur significant mechanical wear over time due to the metal-metal contact with the rotors and pistons.  This can result in significant degradation of performance over time.
In the meantime, the remaining 3 TT300 compressors in the facility are still operating 24/7, 365 days per year, delivering a constant flow of chilled water for the process cooling application.
"We were one of the first customers to purchase Turbocor compressors in 2003," said Steve Dowling, vice president of operations at UPM. "We were intrigued by the novel concept of oil-free operation and the reliability of this technology. After 18 years of operation, without any maintenance or service issues, I can say we are convinced that oil-free compressor technology is the best choice for mission-critical applications."
Read more about Turbocor®