Chick hatchery replaces natural gas boiler with efficient high-temperature heat pump
For just over a year, the Van Hulst chick hatchery in Veldhoven (Netherlands) went completely without natural gas. Two-stage heat pumps now supply the heat and cooling needed to maintain the temperature of the chicken eggs. The new solution is climate-friendly, thanks to the use of natural refrigerants and operation with solar electricity – and lowers energy costs by approx. 30,000 euros per year.
Innovative and unique
Cees Horrevorts, General Manager of the Van Hulst chick hatchery, doesn't take half-measures. When investments are needed, they should be sustainable, long-lasting and environmentally friendly. This principle was applied when the old heating system had to be replaced. The worn-out natural gas boilers (2 x 220 kW) had to be replaced with new, climate-friendly technology. At the same time, an increase in capacity was required to prepare for a facility expansion: Today around 1.1 million eggs are hatched each week and the output was planned to increase in the medium term to over 1.4 million eggs per week.
"We wanted a modern solution that would meet future requirements, that we can use for a long time, and that is as climate-friendly as possible," says Horrevorts. A heat pump was the solution; one with natural refrigerants with low global warming potential (GWP).
Horrevorts found the ideal partner for his plans: Servex Koel- en Vriestechniek B.V. from the Dutch city of Heibloem.
Servex has over 40 years of experience in building refrigeration systems and began to specialise in systems with natural refrigerants about five years ago. The company was already familiar with hatcheries from earlier projects. Despite the many reference systems with natural refrigerants that Servex can provide, every project is different.
Different boundary conditions, even new components, and varied capacity requirements make each system unique. Even the heat pump system for Van Hulst is unique. "It is the largest heat pump with natural refrigerants that we have ever built," reports Wil Kerkhof, who, together with his brother Marcel Kerkhof, is running the family-owned company Servex in the second generation. "Maybe it's even the largest heat pump of its kind in the Netherlands," he adds. Another special feature: It supplies heat at the unusually high level of approx. 80°C.
Van Hulst head Horrevorts explains why so much heat is needed at such a high temperature: "To hatch fresh eggs, we have to heat them up to 38 degrees Celsius in the first seven days. This is done using large central air handling systems. In addition, we need a great deal of hot water to ensure hygienic conditions in the facility."
Need for heat and refrigeration during hatching
Whereas chicken eggs need heat in the first week, they need cooling in the second and third week. During this time, the embryos in the tightly packed eggs develop so much heat that the air conditioners need to cool them down to maintain the ideal hatching temperature of 38°C. To do this, the new heat pump or the existing cold water generator supplies cool water at 14°C to the central air-conditioning plants.
Due to the simultaneous need for heat and air conditioned cold, the heat pump has a favourable energy balance, as the energy used also operates both media circuits. This alone makes it more efficient than the combination of gas boiler and cold water generator. In addition, gas boilers could only provide one kilowatt hour of thermal energy per kilowatt hour of fuel. The heat pump system, on the other hand, supplies significantly more thermal energy for every kilowatt hour of electricity used.
In addition to an increase in energy efficiency, Van Hulst also aimed to increase its thermal output from 440 kW to 550 kW (at 80°C flow temperature) in view of the upcoming capacity expansion. Furthermore, the customer required trouble-free operation in an extremely wide range from minus 20°C to plus 38°C ambient temperature.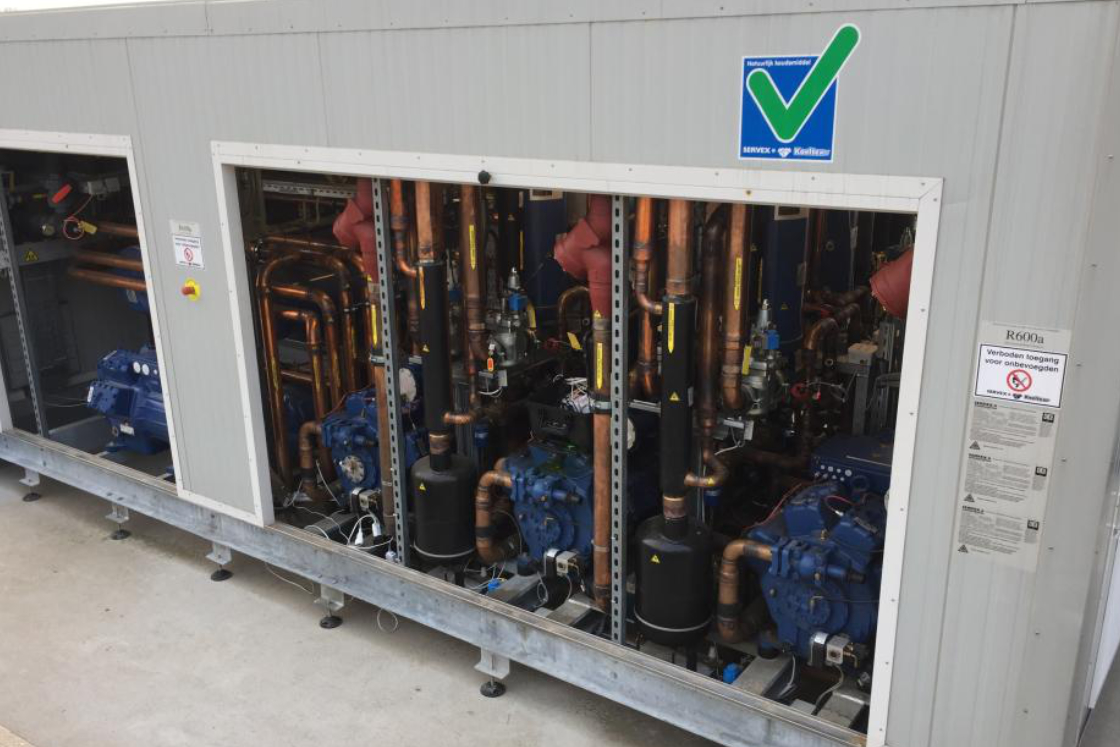 High operational reliability
In order to ensure the desired high availability at extreme ambient temperatures, Servex initially built a test system with low capacity using compressors from the specialist Bock GmbH (Frickenhausen). "We have been working well with Bock for a long time now", says Wil Kerkhof, explaining the choice of the compressor supplier. "The company has extensive experience with natural refrigerants such as carbon dioxide and propane and builds compressors with integrated oil pumps, making them ideal for the Van Hulst project."
The heat pump currently in operation at Van Hulst consists of three two-stage systems, i.e. a total of six Bock HG88e/3235-4 S HC compressors. The entire system is set up in containers next to the factory hall. This facilitated installation and the necessary fire protection measures, as both propane and isobutane are highly flammable. However, as the system operates unmanned and is housed in a closed container, the fire protection requirements could easily be met. In addition to the six compressors installed, Van Hulst can also request another compressor to be installed in the container so that a replacement can be carried out quickly in the event of a malfunction.