Maximize system uptime
Featuring the latest design innovations, Danfoss Hansen quick disconnect couplings maximize ease of use and system uptime in key hydraulic, pneumatic and thermal management applications. Offered in carbon, stainless steel and brass, Danfoss Hansen quick-disconnect couplings meets or exceeds industry standards and are backed by the industry's leading 3-year warranty.
Benefits - Quick connect and disconnect
Time savings - No need for special tools
High performance - Exceeds ISO 16028 operating pressures
Couplings provide a means of quickly connecting and disconnecting a line without a loss of fluid or entrance of air into a system.
If equipment needs to be assembled quickly or if it needs routine servicing or repair, then a coupling is a better choice for a fluid connection.
When incorporating Quick Disconnect couplings, spillage of costly and dangerous liquids and other fluids can also be prevented. This contributes to a cleaner environment, making way for safer working conditions.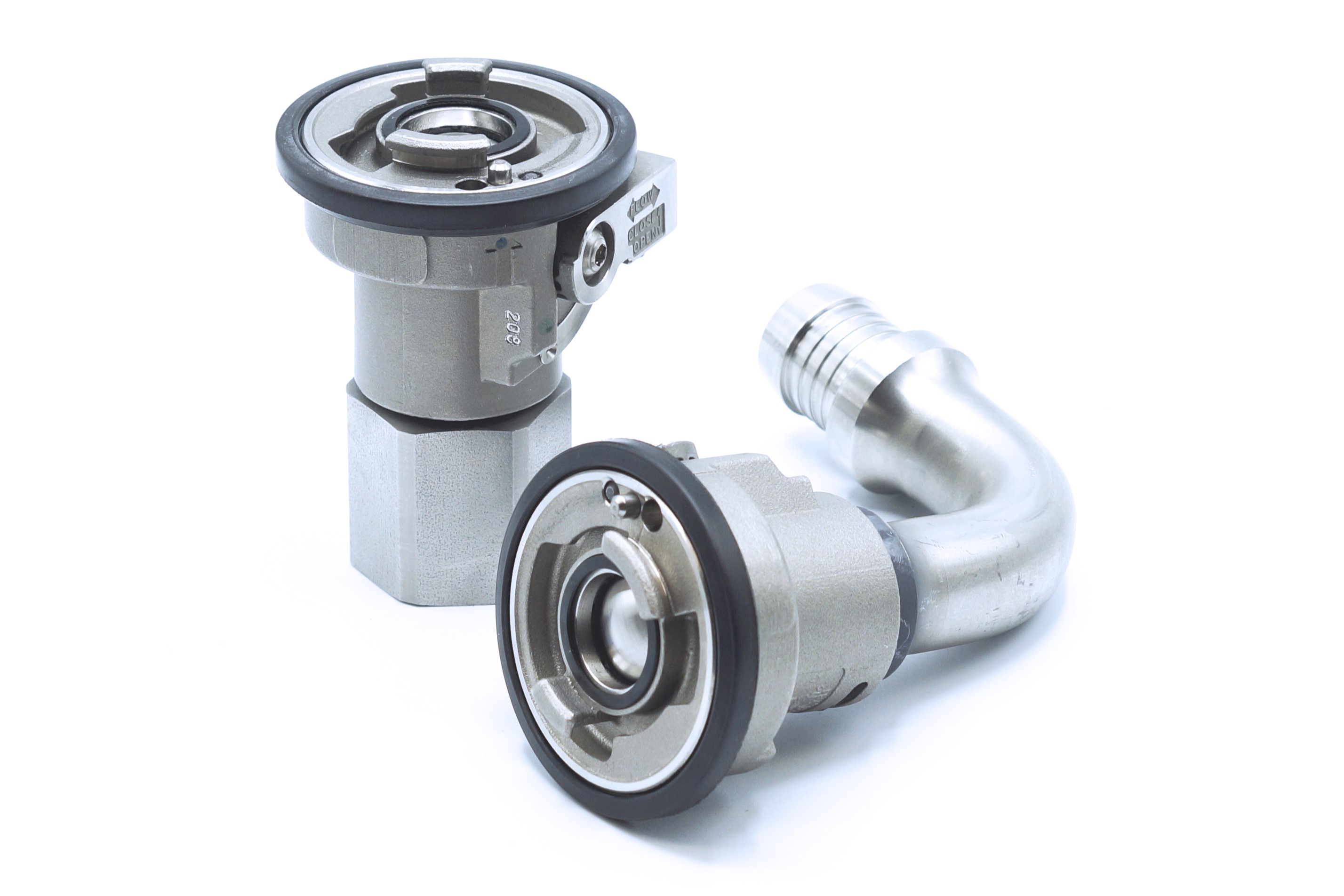 FD83 series quick-disconnect couplings
Danfoss Hansen FD83 couplings are designed for fluid transfer and electronics cooling applications where full flow, fluid compatibility and safety are essential.
FD83 series quick-disconnect couplings with a full-flow design, now available in a 2-inch size and additional configurations of the popular 1-inch size, are known globally for their performance and reliability.
Their turn-to-connect feature allows connections to be made without the risk of hose torsion or the need for additional adapters, which also prevents leaks due to incorrect assembly.
Core 4 hydraulic quick disconnects
With hundreds of sizes and styles to choose from, Danfoss has the right quick disconnect couplings for your next project. Our "core 4" offering represent the four most common, widely sold hydraulic and pneumatic quick disconnect styles that are easy to order, always in stock and ready to ship.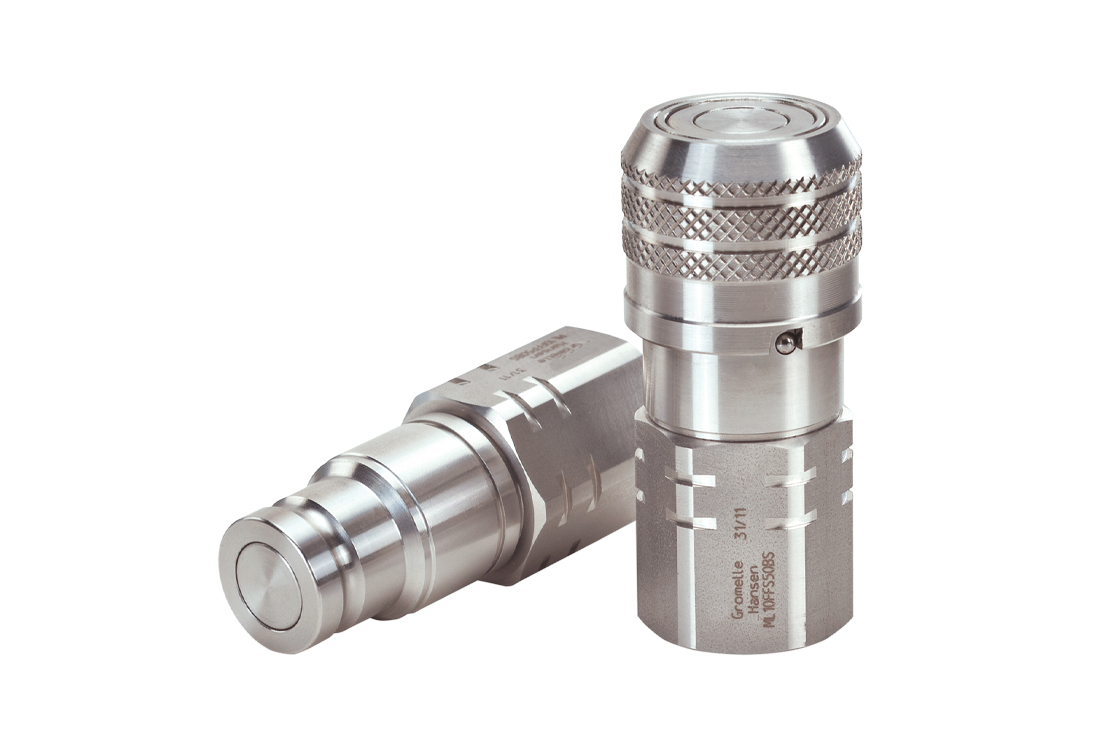 MLFF series
FF series superior flow saves cost by reducing fuel consumption.
Features:
Standard sleeve lock prevents accidental disconnection.
Industry leading flow and operating pressure performance.
Guardian Seal zinc trivalent plating offers up to 1,000 of corrosion resistance.
Color coded rings allow for easy identification of lines to prevent cross connecting.
Connect under pressure plug able to connect up to 350 bar.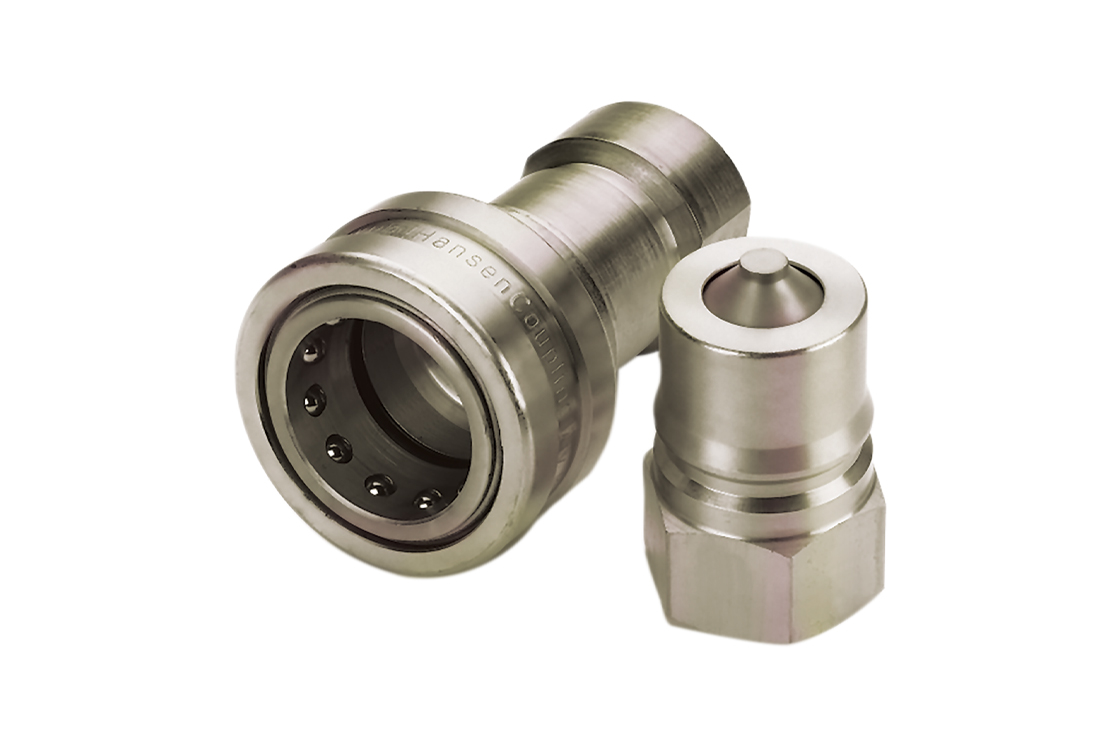 HK series
Danfoss Hansen was the original designer of the HK coupling in 1915 setting the industry standard.
Features:
Self-sealing poppet valve design provides excellent high and low pressure sealing.
Zinc trivalent plated steel with stainless steel springs, balls and retaining rings.
PTFE back up seal
Wide array of customizations offered to suit all applications.
Highest flow among leading manufacturers
Higher flow equates to higher efficiency and less energy consumption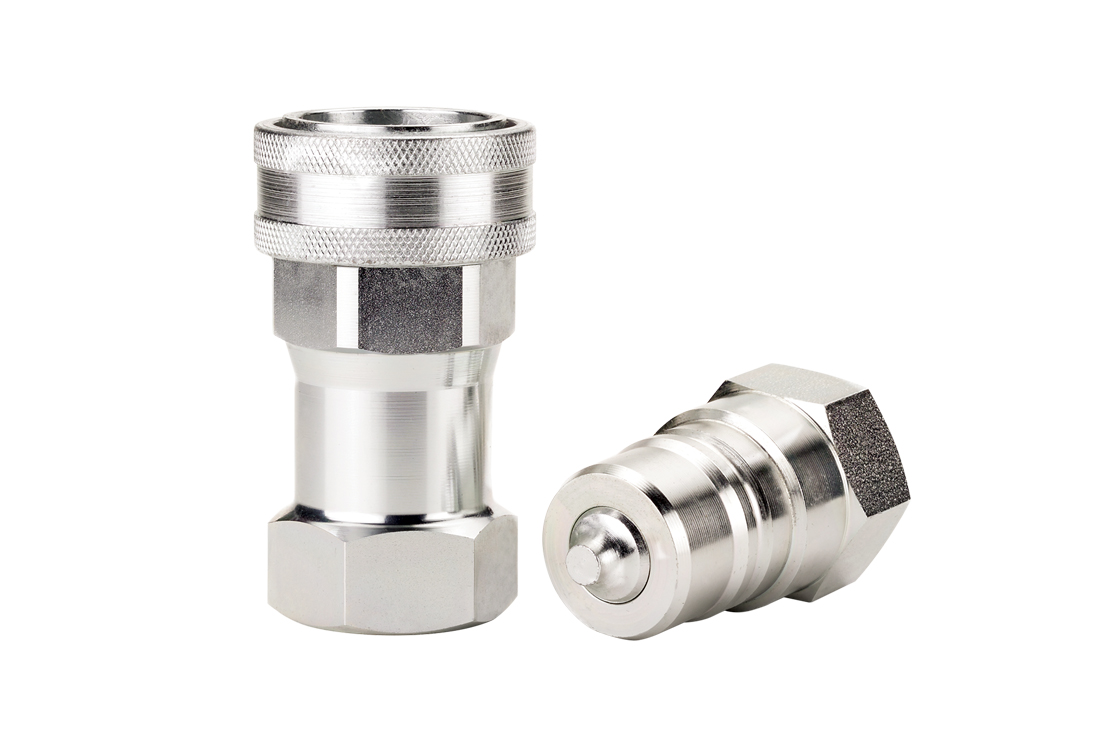 5600 series
Danfoss' 5600 Series offers a wide array of port configurations and multiple valved and non-valved configurations.
Features:
Self-sealing poppet valve design provides excellent high and low pressure sealing.
Streamlined valving provides minimum pressure drop.
High resistance carbon steel with zinc trivalent plating.
Wide array of customizations offered to suit all applications.
Highest flow among leading manufacturers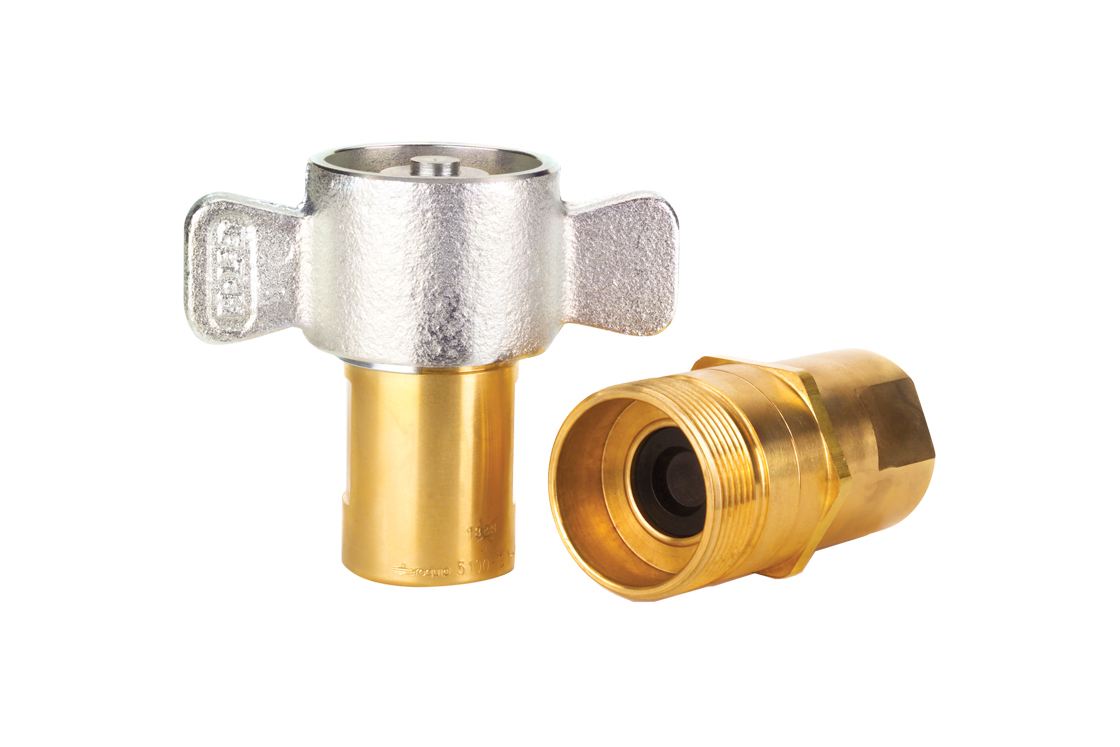 5100 series
Commonly found on dump trailer wet lines, higher flow performance can reduce cycle time and increase productivity.
Features:
Tubular valve construction for virtually no fluid loss during disconnection, reducing environmental and worker safety hazards.
Low air inclusions and connect under pressure capability up to 500psi.
Excellent vibration resistance and corrosion performance.
Up to 115% more flow over competing brands
Core 4 Pneumatic quick disconnects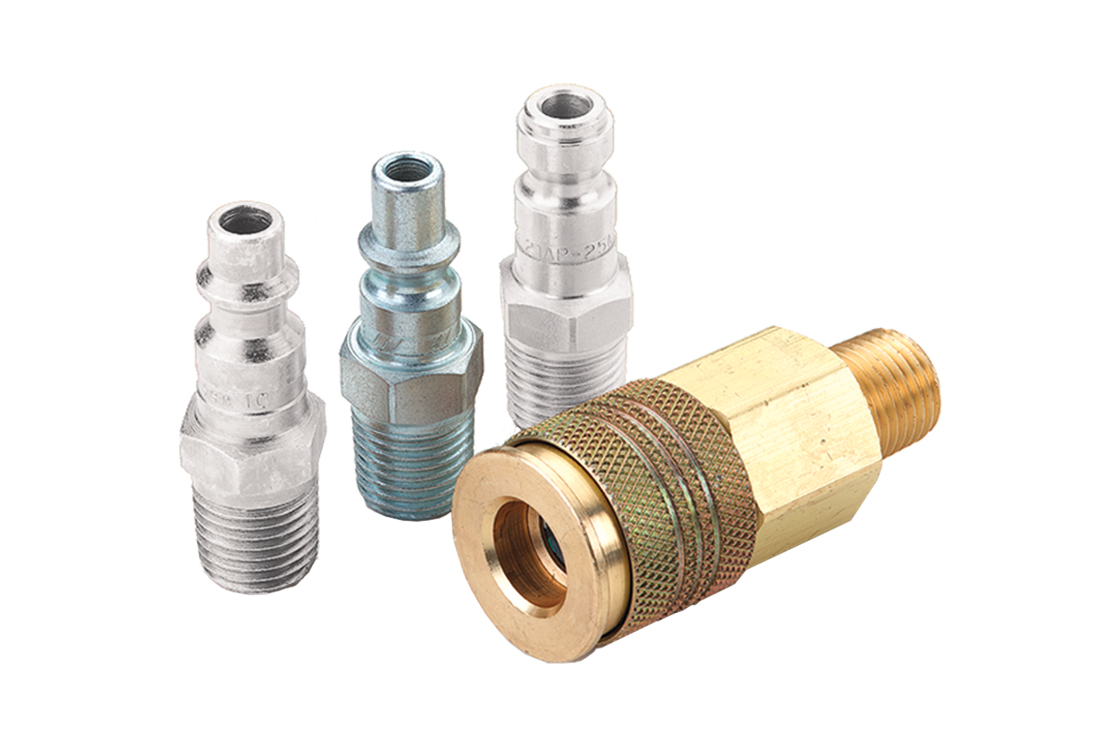 Auto-Flo series
Designed with high flow and easy automatic connections.
Features:
Auto-Flo 23 is the first automatic universal quick disconnect coupling designed to operate with Industrial, ARO 210 and Tru Flate Interchange plugs/males.

Easy, automatic push-to-connect design provides instantaneous connection and disconnection of lines.

The universal design makes Auto-Flo an extremely flexible coupling series.
1000/400/500 series
Industrial Interchange coupling that is rugged and reliable designed for use with compressed air, gases, and liquids.
Features:
Ball latching mechanism.

Optional sleeve lock prevents accidental disconnection.

All sizes accept US Industrial Interchange.

400 series accepts Tru-Flate Interchange.

Brass body with nickel plated steel offers high corrosion resistance.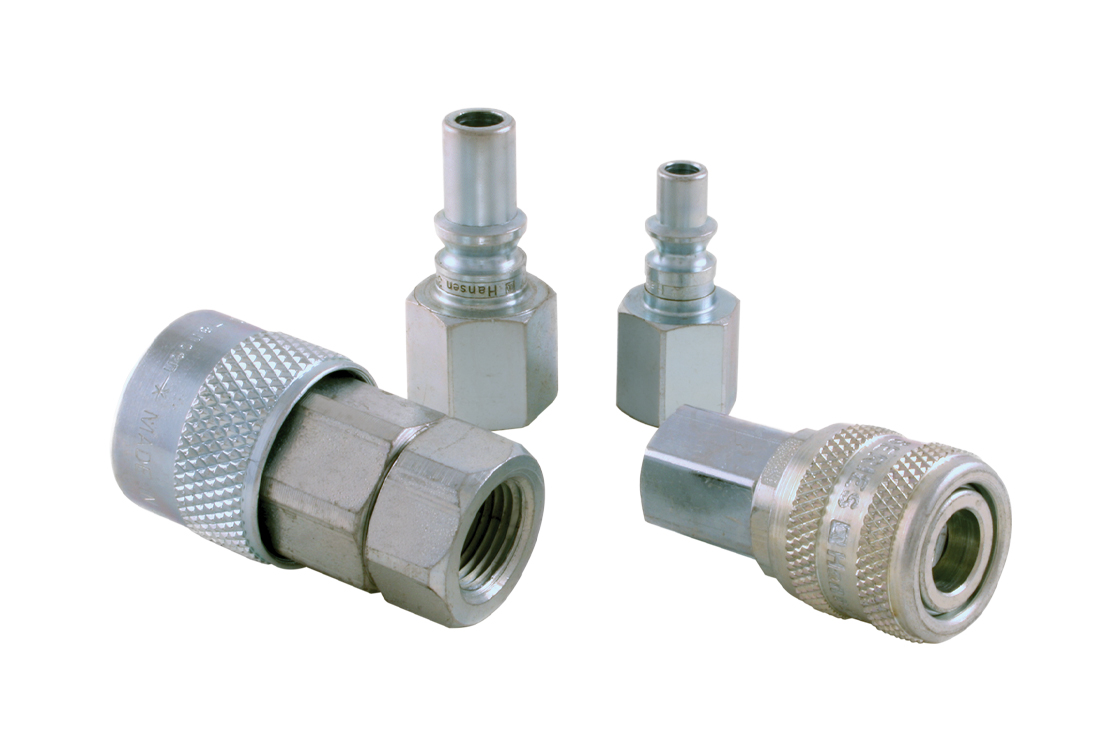 210/310 series
Danfoss ARO 210/ 310 interchange offers rugged corrosion resistant performance.
Features:
Danfoss' ARO 210/310 interchange offers a pin-lock design with alloy steel locking pins and automatic push-to-connect operation.

Zinc trivalent plated carbon steel offers high durability with superior corrosion performance.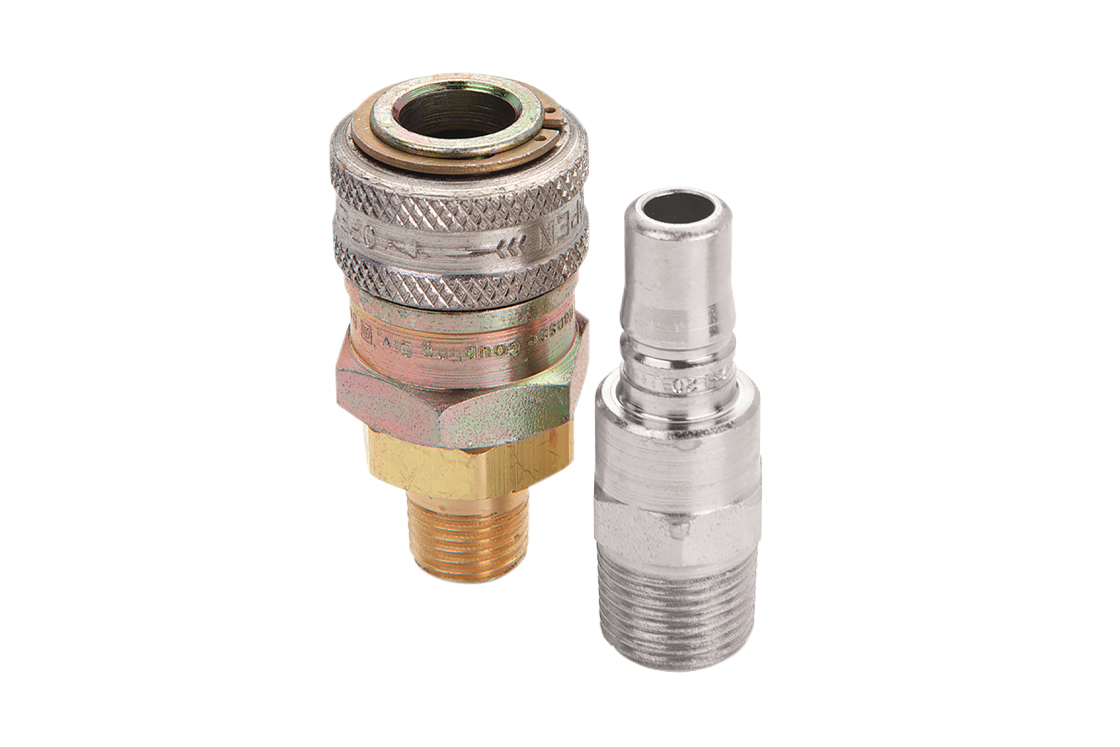 2RL/3RL series
Danfoss' 2RL/3RL ring lock series have a unique interchange which are designed for use with compressed air.
Features:
High Flow capacity.

Push to connect with a ring lock sleeve designed to prevent accidental disconnection.

Standard body material: Zinc trivalent plated steel.
Why use a quick disconnect coupling over a conventional threaded connection?
Traditional threaded fitting:
No shut-off system: leakage after disconnection
Cannot rotate while connected - line twisting decreases life of hose
Additional assembly time
Difficult handling, waste of time to disassemble (maintenance)
Frequent disconnection effects seating performance, increases likelihood of leaking
Quick disconnect coupling:
Shut-off system: sealing achieved upon disconnection
Can rotate while connected, taking stress out of hose and extending life
Ease of assembly in tight spaces
Easy and fast to use (without tool), time saving and economical
Increased mobility and access for maintenance
Danfoss' Flat Face quick disconnect couplings
Our Flat Face (FF) quick disconnect couplings provide greater performance at higher pressures along with higher flow rates.
Danfoss' Flat Face series quick disconnect couplings are designed to connect top performing hydraulic lines without fluid loss and offer increased pressures to help machine manufacturers meet market demand for high pressure and high impulse pressure solutions.
The flat face quick disconnect couplings reduce pressure drops and decrease energy loss, resulting in lower fuel and energy consumption. Plus, Dura-Kote plating offers outstanding corrosion resistance in tough environments for up to 1,000 hours.
Read more
Applications
Agriculture
Alternative energy
Commercial vehicle
Oil and gas
Construction & mining
Discreet manufacturing & processing
Material handling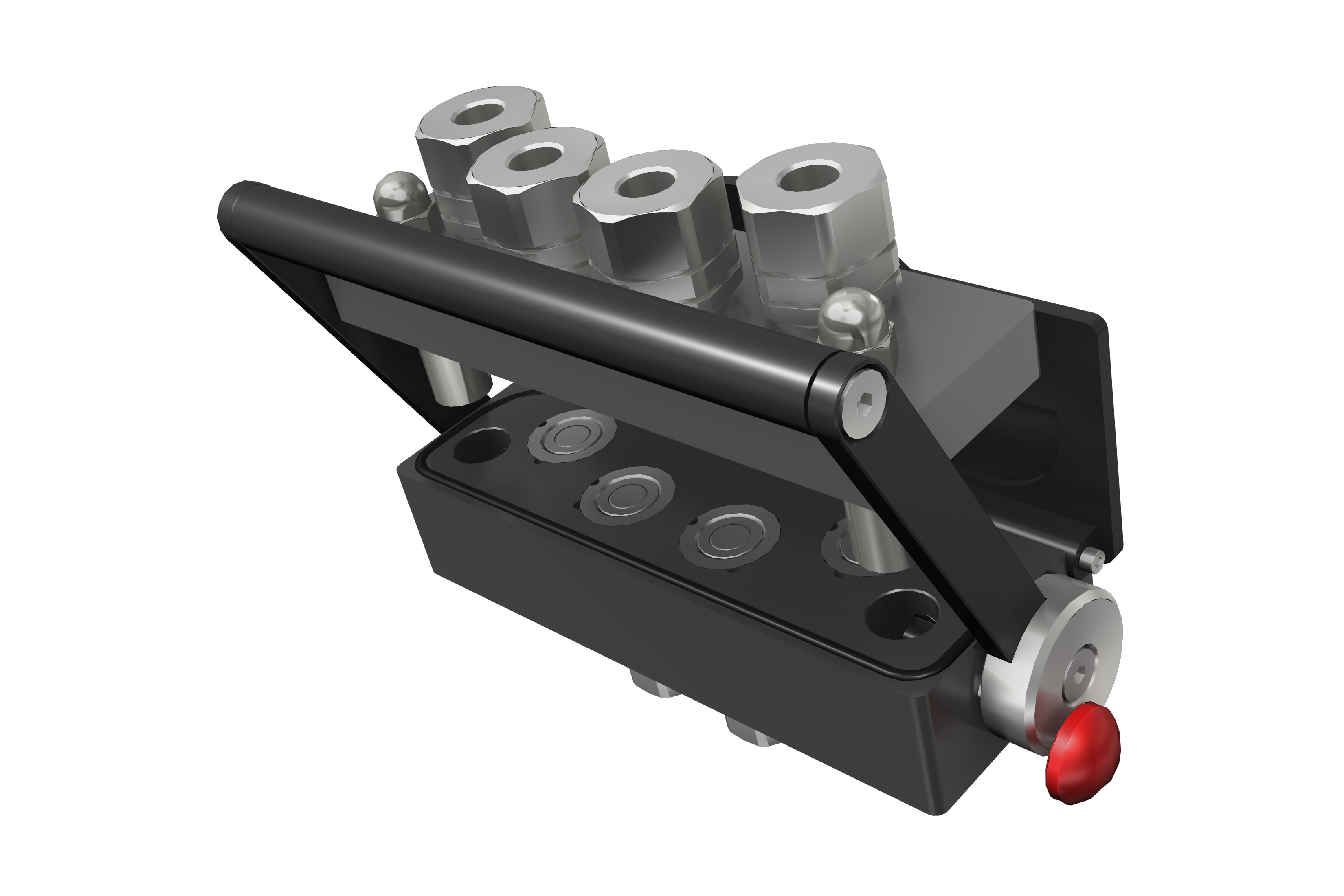 Multiplate flat face coupling system
Our innovative multiplate system (Multi-FF) extends all the benefits of Danfoss flat face couplings. Designed for any application demanding multiple hydraulic fluid connections for power transmission, our brand new system supports two to six flat face couplings simultaneously.

Visit PowerSource
In our digital catalog you can find product specifications, literature and helpful tools like product configurators, 2D/3D models, cross reference, crimp specs and many more.