SONDEX® semi-welded plate heat exchangers are designed for your peace of mind. With our solutions, you can safely operate with potentially hazardous media, high pressure levels, or extreme temperatures that are unsuitable for fully gasketed heat exchangers.
What does that mean for you?
For increased safety, the semi-welded product range uses cassette technology instead of regular plates. Each cassette features a gasketed side for the regular media, and a welded side for the aggressive media.
The welded side holds a custom, damage-resistant ring gasket. With a considerable reduction of the exposed gasket area, our semi-welded plate heat exchangers have a long product lifetime and provide safe operation with less risk of leakage.
Sustainable efficiency
No more off-the-shelf heat transfer solutions! With a SONDEX® heat exchanger, you can rest assured that your thermal performance is top tier, as you receive a customized solution that is tailored to your individual application, easy to install, and service-friendly.
Our extensive experience and deep process knowledge allow us to avoid the common pitfalls of complicated applications and deliver reliable and safe, high-performance heat exchangers.
Applications
HVAC industry
Marine/offshore industry
Dairy/food/beverage industry
Sugar industry
Refrigeration industry
- e.g. duties that use ammonia as refrigerant
Pulp and paper industry
Heavy industry
Mining industry
Petrochemical industry
Chemical industry
- e.g. chemical processing, such as rich/lean amine treatment
Evaporation and condensing duties
High pressure liquid/liquid applications
Technical specifications
Connections from DN65 to DN500
(Frames designed according to FEA and PED 2014/68/EU (EN13445) and ASME sec VIII, Div. 1 construction standards)
Plate materials: AISI 304/316, titanium, SMO, Hastelloy. Other materials available upon request
Gasket materials: EPDM-HT, NBR-HT, Viton. Other materials available upon request
Ring gasket materials: EPDM-HT, NBR-HT, Viton, Chloroprene, PTFE. Other materials available upon request
Plate heights up to 3 m (9.8 ft)
Flow rates up to 5,000 m3/h (22,014 gpm)
Working pressure up to 25 bar (363 psi)
Working temperature -25 °C to 200 °C (-13 °F to 392 °F)
Features and benefits
High efficiency means that fewer plates are needed for high performance, cuts the cost of each heat exchanger, and consequently lowers the hold-up volume.
Engineered to use smaller amounts of potentially hazardous media, the SONDEX® semi-welded range is a safe and responsible choice for demanding duties.
Unique gasket system intended for high working pressures and vacuum applications. A closed gasket groove keeps the gasket firmly in place and prevents misalignment of the plate pack during assembly and operation.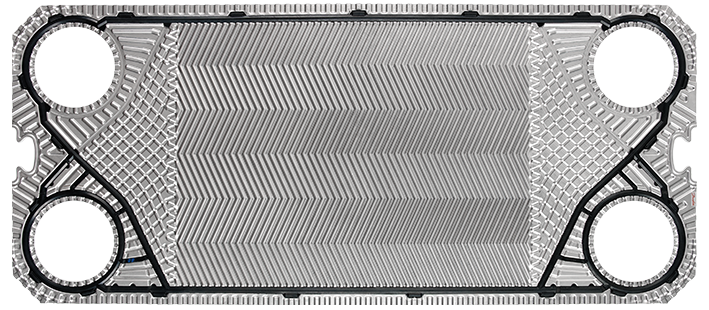 Fishbone plate technology
Engineered to maximize turbulence, even at low flow rates, this pattern achieves unparalleled heat transfer. The pattern has proved its effectiveness through rigorous testing and is the default choice for plate heat exchangers.
What kind of heat exchanger is right for me?
The choice of heat exchanger depends on many factors. Our skilled sales engineers design the heat exchanger with the appropriate dimensions and correct specifications based on your input and requirements, to ensure that you receive a quality solution that performs optimally.
Which certificates are available for the heat exchangers?
Our heat exchangers are approved and certified according to industry standards and requirements. For specific details, please reach out to your local SONDEX® brand sales representative.
Where can I get a price list?
Please contact your local SONDEX® brand sales responsible.
How can I get a quotation?
Please contact your local SONDEX® brand sales office. For the most accurate quotation, please prepare the following data:
Duty,
Type of media,
Pressure drop,
Flow rate,
Working pressure,
Thermodynamic properties, Temperature,
Working temperature.