Danfoss at EuroShop 2023
From small stores to hypermarkets, and from the sensor to the cloud, we're helping our food retail customers achieve end-to-end efficiency with products and solutions that unite heating and cooling systems to reduce your energy bill, heat loss, and food waste.

Our experts will showcase everything from how solutions like Alsense® IoT Food Retail Services help reduce energy consumption to the power of using innovative hydronic balancing technology with heat recovery to gain the ultimate energy efficiency.

EuroShop is in Düsseldorf from February 26th to March 2nd.
What's new from Danfoss at Euroshop 2023
Look at this video to get a short introduction to what you can expect to see when you visit us at Euroshop 2023. Though we will still have a few surprises for you, so come by our booth in Hall 16, booth number C59.
Are you looking for advice about a specific project or want to learn more about our solutions?

Our experts are ready to help.
Just click this link and fill in the form and the right expert will get in touch with you.
Talk to us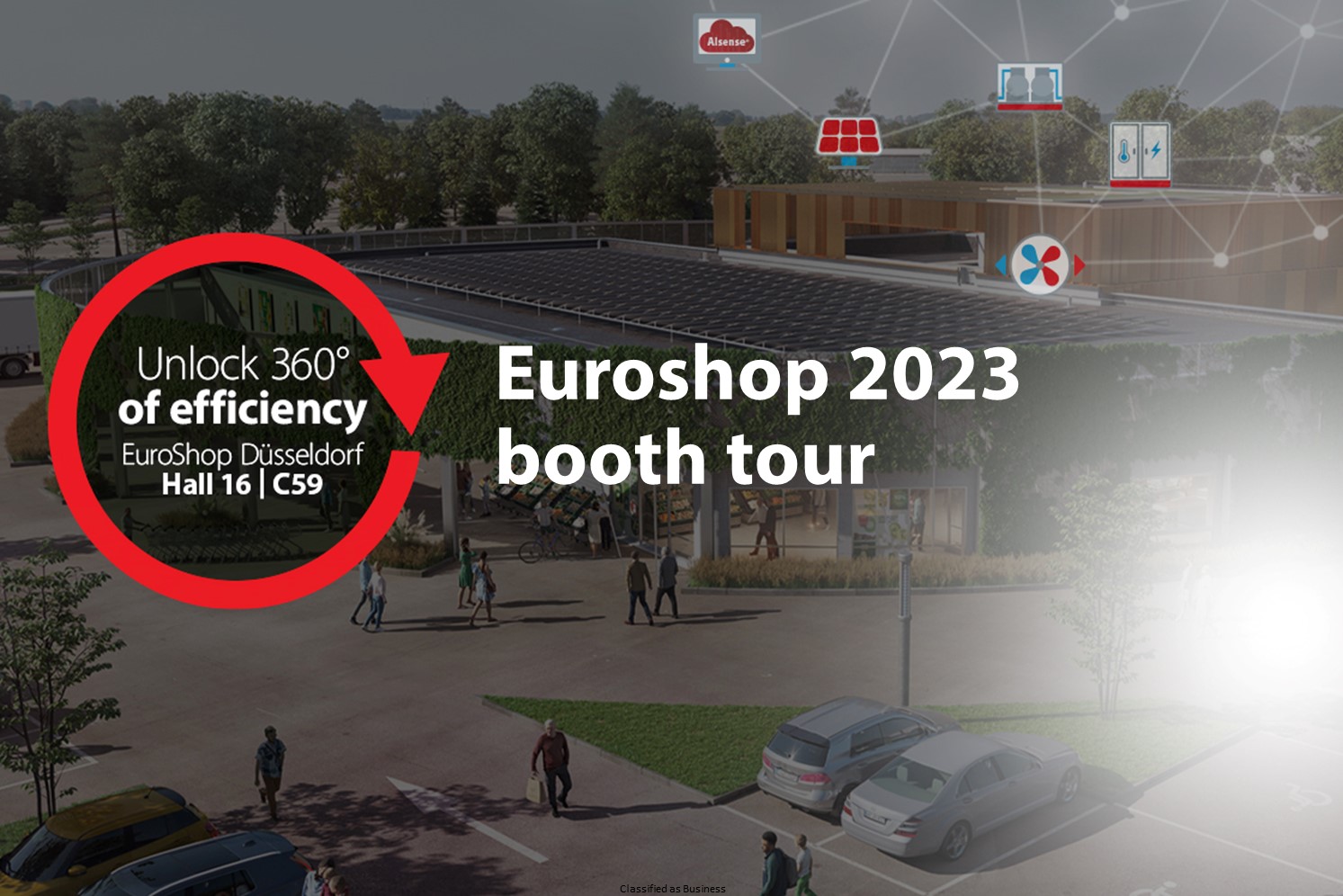 EuroShop 2023 booth tour with Danfoss
Press play to check out the EuroShop 2023 Danfoss booth and see how we are helping the food-retail industry tackle energy efficiency. 
  
We are here to talk about something close to our hearts: end-to-end energy efficiency. Today's solutions are revolutionizing how we think about energy usage, and we want to spread the word.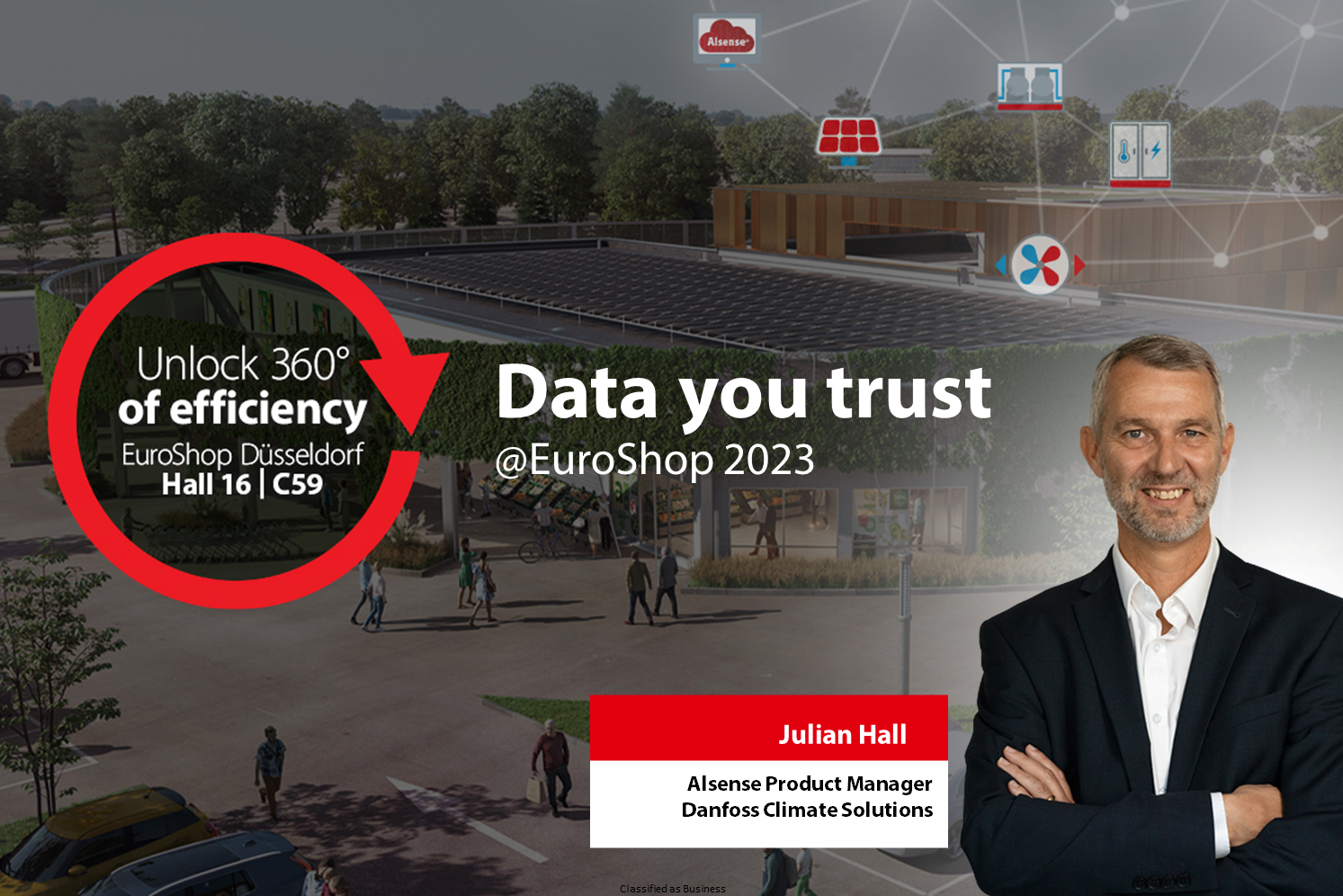 Danfoss Alsense Dashboard | Your energy data on one screen.
Supermarkets need data they can count on to avoid food waste and empty shelves. So, we are at #EuroShop2023 to demo the Alsense digital dashboard with Julian Hall, our Danfoss colleague, and friend.
The Alsense digital dashboard brings together your key energy data and automatically highlights important information, like an alarm going off or spiked temperature levels.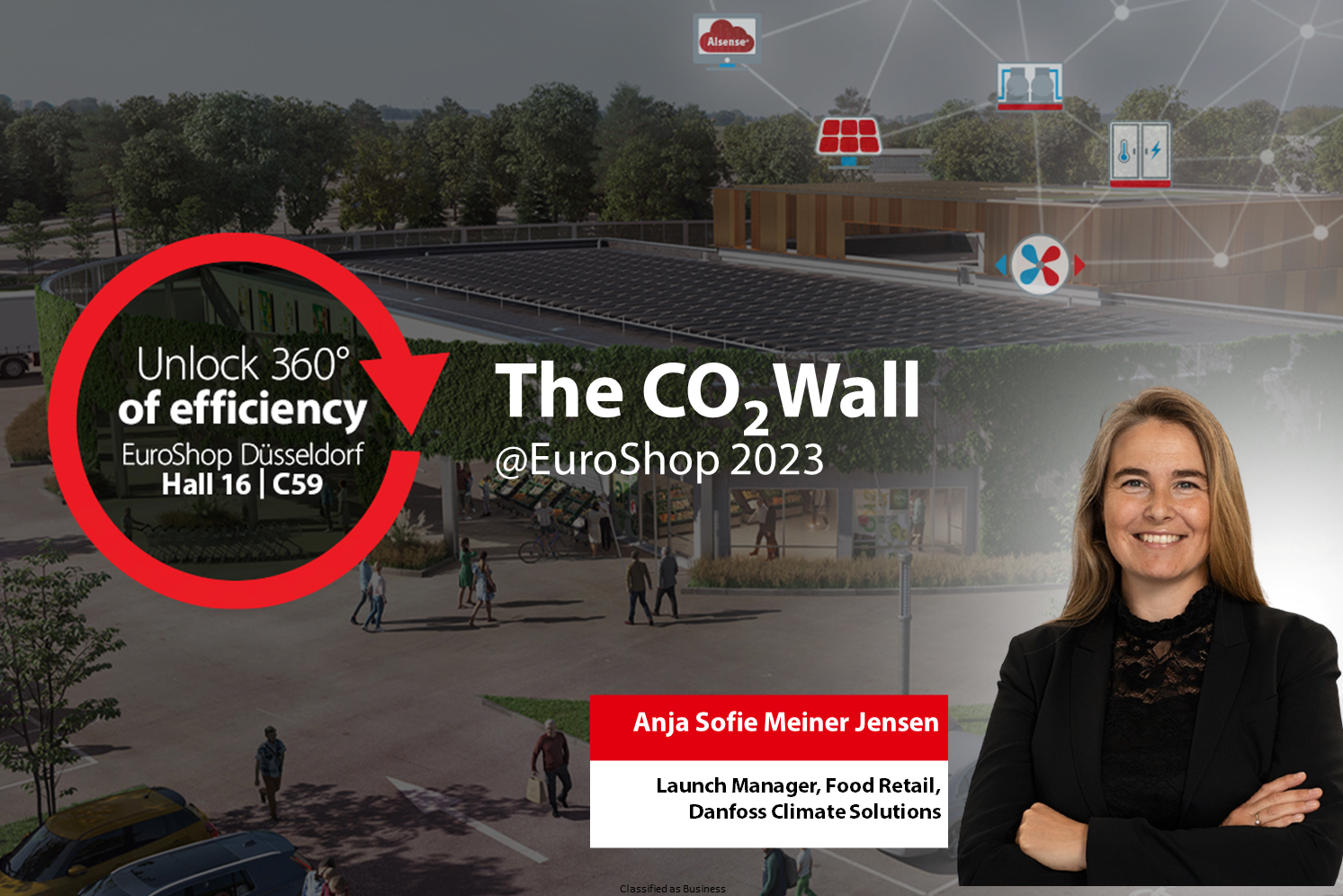 C0₂ refrigeration at EuroShop 2023
Five generations of Danfoss C0₂ refrigeration solutions are on display at #EuroShop2023. Learn how these C0₂ products benefit the environment and create efficiency for retail food professionals.
Watch as our colleague, Anja Sofie, presents an overview and scan the QR code to download our C0₂ handbook and find out more.
Mini Danfoss supermarket — revealed at EuroShop 2023
This is a tiny version of a real Danfoss grocery store, and here at #EuroShop2023, attendees are getting a full tour with AR tour.   
    
In this video, we show how Danfoss solutions can help reduce energy usage and decrease food waste.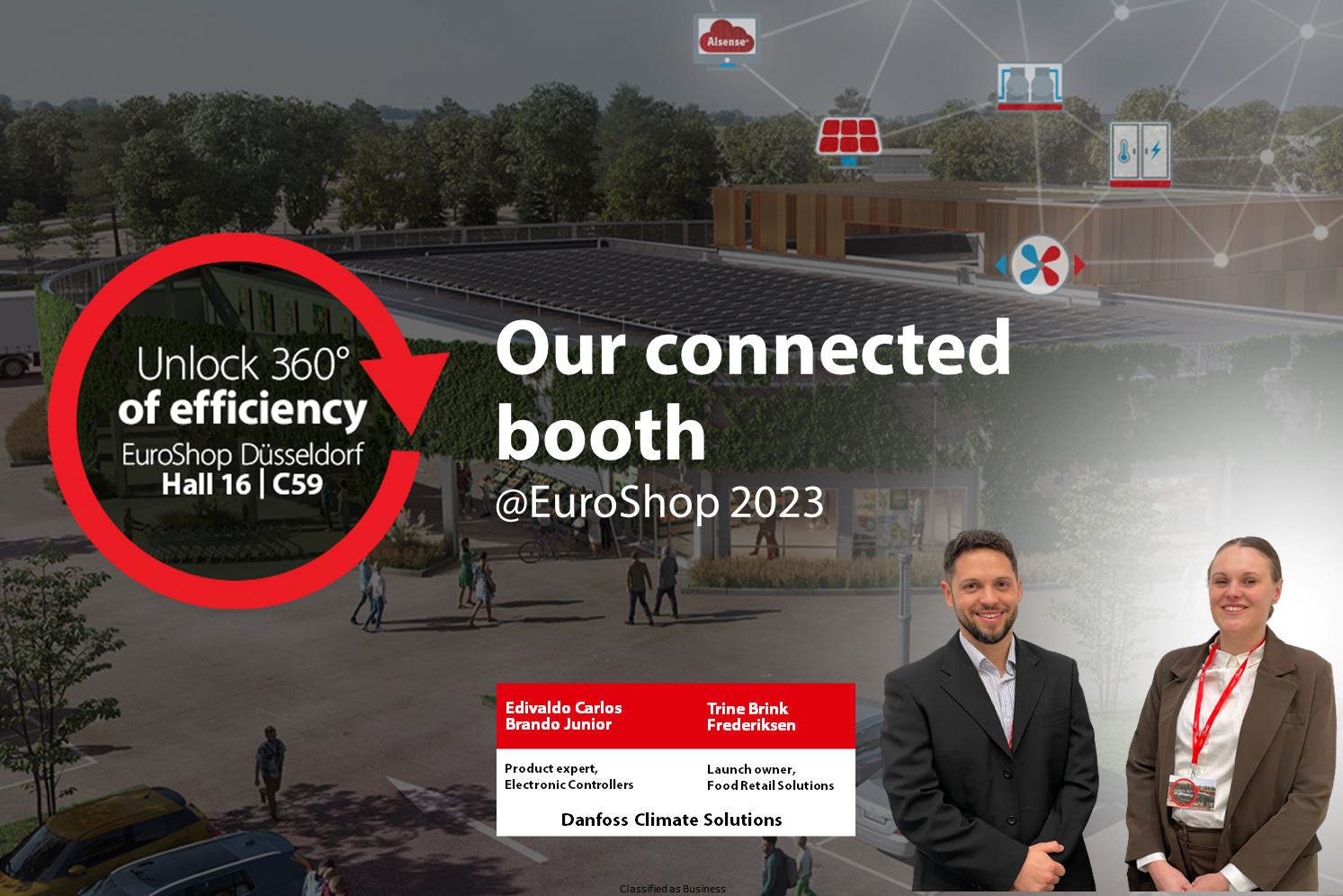 Danfoss System Manager | Connected booth at EuroShop2023
We are operating a fully connected booth to show how Danfoss solutions can create end-to-end efficiency at #EuroShop2023. 
  
In this demo, we show how food retail customers achieve end-to-end efficiency by ensuring their whole system works together with the Danfoss System Manager.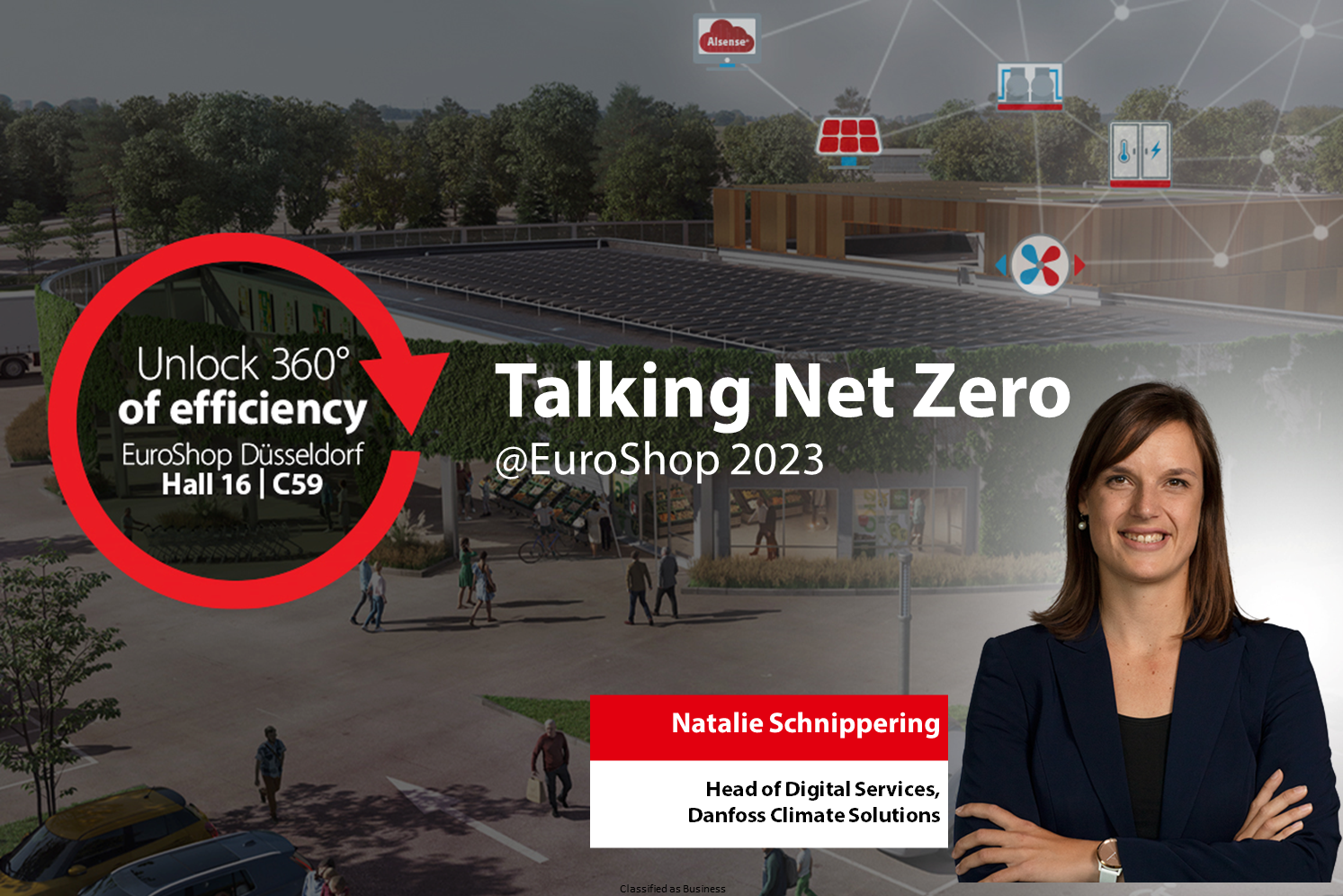 The sky is the limit with connected data | An interview w/ Natalie Schnippering at EuroShop 2023
Natalie Schnippering, head of Digital Services at Danfoss Climate Solutions, keeps hearing one thing at #EuroShop2023 — customers are being asked to do it all. So, how can you save money, improve operations and deliver for the environment without burning out? At Danfoss, we believe that energy efficiency is the one-stop solution to achieving all three.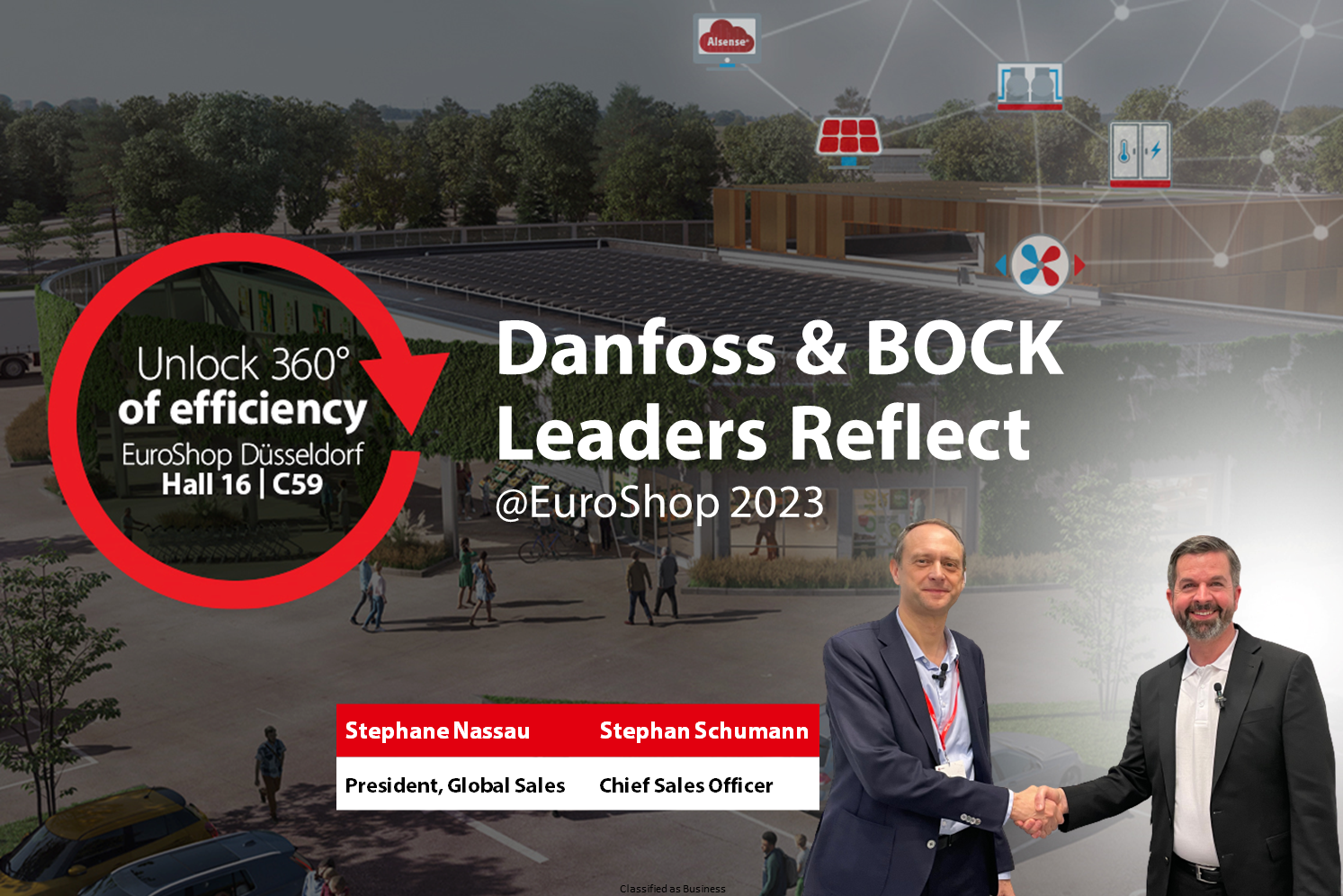 Danfoss acquires BOCK® | What can customers and employees expect?
Danfoss and BOCK® leadership sit down at #EuroShop2023 to discuss why the move is a "natural fit" for customers, and employees.
Danfoss and BOCK® have each been sprinting towards de-carbonization with an aim to help customers on their net zero journeys. Together, the companies' complementary products are coming together to make that journey easier. With BOCK® products, Danfoss can now offer an end-to-end solution... the "full portfolio".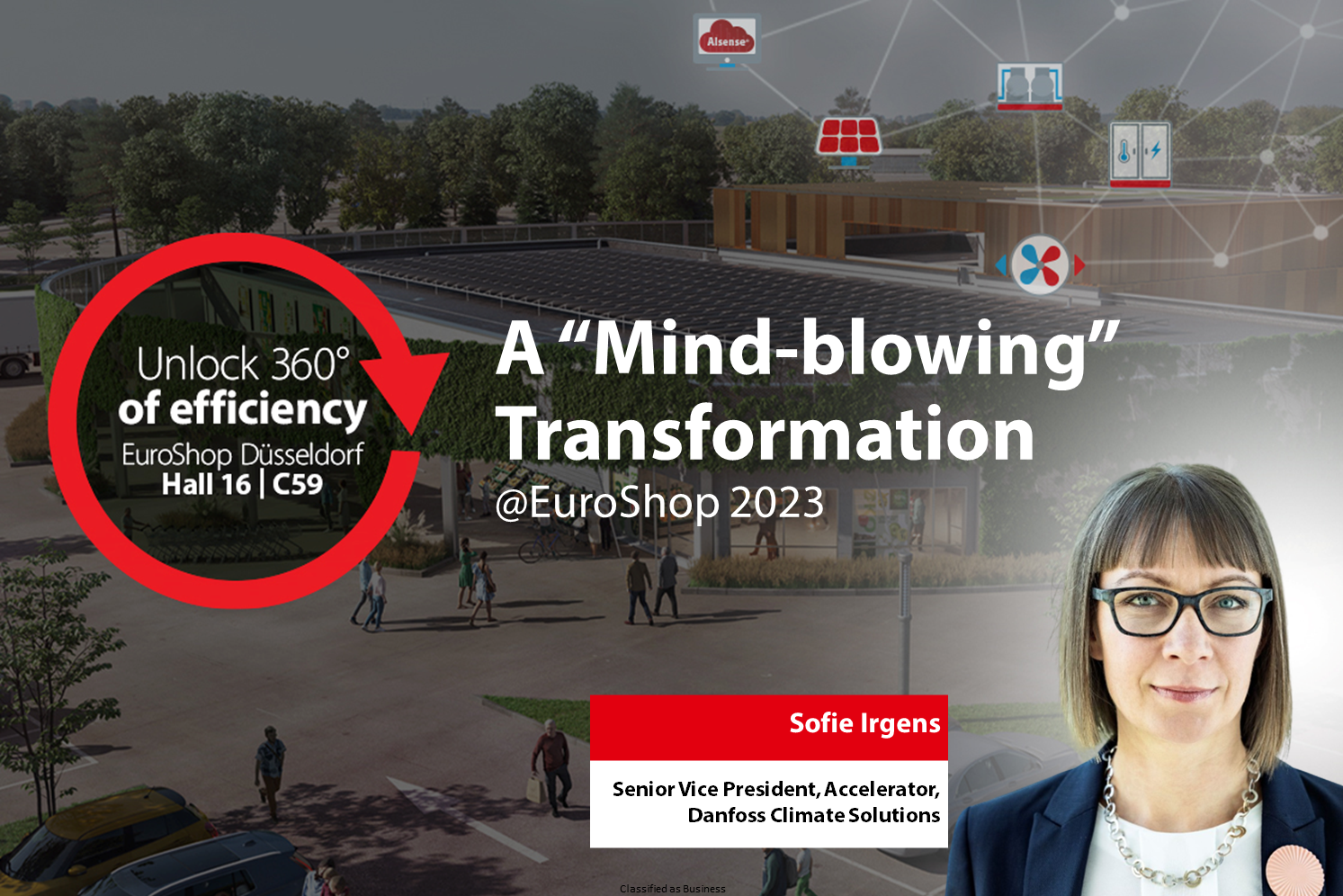 Energy efficiency has "mind-blowing" potential | An interview w/ Sofie Irgens at EuroShop 2023
We caught up with Sofie Irgens at EuroShop 2023, speaking about the difference that energy-efficient solutions can make. As Senior Vice President of the Danfoss Climate Solutions Accelerator division, she is passionate about delivering — not only for customers — but also for the environment.
Talking with customers, suppliers and peers, the conversation keeps returning to one thing — the significant potential that companies like Danfoss and its customers must decarbonize and reach net zero.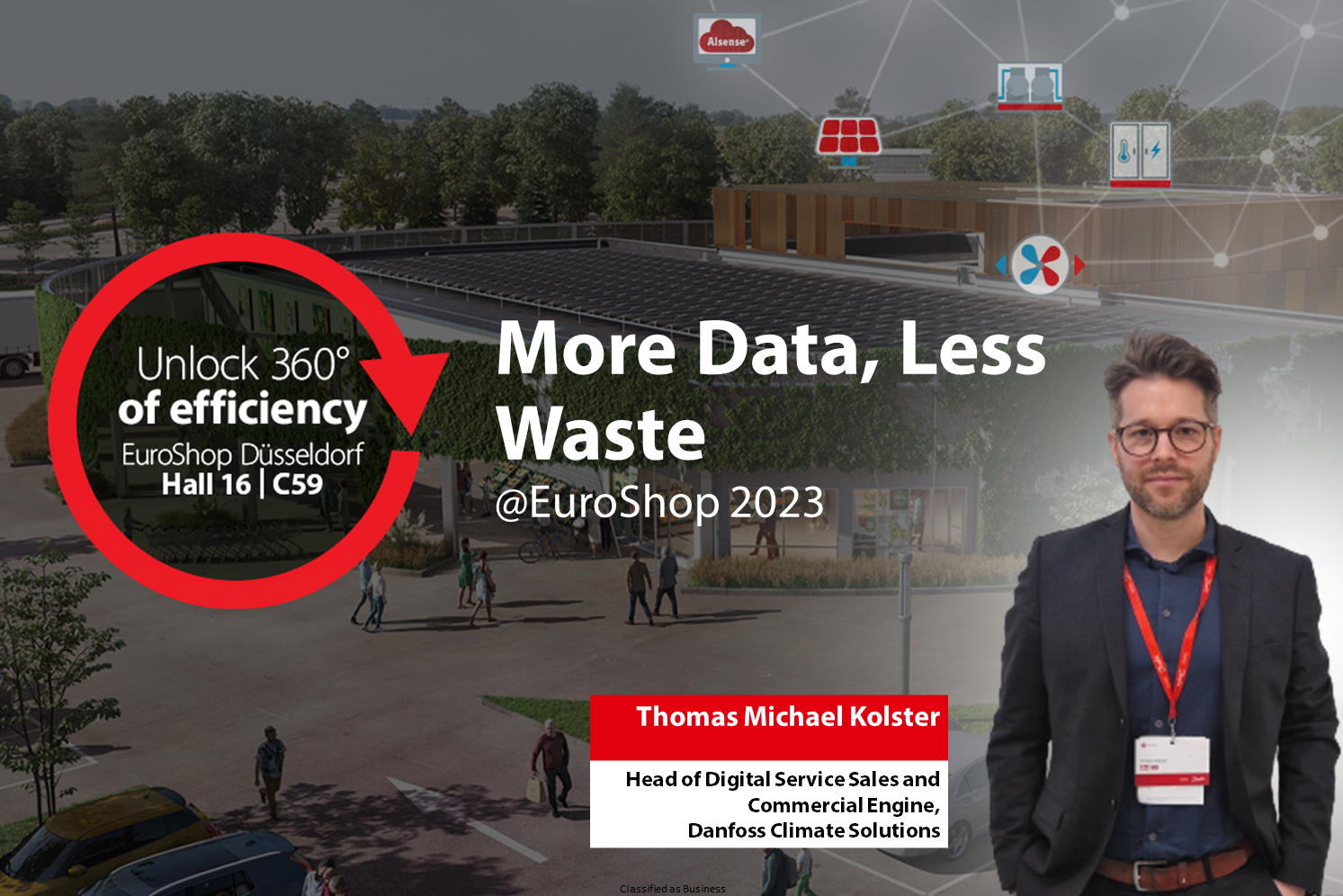 Using AI, IoT and data to deliver surprising savings
We are passionate about a future with less energy waste. Helping our customers get to net zero is a top priority. To talk about how we do that, we asked Thomas Michael Kolste, head of Digital Service Sales at Danfoss Climate Solutions.
Speaking from the #EuroShop2023 booth floor, Thomas shares how the right information, together with energy-efficient solutions, can reduce food waste and energy waste and improve cost and operations.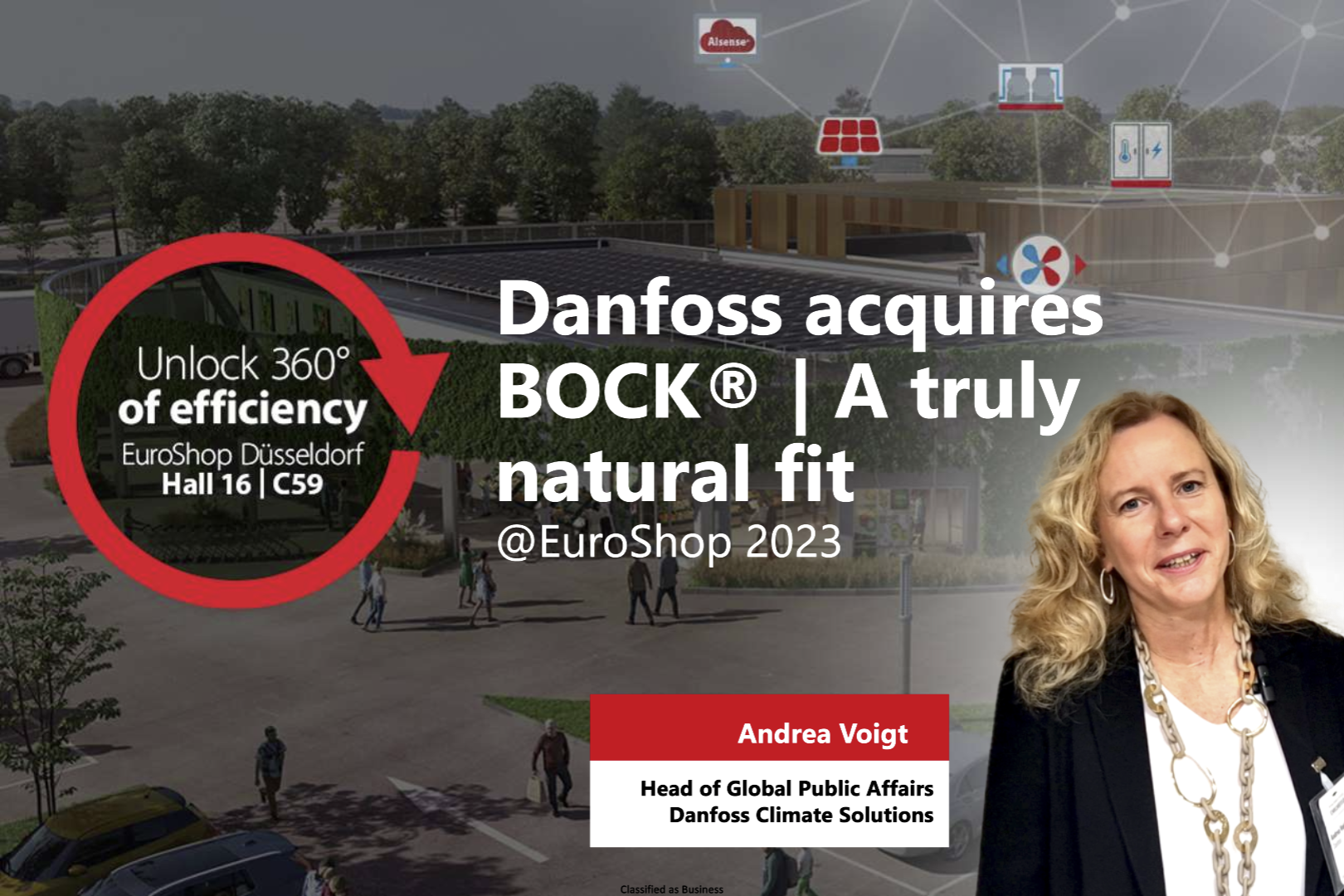 Danfoss acquires BOCK® | A truly natural fit
In this interview, we hear reflections from the Head of Global Public Affairs at Danfoss Climate Solutions Andrea Voigt, right from the floor of EuroShop2023. Danfoss and BOCK® are joining. As these two companies come together, they each bring a rich history, and strong family cultures make for a natural fit.
Under the Danfoss umbrella, now with BOCK® products, customers have access to an end-to-end solution, including natural CO2 refrigerant solutions.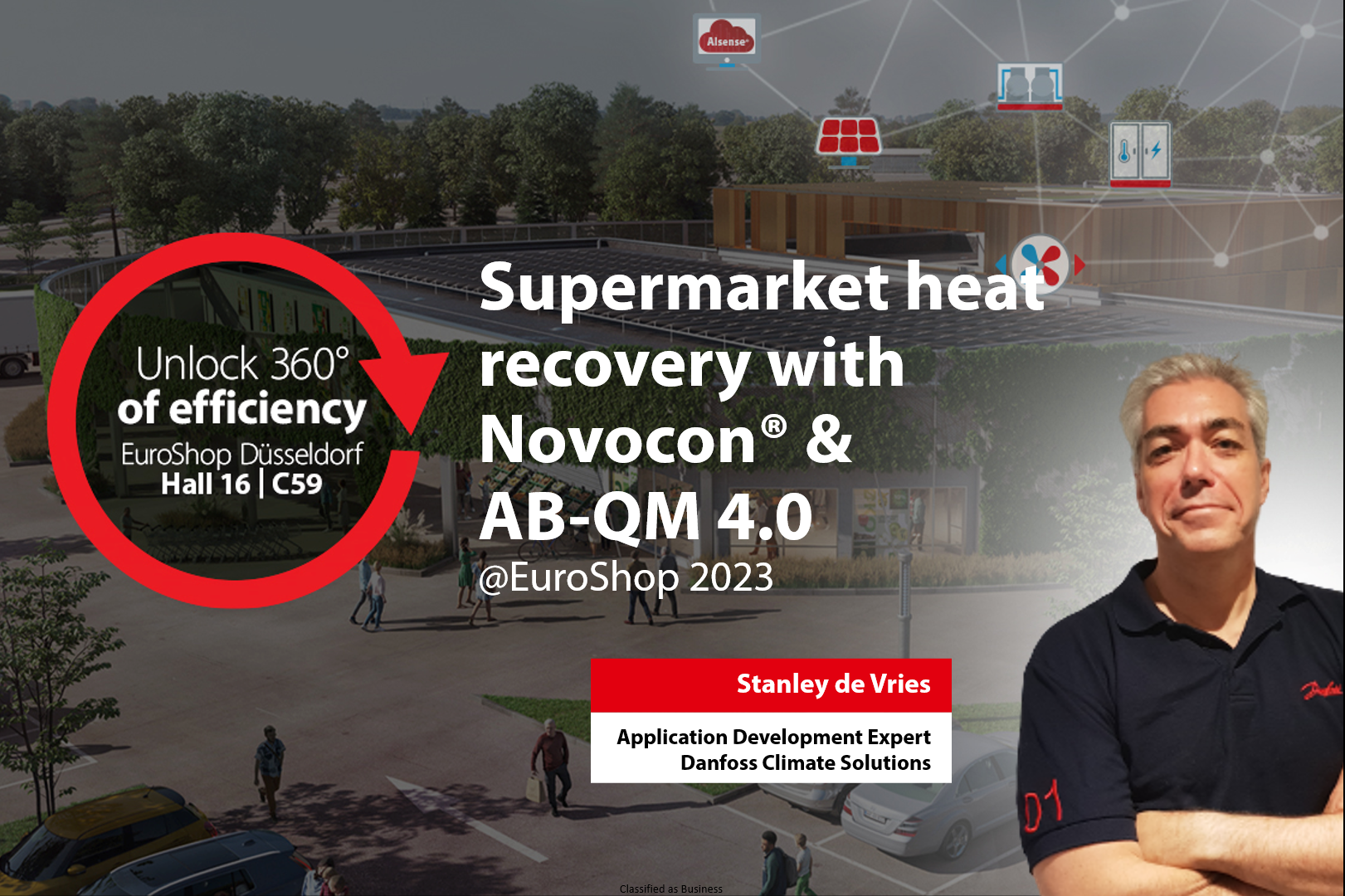 Supermarket heat recovery with Novocon® & pressure-independent valves
In the winter, supermarkets use hot water to power their refrigerators, but that energy often disappears in the air. Instead, it could be used to heat the building, thanks to pressure-independent valves from Danfoss and NovoCon®.
In this in-depth demo, we meet Danfoss applications expert, Stanley de Vries, who shows how it is possible to re-use this heat, thanks to Danfoss heat-recovery solutions.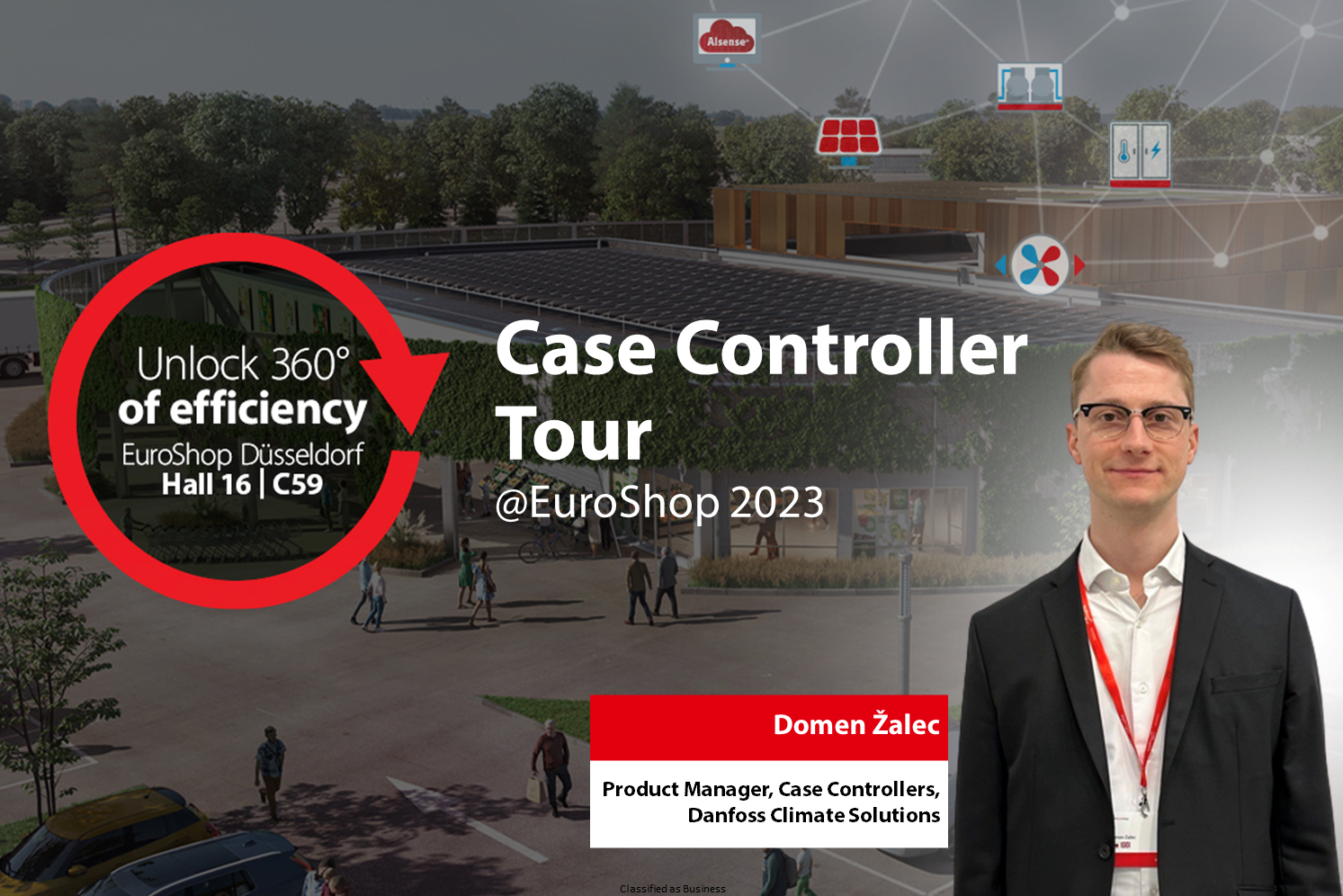 The Danfoss display-cabinet solution — in 3 minutes
ADAP-KOOL® case controllers are the leading solution for supermarket display cases. In this #EuroShop2023 booth tour, expert Domen Zalec explains the products and technology behind Danfoss case controllers. He covers everything from waterloop controllers to solutions that connect plug-in cabinets to the rest of your store.
In this tour, you will take a look at the four control strategies that power our control algorithms. In simpler terms, these algorithms are the brain behind your display cabinet, and they help fuel energy savings in supermarkets.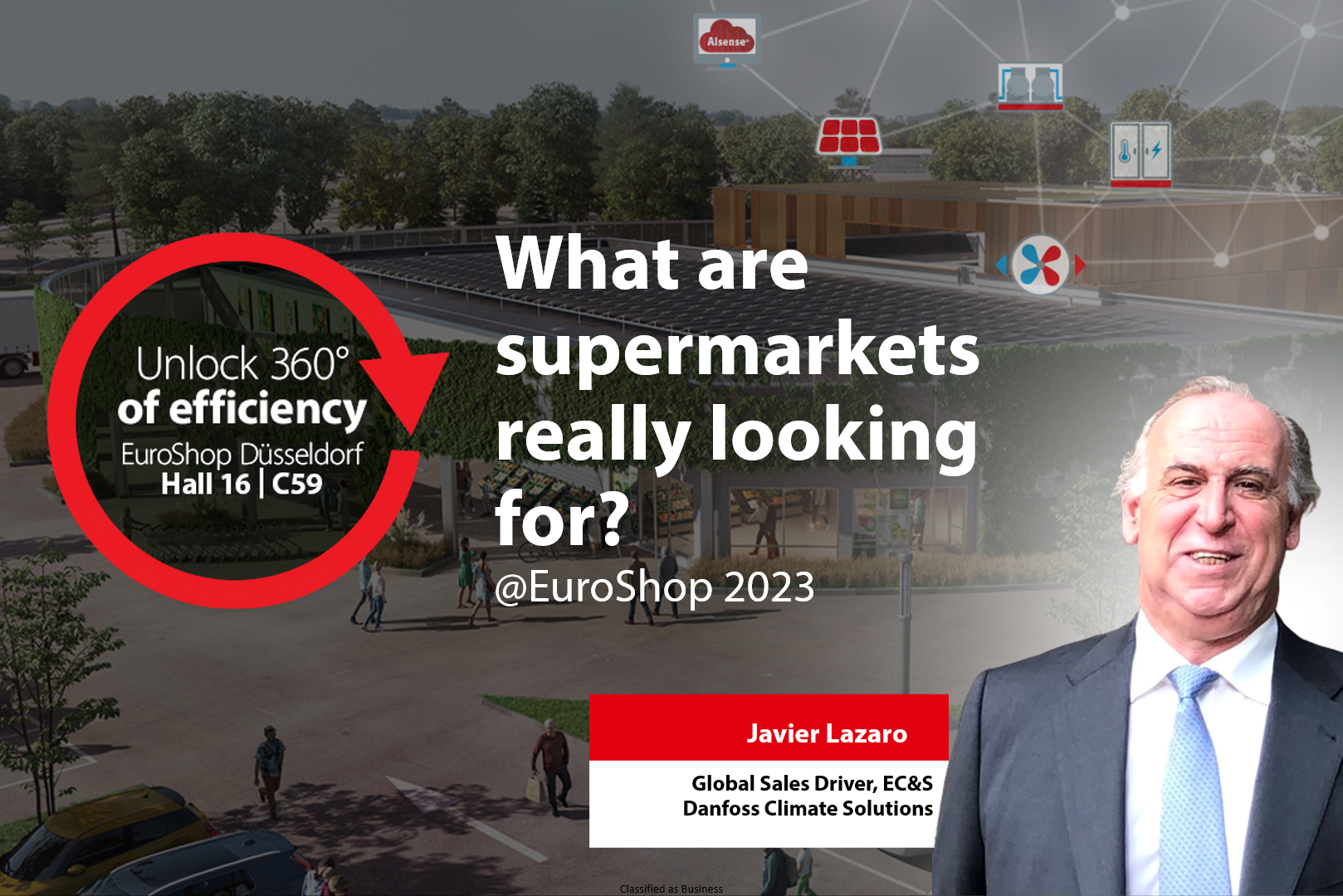 What are supermarkets really looking for? It's not just heat recovery
We wanted to hear the customer's perspective, so we talked with Javier Lazaro from Global Danfoss sales. Speaking from #EuroShop2023, Javier told us that supermarkets are looking at heat recovery.
Many supermarkets are choosing innovative CO2 solutions that contribute to (and evidence) their net-zero journey.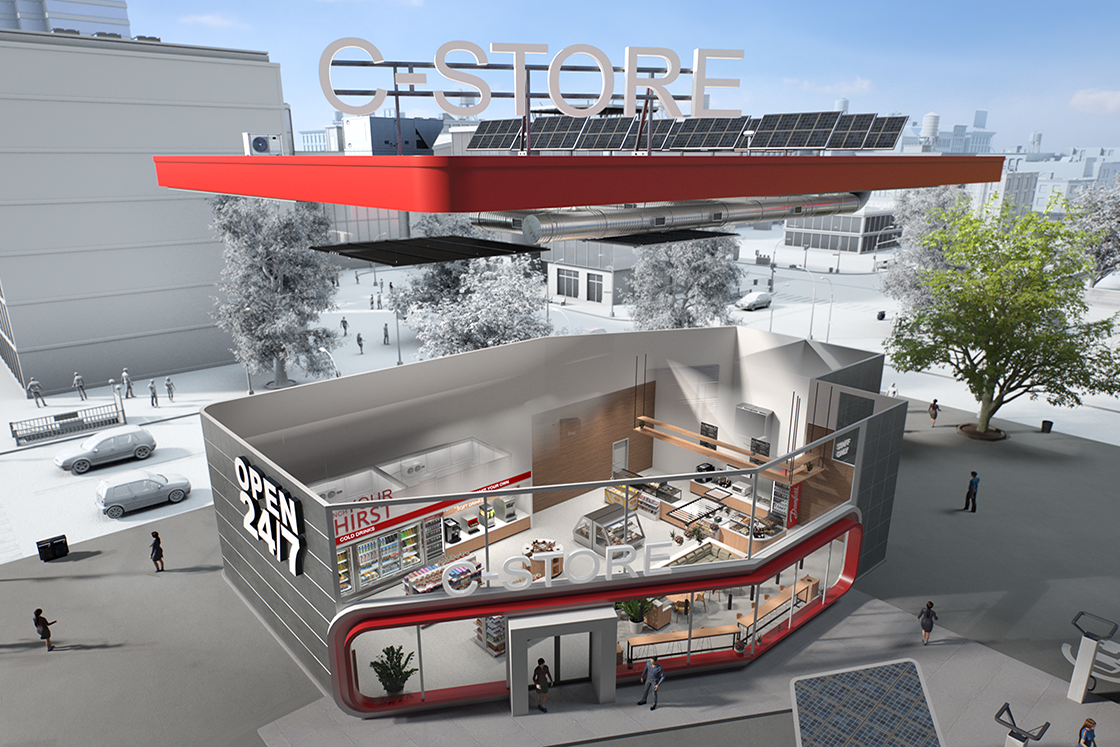 Small store solutions
Today's convenience stores are looking to differentiate, expand into food service, and drive shopper engagement within an increasingly digital ecosystem—all while reducing operational costs and supporting the green agenda. We're here to serve you up an extra helping of convenience with Smart Store To-Go—plug-and-play energy and monitoring solutions for c-stores.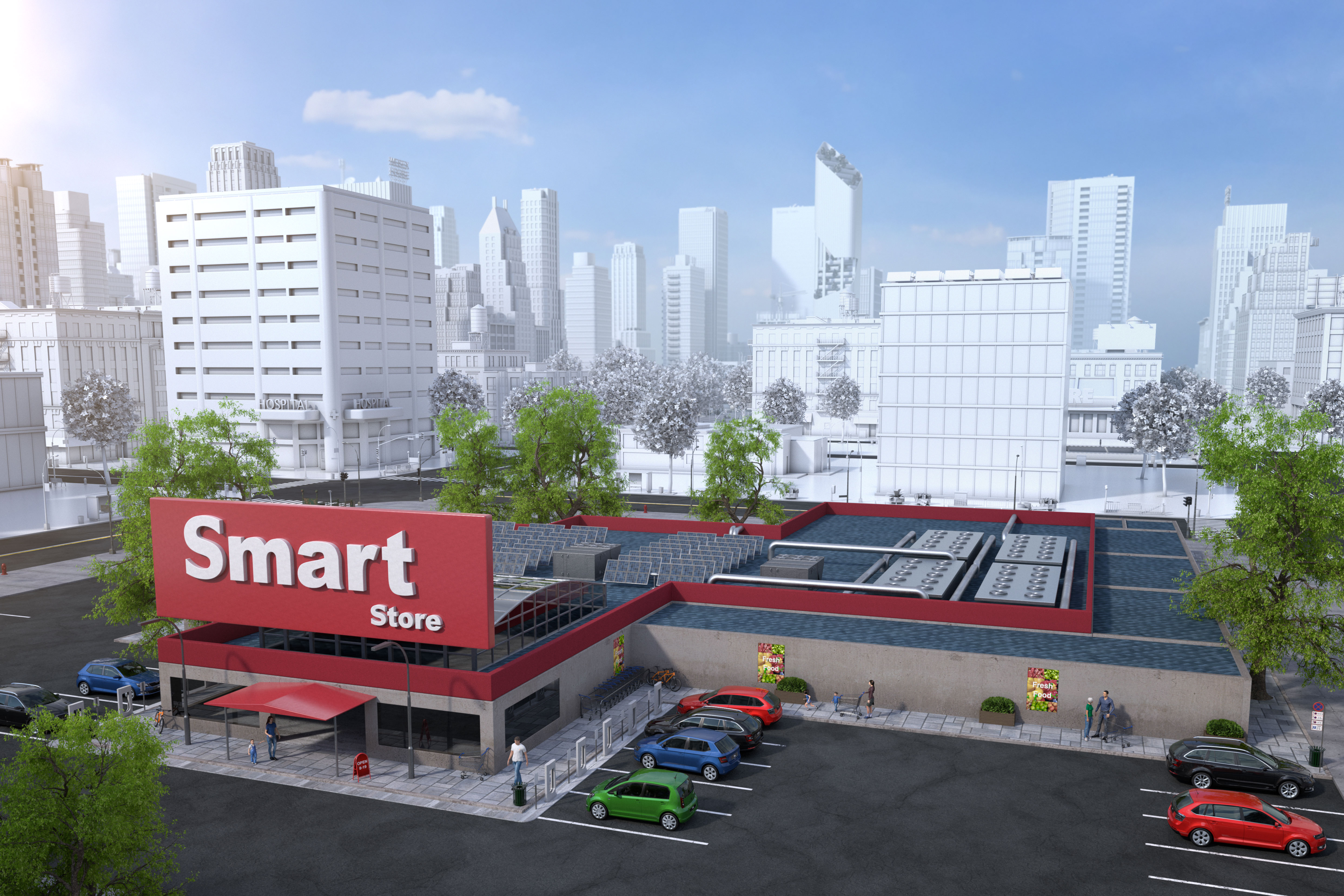 Smart store
Danfoss Smart Store solutions help build the supermarkets of tomorrow by reducing costs, minimizing environmental impact, and finding a competitive advantage, while safeguarding food safety. Every day, we are dedicated to making your store just a little smarter. 
Our solutions are developed in close cooperation with the global food retail community.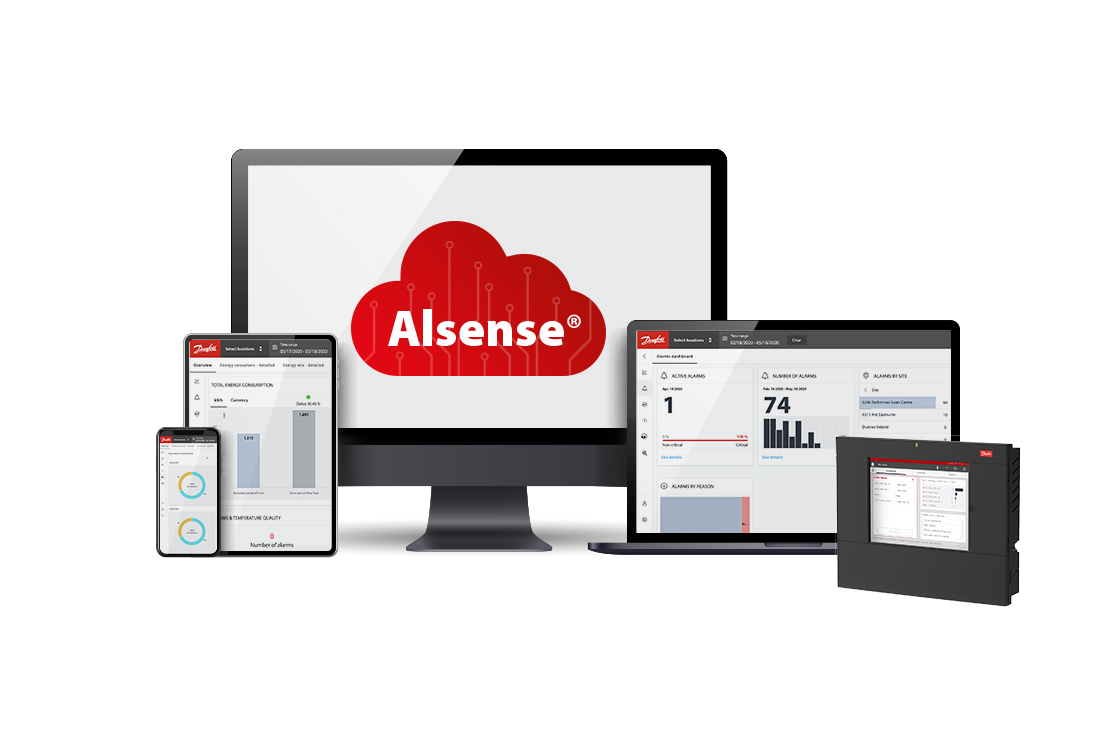 Alsense Managed Services
Boost your business and waste less food, energy and time. Our Alsense Food Retail Services are engineered to provide you with actionable insights — improving operational efficiency, asset performance and energy efficiency with intelligent data on an IoT cloud platform. This means you spend less on energy and operational costs.
Take a tour through our solutions
Dive into Danfoss applications and solutions shown at EuroShop.

Go from overview all the way to product details.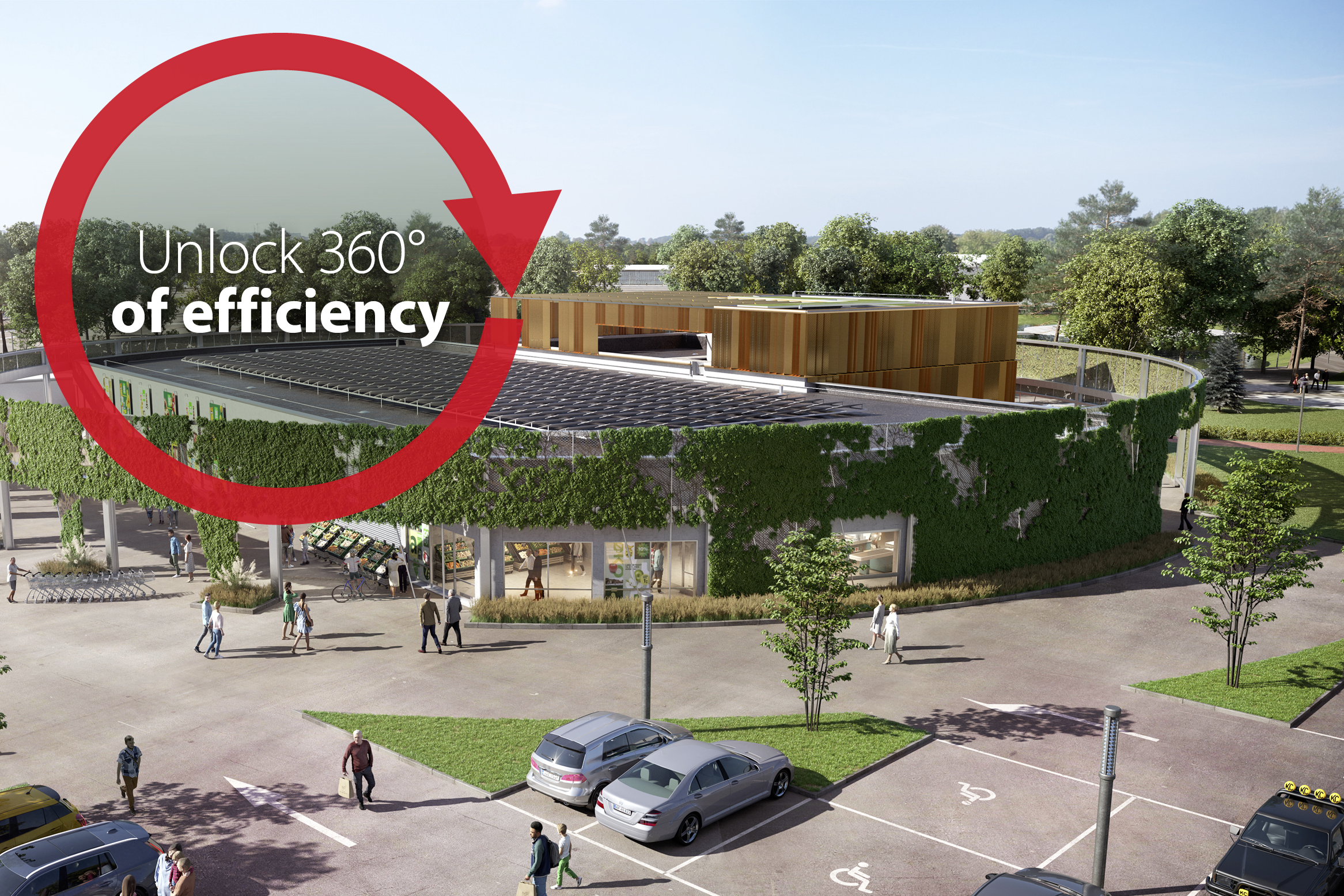 Danfoss at EuroShop 2023: Unlock 360º of efficiency
We're pleased to announce our participation at EuroShop 2023, from February 26–March 2, 2023, in Düsseldorf, Germany. From small stores to hypermarkets, and from the sensor to the cloud, we're helping our food retail customers achieve end-to-end efficiency with products and solutions that unite heating and cooling systems to reduce your energy bill, heat loss, and food waste.