District Energy Academy by Danfoss

Season 1 completed with your support - thank you!
600+ attendees
8 topics in 15 sessions
10+ guest speakers
District Energy Academy by Danfoss brings together experts, customers and young professionals interested in district energy. In a series of online events and webinars, we would like to help you stay on track with trends, challenges and solutions. 
Today, the district energy sector is facing big challenges, but numerous opportunities lie ahead as well. The sector plays a major role in the Paris Agreement as it is acknowledged as one of the enablers of decarbonization process. District energy is also part of trends such as the sector integration, the circular economy and the digitalization.
The challenges are more on the district heating utilities' side and are mainly connected to integrating various of renewable energy sources, providing more transparency and new services to customers as well as the constantly expanding district energy network that has to be optimized and refurbished.
Only together we can achieve the goals towards greener future. That is why we would like to bring customers, experts and professionals together in what we call District Energy Academy by Danfoss.
Why should you join the District Energy Academy?
By taking part in District Energy Academy, you will:
Learn more about district energy and how it works
Discover more about its potential to tackle climate change and reduction of CO2 emissions
Find out why district energy is a resilient infrastructure that brings energy security and robustness in cities
Get to know the latest trends and state-of-the-art solutions
Gain insights and broaden your district energy knowledge
Whether you are interested in industry challenges and solutions or would like to know more about the latest products - we got you covered!
You can join District Energy Academy by:
Registering below (see topics) and attending the interactive webinars with presentations of solutions, real-life projects, and demonstrations (all webinars are conducted in English)
Subscribing to a monthly newsletter with key updates, info on events, and other relevant industry news
Webinars on demand
Did you miss our previous webinars or would you like to watch them again? Take a look at the sessions below and click to watch the recording - whenever most suitable for you.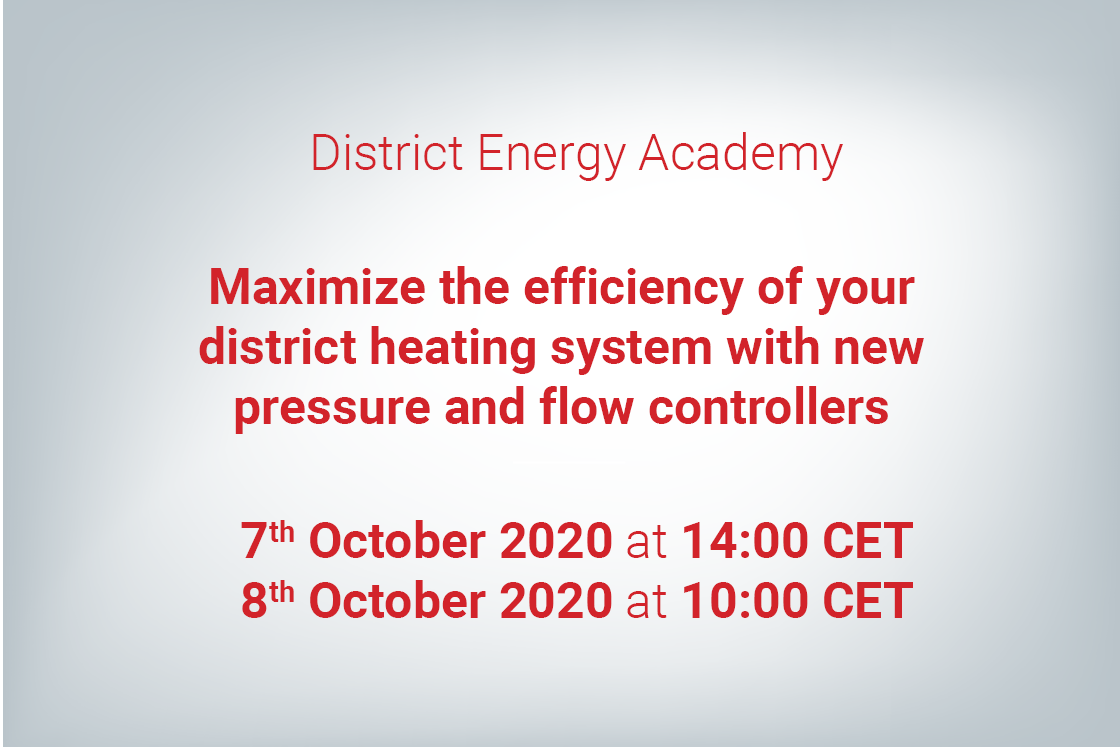 Webinar #1 | Maximize the efficiency of your district heating system with new pressureand flow controllers
The key to maximize efficiency, save energy and money for district energy companies, is optimal hydronic balancing and perfect temperature control. Our experts will present a new range of intelligent controllers Virtus that offer autonomous temperature optimization, best-in-class flow control and remote district heating network balancing. Join us to see how new intelligent functionalities work in practice on demo panel and learn more about the German utility where temperature oscillations are detected and eliminated within minutes.
Webinar #2 | How to increase district heating system efficiency through return temperature optimization
Optimization of the differential temperature can lead to considerable energy and financial savings. At our webinar, you will find out more about saving potential in district heating and cooling networks. Our experts will present the influencing parameters and their impact on the temperature optimization. By sharing insights from a project in Sweden, you will be able to see the effect of proper temperature control.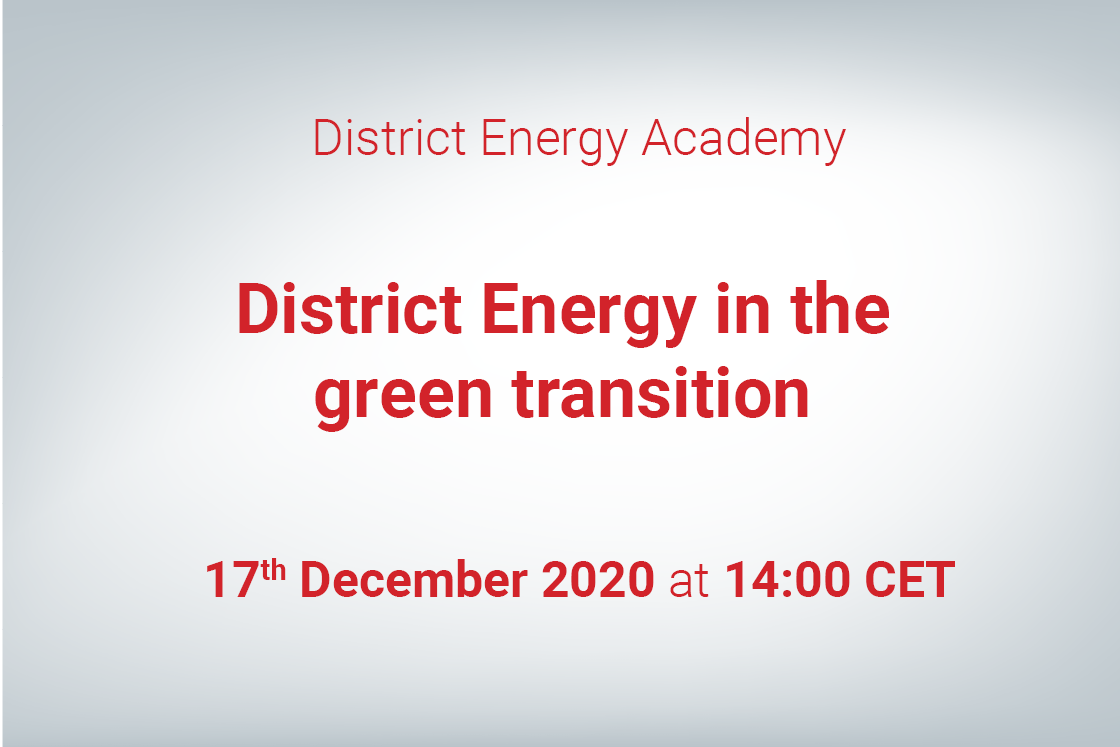 Webinar #3 | District energy in the green transition
District energy and energy efficiency are to play a key role in the green transformation. Studies show that a 50% district heating share (up from today's 12%), together with sector integration, can save 13% primary energy and almost 70 billion EUR per year, compared to a conventional energy system.
To live up to this potential, the district energy sector will itself undergo a transformation. Join our webinar and hear industry experts share their views on the potential of district energy in the green transition, discuss the challenges and benefits that come with it, explore the promises of digitalization and look into the future of district energy.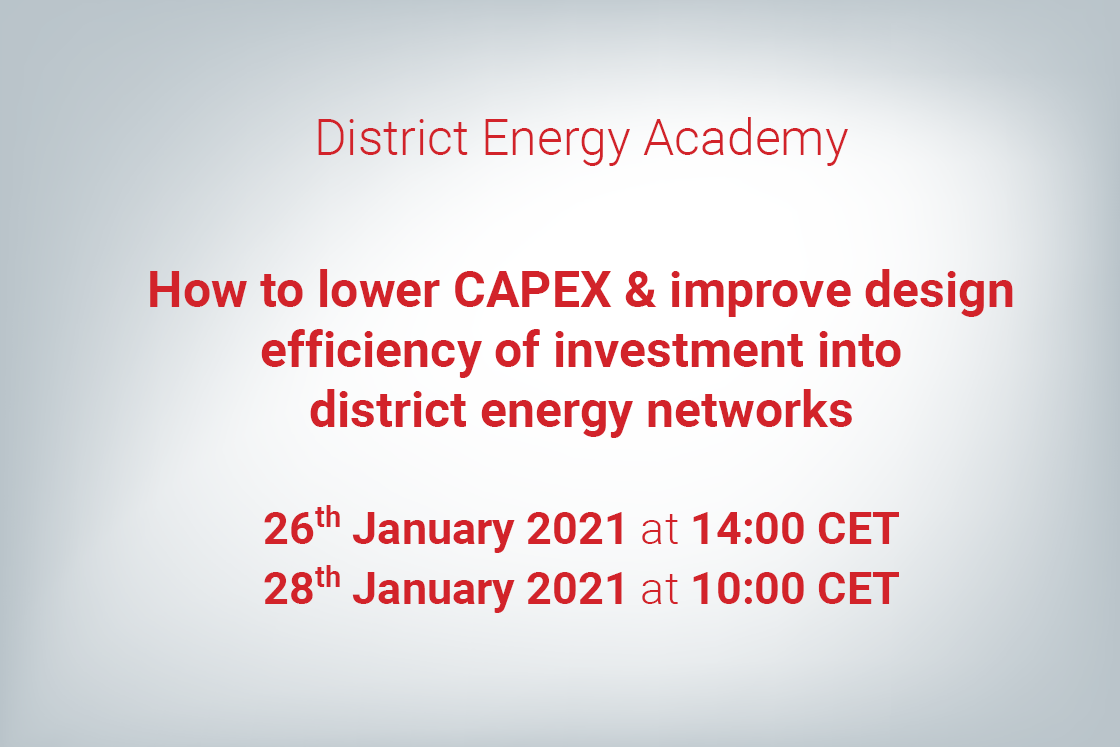 Webinar #4 | How to lower CAPEX & improve design efficiency of investment into district energy networks
Join the webinar where our experts will demonstrate how you can benefit from the new thermo-hydraulic modeling tool. Supported with firsthand experience by our customers, we will share real-life scenarios on how to:
• Efficiently build network models for feasibility studies
• Plan and optimize network extensions and renovations
• Use real-time network model as operational support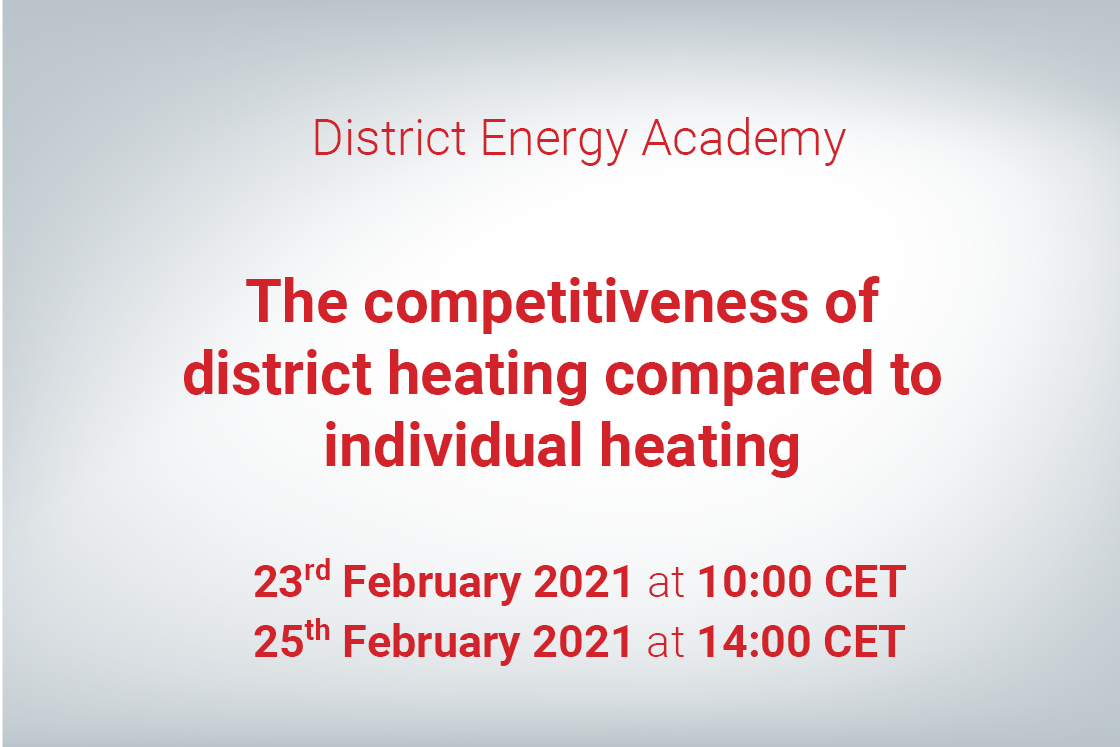 Webinar #5 | The competitiveness of district heating compared to individual heating
A study by Danish think tank »Green Energy« confirms that district heating is a cost-effective heating solution even as more and more buildings are being built, or renovated, according to low-energy standards. Join the webinar and learn more about why district energy is a future proof solution, a highly competitive or in fact the most competitive solution to provide green and sustainable heating.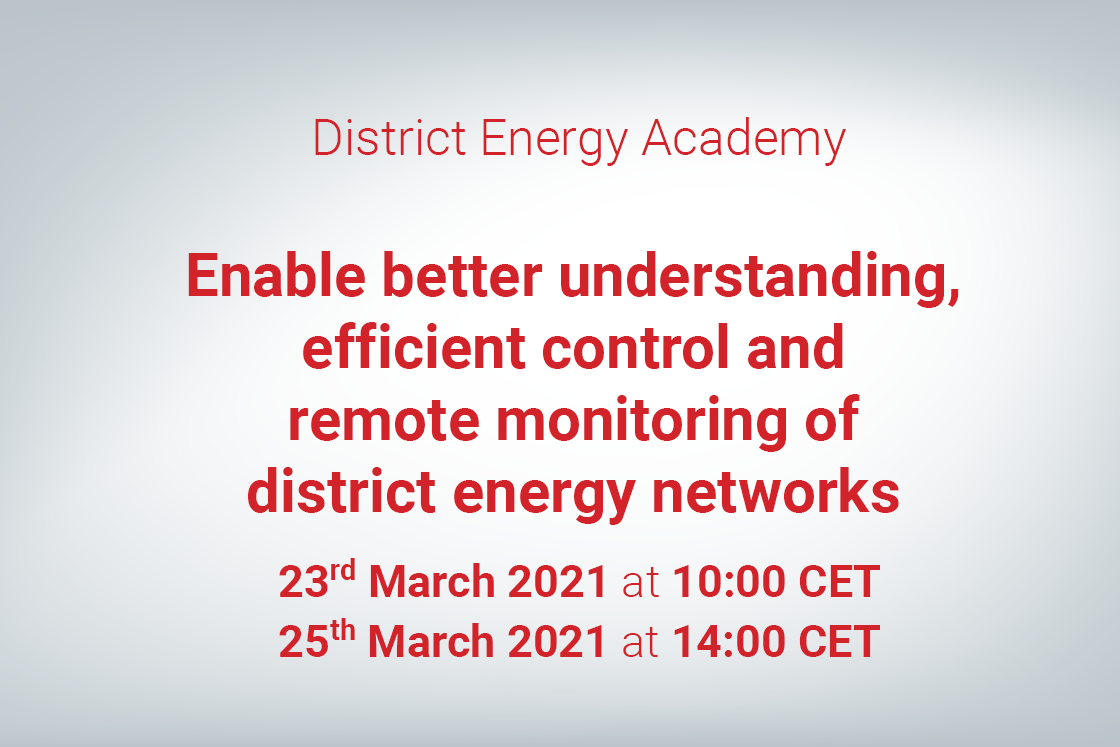 Webinar #6 | Enable better understanding, efficient control and remote monitoring of district energy networks
Are you a system integrator, installation engineer, or managing and operating a district heating system? Then this webinar is perfect for you!
A reliable and stable control & monitoring solution brings you a cost-effective and energy-efficient management of your district energy system.
Monitoring and control solutions are important for district energy as they enable easy integration with business intelligence and optimization solutions, are always up-to-date with a clear and customizable interface, and offer lower investment with predictable operating costs.
Join us at the webinar, where our experts will present the Leanheat® Monitor and conquer the next step in the changing world of district energy.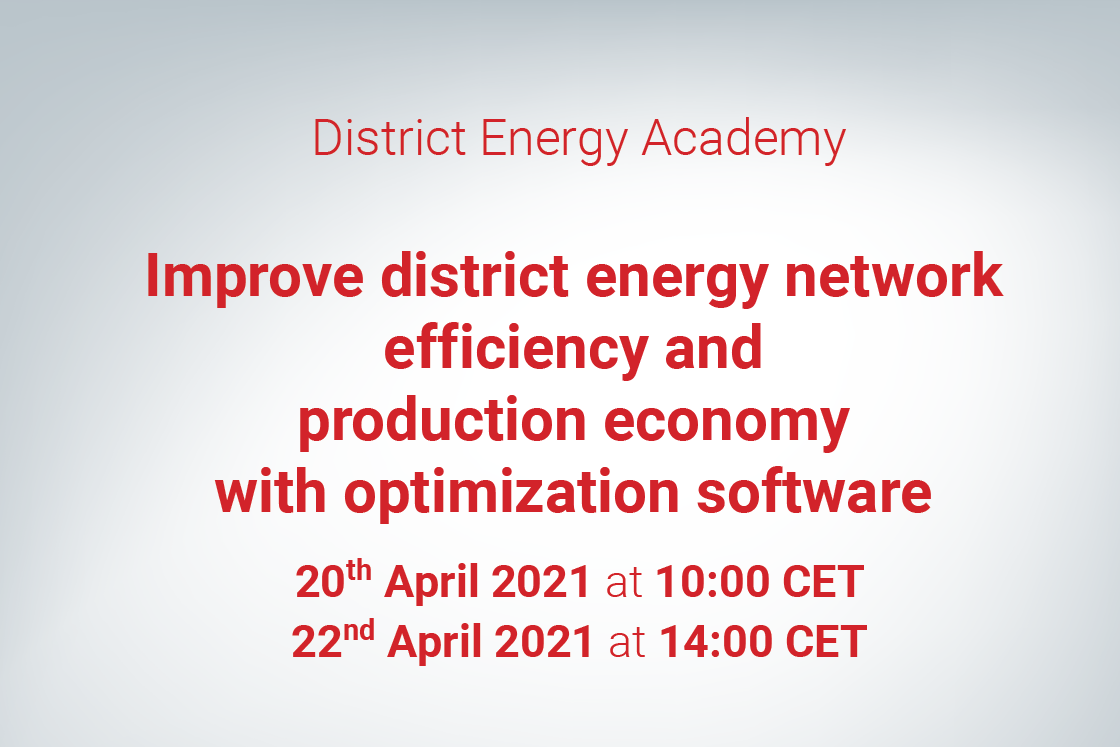 Webinar #7 | Improve district energy network efficiency and production economy with optimization software
Join the webinar where our experts will demonstrate how you can benefit from the new thermo-hydraulic simulation & data-based optimization solution.
Together with our customers, we will share real-life scenarios on how to:
Improve overview and understanding of your network state using real-time thermo-hydraulic simulation,
Plan and execute maintenance and intervention works more efficiently,
Optimize thermo-hydraulic operating parameters, like network supply temperatures and pumps, to improve efficiency and save primary fuel and electricity costs.
Webinar #8 | Economic comparison of 4th and 5th generation district heating systems
District energy stands out as the most cost-effective and energy-efficient pathway to achieve decarbonization. But which district energy generation is the most suitable solution for your city and your system? That depends on several parameters.
We made a study that compares the 4th vs. 5th generation and explores the most effective solution. Join us at the webinar to find out more about the research:
• How does the current best technology, 4th generation, compare to the new generation arising?
• How do the technologies compare when taking resilience, robustness, and flexibility into consideration?
• What are the benefits and limitations of each generation?
Other interesting events and relevant touchpoints

District energy on a podcast? Tune in!
On our brand new District Energy Insights podcast channel, we are presenting you the podcast mini-series, Decarb Districts.
We explore the role of district energy in the European green transition. Our host Susanne Tull, Senior Manager Public Affairs at Danfoss, is joined by leading specialists and visionaries across the energy sector who share their views and ideas around 5 topics ranging from digitalization to energy planning. 
Our partners and industry organizations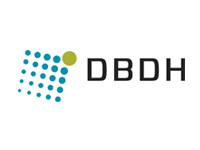 DBDH (Danish Board of District Heating)
DBDH is Denmark's leading district heating export organization.
DBDH's mission is to promote district energy for a sustainable city transformation. We represent the leading actors of the district energy sector, and identify, inform and facilitate partnerships between our members and partners in more than 70 countries. Through co-operation, DBDH strengthens the export of Danish technology and knowledge, consequently providing a brighter future for the environment globally while creating jobs and growth.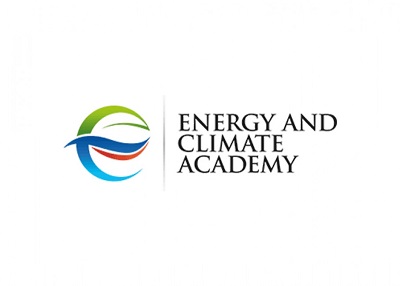 Energy & Climate Academy
Energy and Climate Academy, ECA, is an independent and international post-graduate educational center specializing in energy, climate, and environmental matters.
ECA is offering post-graduate education in cooperation with leading universities, companies and organizations.