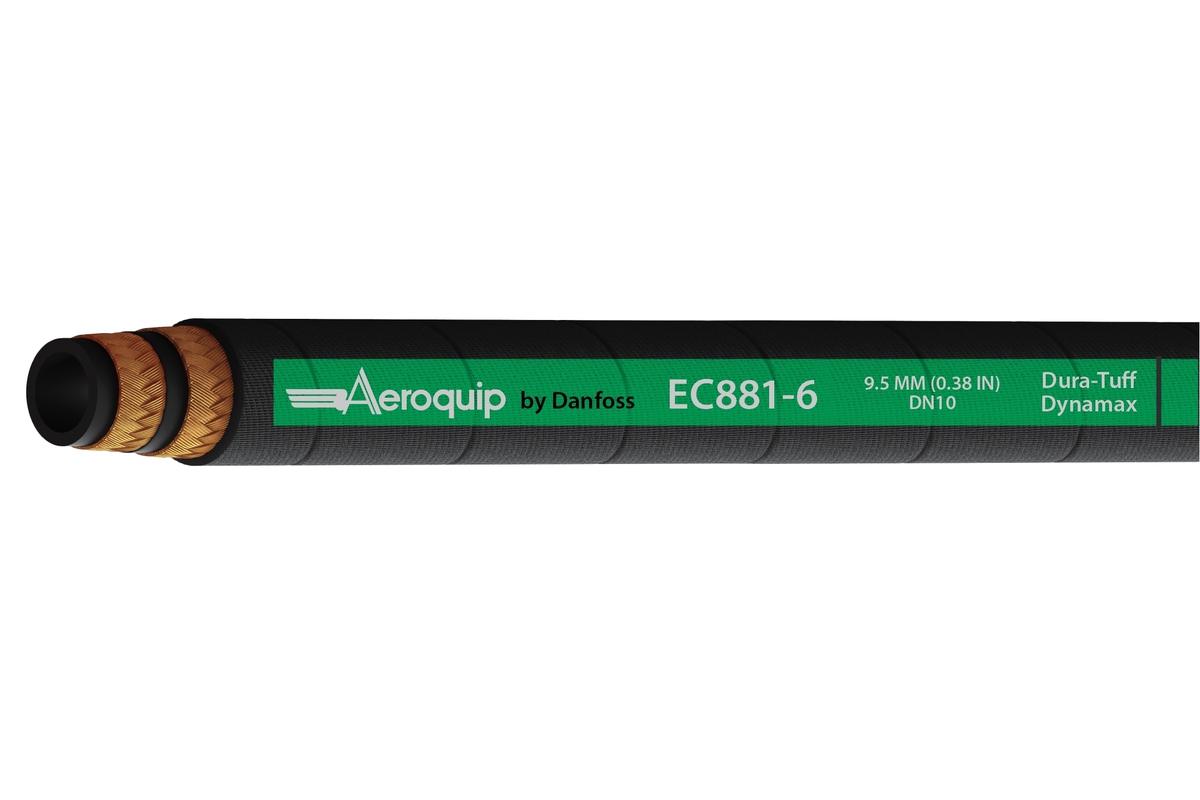 EC881 hose offers the best combination of pressure performance, flexibility, and lifetime among two-wire braided hoses on the market
When used in typical EN 857 type 2SC hose applications, EC881 hose increases reliability and extends service life
EC881 hose can replace spiral hoses in certain applications, reducing costs and increasing flexibility
NORDBORG, Denmark – Danfoss Power Solutions, a leading global supplier of mobile and industrial hydraulics as well as electric powertrain systems, has launched its Aeroquip by Danfoss EC881 Dynamax hose. This two-wire braided hose offers higher reliability and extended service life, reducing maintenance time, costs, and waste.
EC881 hose outperforms standard EN 857 type 2SC hose specifications with a 35% higher pressure rating, 26% higher operating temperature, eight times more abrasion resistance, 67% greater flexibility (⅓ SAE bend radius), and five times more impulse life (1 million qualified impulse cycles). These benefits are enabled by Danfoss' patented Dura-Pulse™ inner tube technology, patented hybrid wire braid reinforcement, and Dura-Tuff® cover.
"A hose's working pressure, flexibility, and lifetime are key selection criteria for original equipment manufacturers. But any improvement in one factor typically weakens another factor. With our EC881 hose, we've optimized the tube, reinforcement, and cover layers to deliver the highest across-the-board ratings among EN 857 type 2SC hoses. OEMs no longer need to compromise — they can have the hose with the best pressure, bend radius, and impulse cycle performance," said Scott Bauman, product manager, rubber hydraulic hose and fittings, Danfoss Power Solutions.
With its higher pressure capabilities, EC881 hose can replace heavy, rigid four-wire spiral hose in certain applications, providing a direct cost savings of up to 30% as well as several design benefits. Braided hose is much more flexible than spiral hose, which may enable OEMs to reroute and reduce hose assembly lengths, contributing to further cost savings. Braided hose is also lighter in weight than spiral hose, which reduces the overall weight of the machine, improving fuel efficiency.
Aeroquip by Danfoss EC881 Dynamax hose is available in -4 through -24 sizes (0.25-inch to 1.5-inch inner diameter). The hose is ideal for a variety of applications, including compact construction equipment, agricultural equipment, forestry equipment, mining, oil and gas, refuse trucks, aerial lifts, and railway.
To learn more, visit the Aeroquip by Danfoss EC881 Dynamax hose webpage.