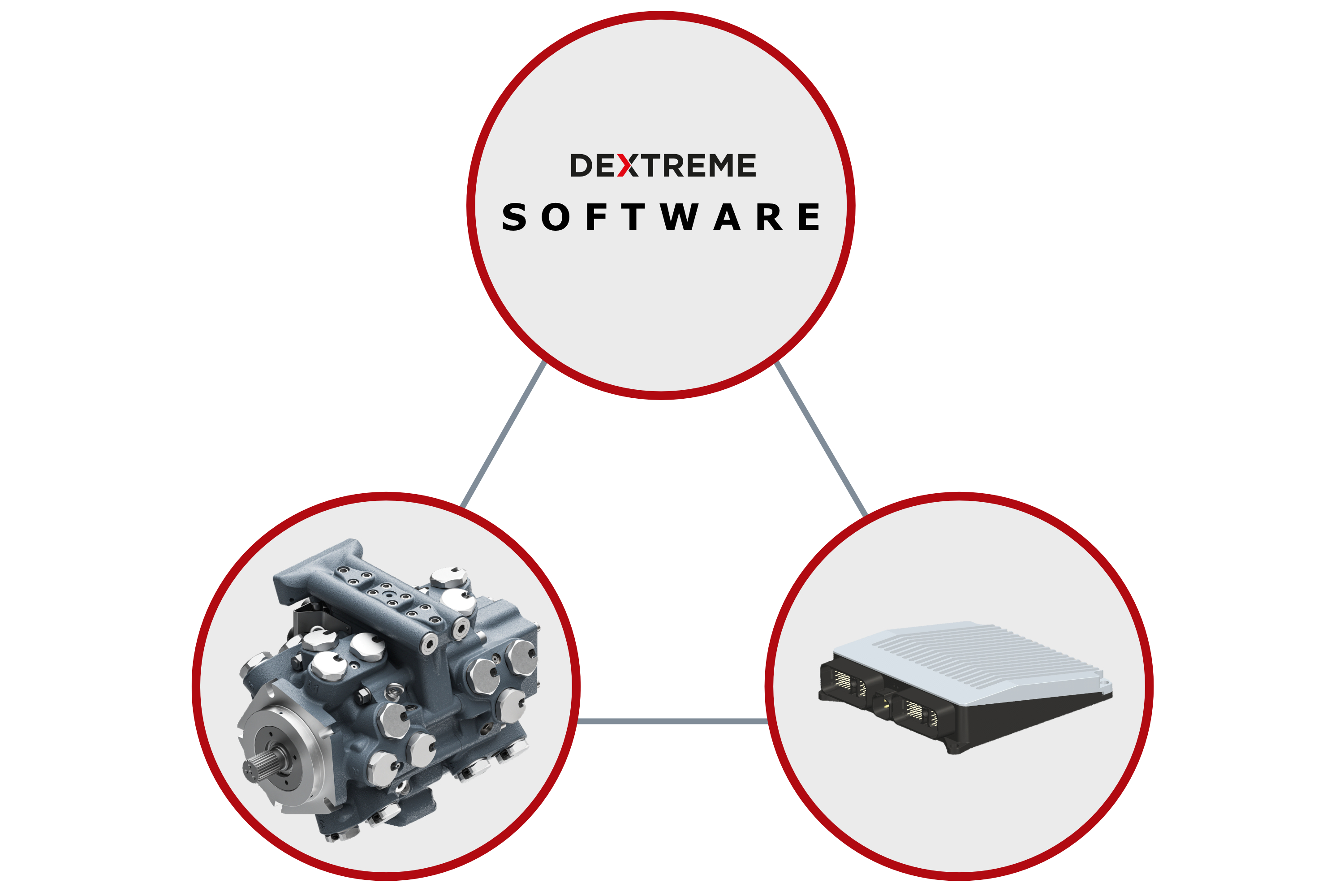 • Dextreme systems pathway consists of three levels — Swap, Flex, and Max — and is predicted to deliver up to 50% fuel savings
• Dextreme Swap, the simplest system configuration offering 15% fuel savings, is now available
• Dextreme systems can be implemented in any fuel-burning or electrified-drivetrain excavator
NORDBORG, Denmark – Danfoss Power Solutions, a leading global supplier of mobile and industrial hydraulics as well as electric powertrain systems, has launched its Dextreme systems pathway for excavators. Dextreme systems improve excavator energy efficiency by 15% to 50%, regardless of the power source, while maximizing productivity.
The Dextreme pathway consists of three incremental system solutions: Swap, Flex, and Max. The simplest configuration of the system, Dextreme Swap, is now available. Dextreme Swap replaces the excavator's main hydraulic pump with a Digital Displacement® pump, custom software, and digital controller, delivering a 15% reduction in fuel use and carbon dioxide emissions compared to an excavator fitted with a conventional swash plate pump.
Dextreme Flex and Dextreme Max, not yet commercially available, build upon the Dextreme Swap system to provide additional gains. Dextreme Flex dynamically allocates the pump flow to services based on demand, reducing throttling losses in the main control valve. Dextreme Max adds energy recovery from excavator motions, such as slew deceleration and boom down, as well as direct load control from the pump itself, further cutting throttling losses. Dextreme Flex and Dextreme Max are predicted to deliver energy savings of 30% and 50%, respectively.
At the core of each Dextreme system is the Danfoss Digital Displacement pump, the first and only truly digitally controlled hydraulic pump for off-highway machinery. The pump's dedicated digital controller activates each piston individually, providing fast and accurate response to system demand, enabling superior machine controllability. The pump provides unmatched full and partial load efficiency by using only the pistons needed to meet the load.
"Tackling excavator efficiency challenges is critical to meeting global CO2 reduction targets. That's because excavators account for 50% of all CO2 emissions generated by construction machinery," said Leif Bruhn, head of Digital Displacement, Danfoss Power Solutions. "We developed Dextreme systems to unleash the full potential of our Digital Displacement technology. Our priority is to help customers radically reduce emissions, lower energy consumption, improve productivity, and reduce total cost of ownership."
With the fast control response of Digital Displacement technology at its core, the Dextreme Swap system makes significant engine down-speeding possible without the risk of stalling the engine. In addition to reducing fuel consumption and emissions, this decreases noise, improving operator comfort. If reducing cycle times is more important to the machine owner than fuel consumption, the system can deliver up to 25% higher productivity by using the full rotations-per-minute capability of the engine. Additionally, digital control simplifies performance monitoring and diagnostics.
Dextreme systems work seamlessly with any power source, reducing losses in the complete hydraulic system and improving total cost of ownership for end users. For battery-electric excavators, Dextreme systems enable original equipment manufacturers to reduce the main battery's capacity, enabling more cost-effective electrification. Alternatively, the system can increase the run time of electrified machines without requiring a larger battery.
"The incremental aspect of Dextreme systems minimizes risk for excavator manufacturers," Bruhn added. "OEMs can realize double-digit energy savings today while creating a pathway of future improvements, no matter the energy source, that lead to significant decarbonization."
To learn more, visit the Dextreme systems webpage.