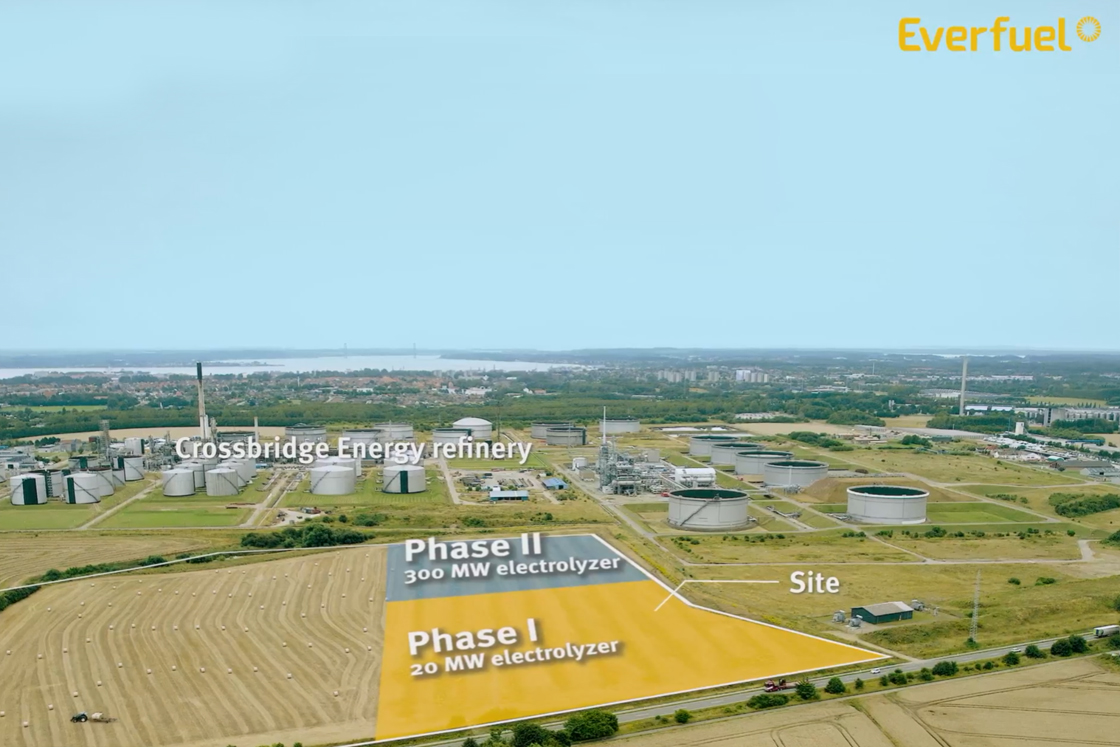 In the second half of 2022, Everfuel is set for full production of green hydrogen at Phase I of the flagship HySynergy project in Fredericia, Denmark. The 20 MW power conversion system driving the hydrogen electrolysis technology will be supplied by Danfoss Drives, according to an agreement signed on 8 October 2021.
Phase I of the HySynergy project will lift a giant's share of the national decarbonization task, by reducing CO2 emission in the Danish land transport sector by as much as 0.6%.  As Europe's largest hydrogen plant under construction, HySynergy is pioneering hydrogen on a commercial scale.
Danfoss Drives will supply the vital AC to DC converters for the electrolyzer. Two 20' containers equipped with liquid-cooled grid converters each have two 5 MW outputs.
Everfuel chose the Danfoss system for energy efficiency greater than 98%, and competitive solutions to all the technical challenges:
Superior harmonic footprint and unity power factor, to simplify connection to the grid without additional filters and compensation devices.
Liquid cooling technology, which enables recovery of the heat losses for district heating.
The containers are highly weather resistant, which means no building is required, and a mere shelter provides adequate protection from the elements. Fewer system elements and less infrastructure reduce topology and maintenance requirements significantly, to save both CAPEX and OPEX for faster return on investment.
HySynergy Phase II is planned for commissioning in 2025, with an additional 280 MW capacity, bringing the total to 300 MW. Phase III is planned for 2030, with capacity of 1 GW. The Danfoss solution is designed for easy scalability to cater for these upgrades.
The HySynergy project will convert renewable electric energy for Everfuel's own hydrogen refueling stations, to hydrogen for the neighboring Crossbridge Energy refinery, as well as supplying surplus heat to the local district heating system. The project is ideally situated to supply hydrogen for the pipeline planned to connect European countries, in future years.
Hailed as the next Danish wind adventure, power-to-X opens up new opportunities to decouple electricity consumption from production, and to decarbonize transportation.  Green hydrogen's potential is closely coupled to public policy. In Denmark, maintaining growth in green hydrogen is directly dependent on the growth rate of public infrastructure. The EU has decided to extend green hydrogen capacity to 6 GW by 2025, and to install at least 40 GW capacity by 2030.
For more information, please contact Helge Vandel Jensen, Senior Business Development Manager, at helge@danfoss.com.
Learn more
To learn more about green hydrogen and power-to-X solutions from Danfoss, visit the Danfoss website.
To learn more about HySynergy, visit the Everfuel website.
About Everfuel | www.everfuel.com
Everfuel is making green hydrogen for zero emission mobility commercially available across Europe, offering competitive all-inclusive hydrogen supply- and fueling solutions. We own and operate green hydrogen infrastructure and partner with vehicle OEMs to connect the entire hydrogen value chain and seamlessly provide hydrogen fuel to enterprise customers under long-term contracts. Green hydrogen is a 100% clean fuel made from renewable energy and key to electrification of the transportation sector in Europe and a sustainable future. We are a young ambitious company, headquartered in Herning, Denmark, and with activities in Norway, Denmark, Sweden, The Netherlands, Germany and Belgium, and a plan to grow across Europe. Everfuel is listed on Euronext Growth in Oslo under EFUEL.